Cadillac Coupe DeVille with 1000+ HP and other High-Horsepower Cars from the PRI Show You Shouldn't Miss
Performance cars parked indoors at the PRI Show, or any show for that matter, seem all too sedentary, but it is the best opportunity to spend time admiring builds up close. Only the best, most well-built cars exude a powerful energy even when sitting still, silently waiting for the next turn of the key. Here are five cars that were built to dominate the track.
Built to Race
Built to compete in the FIA Formula E, the Ligier JS2R is the only true successor to the Ligier JS2 that finished second in the 1975 Le Mans 24 hours. Its rear-mid engine, rear-wheel-drive configuration keeps the car balanced, even when Ford 3.7-liter V6 is pushing 330-hp at 7,000-rpm. Its fiberglass body is bolted to an FIA homologated tubular chassis, which is home to a long list of performance parts. It could be all yours for $112,000 (plus delivery).
High-Speed '70s Luxury
We've never seen such a big crowd form around a '77 Cadillac Coupe de Ville until we stumbled on this 1,172 Horsepower Twin-Turbo LS V8.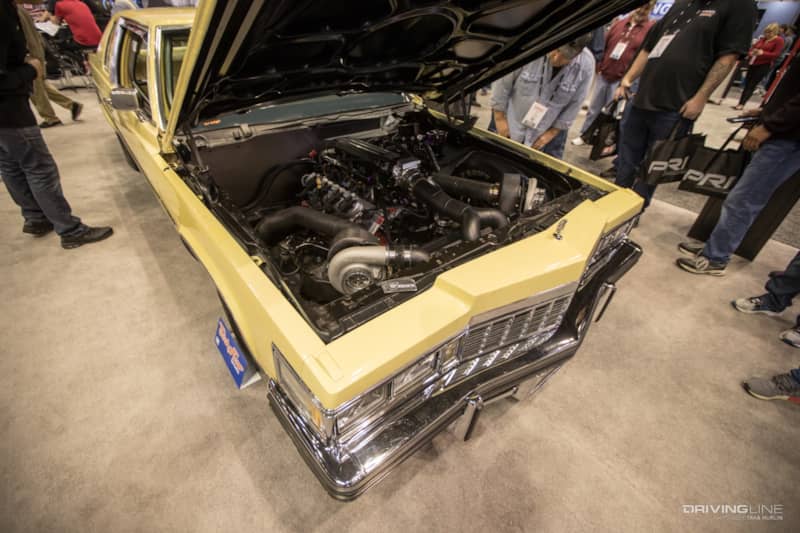 You read that right: it makes almost one-thousand more horsepower than stock. Aside from the stuffed-full engine bay, the rear 'chute was a solid clue toward the Caddie's speed. Ripping down the quarter-mile in 8.80 seconds at 152 mph proves that not all fast Cadillacs are CTS-Vs.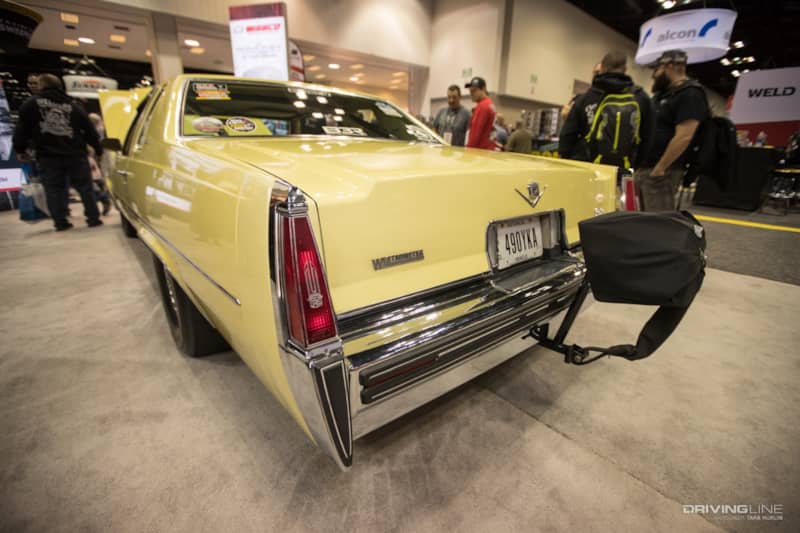 Getting Squirrelly
Here you see the Toymakerz 1941 Willys coupe in all its glory: Borowski LS power plant, Procharger supercharger, Nitrous Outlet wet spray kit and all. It's one serious machine: Controlled by a Holly dominator engine management system, the setup achieves upwards of a thousand horsepower and over 860-ft-lb torque. In fact, it can be hard to handle. Just hours after this photo was taken, the car exited the building. Extremely chilling road temperatures, cold tires and a giddy but otherwise experienced driver lead to a roll-over crash. Fortunately, no one was hurt and the car is repairable.
Hondas Love Tacos
Tacomas and Hondas pair up like chips and salsa, especially when it's a 2003 Tacoma topped with a mildly-built K-series paired with a 62mm Precision turbo. Upwards of 880-hp is slammed to the pavement by a GM Powerglide transmission. What would you say if we told you Tacos could fly? So far, the Tacoma's best quarter-mile time is a hair-splitting 8.05 at 167-mph.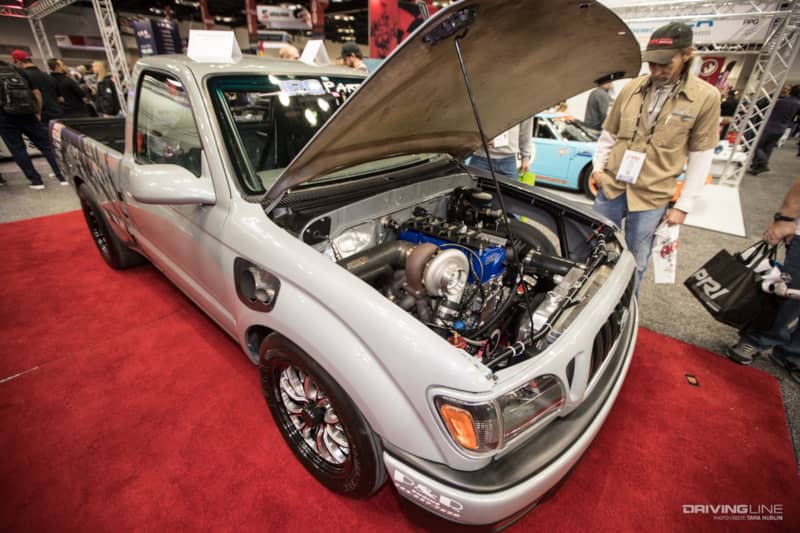 Panda Express = Yum
This is the only Twin-turbo rotary that we spotted in the PRI Show's sea of engines, and it was certainly the only rotary-powered RWD Subaru Impreza.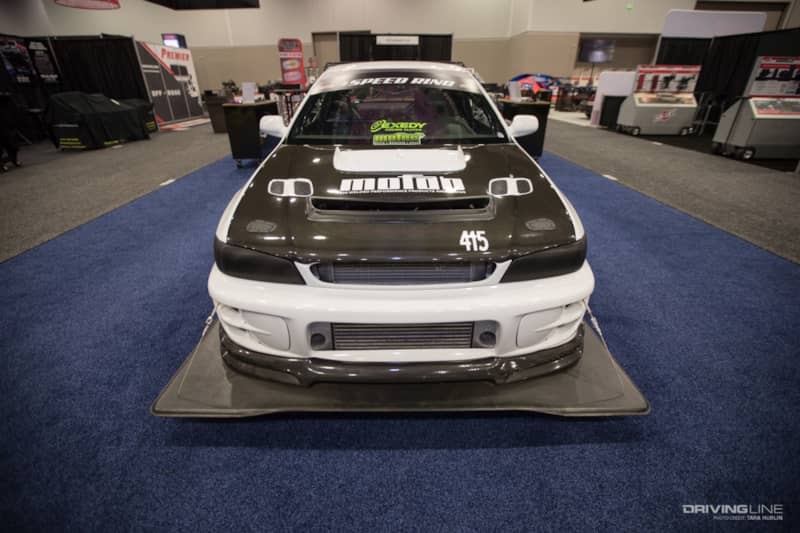 Mofab, LLC is responsible for feeding Doritos to a Subaru, but it took some technical fabrication to make the systems work together.
The Mazda engine is attached to the Subaru transmission via a custom billet adapter. Staggered G series 660 Garrett turbos force air into an Elite Performance intake manifold. The end result is a competitive Time-Attack car with 390-hp and 350 ft-lb torque at 4500-rpm.
Like what you see? Check out more amazing racecars from this year's PRI Show.