Ford Focus ST vs. Ford Fiesta ST: What's the Difference?
For so many years, the joy of hot hatches was in limited supply on American soil. Like ample vacation time, topless beaches and great bakeries, it was more of a European thing. Then, in the middle of our domestic SUV love fest, Ford blessed us with not just one, but two cheap, fun and cheerful vehicles to soothe our aching souls.
While the Focus and the Fiesta are truly exciting developments in the U.S. market, do we really need both? What's the difference? Is it just price? And why does a Fiesta driver have any place at a meetup? What about the Focus driver at the track?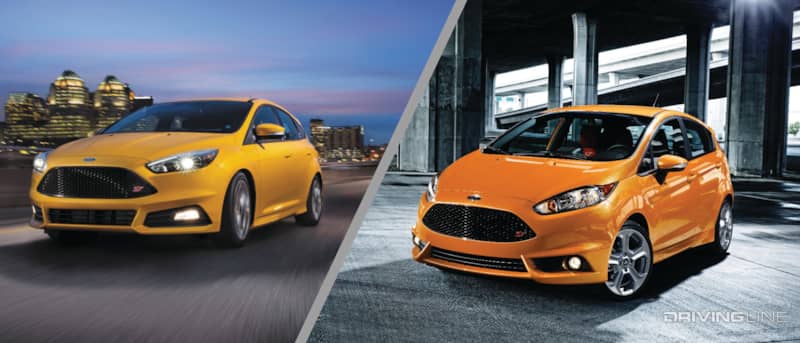 Find out if there's greater distinction between these two choices than merely tomato and tomahto...
Comparing the FoST vs. the FiST
To find out what characteristics make these Fords hatches special and simultaneously so different from one another, let's compare both at the same trim level: the Focus ST vs. the Fiesta ST, or as Ford enthusiasts lovingly refer to them, the FoST and the FiST.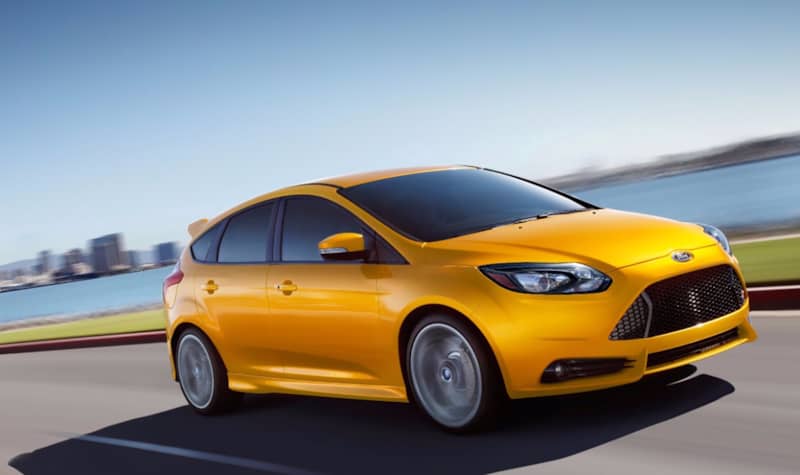 At first glance, the Ford Fiesta seems simply to be a smaller, cheaper version of the Ford Focus — a Subcompact to its Compact — and that is indeed true. But upon closer review, it becomes clear that there is a lot more separating them than size and sticker price. Let's start with the cold, hard numbers.
Specs
The Focus ST has the 2.0L EcoBoost turbocharged engine that puts out a nifty 252 hp. It comes with a six-speed manual and gets 22mpg city/31mpg highway. The Fiesta ST has the smaller 1.6L EcoBoost 4 cylinder with 197 hp, comes with the six-speed manual and gets marginally better mileage at 26/33 mpg.
But with such a huge gap in horsepower and no real difference in mpg, why would a real driver put up with the FiST? Well, despite what you read on the bathroom wall, sometimes numbers just aren't everything.
Handling
The Fiesta ST is unquestionably fun and perky, thanks to its remarkable power-to-weight ratio. In contrast, the Focus ST is an aggressive, torque-y beast. One can get exhausted just trying to keep it in line. The FoST's turning radius is wider than the FiST, perhaps due to the extra foot of metal.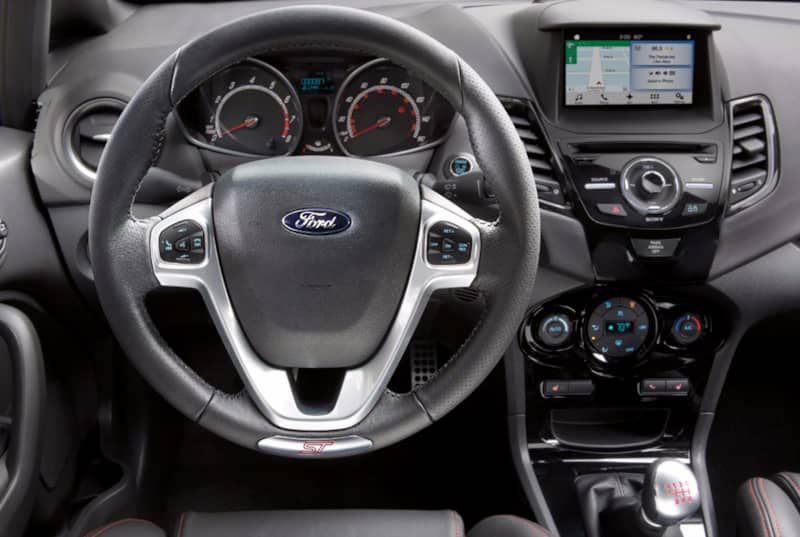 What's really baffling is that the FiST doesn't feel any slower than the FoST, despite the numbers; in fact, many drivers report that the Fiesta ST feels faster. This could be due to its smaller size, or perhaps because it can be more fun at lower speeds. Either way, the FiST drives more like a performance car, and the FoST feels more like a muscle car — neither of which are a bad thing. In fact, choosing between them is the greatest of high class problems one could have for under $30K.
Interior Space
While both the Focus ST and the Fiesta officially seat five, neither one would be the car of choice for a Thanksgiving Costco run or for transporting an entire football team (or really even just their gear). But for daily use, and even for a small family, either model makes perfect sense.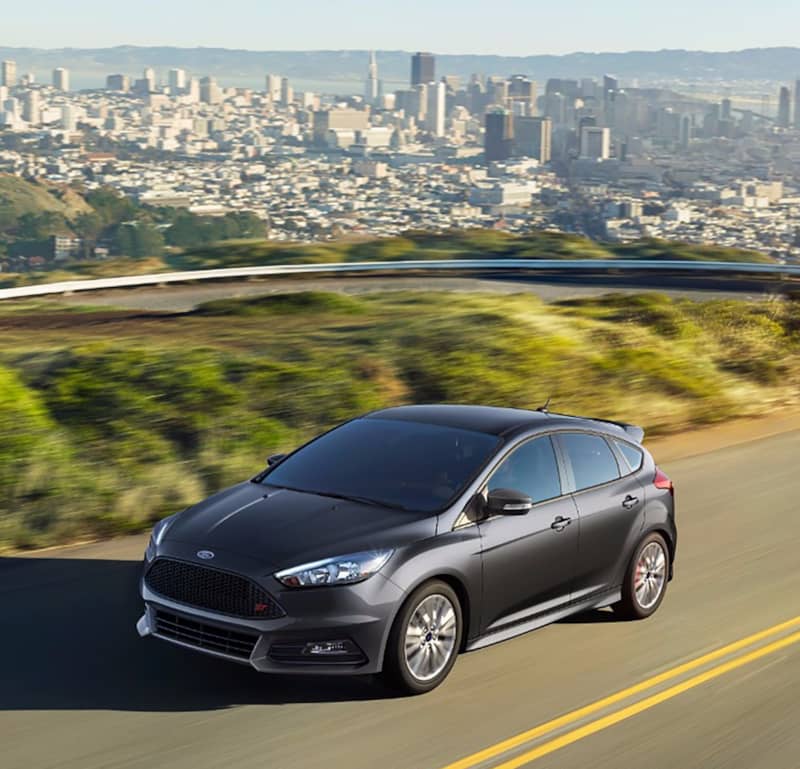 Overall, the Focus ST boasts more interior volume, close to double that of the Fiesta ST — 24- vs. the 10-cubic-feet in FiST. At the same time, many taller drivers prefer the FiST, possibly due to the superior driver seat visibility. Again, it's one of those times that numbers aren't everything. So, if you are considering either one, make sure to drive both, because the opinions are remarkably subjective.
Looks
There's no denying that the Focus ST is a better-looking vehicle. It is refined, simple and attractive. The Fiesta ST, on the other hand, has been hit pretty hard with the dorky stick. But it could be said that its geeky, goofy stance is a great way to camouflage its ample speed and agility.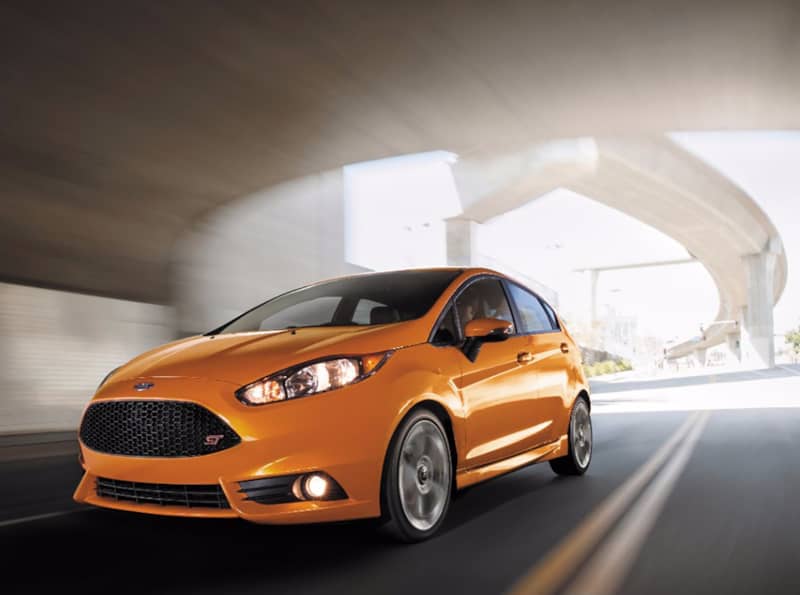 A cop will gladly give a speeding ticket to a 911 turbo, because a lawyer is probably behind the wheel. The Fiesta looks like it's driven by a schoolteacher, and everyone knows that teachers don't speed. Luckily, looks can be deceiving.
Price
At first, the $3,600 gap between the Fiesta ST ($21,140) and the Focus ST ($24,775) seems like the real differentiator — particularly because at the higher end, the Focus RS tops off at over $45K. For the FiST vs. FoST, however, most buyers report that real prices are much closer together thanks to dealer incentives and inventory. The decision between these two vehicles is rarely driven by price, but instead is more influenced by the above mentioned driving styles.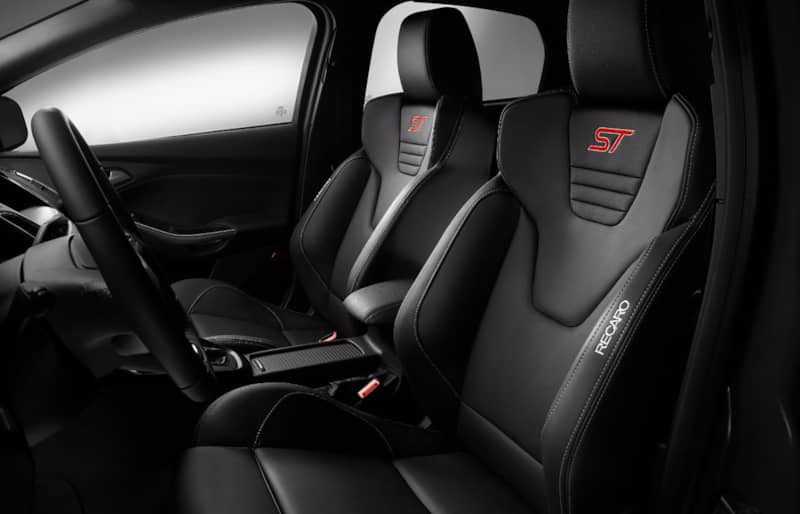 The Verdict
| | | |
| --- | --- | --- |
|   | FORD FOCUS ST | FORD FIESTA ST |
| ENGINE | 2.0L EcoBoost | 1.6L EcoBoost |
| HORSEPOWER | 252 hp | 197 hp |
| MPG | 22/31 mpg | 26/33 mpg |
| TRANSMISSION | Six-speed manual | Six-speed manual |
| INTERIOR SPACE | 24 cubic-feet | 10 cubic-feet |
| LOOKS | A+ | B- |
| PRICE | $24,775 | $21,140 |
Overall, the good news with the FiST vs. the FoST is that it's hard to go wrong. Most enthusiasts love both vehicles — either one will be happy whether it's stuck in traffic or at the track. Does either deserve your time at the local car show? Well, there are so many incredible mods and tunes for both of these cars, so what you see is probably not what you'll get.
Another temptation worth noting is that the Fiesta ST currently comes with a complimentary day of performance driving at the ST Octane Academy in Tooele, Utah. Sounds like a great way to make tomato soup!
(All photos courtesy of Ford Motor Company)
Looking for a hatchback with even more bite? Test out the Ford Focus RS with us!