Driven: 2017 Ford Focus RS
With its much talked about Drift mode and Ken Block as its avatar, the 2017 Ford Focus RS has certainly made a splash as it goes on sale in North America for the first time in its history (prior versions having been enjoyed exclusively in Europe). But as certified go-fast geeks and weekend road racers, what we wanted to know was how fast it is around a racetrack, not how good it is at doing Hoonigan-spec power slides through abandoned warehouses.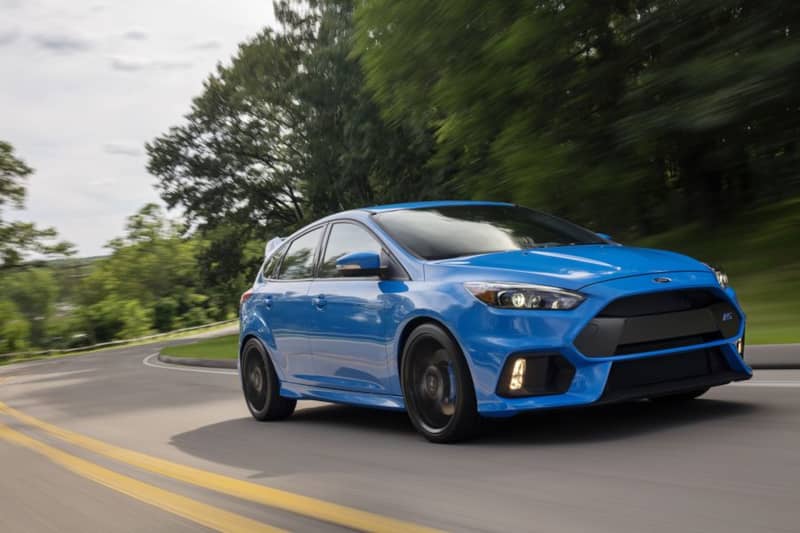 Don't get us wrong, we are all for drifting in post-apocalyptic settings or around racetracks, but for stopwatch warriors like us, the proof of the Focus RS's inherent goodness would be determined by its lap time around a track, an 11-turn road course with a good mix of tight and technical twisties and long enough straightaways to really stretch the EcoBoost's legs. 
Of course, the lap times—which, as we quickly discovered, put it solidly at the head of the hot hatch/AWD turbocharged sport-compact class—only tell a small part of the story, because it's the way the RS delivers its pace that solidifies it (in our minds, at least) as the most fun you can have for less than $50K. Overcook corner entry and the Ford's physics-defying, torque-vectoring system will bail you out in an impressively noninvasive way, making you feel like a hot-lap hero instead of an e-nannied zero.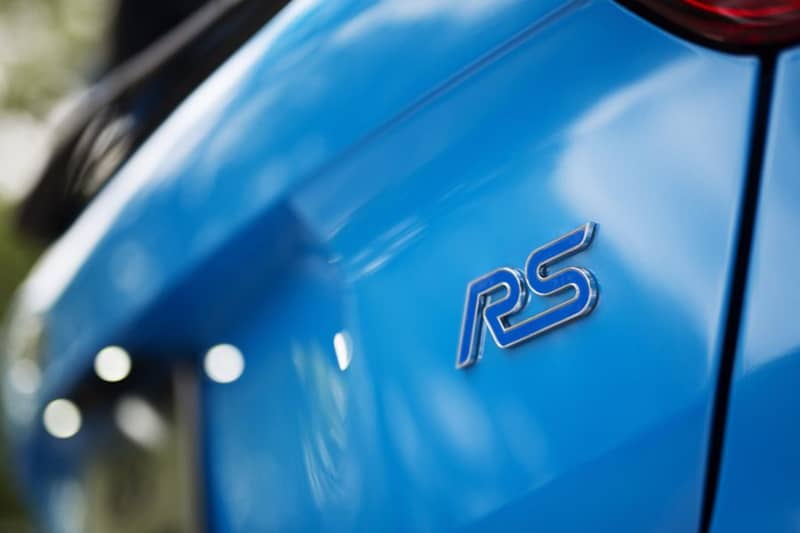 Turn into a corner a little too eagerly and smash the apex curb? In most cars, this will upset the chassis and push you offline (or worse), but in the Focus RS, its magnetorheological dampers soak up the high-speed bumps like high-end race shocks while adjusting to smaller changes in the road surface hundreds of times a second to ensure maximum grip out of the tires. Speaking of which, kudos to Ford for putting a section in the owner's manual about Track Use. It's refreshing to see a major automaker embrace the fact that enthusiasts like us take our cars to the track, especially ones as special as the RS.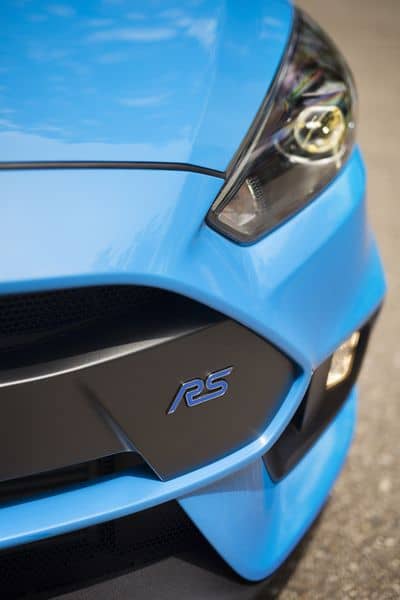 As a result of its high-grip tires, magnetic dampers and electro-hydraulic, computer-controlled differentials—which can send as much as 70 percent of available torque to a single rear wheel—cornering speeds and lateral g-forces were well into supercar territory. We were seeing average lateral g's close to 1.2 g and pulled a peak g-force reading of 1.31 g as we slid the RS through a 90-degree left-hander onto the middle straightaway.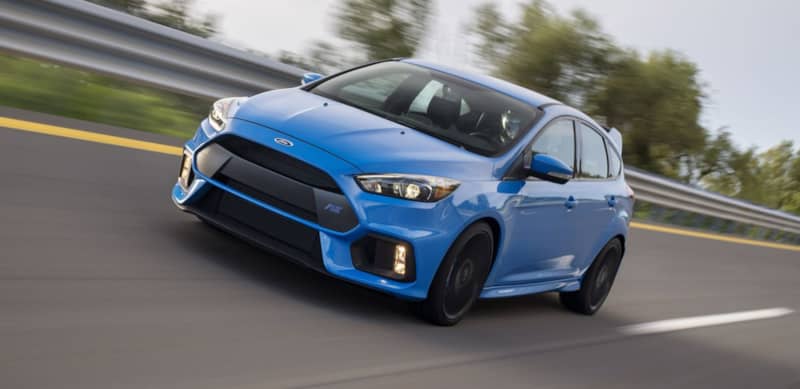 Where the Focus RS felt the most special, though, was coming out of the corners, where it puts all of its 350 hp and 350 lb-ft of torque to the ground with a kind of efficient rage normally reserved for elite MMA athletes. The traction generated by the RS defies logic, and if you drive it in a neat and tidy fashion, it feels completely natural, with no sign of any of the electro-hydraulic wizardry going on beneath your seat. Drive it with a Gymkhana Nine level of commitment to sideways, though, and you will likely feel the power moving around from tire to tire as its torque-vectoring system searches for traction with the same kind of unrelenting determination as a T-1000 searching for John Connor. Hasta la vista, apex.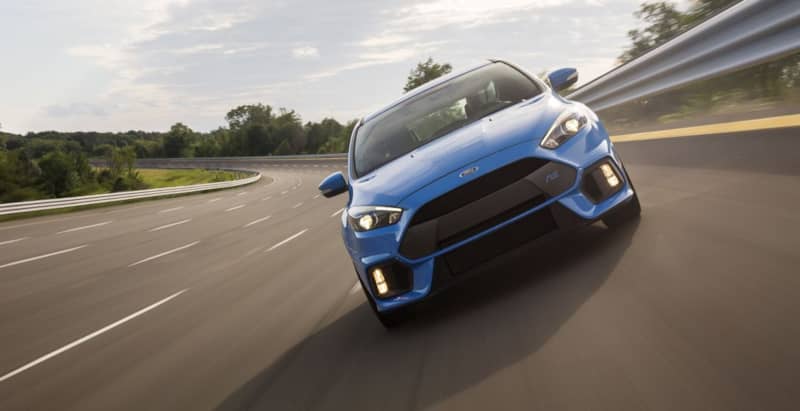 The sensation of technology never overrides the sense of joy the RS delivers, though, with its heavily bolstered Recaro seats holding you in a warm embrace that say, "It's OK, you can toss me into the corners even harder." And where the 2.3L, EcoBoost, turbocharged, direct-injection four-banger sounds unremarkable in the Mustang, in the Focus RS it's been tuned with a much throatier exhaust note that turns every straightaway into a high-rpm symphony and every heel-and-toe downshift into a rally-inspired rapture of snaps, crackles and pops. 
The only weak spot we found in the Ford's otherwise impenetrable armor was when we managed to boil the brake fluid after a series of laps driven at maximum attack. But prior to this, the big front Brembos provided plenty of stopping power and excellent pedal feel. With an upgrade to a racing-spec brake fluid, we're sure the braking system is, otherwise, more than up to the task of shedding the heat generated by slow-pedal abusers like us.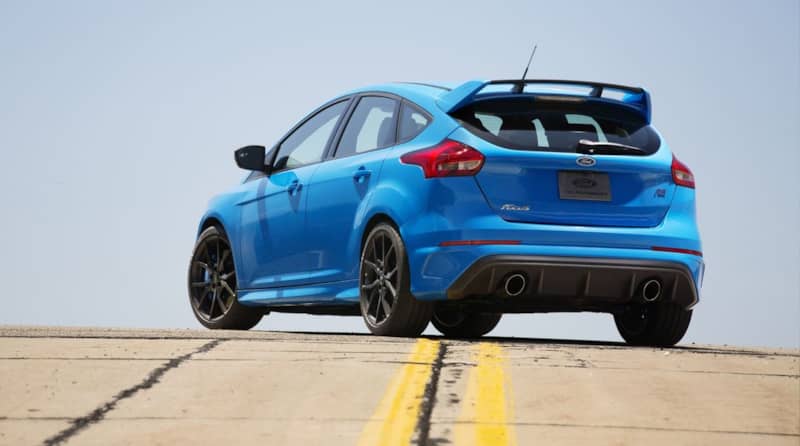 The Focus RS is also a true "best of both worlds" proposition. Its four doors and cavernous hatchback layout make it a practical family hauler and an AWD system makes it all-weather capable, but throw it into Track mode and you've suddenly got something that's capable of lap times that put it squarely in the company of purpose-built track cars. 
What about Drift mode? Is it a gimmick or can you really drift the RS? We are no drifters, so we subbed a pro drifter into the driver seat. With Drift mode engaged (which sends power to the outside rear tire) and an aggressive Scandinavian flick on entry, we were sliding sideways and powering out of corners with the tail hanging out and the rear tires putting off enough smoke to make a vaper jealous.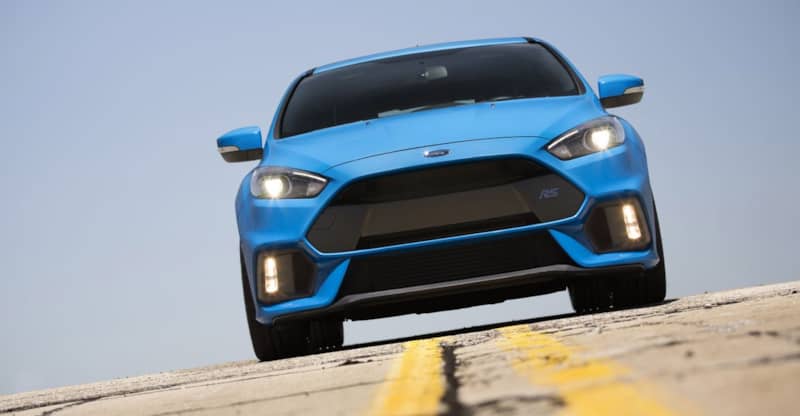 Having thrashed the new Focus RS around my home track for the day, we were left in awe of what Ford has achieved with a chassis that started life as an economy car. But even more than that, we were left with huge smiles on our faces because the way the RS carves a corner is a truly joyful experience. Its neutral handling balance means you can drive it into corners in a wide range of styles, from Scan-flicking, hoonboy-like maneuvers to curb-smashing, lap-time chasers like us.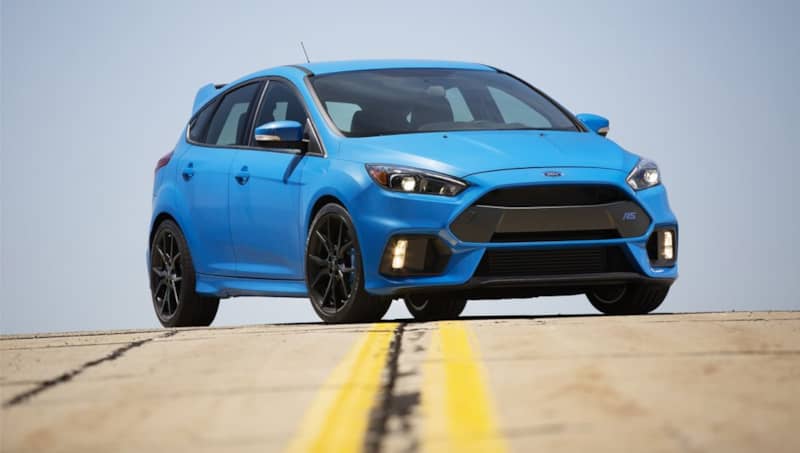 In terms of driving style, the choice really is yours, thanks in large part to the Drive Modes at your disposal (Normal, Sport, Track and Drift), and in terms of the Focus RS, the choice is easy. We'll take ours in Nitrous Blue.
(All photos courtesy of Ford Motor Company)