Form Meets Function: A Mission Ready Chase Truck with Looks to Boot
Ask any real racer…Behind every great race team is a support and pit crew that is equally as talented. This is especially true when it comes to off-road racing, where pit crews must take their operations mobile to remote pits and sometimes, be prepared to chase their team's race vehicles to provide support. This is no easy task, and requires not only an experienced crew, but also the right tools for the job.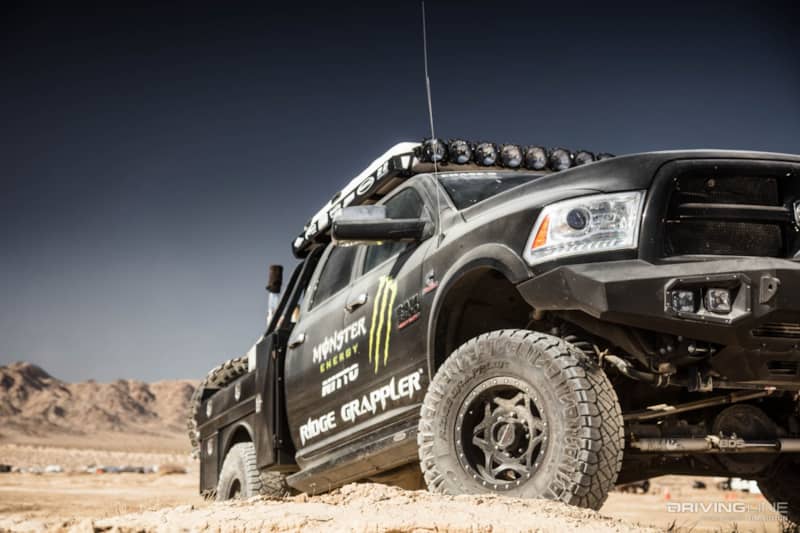 The New Standard
Enter the chase truck. Usually a diesel ¾- or 1-ton truck, capable of transporting tools, fuel, tires, and the crew anywhere the race vehicle may need them, these vehicles are built with the same precision and care as the vehicles they chase. One of the most successful families in off-road racing, the Campbells have a chase truck that sets the new standard for Ultra4 pit crews. Owned by their team's long-time friend and co-driver Terry Madden, this fourth-gen Cummins has transformed over the years from a simple tow-rig to a workhorse chase truck, logging thousands of miles everywhere from The Hammers to the end of Baja. There's nothing wrong with having a chase truck that just gets the job done, but there's serious bonus points to be handed out for making it look really, really good. Terry deserves some kudos for making it happen.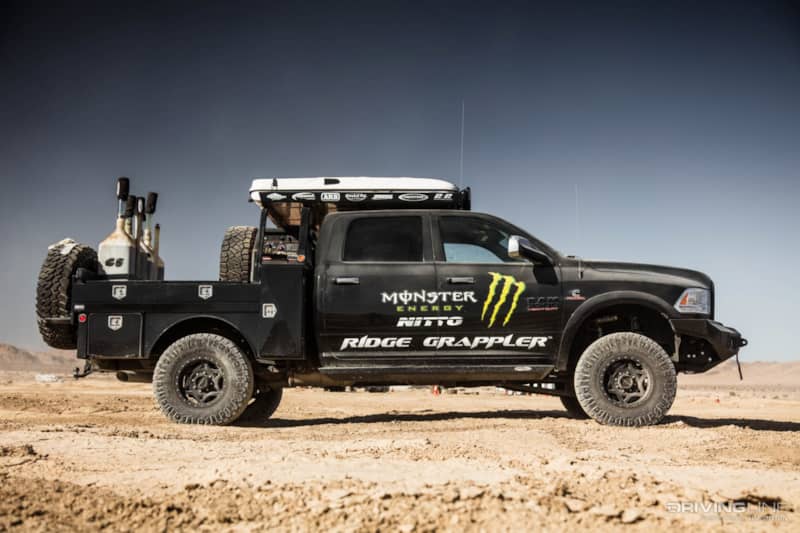 Bringing the Goods
Starting with the exterior, and most obvious modifications, the factory bed has been replaced with a Madden's Chase Trucks utility box, complete with state of the art locking cabinets, fuel can mounts, PowerTank CO2 tank system, a hefty headache rack, mount for three full size race-truck spares, a Lincoln 225 welder and fire extinguisher. Inside the utility box cabinets is every tool needed to tear down and rebuild an entire race car, essential for repairs on the course. Terry's truck even has an extension for a roof rack, which supports a high-end roof-top tent made by James Baroud, for those times they have to spend the night in the middle of nowhere waiting for their race car to arrive.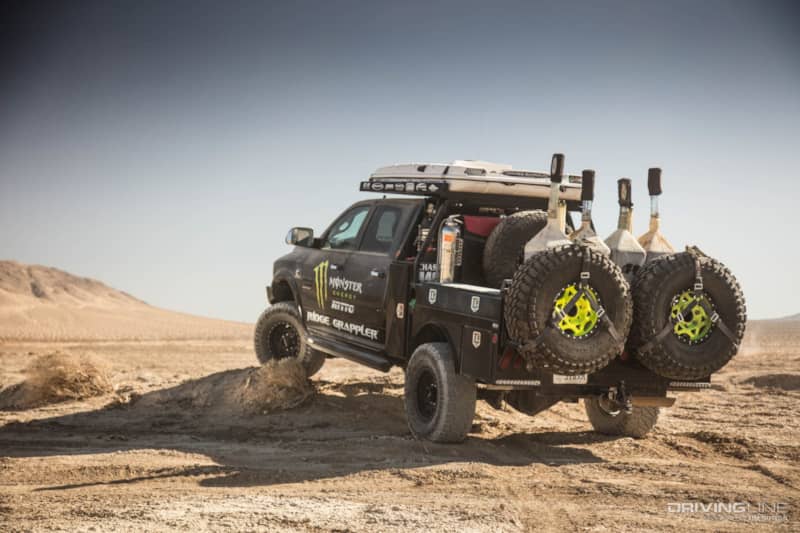 Wheels and Suspension
All that equipment comes with lots of added weight, and expecting a Ram 3500 on stock suspension to carry it along uneven desert roads is unrealistic. Terry installed a BDS 4-inch suspension system to keep the loads leveled and provide some extra clearance. Chase trucks have to be ready to endure the same terrain as their race-vehicle counterparts, but still behave well on the open highway. Terry is running on a set of 37-inch Nitto Ridge Grapplers. Not only is the Ridge Grappler a great hybrid tire that boasts off-road and on-road performance in any environment, but it's also available in heavy duty load ranges for vehicles of this size. The Nittos are tastefully wrapped around a set of Walker Evans wheels, giving the chase truck a classic look with modern performance.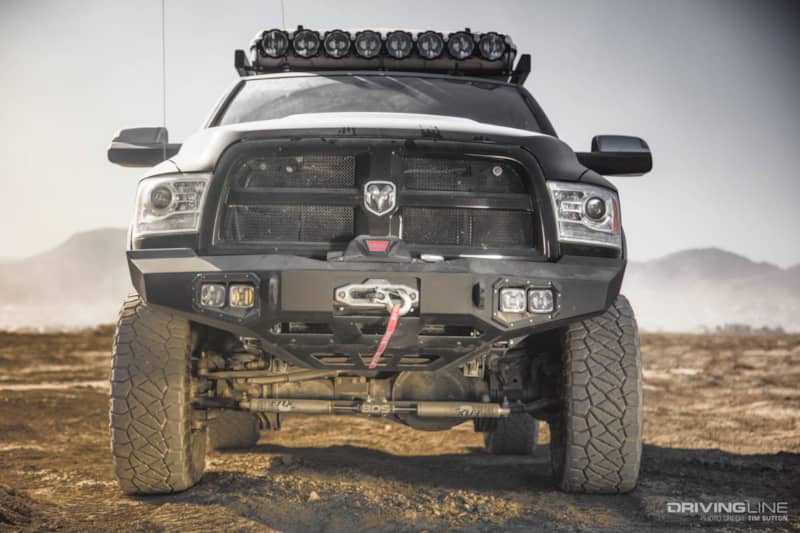 Must-Have Upgrades
Terry's chase truck comes with a few other must-have items around it for keeping the team in the race. The factory front bumper was ditched for a steel-constructed bumper from Warn Industries, complete with a Zeon 12-S winch, capable of pulling 12,000 pounds with a synthetic rope. Inside the truck is a full chase package from Rugged Radios, ensuring the chase crew is always in contact with the race vehicles. You might think constantly getting in and out of this truck would be a pain, but with Rock-Slide Engineering's ground-breaking step sliders, that's simply not the case. These steps not only provide a huge leg-up for entering and exiting the truck, but also act as a rock slider for those tight, boulder-ridden trails.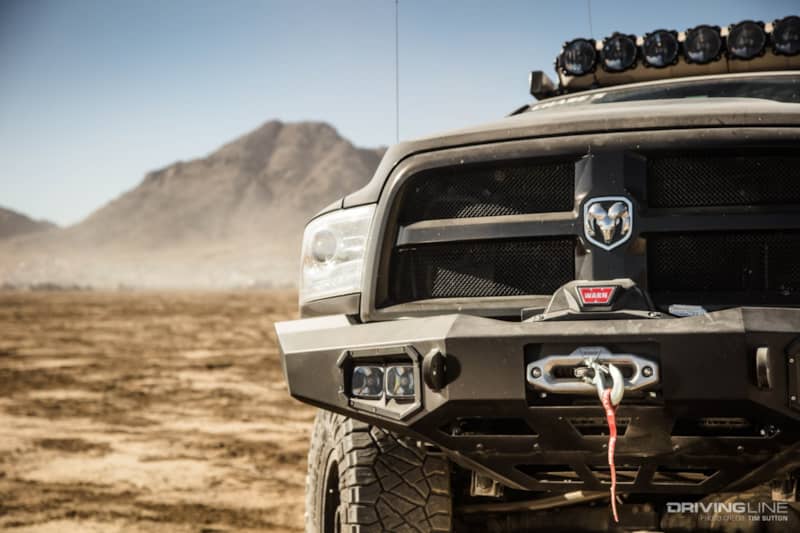 Form Meeting Function
Most unique vehicles take on a certain theme as they're put together, and this chase truck is no exception. Terry's vision of a capable chase truck that looks every bit as intimidating as the race truck he co-drives for is evident in his Ram 3500. Form and function, working together to get the job done. The hard work the Campbell Racing team consistently puts out at the various Ultra4 and Baja races is evident in their numerous wins and podium finishes, but much of their success can be attributed to their pit crew having the right equipment to keep on winning.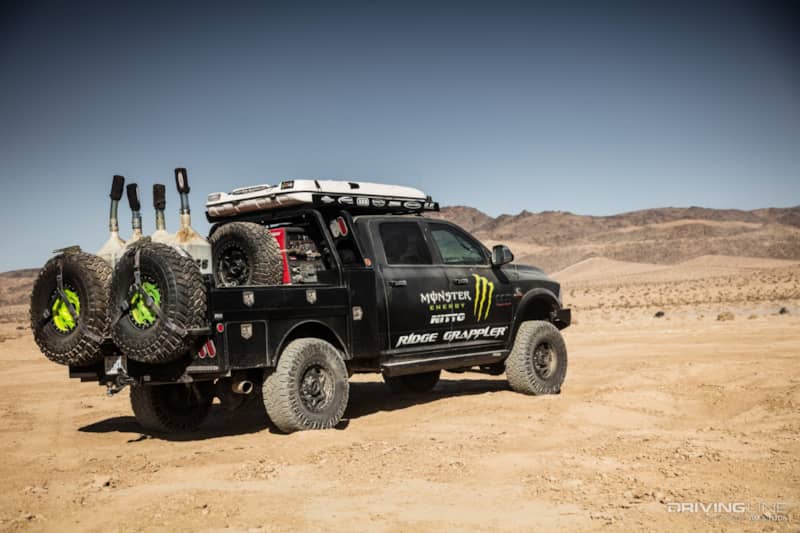 Check out more photos of this epic chase truck in the gallery below, and if you liked the article, subscribe to our newsletter to have more like it sent to your inbox!