2014 Formula Drift Irwindale Play-by-Play [Video]
After six rounds spanning the south, east and pacific northwest, the Formula Drift Championship returned west to "The House of Drift," also known as Irwindale Speedway, to determine who would be the 2014 Formula Drift champion. Going into the event, Chris Forsberg held 1st place in points, 26 points ahead of Fredric Aasbo. Everything was on the line as either driver being defeated on their way to the podium could drastically change the championship. Who would take home the championship at The House of Drift? Find out in our Top 16 play-by-play recap below.
Ford Top 16
Forrest Wang Vs. Michael Essa
Wang Lead: In tune with his Supra 2JZ-powered S14, 1st place qualifier Wang initiated first and kept his car high on the banking. He transitioned smoothly to hit the inside clipping point on the straightaway and parlayed that into smooth transitions in the tighter, S-turn clipping zone at the end of the run. Essa was lower on the track at initiation and was wide at the inside clip. Essa Lead: Essa initiated high but migrated up the track and scraped some paint off the wall. He was again wide at the inside clip. Wang was close at initiation and held a dominant proximity throughout the run. Wang who was 0-2 against Essa going in, won convincingly 3-0.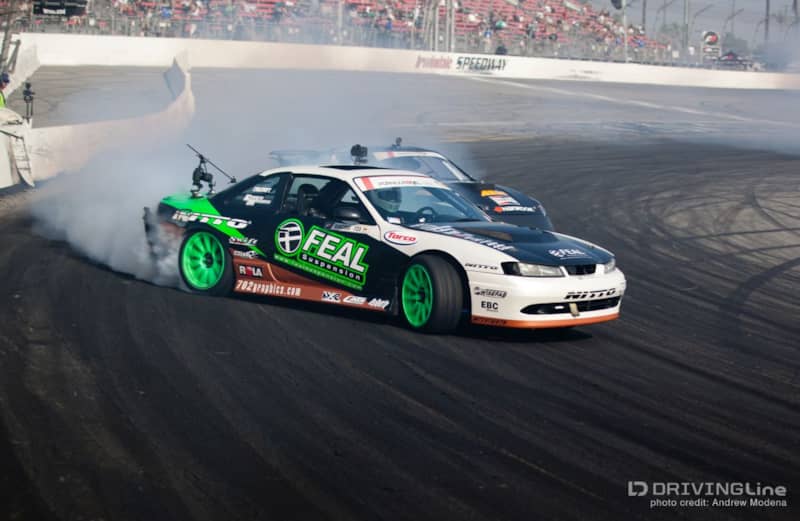 Odi Bakchis Vs. Conrad Grunewald
Bakchis Lead: Bakchis initiated with confidence and nailed the inside clip transitioning to the second banking and the tighter final clip zone. He was a little early at the last clipping point. Grunewald was not setting the world on fire; he initiated a blink slow, was wide at the inside clip, but closed the gap through the final zone. Grunewald Lead: Grunewald initiated low on the track and at a shallow angle. Bakchis could not adjust, closed in on Grunewald's Camaro and hit the Chevy. Bakchis, one of the hottest drivers in recent races, was out 3-0.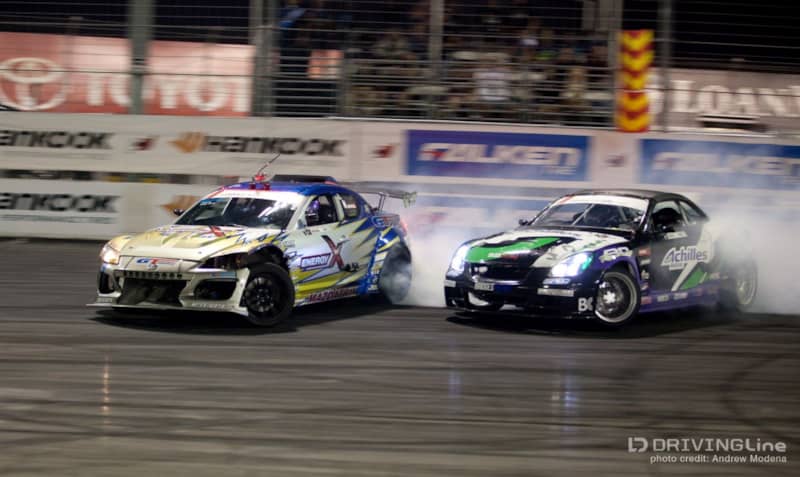 Kyle Mohan Vs. Daigo Saito
Mohan Lead: Mohan lacked angle and speed early, did well enough in the straight section, but scrubbed too much speed late. Saito meantime had proximity early, proximity in the middle, and proximity late. Saito Lead: Quick out of the gate, Saito gapped Mohan early, was solid in the middle section, and went a touch shallow to maintain distance late. Mohan was slow to rotate at initiation and in the final zone. Saito won 3-0.
Robbie Nishida Vs. Ken Gushi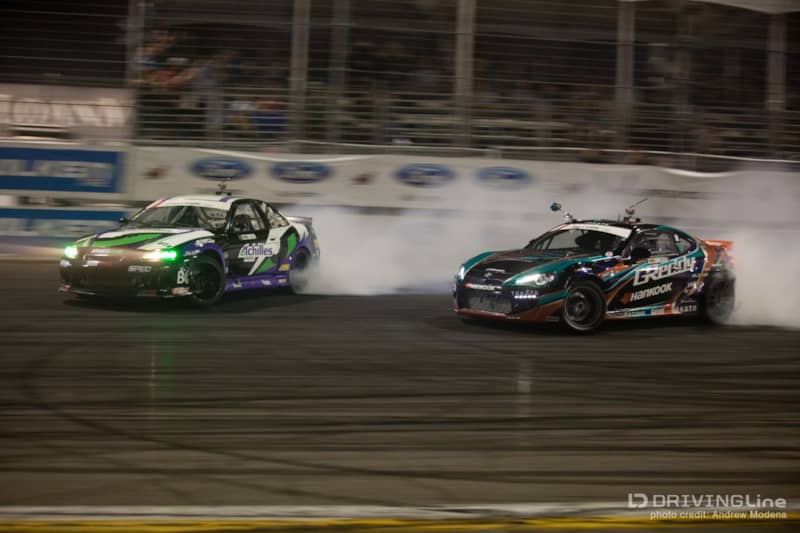 Nishida and his stroked 3.4-liter Supra-powered '93 SC300 was making serious smoke and had initiated well when Gushi coasted off course at the inside clipping cone. He didn't make the next heat so Nishida advanced.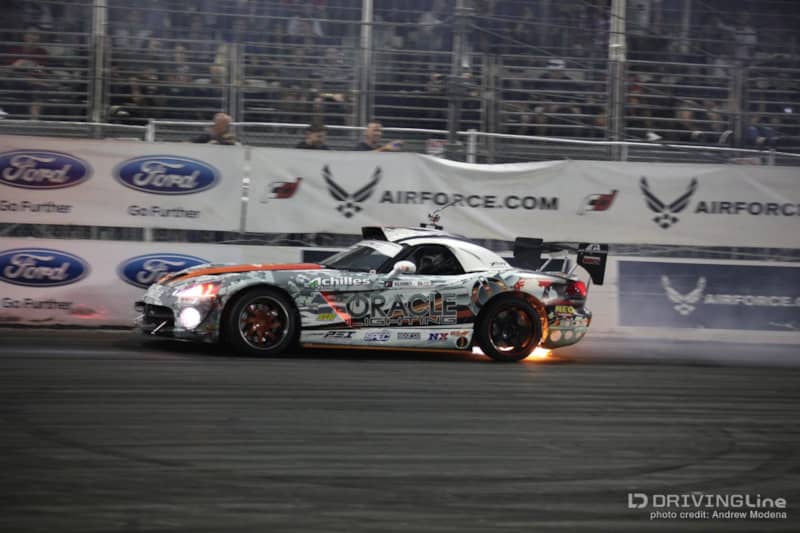 Daijiro Yoshihara Vs. Dean Kearney
Yoshihara Lead: Yoshihara's LS-powered BRZ was a crowd favorite and the former champ showed he knew what to do with it, laying out a quick initiation and abundant angle. Kearney was wrestling with his Viper, his angle was off and he was too close to Yoshihara. Kearney was out of position in the middle section, may have over corrected, but was definitely squirrelly enough to slap the wall and briefly catch fire, leaving the field of battle on a flatbed with the right rear tire at an ominous angle. Yoshihara advanced.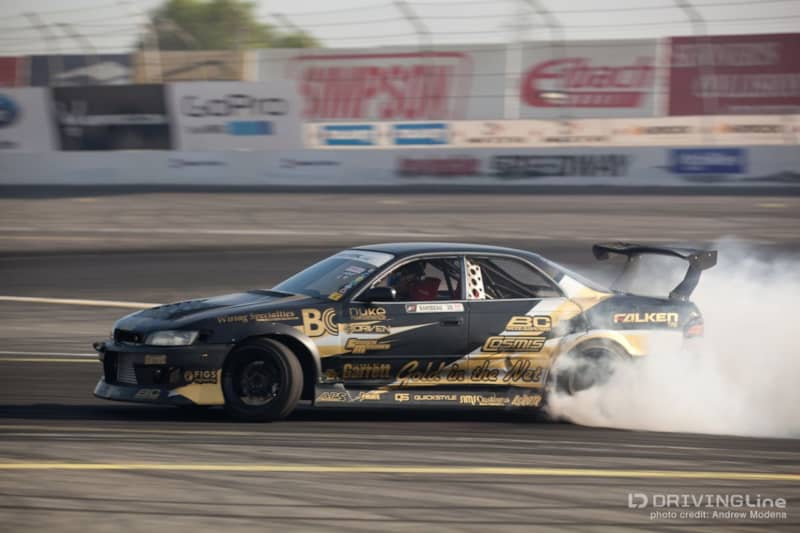 Fredric Aasbo Vs. Mats Baribeau
Aasbo Lead: In a championship tussle with Chris Forsberg, Aasbo was two rounds (26 points) behind the Nissan driver and the ladder lined up so they could meet in the Nitto Top 4 round. Aasbo was on his game early, establishing a good gap as he smoked around the circuit being both fast and consistent. Baribeau was slow to initiate and made up little ground during the run. Baribeau Lead: Baribeau was low on the bank at initiation and did a mean tail whip at the inside clipping point, which Aasbo did well to avoid and maintain his concentration through the run. Aasbo was right with Baribeau, who scrubbed speed late, allowing the Aasbo Scion tC to close the gap further.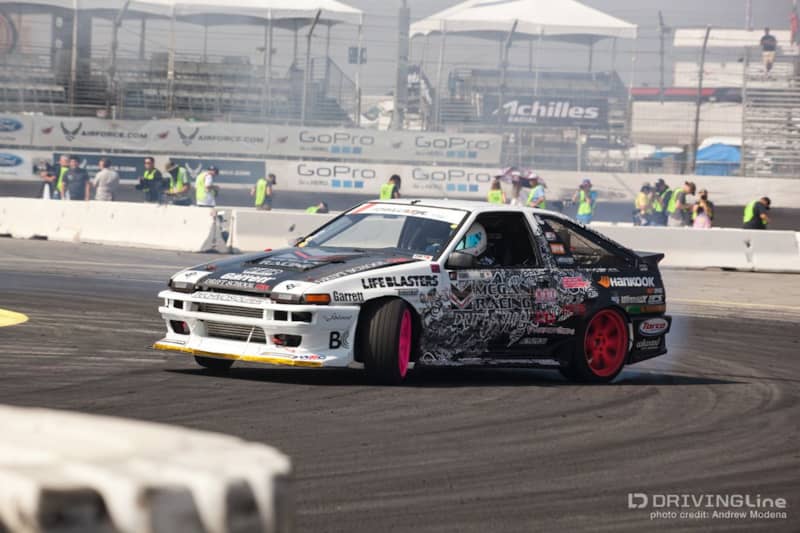 Matt Field Vs. Taka Ano
Field Lead: With 55 cars vying for 32 spots there were some new faces in the Top 16, case in point, this Matt Field versus Taka Ano battle. Field killed it from the start while on the opposite side Ano never engaged as the Flying 86 Corolla AE86 that he's raced for 11 years coasted through the initiation zone. Ano didn't make it out for the second heat. Field moved on.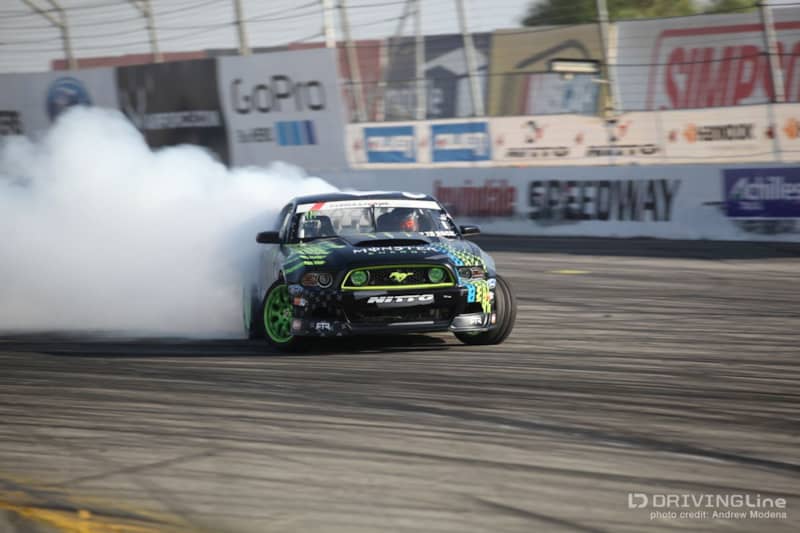 Chris Forsberg Vs. Vaughn Gittin Jr.
Forsberg Lead: This battle of former champions and fellow Drift Alliance members was a high stakes match-up indeed. Forsberg needed to keep pace with Aasbo and he sailed away from Gittin Jr. and his Mustang. Gittin Jr. over rotated, corrected, and tagged the wall giving Forsberg the advantage in the next heat. Gittin Jr. Lead: Gittin Jr. pulled early but Forsberg was doing just enough to maintain his first heat advantage. Forsberg won 3-0.
Nitto Great 8
Forrest Wang Vs. Conrad Grunewald
Wang Lead: Breaking out with big angle, Wang pulled a great inside clip as he went nice and wide on the second section of banking. Grunewald lost angle twice, bobbled in the middle, and failed to close ground late. Grunewald Lead: Going high at initiation, Grunewald looked good but he was wide at the inside clipping point. Wang nailed the inside clip, which allowed him to close on Grunewald and drop some big angle. 3-0 advancement for Wang.
Robbie Nishida Vs. Daigo Saito
Nishida Lead: In this Achilles/Bridges Racing teammate match-up of Nishida vs. Saito, Nishida was solid at initiation and showed good angle throughout his run. Saito was close and edgy but a touch unstable in the early part of the run, but he collected himself to maintain good proximity. Saito Lead: Saito initiated first and was carrying a lot of speed into the contest, rubbing the wall coming onto the straightaway. Nishida was late to engage and was low on the track, which didn't go over well with the judges. Nishida overdrove his car in the last complex contacting Saito near the end of the run. Saito won 3-0.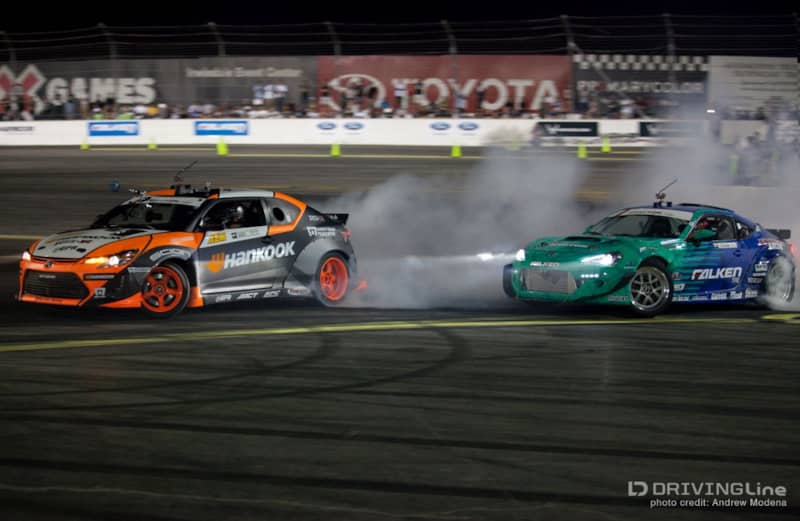 Daijiro Yoshihara Vs. Fredric Aasbo
Yoshihara Lead: Both cars took the same line early and no one made any major miscues throughout the run. Yoshihara kept his car high and got a touch of separation but the run was the most even of the event. Aasbo Lead: Aasbo looked to have better angle and kept his car in the sweet spot high on the track. Yoshihara had a slight shimmy at initiation and seemed to lack the smoothness of Aasbo, but neither driver committed any big blunders. 2-OMT for Aasbo.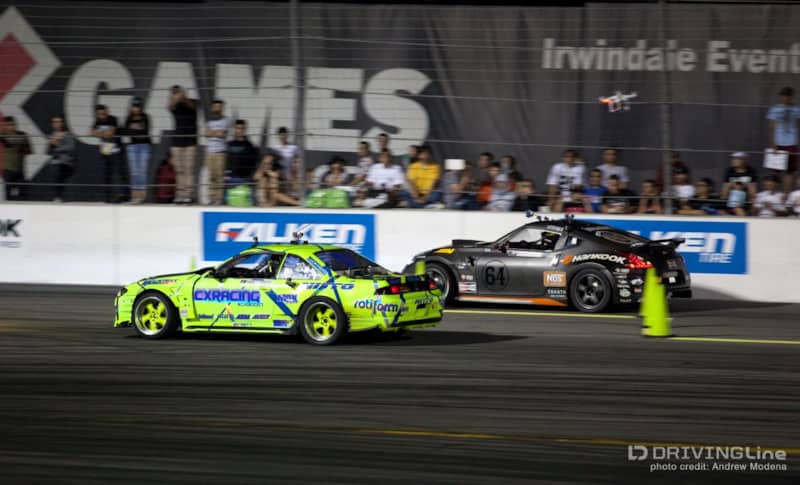 Chris Forsberg Vs. Matt Field
Forsberg Lead: Despite a 4-0 record against Field, Forsberg left no doubt. He was smooth from A to Z. Field was the opposite, missing the inside clipping cone altogether, scoring a zero and inviting Forsberg to the next round. Field Lead: Going through the motions, Field ran OK and Forsberg simply kept pace. Forsberg 3-0.
Nitto Top 4
Forrest Wang Vs. Daigo Saito
Wang Lead: The event's top qualifier, Wang initiated high on the track, remained consistent at the inside clipping point, and made a fairly clean run. Saito initiated with a little less angle and used this fact to take an advantage from a proximity standpoint. Saito Lead: Always fast early, Saito ran away and hid from Wang who went low on the bank and chopped his clipping point to try and gain some proximity… to no avail. Saito advanced on a clean 3-0.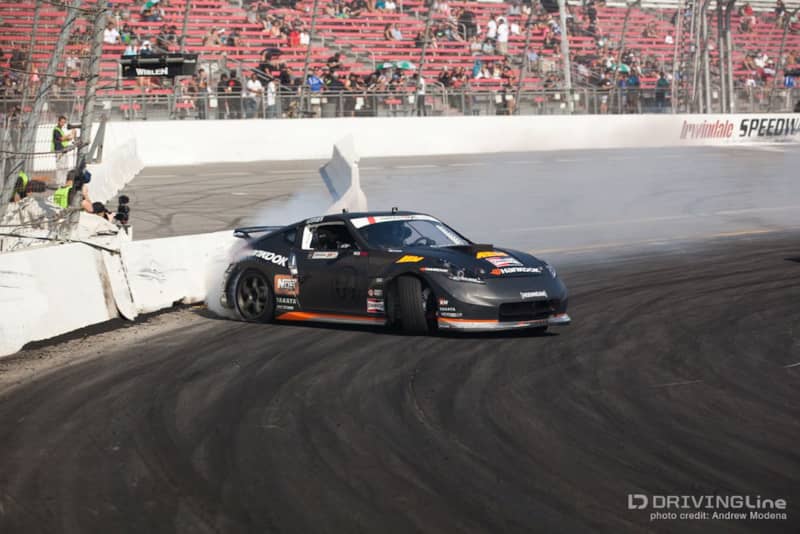 Chris Forsberg Vs. Fredric Aasbo
Forsberg Lead: If he wins this Forsberg is season champion; if he loses the title is Aasbo's to win in the final, anything less and Forsberg retains his lead and gets the big trophy. Forsberg made a smooth run but Aasbo was like a shadow early and stayed close throughout. Aasbo Lead: Taking a 3-0 record against Forsberg into his lead heat, Aasbo pulled away a little early, was in control throughout, and made no errors late. This smelled like it could be an OMT but in a night of many 3-0 decisions it was a 2-OMT win for Aasbo.
Go Pro Final
Fredric Aasbo Vs. Daigo Saito
Aasbo Lead: It was a simple win the heat, win the championship scenario for Aasbo. Aasbo laid down a good run but Saito was on him like a tattoo early and showed some serious angle at all the major clipping points. This was a super close heat. Saito Lead: Aggressive from initiation, Saito kept his car high on the track, close to the wall, and at an acute angle… all of which made a good impression with the judges. Aasbo couldn't match the angle and in the end failed to crowd Saito, like Saito had crowded him. Saito wins Irwindale for the third straight year. Saito's victory sealed Aasbo's fate. Aasbo misses the 2014 championship by a scant 11.5 points making Chris Forsberg the 2014 Formula Drift Champion.
2014 Formula Drift Championship Final Standings:
Chris Forsberg Hankook Tire Nissan 370Z 561.50 points
Fredric Aasbo Hankook Tire Scion Racing tC 550 points

Vaughn Gittin Jr. Monster Energy Nitto Tire Ford Mustang RTR 393 points
Manufacturers Championship Final Standings:
Scion 843 points
Nissan 721 points
Ford 670 points
Tire Championship Final Standings:
Hankook 1119.50 points
Nitto 836 points
Achilles 801 points
Recap the whole 2014 Formula Drift season with our event play-by-plays on DrivingLine and make sure to check out the FD Irwindale highlight video below!
Words: Evan Griffey & Andrew Modena
Save
Save