Fredric Aasbo Secures First Victory of 2021 at Formula Drift St. Louis
Story By Joey Redmond
Photos By
Formula Drift 2021 ventured back into the Midwest to run an extremely technical course that cuts across a NASCAR oval for Round 6 of the 2021 Formula Drift season. In the past, because of its technical nature and tight turns, this track has delivered lots of crashes in tandem. This year's event was a waiting game to see what collisions and controversy the venue would stir up this season.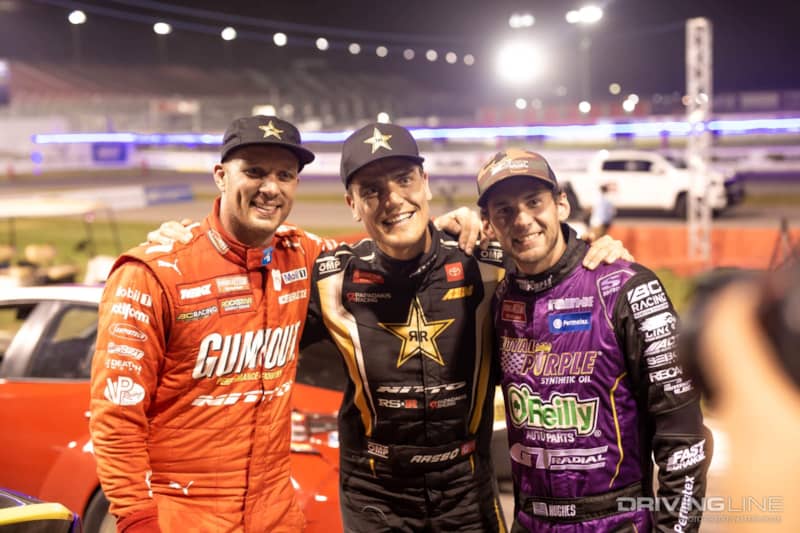 Qualifying
Alec Robbins earned the number one qualifying spot away from all the Championship Chase leaders which bought him a "bye" into the Top 16. Fredric Aasbo locked in third place which put him in a great spot in the bracket for the race weekend, while the two gentlemen at the top of the Championship chase, Matt Field and Chelsea DeNofa qualified seventh and sixth.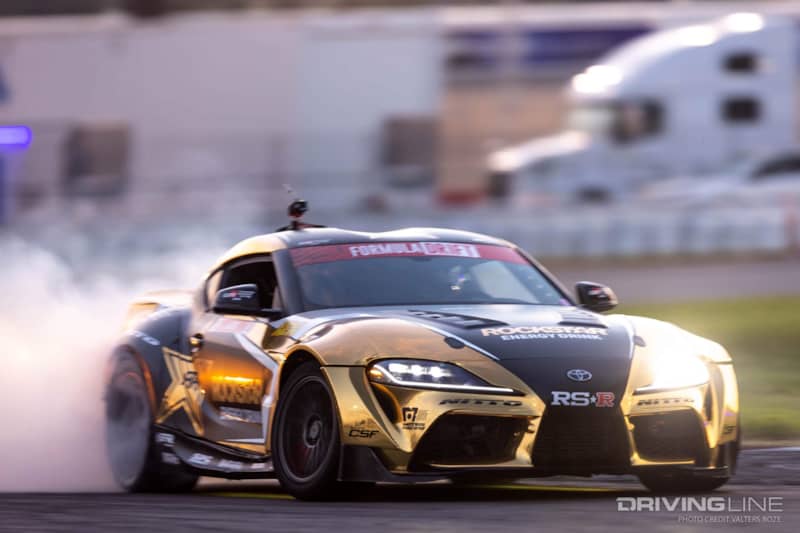 Top 32 Blues for Adam LZ
Ryan Tuerck took out Jonathan Nerran which advanced him into the Top 16 where he was set to face his friend, Chris Forsberg. Adam LZ had a close battle with Dai Yoshihara, but the judges ended up picking Dai Yoshihara to advance into the Top 16 making another early exit for Adam LZ and his S15 Silvia for the season.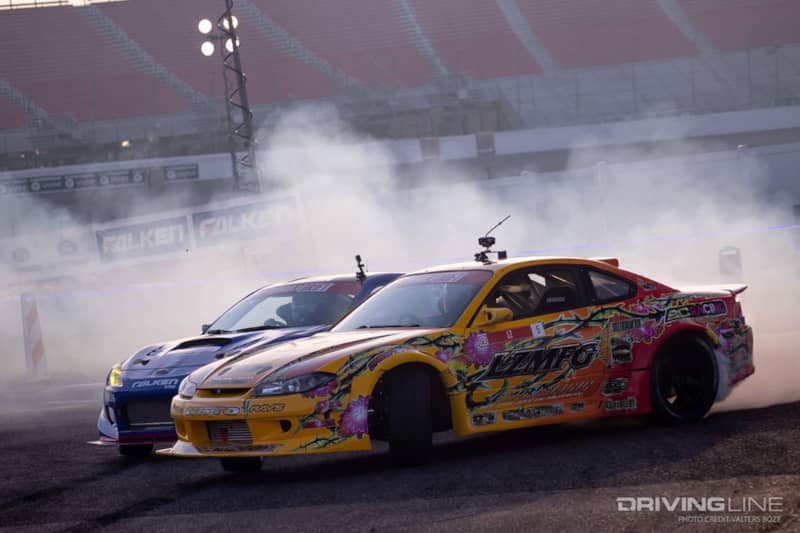 Dylan Hughes took out Jonathan Hurst to put him into the next round of competition. Then, we saw Vaughn Gittin Jr.'s RTR/Nitto Mustang take out Jeff Jones, despite his amazing form throughout this season in his Nissan 370Z. Fredric Aasbo then eliminated Kyle Mohan to put him into the Top 16 of Formula Drift in St. Louis.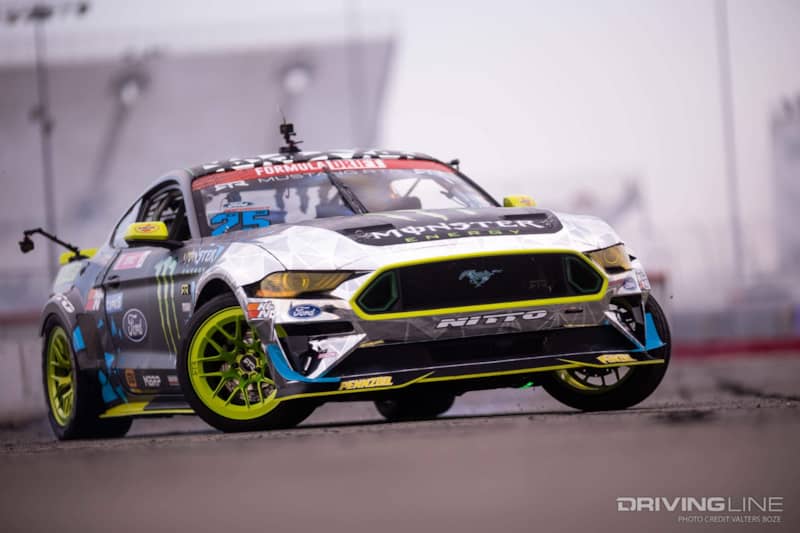 Tremendous Top 16
Ryan Tuerck and Chris Forsberg then had a great battle, but Forsberg made several mistakes and Tuerck really used the grip of his Nitto NT555 G2 tries to steer him away from an accident with Forsberg. The judges made the call to award a victory to Ryan Tuerck on this one. Dylan Hughes' driving skills proved he is really focused on improving and knocked out Rookie of the Year hopeful, Branden Sorensen, with ease.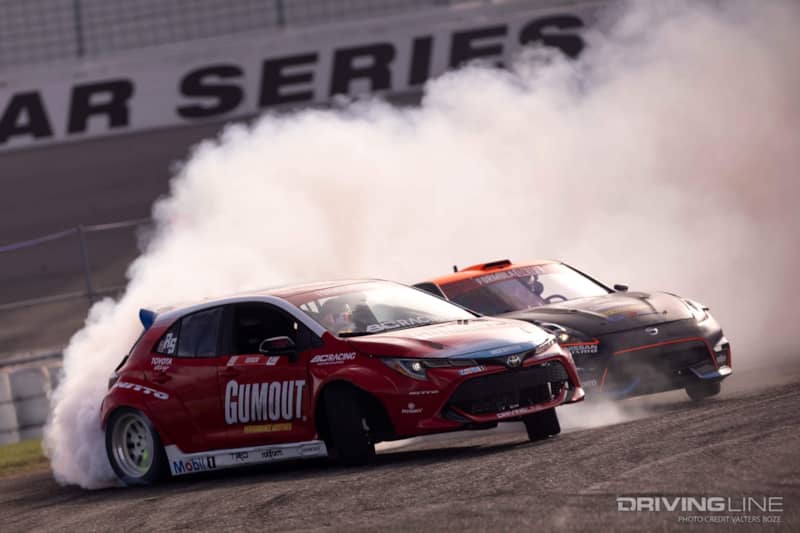 With some of the best drifting action of the night, the judges earned their keep deciding the battle between Justin Pawlak and Vaughn Gittin Jr. In a test of endurance that spanned six tandem runs total, Vaughn Gittin Jr. finally defeated Justin Pawlak in an awesome all-Ford Mustang battle. Fredric Aasbo then made easy work of Wataru Masuyama in his S15 Silvia to advance into the Great 8.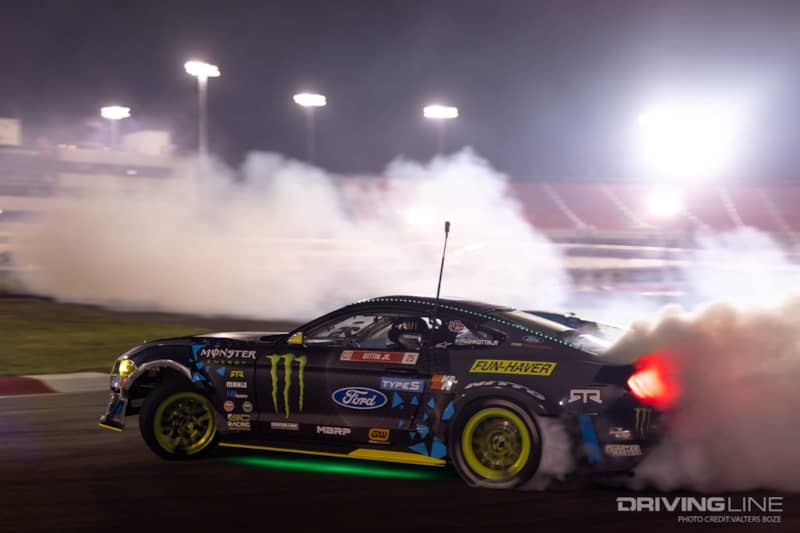 A sloppy and wild battle knocked out Chelsea DeNofa from the competition as he crashed into Michael Essa at outer zone two to take an early loss. Which was a great disappointment after he had won the last two 2021 Formula Drift events.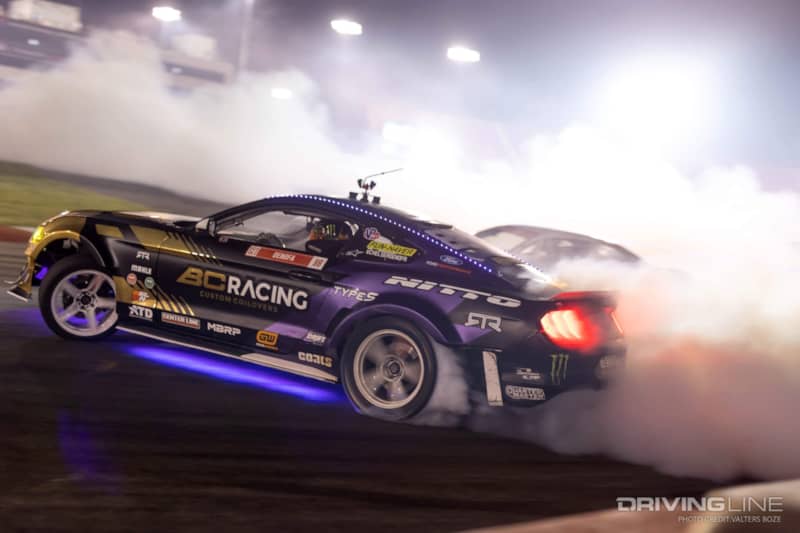 A Tight Great 8
Ryan Tuerck was chasing when Alec Robbins put his Nissan 350Z into the wall quite hard. Alec Robbins and his team couldn't repair the damage from the crash in time to compete and that sent Ryan Tuerck into the Final Four.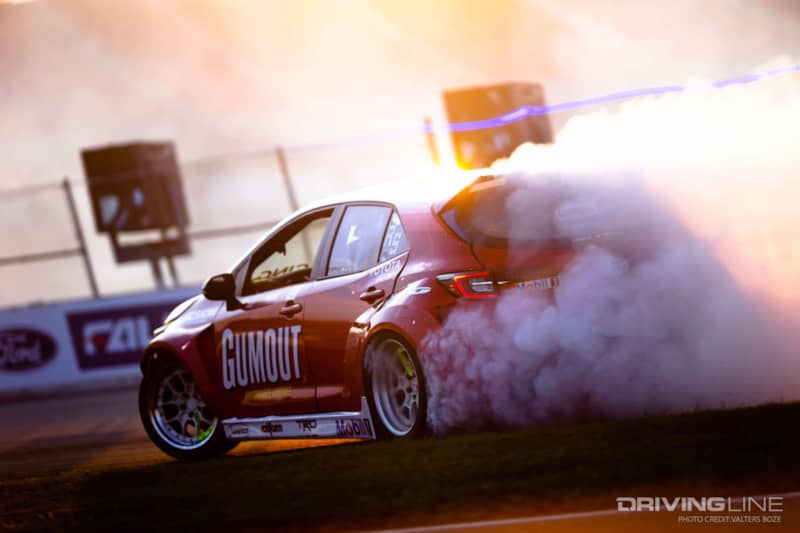 Dylan Hughes continued to do well and pushed his BMW hard and knocked out veteran Odi Bakchis to move into the next round. Vaughn Gittin Jr. advanced against Matt Field after Matt Field snapped his e-brake hand lever on the first run and tried to run a chase lap without it, which resulted in a crash. Matt Field's loss was significant because of his points lead for the season would be diminished and allow other drivers to close the points gap.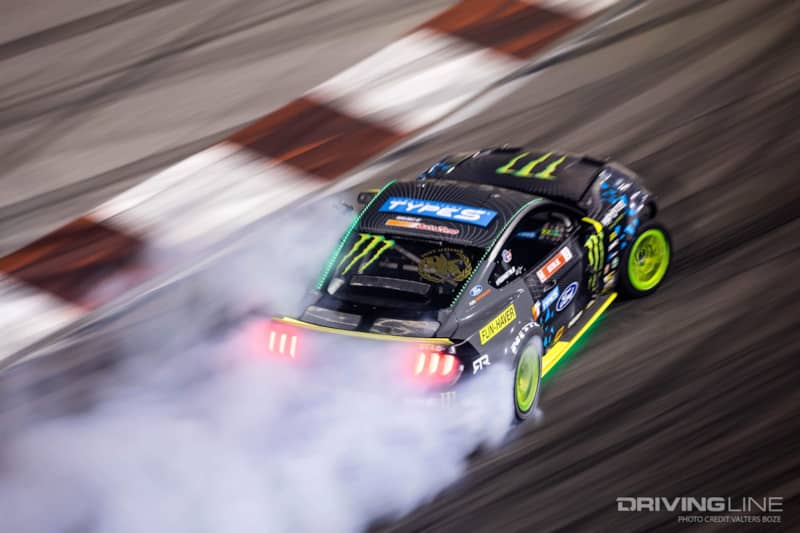 Running the course with grace, Fredric Aasbo navigated the course perfectly, but Essa really pushed him, and two judges called it "OMT". Then on the OMT battle, Essa entered way too hard and spun on the entry which moved Fredric Aasbo into the next round.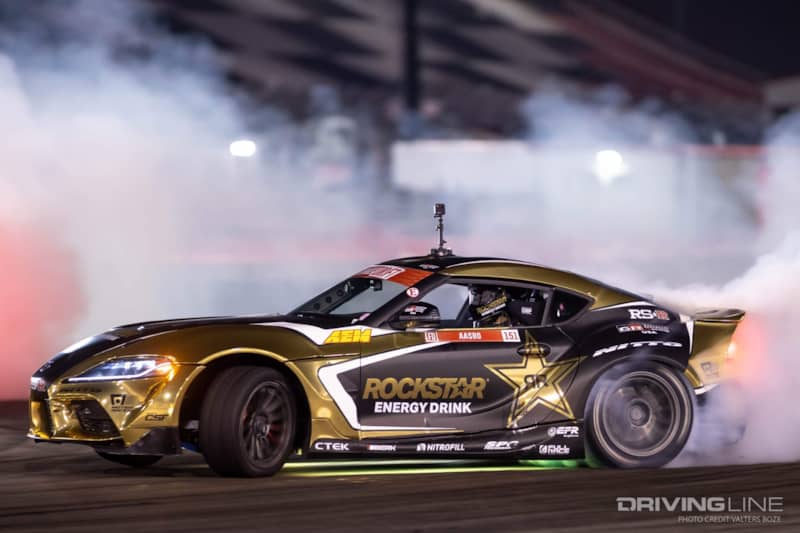 Finally, The Last Four
Ryan Tuerck performed admirably in his lead run against Dylan Hughes and the crowd got really hyped on this close proximity tandem run. Dylan was dinged for smashing into Ryan Tuerck in outer zone two upon after the judges watched the replay. Dylan Hughes then led against Ryan Tuerck and the chase run from Ryan Tuerck was a wild one leaving more questions about the battle than answers for the judges. After all that action, two judges voted for Ryan Tuerck and one picked One More Time which meant Ryan Tuerck advanced into the Final Round and Dylan Hughes would take home another third place result, for two in a row.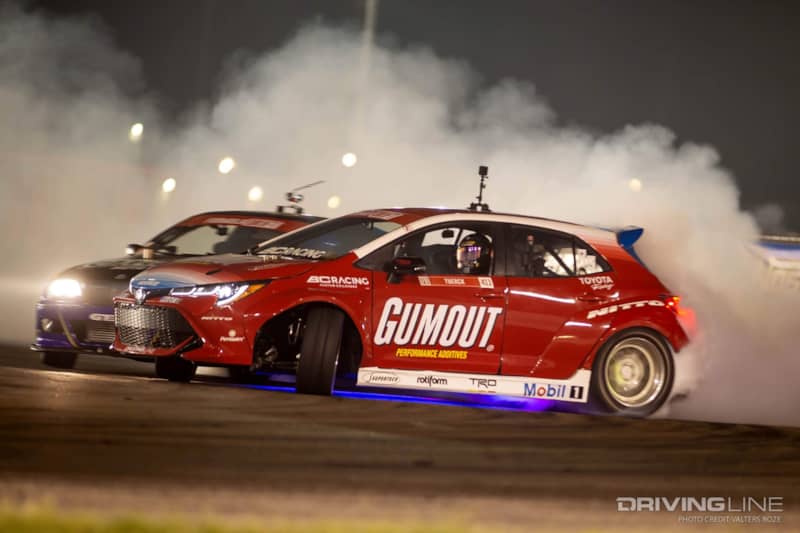 Fredric Aasbo was in the lead position when Vaughn Gittin Jr. overcooked it and spun the car while scrambling to keep up with Aasbo and his Toyota Supra. Then Vaughn called a Competition Timeout to make some repairs. Vaughn's team scrambled to swap an entire rear end in 5 minutes, but they couldn't quite complete it in that timeframe (but probably could have installed it if they had 10 minutes). Vaughn was unable to make his second part of the run which gave Fredric Aasbo an easy pass into the final battle.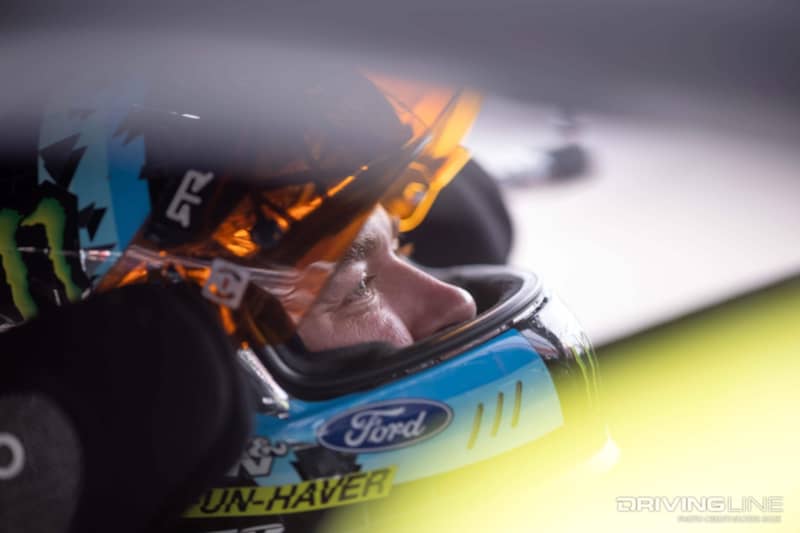 A Real Final Battle
Surprisingly, the last two rounds of Formula Drift in Monroe and Erie didn't manage to have two working cars to complete a final battle. Thankfully, this event in St. Louis delivered with an amazing all Nitto Tire NT555 G2 final battle between Ryan Tuerck and Fredric Aasbo.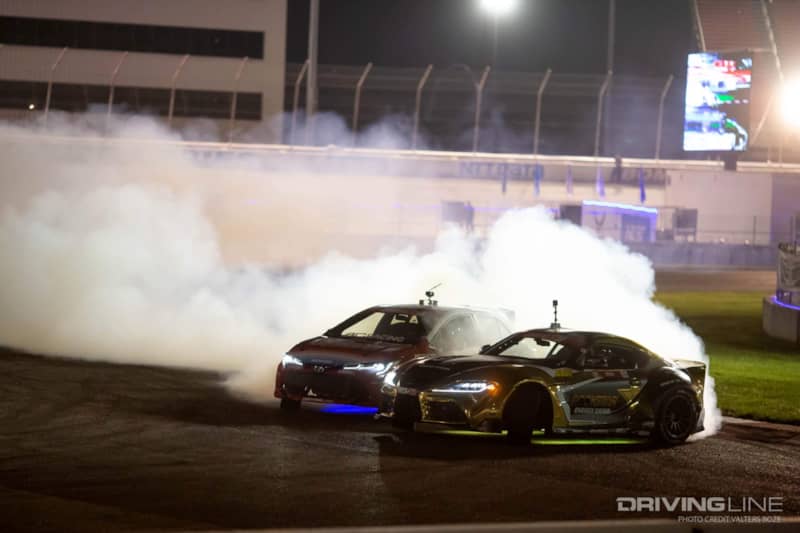 Fredric Aasbo looked nearly perfect on his first lap, and Ryan Tuerck was following behind him flawlessly. Right at outer zone four, Ryan Tuerck overcooked it and tapped the wall and dropped him out of drift big time just before crossing the finish line. Ryan Tuerck then needed a competition timeout to look over his car but he was way behind in the tandem battle. The drivers returned to the start line a bit later and Ryan Tuerck ran a smooth lead run, but Aasbo didn't make any mistakes that were worse than Ryan Tuerck's wall tap/straighten— and just like that, Fredric Aasbo won 2021 Formula Drift St. Louis.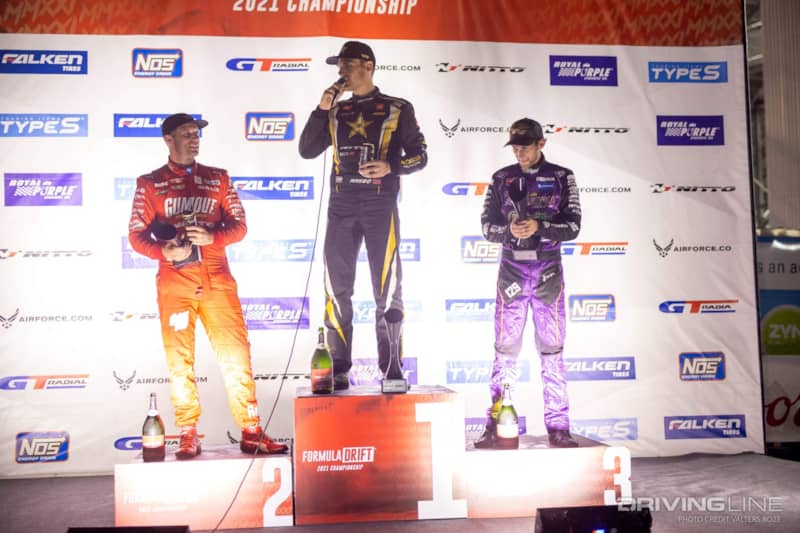 This marked Fredric Aasbo's 16th career Formula Drift victory! He is the winningest driver in Formula Drift history, by 4 victories, over second place Vaughn Gittin Jr. It was also his second victory in St. Louis as he took home first place here in 2018 when the track debuted in Formula Drift.