Full Race Recap - 2014 King of The Hammers
The following is a full Press Release from King of The Hammers/Hammerking Productions with corresponding pictures added by DrivingLine. Be sure to check out more King of the Hammers coverage at www.drivingline.com/king-of-the-hammers or learn more about the Ultra4 series at www.ultra4racing.com.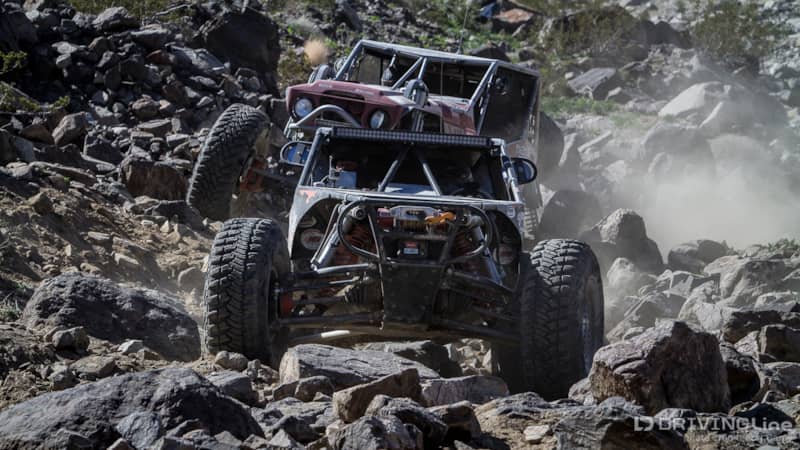 On Friday, Feb. 7th, in the Mojave Desert of Johnson Valley, Calif., 158 Ultra 4 cars – unlimited vehicles that have redefined what is possible in a car - sped instead across the desert for the 8th annual Griffins King of the Hammers. Considered the toughest one-day off-road race in the world, KOH didn't disappoint in 2014. Over the course of 198 miles, more than 40,000 spectators spread across the landscape as drivers from 31 states and eight countries tackled trails including Wrecking Ball, Clawhammer, Devil's Slide, Jackhammer, and Chocolate Thunder, all in search of one thing—bragging rights for the 2014 KOH crown.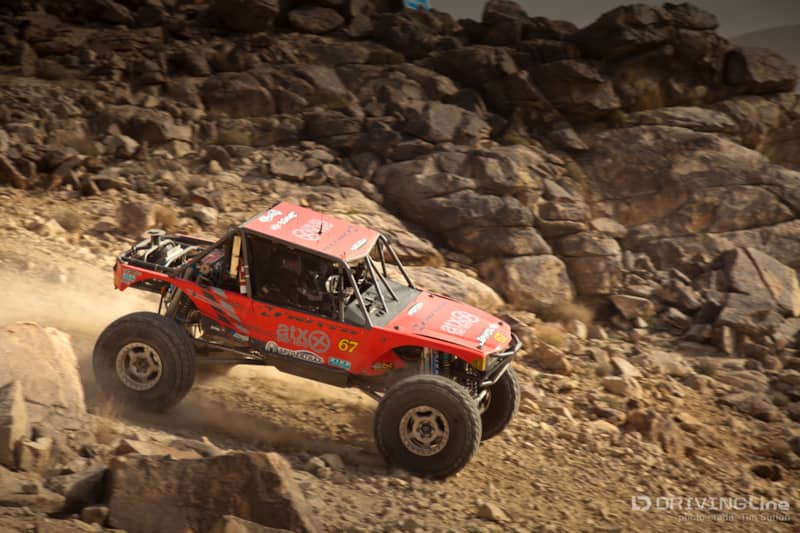 Just over eight hours after he left the start, Loren Healy, the 2010 KOH King from Farmington, New Mexico, crossed the finish line. Winded, sunburned and dusty, Healy pealed off his helmet and proclaimed, "That was the worst race I've ever finished." Then someone informed him that he was first, and he added with a smile, "Until I won the King of the Hammers again."
The Story, Of Course, Doesn't Start With the End
For the first 150 miles, Healy and his co-driver, Casey Trujillo, who started off the line in ninth, coasted. They picked off drivers mile-after-mile until moving into the lead by lap three. And then that's when the hard part started. "We were halfway through the third lap and my jack came loose and stuck a hole in my radiator," said Healy. "Everything just kind of fell apart from there. I thought we were done."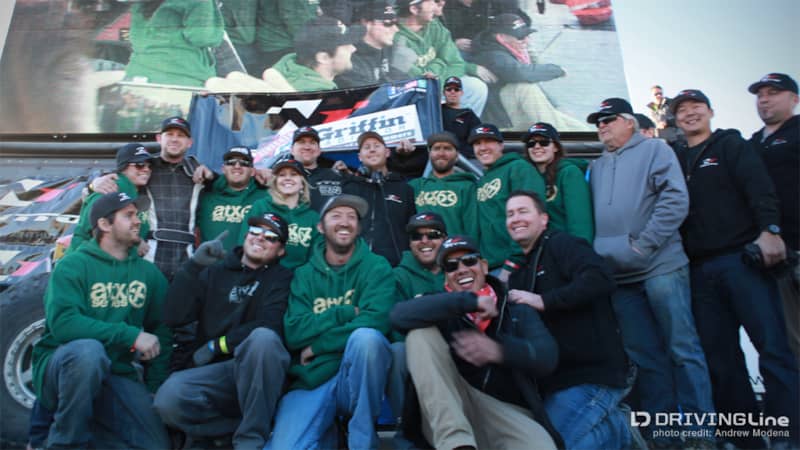 Luckily, Healy's pit crew felt otherwise. The dedicated bunch quickly mended his rig at remote pit two (his old straight axle he brought back in 2014 instead of the IFS he used in 2013) and put the team back on the course. But the hits just kept coming. Soon, Healy was reduced to three-gears, and every two miles he and Trujillo were out of the car winching through otherwise drivable terrain. At 30-miles, they broke their u-joint. Then finally by 4:05 p.m., they limped across the finish. "It was brutal, brutal, brutal," Healy said about the day. How brutal? Out of the 158 drivers who took the line at 8 a.m., only 32 got the checkered flag 14 hours later at 10 p.m.—the race cut-off.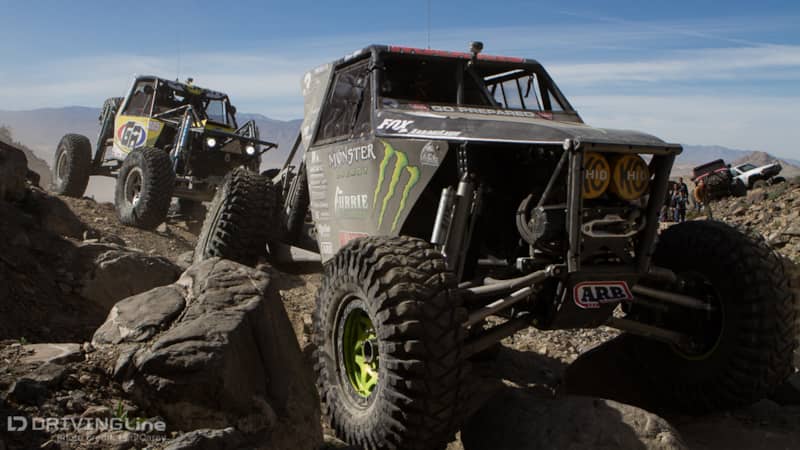 Shared Sentiments
Competing in his fifth KOH, Tony Pellegrino's word of the day was also, "brutal". Owner of GenRight, Pellegrino's steady pace paid off for him over the course of eight hours and 15 mins and continued to reinforce his consistency in the sport.  While two other drivers physically finished before him—Tom Wayes and Derek West—they were both later penalized for missing checkpoints. Pellegrino, along with his co-driver Bryan Lyttle, earned second instead. It is the second time Pellegrino has been runner-up at KOH. "We drove our own race," he said. "We just tried to pick people off toward the end without beating up our car. The goal was to get to the end."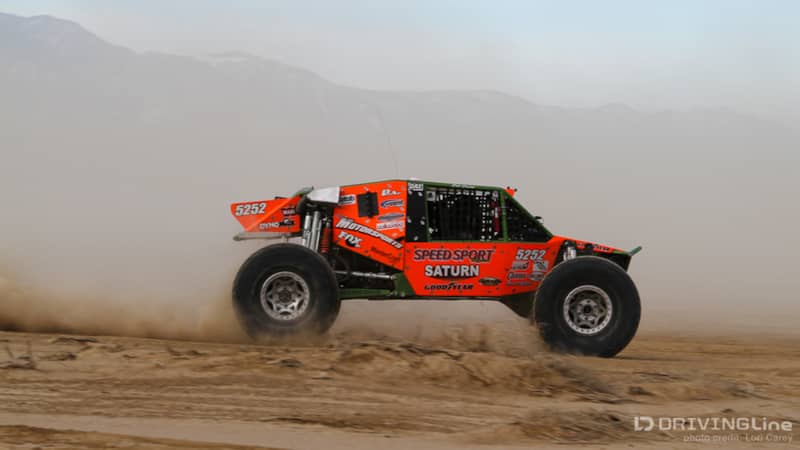 Oldies But Goodies
If methodical and steady was the way to go then Bill Baird, 64, the oldest competitor to take the line, fit the bill. Competing in a single-seater car, the Sturgis, KY native, who was inducted into the Talladega Hall of Fame in 1999 and has three Sprint Cup starts on his resume, had yet to complete a KOH race in two attempts. Not only did Baird finish in 2014, but he landed on the podium in third. Winching his own car up boulder fields and suffering three flats along the way, he was the only driver in the top five who didn't have a co-driver. "You just have to keep digging in," said Baird—a favorite with the other drivers. "Just because you're getting older, doesn't mean you can't do things."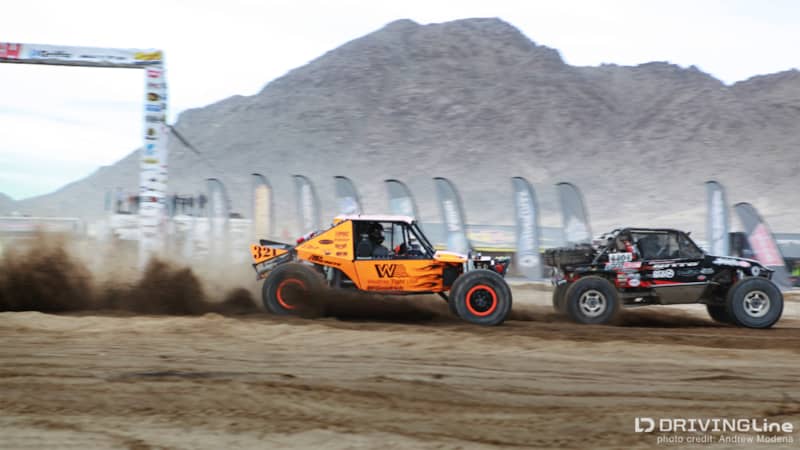 Lap 1
Off-the start it was Nick Nelson and Tom Wayes, the number one and two-qualifiers, both of whom were driving IFS cars, who led the first lap—a burly, fast 52-mile push through the wind-scoured desert. While the two took a quick lead, things changed for both on lap two. First Nelson ran out of gas and then later suffered a mechanical failure, which caused him to DNF.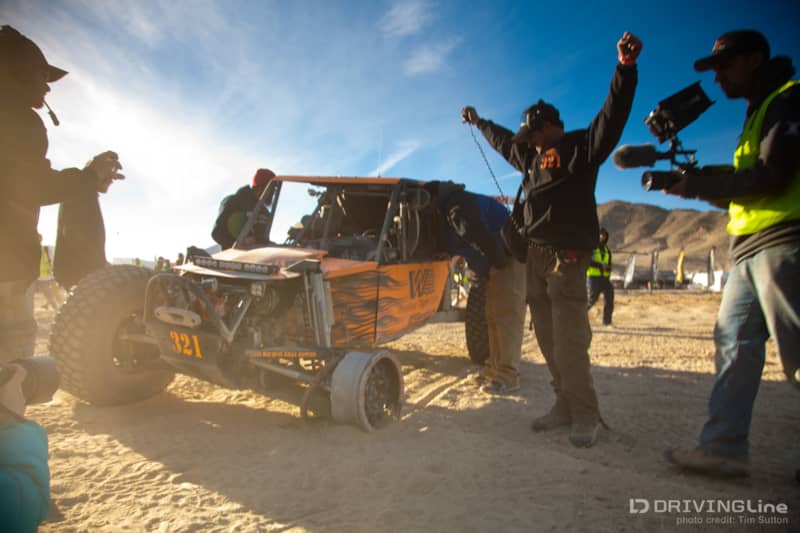 Wayes, who was driving a single-seater car for the first time in his KOH career (he's raced seven times), was having an incredible race, but then he missed the Hwy 19/20 and Elvis checkpoints during lap two. Despite maintaining his momentum and crossing the finish line physically first, he suffered an hour and ten-minute penalty and was relegated to 7th. Still it was his best finish in seven attempts.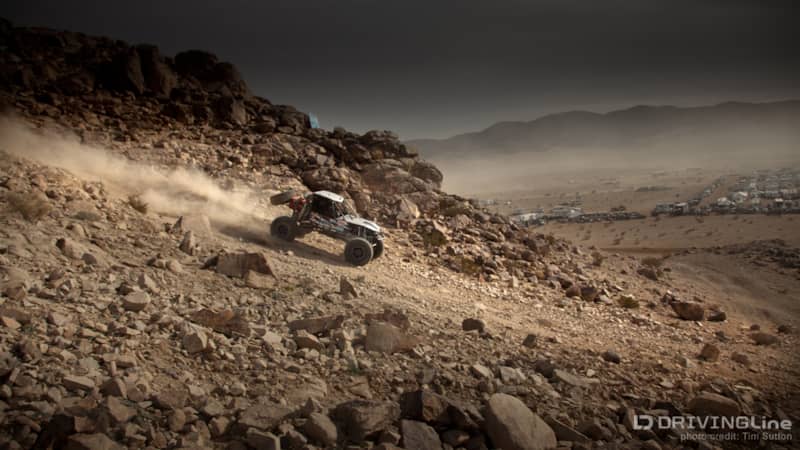 Former Kings Put Up a Good Battle
Five former Kings returned to the roster in 2014, and over the course 198 miles all of them were in contention for the lead at some point during the race. But as every KOH competitor knows, only one driver can be King. "I've never seen so many lead changes at a KOH race," said 2013 champ Randy Slawson, who ended up 9th. Sitting in second with 30-miles to go, Slawson battled with Erik Miller, Healy and Derek West at the front of the pack and looked liked he might also take another KOH win. Then his power steering failed—costing him two hours--and crushed his hopes of the repeat.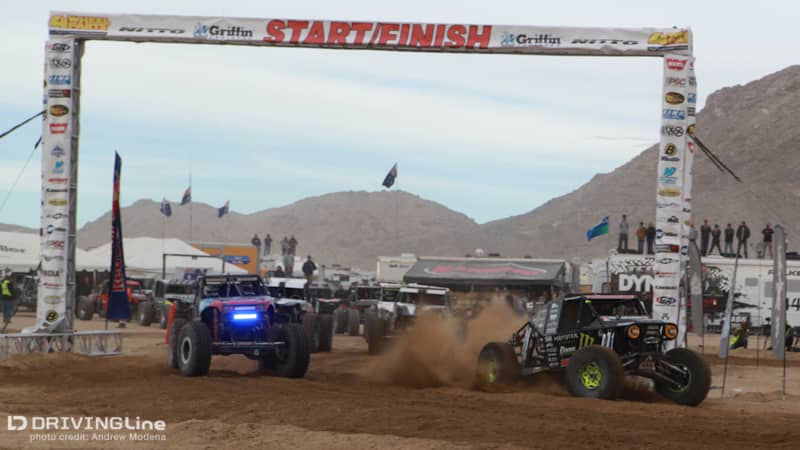 Shannon Campbell
The first King to falter on course was two-time winner Shannon Campbell (2008 and 2011) when his transmission blew on lap one. A favorite for the win, Campbell, who was driving a single-seater IFS, went back to the pits, rolled up his sleeves and started crewing for his son Wayland, 18, who was still on the course. Wayland, a senior at Mesquite High School in Arizona, went on to finish 15th—his best finish in two attempts. (He finished 23rd in 2013.)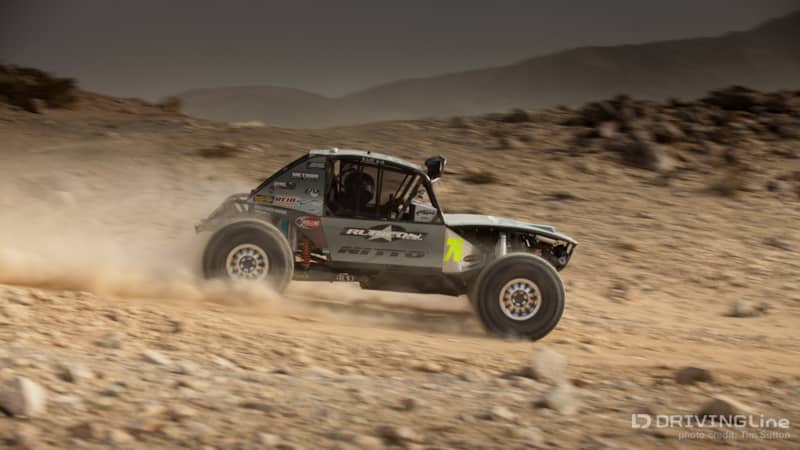 Jason Scherer
2009 winner Jason Scherer had a great first lap moving from his start position of 16th into third after the first lap. Basically driving a rig originally intended for Baja, he held his top three position throughout Chocolate Thunder on the second lap. Then at RM75, he suffered two blown front CV joints and his race was also over.
The Heart of KOH
Well into the third lap, 2012 winner Erik Miller was leading by almost ten minutes and looked like he might be the next King to double down at KOH. Then Clawhammer got the best of him and busted his orbital valve. While it might have been game over for most drivers, Miller opted to run all the way back to his pit to fetch a spare part. And that was the easy part. Then Miller went to work fixing his car as driver after driver drove by him and the sun dropped over the horizon. But he never threw in the towel. While the Red Bull tent pumped music and competitors ahead of him had returned to their RVs to shower, Miller arrived at the finish at 8:44 p.m.--12 hrs and 30 mins after he left the start. He finished 25th. While it wasn't the win he was looking for, he demonstrated the spirit King of Hammers is known for. In a race where even the best drivers are pushed beyond their limits, every finish is a win.   And as any driver and co-driver who has ever competed in KOH can attest to—if it wasn't brutal, it wouldn't be the race they loved.
The finishing race times are below, for more pictures visit DrivingLine's 2014 KOH Gallery. Connect further with Nitto Racing drivers at NittoRacing.com.
What do you love most about King of The Hammers? Leave a comment and tell us why.