Fun in the Sun: Jeep Beach 2017
When it comes to week-long Jeep events, there are two that have become spring-time staples: the Easter Jeep Safari in Moab, Utah, and Jeep Beach in Daytona Beach, Florida. While Moab's red rock trails make it the go-to for hardcore 'wheeling enthusiasts, Daytona's historic shoreline offers a family-friendly vacation atmosphere that every level of Jeeper can enjoy. Since we've covered EJS extensively in the past, we took a drive down to Daytona Beach to show you why Jeep Beach is such an attraction for thousands of Jeep-loving people across the U.S.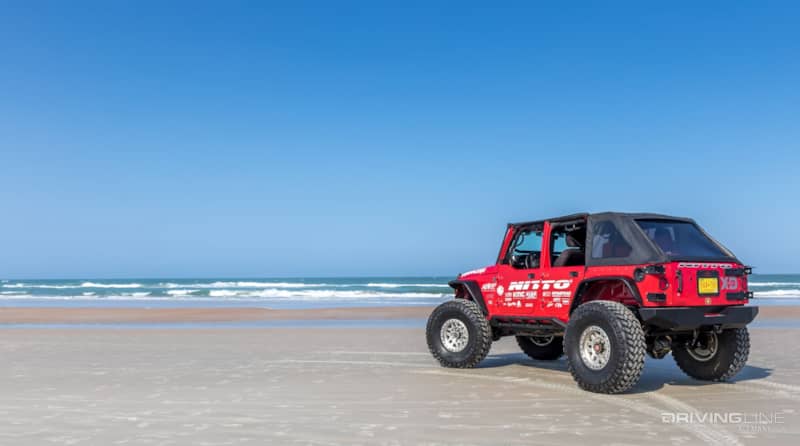 Most enjoy heading to the beach for vacation — even those with it in their backyard so to speak. That's essentially how Jeep Beach got its start. Founded by the Mid-Florida Jeep Club, the all-volunteer organization had an idea for a Jeep-only event to be held on the shores of the famed Daytona Beach. Now in its 15th year, the annual event is a week-long Jeep fest that blends a relaxed, family-friendly atmosphere with plenty of activities to keep you busy.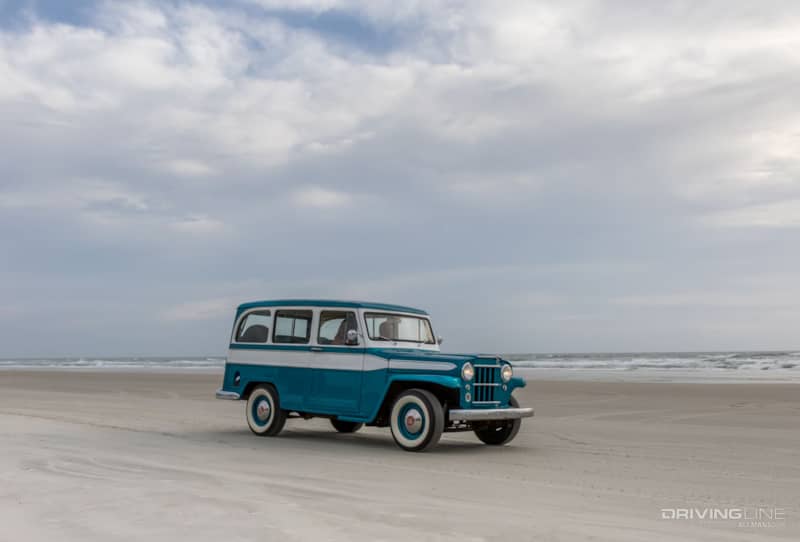 Daytona Beach is one of the few places in the U.S. that you can drive on the sand. From sun up to sun down, the shores of Daytona are filled with Jeeps and families enjoying their time by the warm Atlantic Ocean.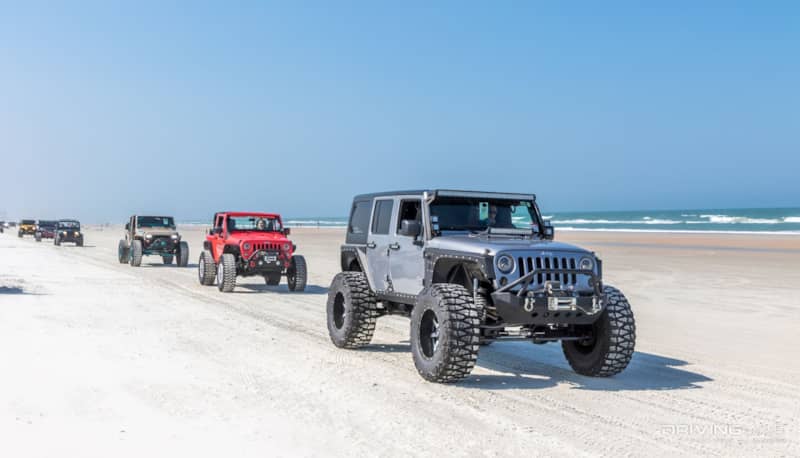 For those who sign up in advance, there are optional 'wheeling day trips early in the week. If you're arriving late in the week, you'll still get to use low range on the manmade obstacle course at the Daytona International Speedway infield.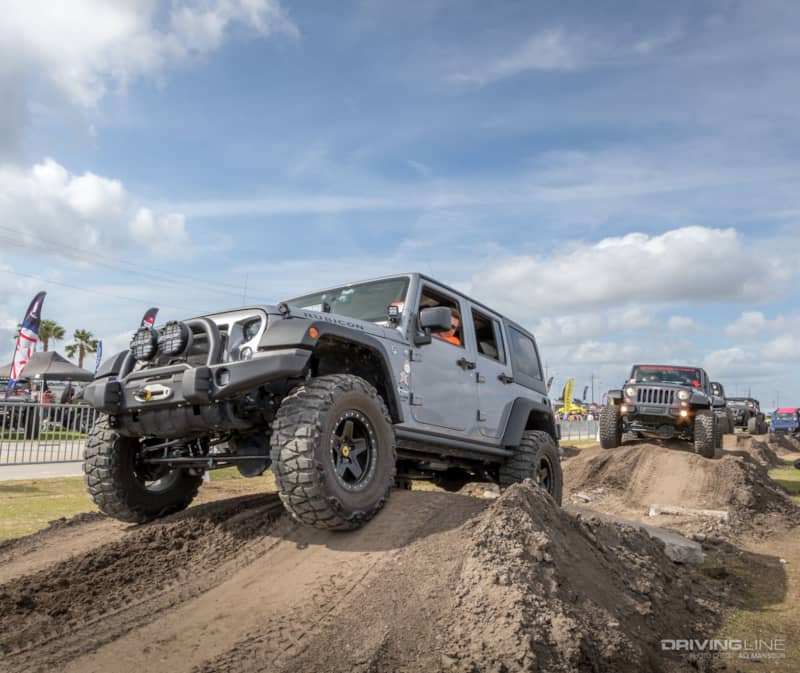 This is about as much rockcrawling you'll see in this part of Florida. The course is open to those who sign up and can be a bit more difficult than you might expect. This Wrangler Unlimited on Nitto Ridge Grapplers did a great job of maneuvering his way through the rock garden.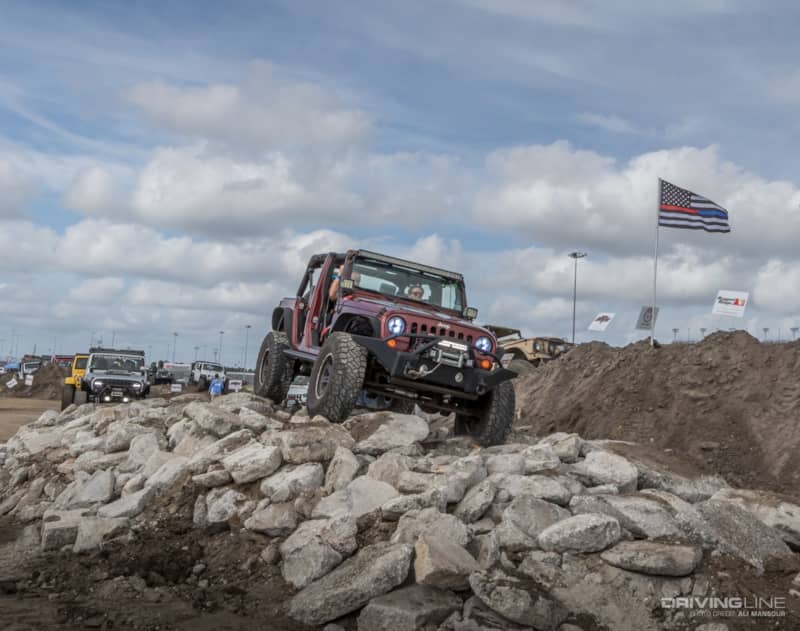 Another popular aspect of Jeep Beach is the vendor show held on Friday and Saturday at the Speedway. Here, you can check out the latest wares from hundreds of companies and retailers. Even major tire manufacturers such as Nitto are on hand to discuss its latest builds and tires.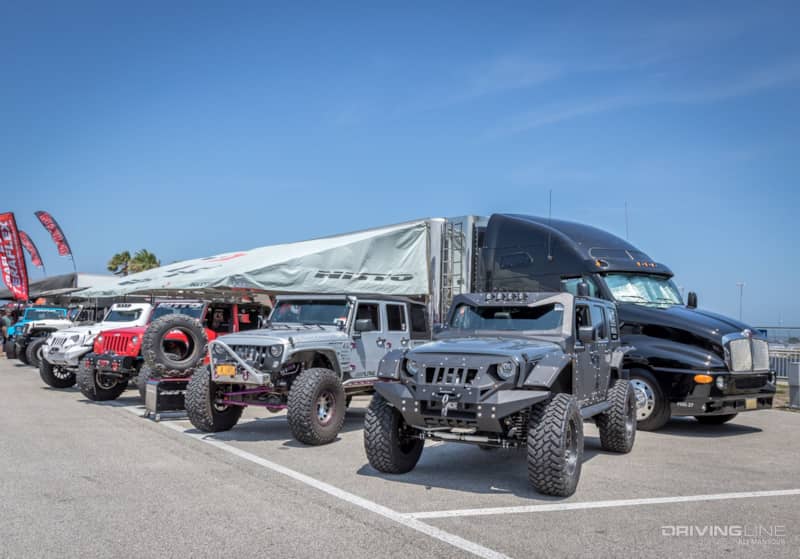 People and companies come from all over. You might recognize this tan 2016 Jeep Wrangler Unlimited as it was one of only 14 vehicles to participate in the 2016 JK Experience Alaska trip. It belongs to ARB, a company well-known for its selectable differential lockers and off-road accessories.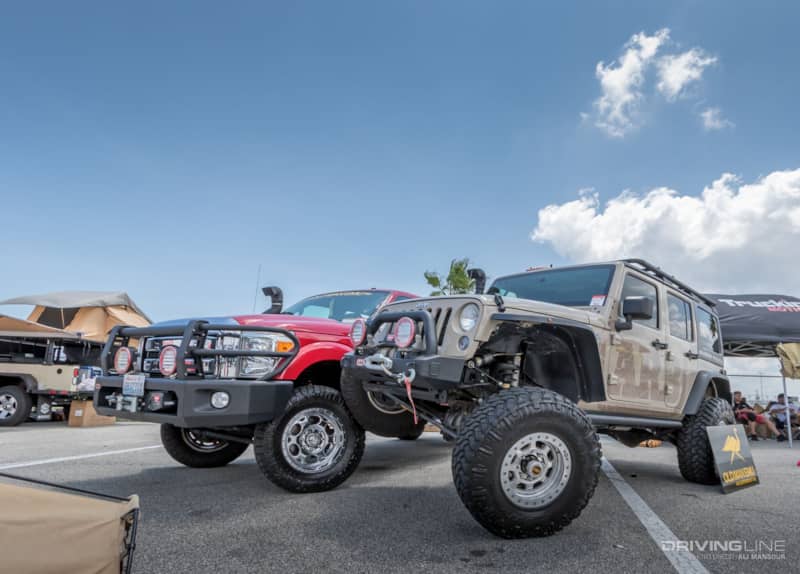 We're always searching for new products, and there were a few cool items on hand. Stereo manufacturer Alpine has stepped into the cooler game with its new ICE In-Cooler. The high-capacity Grizzly-brand cooler is fit with an assortment of powerful Alpine speakers, built-in Bluetooth audio connection and an auto-detect system that can sense if the vehicle's battery is getting too low to start. Tailgaters, rejoice!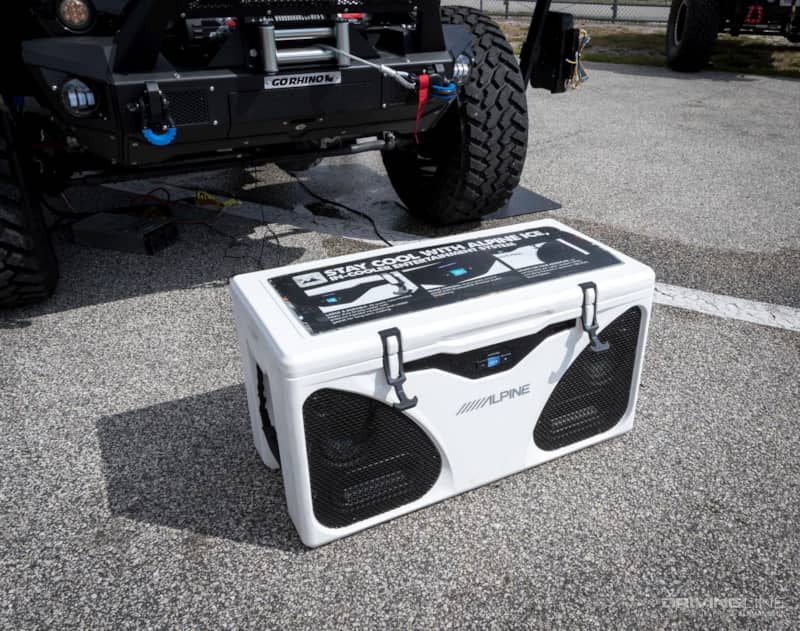 Speaking of tailgating, Bestop also had some cool new gear onsite. The Roughrider Tailgate Shelf is designed to attach to the inside of any 2007 to 2017 Jeep Wrangler tailgate. The shelf collapses neatly when you don't need it and drops down with the press of a button when you do. Capable of supporting 35 pounds, it's a pretty handy feature for those working or camping out of the back of the Jeep.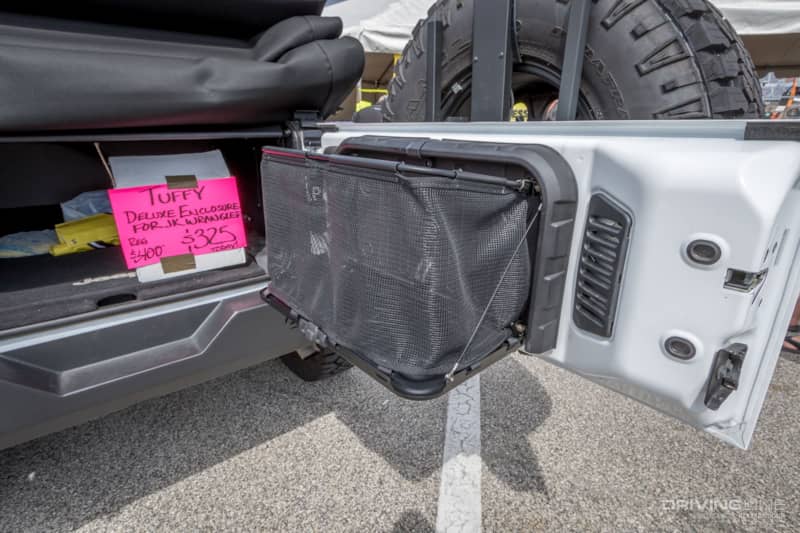 One trend we noticed in Florida were wheels — big wheels, to be exact. It wasn't uncommon to see 20-, 22-, and even 24-inch wheels on a JK. KMC was on hand showcasing some of its latest massive Moto Metal wheels. If big is what you are after, KMC has plenty to offer.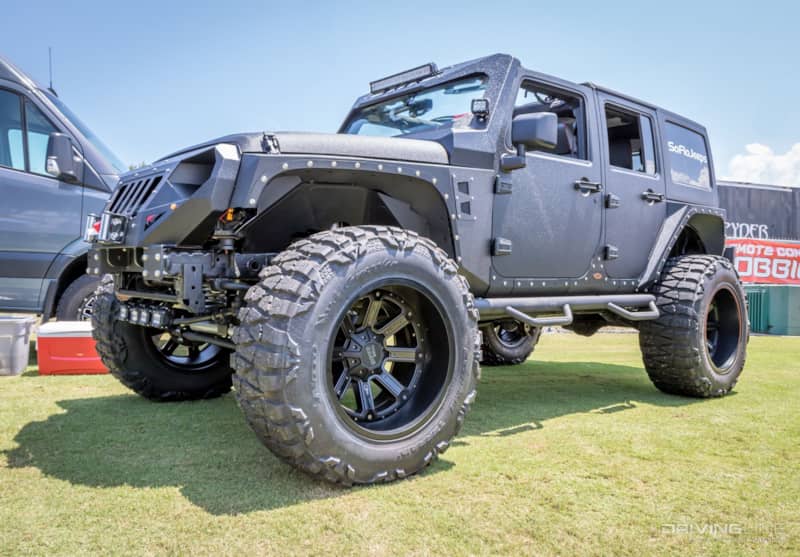 For those brave enough to tackle the biggest climb at the Speedway, once you made it to the top, you were faced with two-foot of muddy water. This TJ proved that his Terra Grappler G2s had enough bite to get him out in a hurry.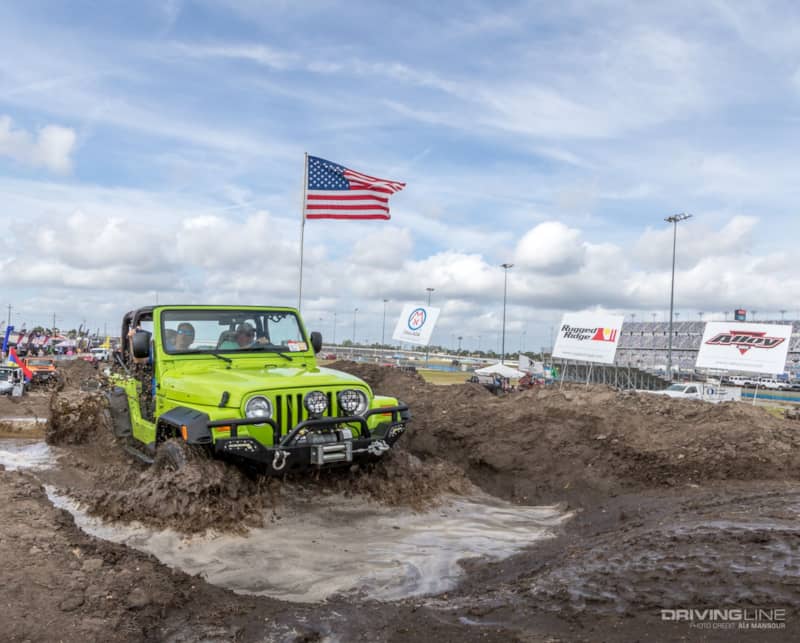 While there were more JKs in attendance than anything else, there were a quite a few classics as well. Old-school setups like this CJ-7 on Mud Grapplers were a great change up in the late-model scenery.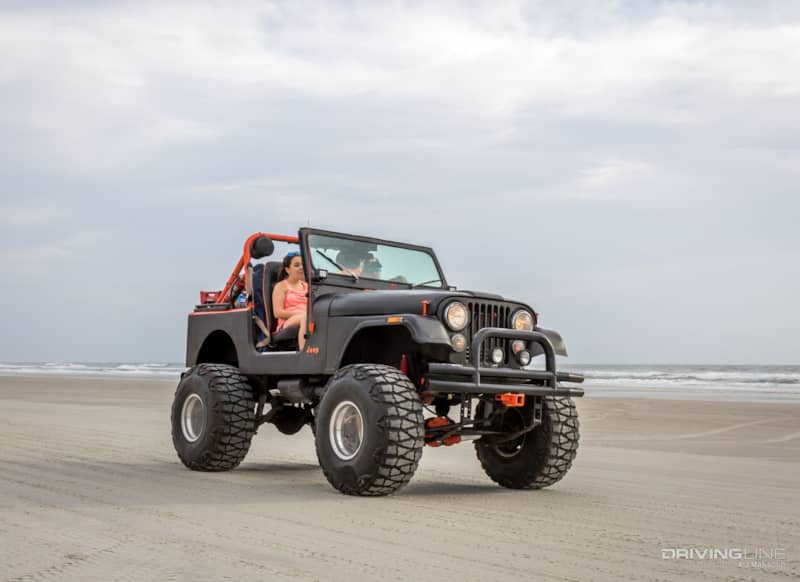 Jeep even showed support for the week by bringing out some of its present and past concept vehicles. The J-12 looked right at home cruising the beach. Will 2017 be the year we finally see a new Jeep truck? We hope so.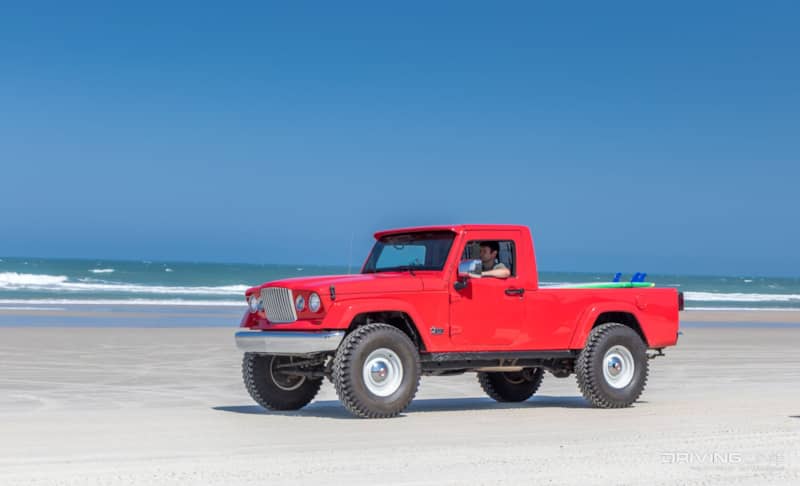 Like free swag? There's plenty to be had at Jeep Beach. In addition to the $150,000 in raffle prizes, companies were handing out cool gear all week.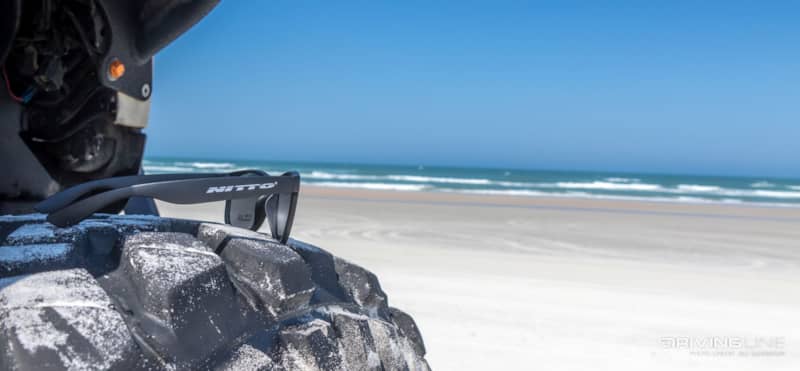 Even Ultra4 guys are into Jeep beach! We spotted two-time KOH champ Loren Healy taking a break between races in his Family Dragon JK.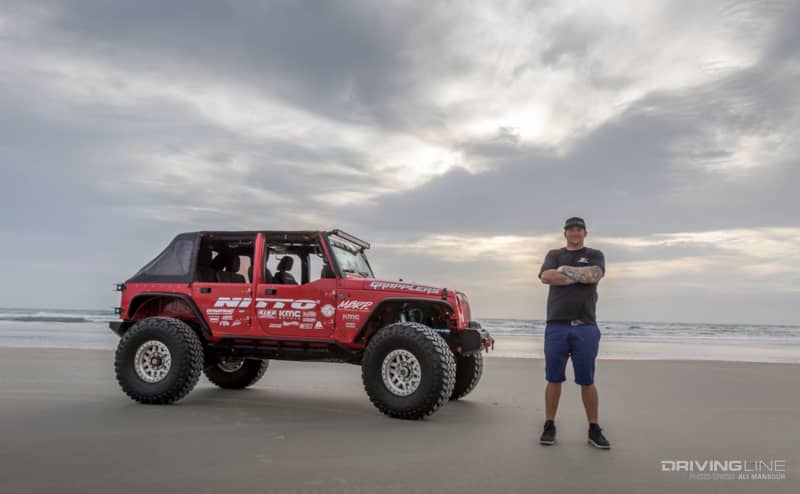 You can spend hours ogling Jeeps in the parking lots. Trust us, we did. Given there are so many Jeeps in one area, you'll see a variety of build types. Want to know how X bumper or Y lift looks on your Jeep? Just keep walking and you'll likely spot one with one on it. Even better, every Jeep owner we ran into was happy to talk about their Jeep.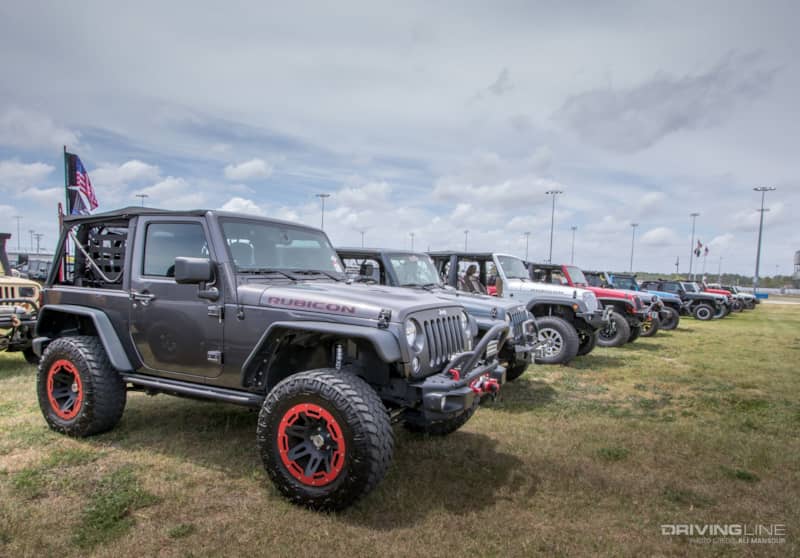 For all you active Instagramers, you'll likely recognize this 2012 Jeep Wrangler Unlimited. It belongs to Allie Argenio, aka @ITSJKLADY. She was one of many that drove their Jeeps down from New Jersey.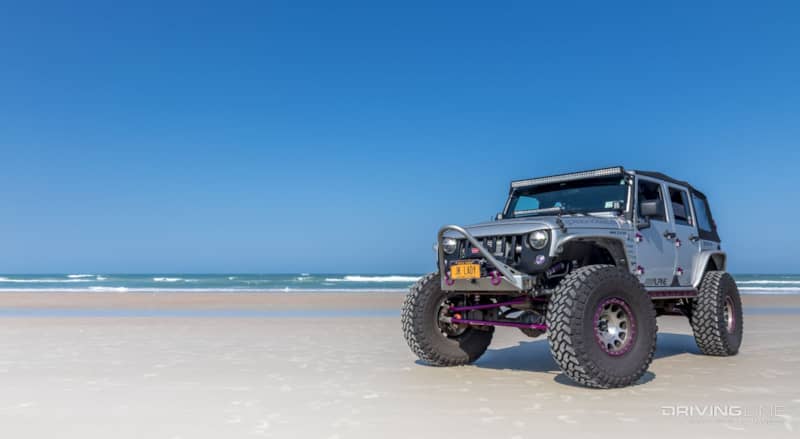 We trust our lightbars to see at night, but we've never thought about running one over. Heise LED Lighting System was eager to show just how much abuse (or weight) its bars could take.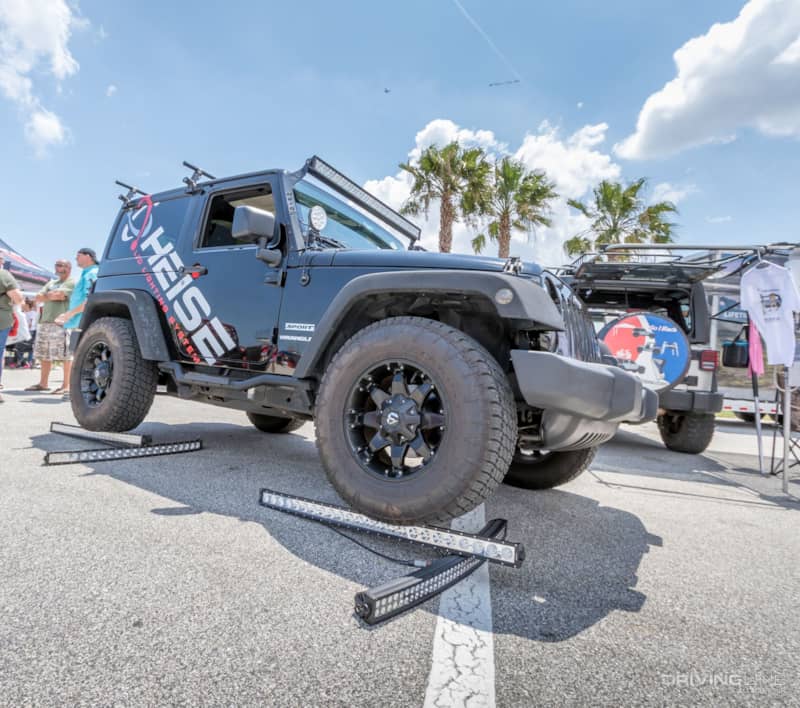 One of our favorite Jeeps of the 2016 SEMA Show was on hand. For those of you who don't recall, this is the Pathkiller. It belongs to the power soft top manufacturer MyTop. It's essentially 2014 Jeep Wrangler Unlimited with an all steel front end conversion from a 2001 Jeep Cherokee XJ.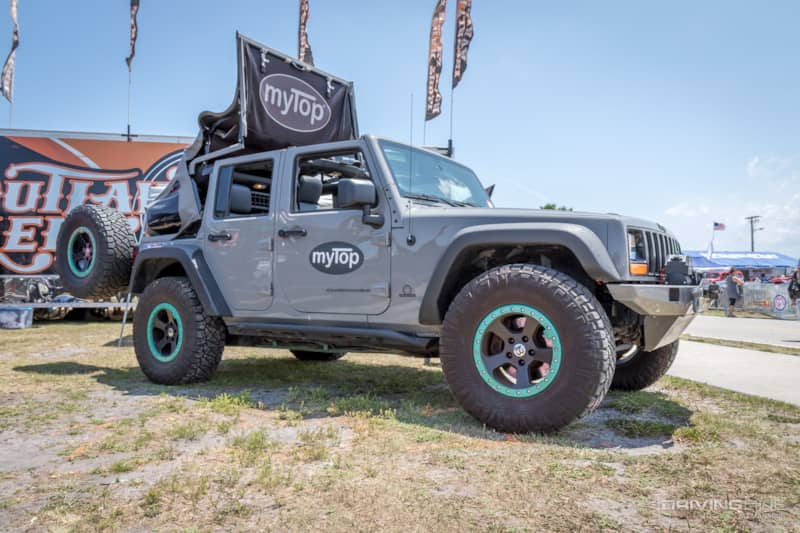 On the last day of Jeep Beach, participants are invited to hit the shores for a cruise. After 2,300 Jeeps hit the sand, the club stopped counting. It was one of the most enjoyable traffic jams we've ever been a part of.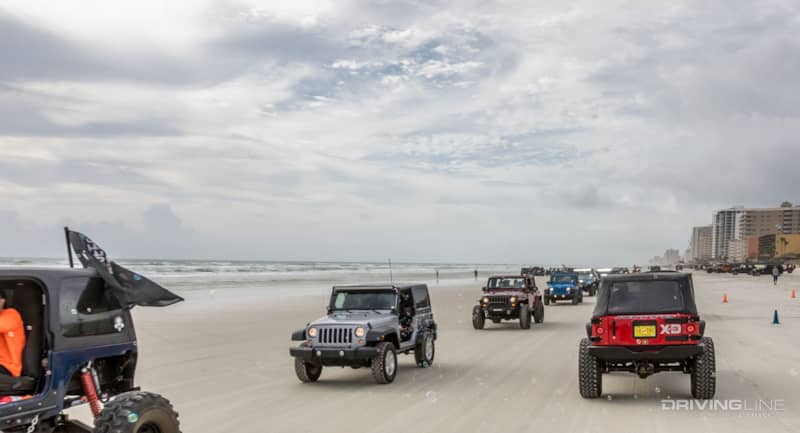 Want more photos from Jeep Beach 2017? Check out our Mega Gallery!