Gas Versus Diesel Trucks: Which One Is Right For You?
A new vehicle is one of the biggest investments many people make, so it's important to ensure that you pick the best vehicle for your specific needs. That includes not only the vehicle make, but the model, trim package, and which engine is under the hood. One of the most common questions we get is regarding whether diesel or gas engines are a better choice when purchasing a new truck. The good news is that there are more options than ever, but the bad news is that there isn't one right answer for everyone, so you are going to have to keep reading.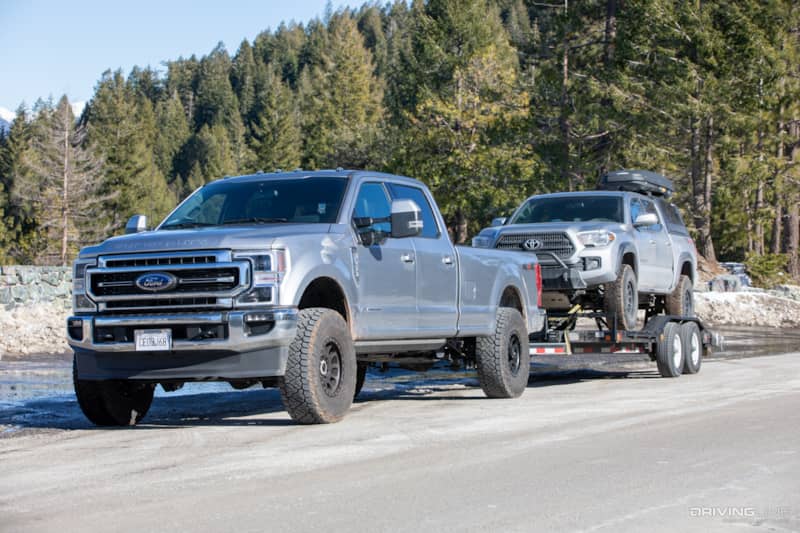 Thirty years ago, diesels had a reputation for being loud and smelly, but they were simple, reliable, got great mileage, and the fuel was less expensive than gasoline. Today, diesel fuel is more expensive than gasoline in most of the country, and the diesel engines are much more complex with variable geometry turbochargers, injectors that fire a dozen times per stroke, diesel exhaust fluid, and particulate filters. All of those additions have made modern diesels much more powerful, quieter, and more refined than in the past. Meanwhile, gasoline engines have been evolving in their own right, with some like Ford's EcoBoost line mimicking diesel engines with features like turbochargers and direct injection.
Midsize Trucks
While Toyota, Nissan, and Ford do not offer diesel engines in their midsized offerings, you can get a Jeep Gladiator with a diesel under the hood. The 3.0L V6 EcoDiesel is a $4,150 option, and it ups the mileage from 19 mpg from the 3.6L V6 gasoline engine to 24 mpg in mixed driving. The diesel makes slightly less horsepower, but it makes nearly twice as much torque; 442 ft-lbs at 1400 rpm as opposed to 260 ft-lbs at 4400 rpm.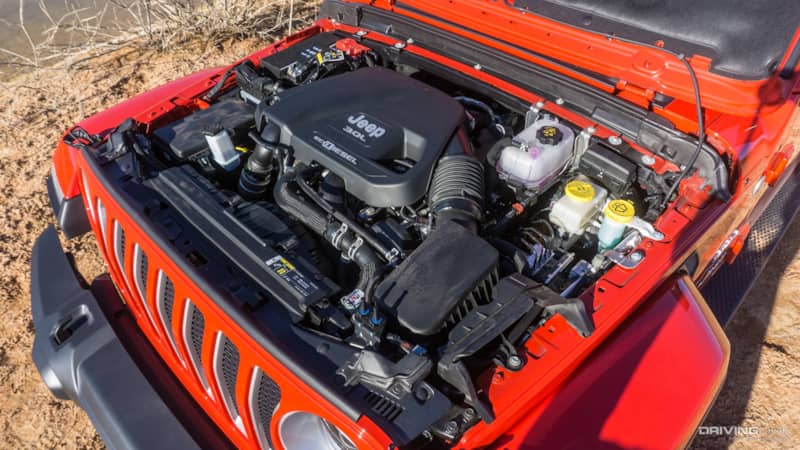 Unfortunately, all this added torque does not translate into added towing capacity, which is limited by the chassis on the Gladiator at 4,500 pounds. GM offered the Chevy Colorado/GMC Canyon with a 2.8L four-cylinder diesel or 3.6L V6 gasoline engine from 2015-2022, but now a 2.7L four-cylinder gasoline engine is the only option in 2023. This engine runs on gasoline, but it uses forced induction and direction injection to make power, much like a diesel engine.
Half Ton Trucks
Half ton trucks have a few more options that midsize trucks, with Ram and GM both offering diesels, but Ford, Toyota, and Nissan limited to gasoline engines after Ford ended production of the diesel F150 in 2022 and Nissan stopped offering the 5.0L Cummins in the Titan in 2020. Toyota offers Hino diesel engines overseas, and when we asked Toyota engineers why they don't offer a diesel truck we were told that the emissions requirements in the US would require too many changes to their global diesel engine to make it cost effective.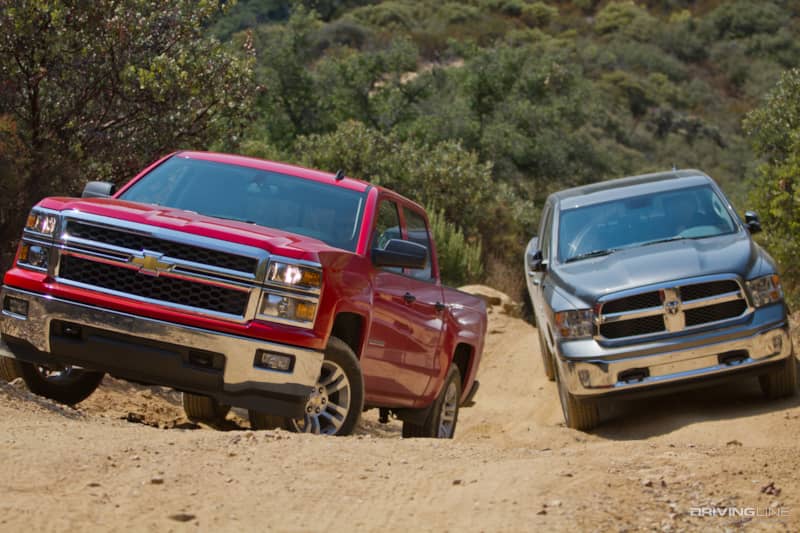 GM offers a 3.0L turbocharged inline six cylinder diesel in the Chevy Silverado and GMC Sierra that is arguably the best deal in the market; only a $795 increase over the 5.3L engine. The Duramax also gets 10 mpg more on the freeway than the 5.3L (33 mpg compared to 23 mpg) and like most diesels it makes less horsepower (277 hp versus 355 hp) but more torque (460 ft-lbs versus 383 ft-lbs).
The 5.3L is actually rated to tow over 2,000 pounds more than the Duramax (11,600 pounds compared to 9,300 pounds), which had us scratching our heads. Further investigation revealed that it is a function of the vehicle weight and gearing rather than the available torque.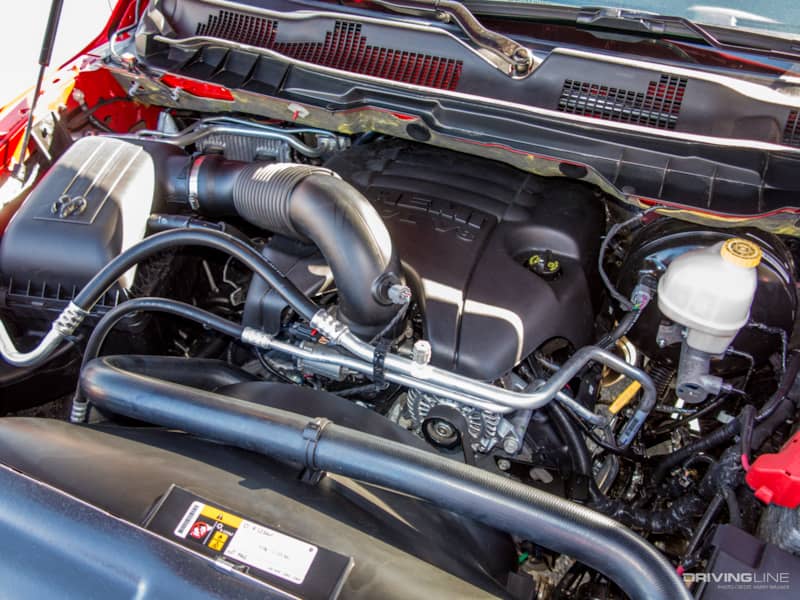 Ram's 3.0L V6 Ecodiesel has similar advantages over the 5.7L Hemi, getting much better mileage on the freeway (29 mpg versus 21 mpg) and more torque (480 ft-lbs versus 410 ft-lbs), but at a much higher premium than with the GM trucks. The Hemi is a $2,795 option over the base 3.6L V6, while the Ecodiesel costs an extra $4,995. Another difference is that in this case the diesel is rated to tow more than the gasoline engine (12,560 pounds versus 11,610 pounds).
Heavy Duty Trucks
Three-quarter and one-ton trucks are the domain of diesel engines, and they offer torque and towing ability that is unrivaled. The power offered by modern gasoline engines though, particularly when paired with eight or ten-speed automatic transmissions, make the gap smaller between gasoline and diesel powered heavy duty trucks than you might imagine. All of the Big Three offer both diesel and gasoline powered options. One of the biggest advantages across all platforms is not the added torque of a diesel engine, but the available exhaust brake to assist in stopping when towing heavy loads.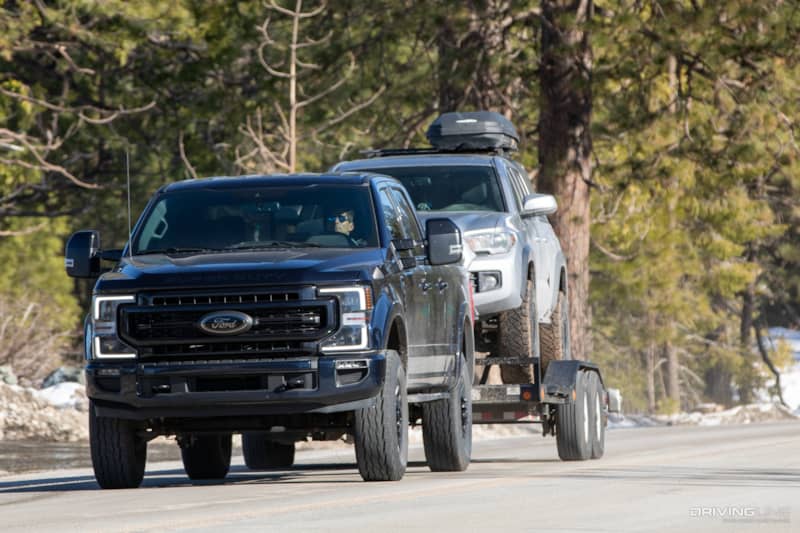 The base engine in Ford Super Duty trucks is the 6.2L V8 engine, but a more useful comparison is between the naturally aspirated, pushrod V8 7.3L Godzilla gasoline engine and the turbocharged V8 6.7L Power Stroke diesel. The Godzilla engine makes 430 hp and 475 ft-lbs of torque, while the Power Stroke makes a comparable 475 horsepower, but over twice as much torque at 1050 ft-lbs. Both come with a ten speed automatic instead of the six speed in the base 6.2L engine, a worthwhile upgrade in its own right. All that torque of the diesel will cost you at the dealer though. The diesel option is $10,495 over the base 6.2L engine, while the Godzilla engine is only a $2,045 option. Mileage for the 7.3L is 13 mpg in mixed use, while the diesel offers 4 mpg better at 17 mpg. Towing rating is comparable for the two engines (21,000 pounds for the Godzilla engine and 21,200 pounds for the Power Stroke).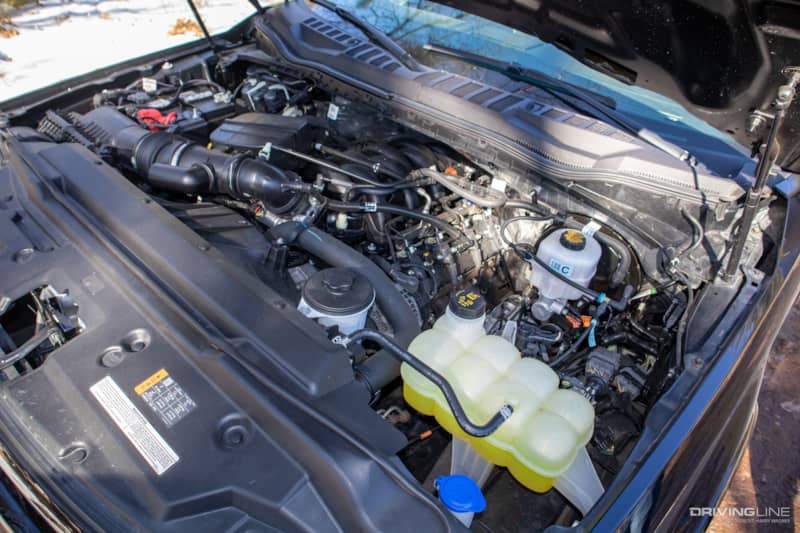 While GM offers the 3.0L Duramax in the half ton Chevy Silverado and GMC Sierra for a modest price increase, jumping from the 6.6L gasoline engine to the 6.6L Duramax V8 turbodiesel in the 2500 and 3500 trucks is a whopping $10,165 option. The GM trucks also have the biggest disparity in towing capacity. The gas-powered Silverado HD can tow up to 14,500 pounds, and the diesel version is rated for up to 18,500 pounds. The Duramax makes slightly more horsepower out of the same displacement as the gasoline engine (445 hp versus 401 hp) but, as we have seen across all makes and models, the diesel makes twice as much torque (910 ft-lbs versus 464 ft-lbs).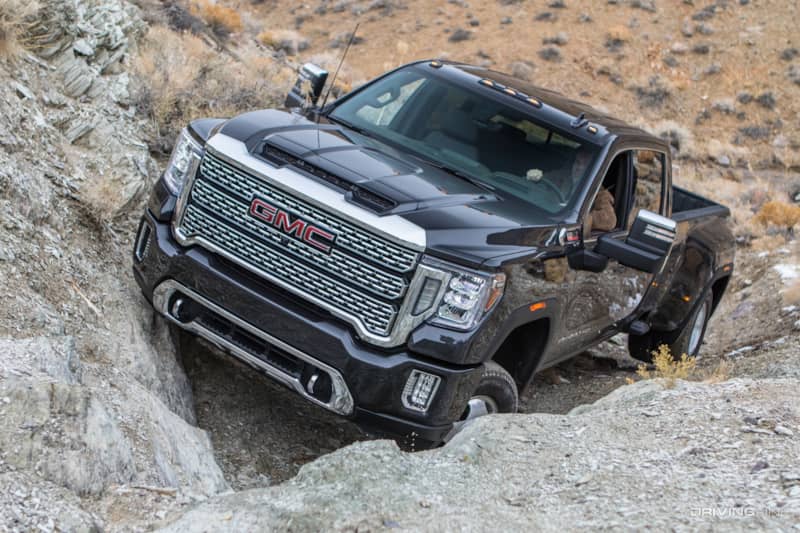 Ram 2500 and 3500 trucks are available with either a 6.4L Hemi V8 gasoline engine rated at 410 horsepower and 429 lb-ft of torque, or an optional Cummins 6.7L inline six cylinder diesel that makes 370 horsepower and 850 ft-lbs of torque.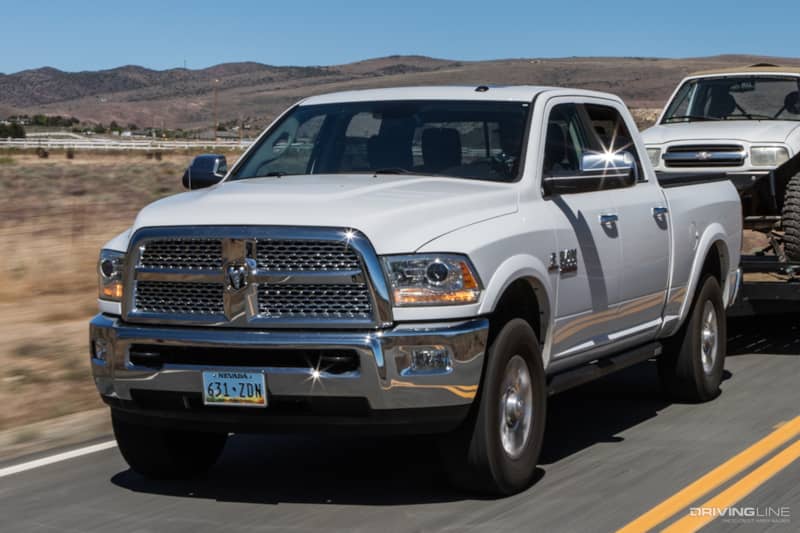 The diesel is a $9,695 option, and unlike other makes, both the gas and diesel Rams provide the same mileage of 15 mpg. Towing capacity is greater with the diesel (19,980 pounds versus 17,540 pounds), but payload capacity is actually less (3,160 pounds versus 4,010 pounds) as a result of the heavier diesel engine. This not only impacts the payload but also increases the wear on items like tie rod ends, ball joints, and unit bearings.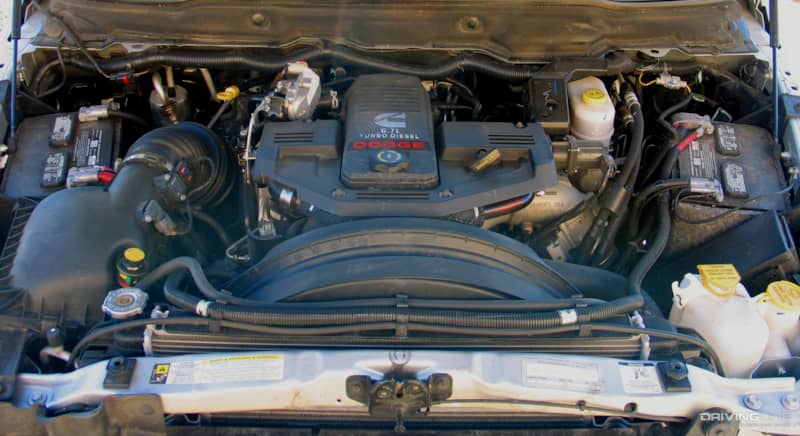 Final Thoughts
Regardless of the make and model, diesel trucks are more expensive to purchase and maintain than gasoline powered trucks, but they also return better fuel economy and hold higher resale value. The added complexity of diesel powerplants and the need to add diesel exhaust fluid (DEF) might be worth it for you if you are looking to tow heavy loads on a regular basis, but if not, the simplicity and purchase price of a gasoline engine make them a great choice.