Gear Up Your Off-Road Trailer with 5 Must-Have Upgrades
 So, you've gone from camping to glamping by upgrading from a tent to an off-road trailer. As you find your groove in day-to-day life on the road, personalized tweaks and improvements to your setup will make even the most mundane tasks more manageable. Before you hit the trails for your latest adventure, consider the following five add-ons to make your trip even more easy-going.
1. No Matter the Weather: Awnings
Awnings are popular for a reason. There's nothing quite like sitting under one while watching a thunderstorm pass by, especially when it's raining heavily enough for water to flow between your toes. It's also comforting to have a dedicated place to hide from the hot sun's heat. Certain awnings can even double as a fully enclosed hang out space with optional walls or mosquito netting, depending on which setup you choose.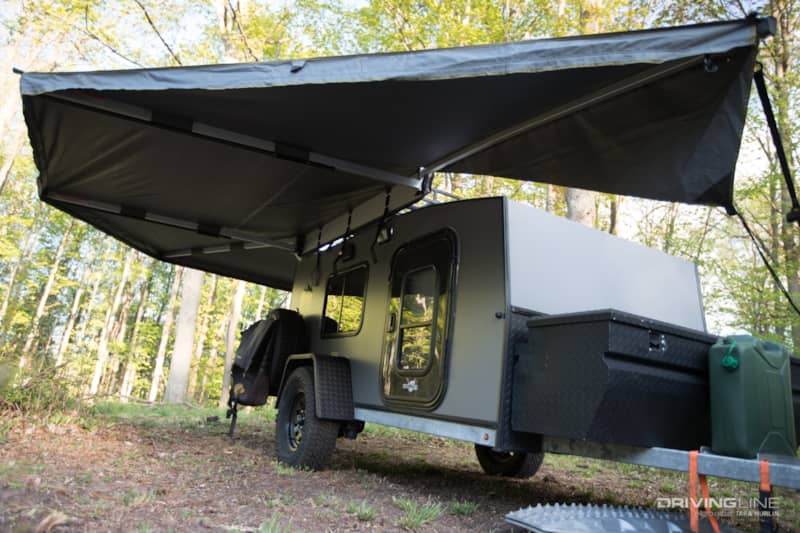 After trying a standard single panel awning, and then tripping over all the poles and tie-down ropes on a 180-degree awning, I finally discovered Overland Vehicle Systems' 270-degree masterpiece. The wrap-around effect provides the most sheltered space. I've only used it a handful of times, but I'm ecstatic with it so far: poles and tie-downs are optional and available for high-wind areas. This batwing-style shelter simply swings out for set-up and folds inward for easy packing. Debating whether or not to set up the awning during quick stops is no longer a question—I let it all hang out all the time.
2. Everything has its Place: Custom Storage
Use your space to its full potential with custom storage and pull-out shelves. A steel frame linked to rollers and locking brackets allows a heavy cooler to remain in the trailer instead of heave-hoeing it in and out every time a beverage is desired.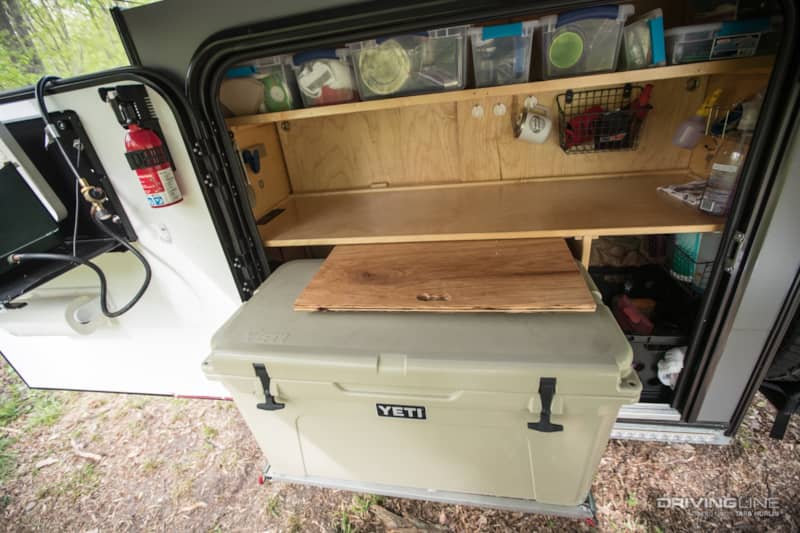 Saving space can be as simple as adding a paper towel holder or a magnetic bar to hold utensils or spice tins. A pull-out cutting board can double as extra table space. Hanging baskets and hooks provide a place for scrub brushes to dry or mugs to hang.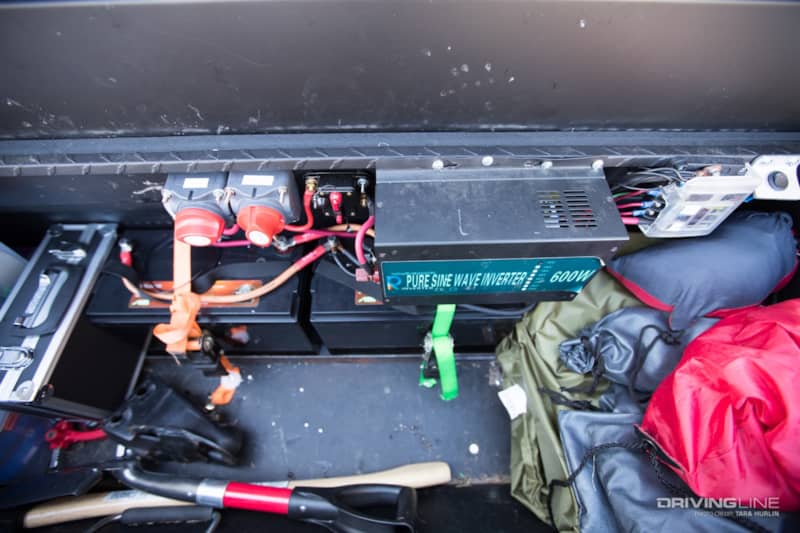 Adding a larger trailer tongue box expands storage space exponentially. Anything from dual batteries, a pair of camp chairs, a roll-up table, recovery gear, and ground mats will fit. The better you are at Tetris, the more it'll carry. A side exterior cabinet made out of a waterproof case such as a Pelican is the perfect place to store tools, first aid kits, or even your shower gear. 
3. Good Clean Fun: Road Shower
Let's face it: social media tends to glorify overlanding life. Daily chores and personal hygiene techniques are rarely portrayed amongst the breathtaking photos of vast landscapes and sunset selfies. Fortunately, there's not an app that captures the ripened aroma of the person manning the camera, yet. But, if that time comes, several products exist to help keep the stink out.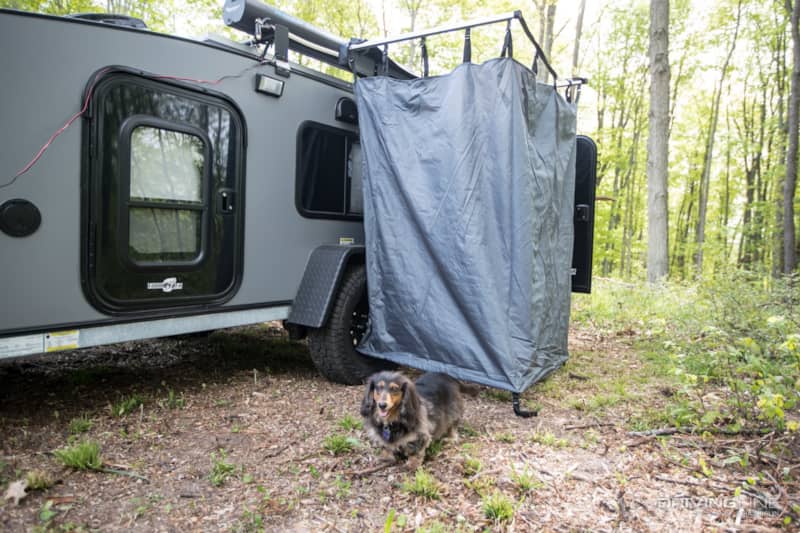 A road shower or similar pressurized water caddy not only provides a way to rinse your nether regions; it will also make doing the dishes a little more exciting. As a bonus, spraying mud off the trailer and sand off your feet keeps your camper's interior cleaner. If it's a tad nippy out and cold showers aren't your thing, a portable propane-powered water heater will make a quick rinse feel much less shocking.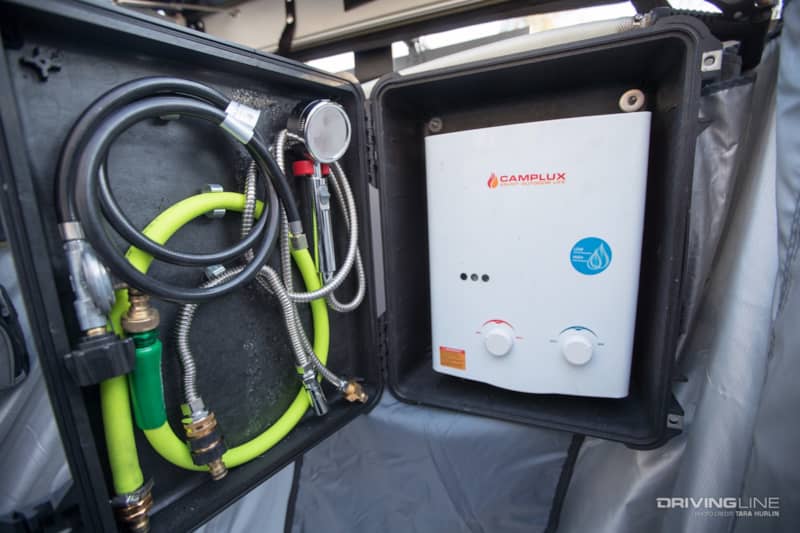 Overnighting in populated places, like a motorsports photographer who camps trackside, for instance, could result in the need for a shower stall. Pop-up privacy tents are an inexpensive way to hide your unmentionables, but airing them out and folding them up is a pain. (Have you ever had a wet fold-up tent spring back at you for making a wrong fold? Ugh.) Overland Vehicle Systems and a few other companies offer a solution that mounts to a roof rack. If you're a crafty camper, you might consider a DIY version. 
4. Powered by Sunshine: Solar Panels
If you're planning to go off the grid for an extended period, installing a solar panel will keep the lights on. Carrying additional batteries will be necessary, so this is where the aforementioned trailer tongue box comes into play. Sacrificing the extra space is well worth it, and I must say, the free-flowing power makes a great charging station for photographers and automotive journalists on the go.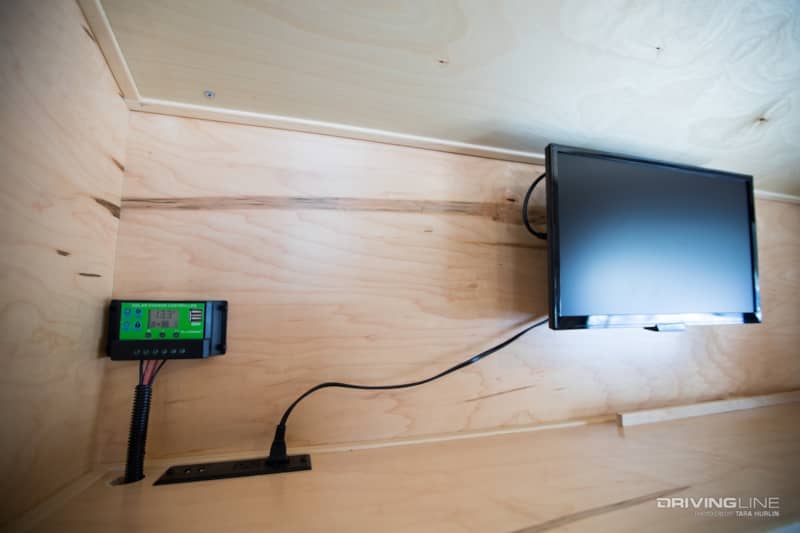 Having free-flowing power opens up a multitude of other ways to spend more money. An exterior fan encourages airflow and prevents condensation within the cabin, and if the batteries are charged, it'll easily run through the night. Wiring in LED lights will reduce your disposable battery needs. Drip coffee on a timer will give you a pleasant awakening, and an electric fridge/freezer will save space with the lack of ice needed to keep food cool. A plug-in heater can be substituted for one powered by propane. Heck, if you really want to get your glamp on, a tiny flat panel TV and speakers should do the trick. Just don't camp in Alaska during the winter.
5. Smooth Trailering: Articulating Trailer Hitch
An articulating trailer hitch may not sound like the most exciting upgrade, but it'll make your towing life a whole lot easier. The best-built hitches will provide a tight, close-fitting connection that eliminates the jaw-clenching thunk-and-jerk action felt with some conventional hitches.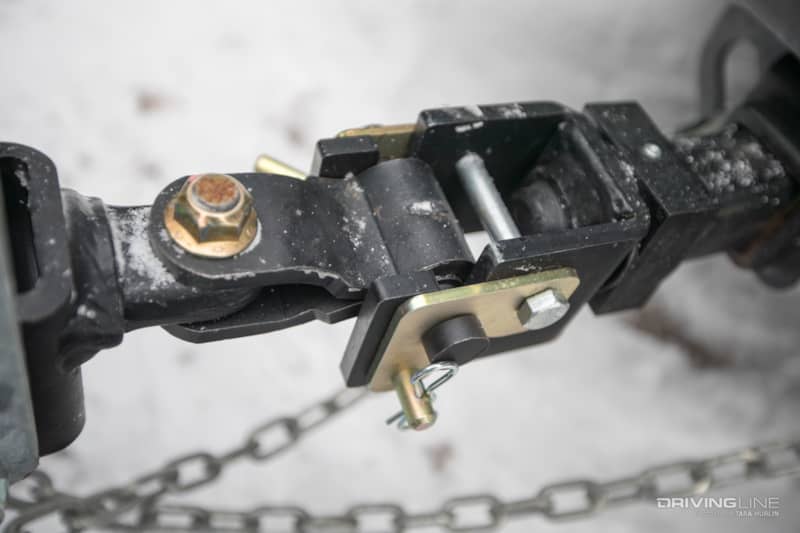 Full 360-degrees of rotation paired with left-to-right and up-and-down maneuverability will have you rolling up intimidating rocky inclines and rounding tight tree-filled corners with confidence.
Are you feeling glamped out? Get back to the basics with this list of overland essentials that you shouldn't hit the road without.