GM Glorified at 2016 Holley LS Fest
Held around this time each year, the Holley LS Fest draws legions of loyal LS engine lovers from around the country, and this year's event was no exception.
The staging lanes were packed with drivers ready to pound pavement, and the stands were packed with spectators ready to take it all in early September at Bowling Green, Kentucky's Beech Bend Raceway, just miles from where automotive performance company and event namesake Holley is based.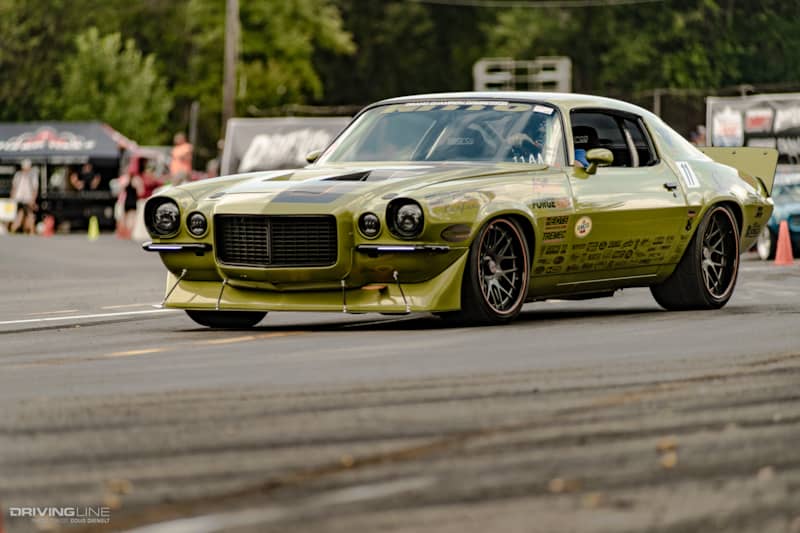 A special component of the multifaceted event was the fourth and final race of the year for the Chevrolet Performance Challenge Series, and with championships on the line, drivers were determined to deliver the goods to go fast and go rounds, despite soaring outdoor temperatures and high humidity.
Callies Drag Radial
In the series' Callies Drag Radial category, the always-tough Anthony Manna motored to the top qualified spot after cruising to a 4.52 in his '98 Camaro powered by a turbocharged 427cubic-inch LSX engine. He held on through the final, where he met up with the equally-tough Andy Essary and his 2002 Firebird, and when it was all said and done, Manna pulled off the win with a record-setting 4.36 to Essary's 4.65.
"There was absolutely nothing smooth about the weekend as we had to deal with every possible obstacle, from rain to having to rebuild a transmission," said Manna. "In fact, so many obstacles were coming at us that it seemed that it would be impossible to win, but it all worked out, and we were so glad that it did."
Scoggin-Dickey Parts Center Chevrolet Performance Stock
The scintillating Scoggin-Dickey Parts Center Chevrolet Performance Stock category saw Glenn Pushis power his 2013 Camaro to a 10.36 and the top qualified spot, and several rounds later, he found himself in the final against Kevin Lumsden and his '99 Camaro. With a better reaction time at the starting line, Lumsden got to the finish line before Pushis with his 10.24 to Pushis' 10.23 and won.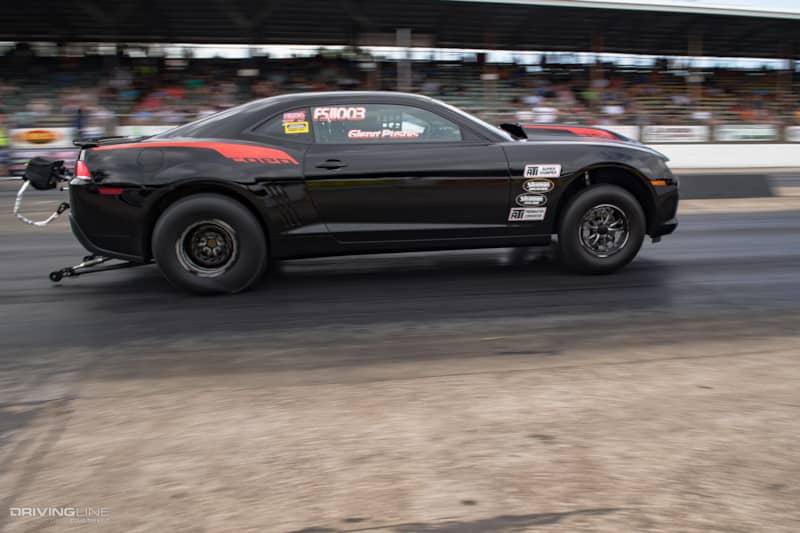 Wiseco Real Street
The high-winding Wiseco Real Street final pitted Jessie Coulter and his '91 Camaro against Camren Massengale and his '01 Corvette. Coulter, who had cruised to a 7.65 and the top qualified spot, nabbed the win with a 7.56 to Massengale's 7.75. Massengale, even though he didn't win, scores for making it to the final after his engine emitted a loud—very loud—pop in the semifinal, leaving fans wondering whether he would have to bow out of competition.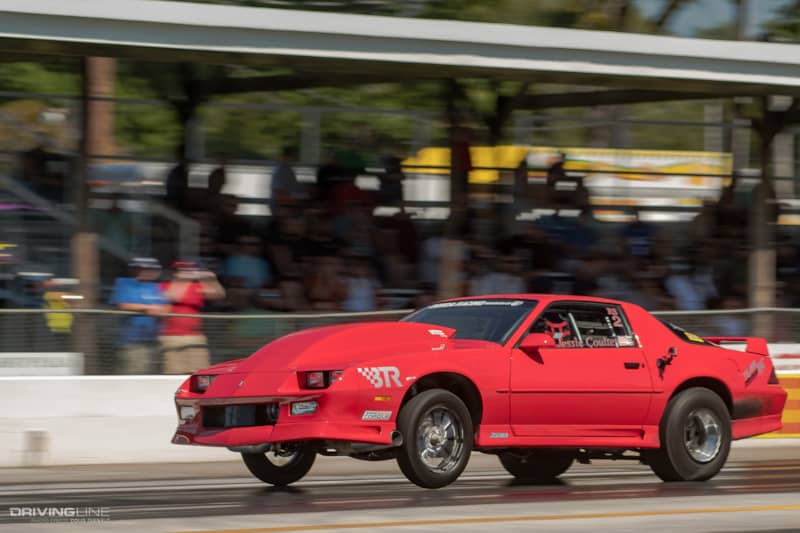 "We had redone the whole rear suspension in the car the week before the race, so we struggled during testing and qualifying at the race to get the car to work, but it all came together eventually," said Coulter, whose Camaro is powered by a turbocharged Brian Tooley Racing-built 388 cubic-inch LSX engine.
Nitro Gear Street King
In Nitro Gear Street King, TJ Johnson leaped off the line in his '67 Chevelle in .011 seconds in qualifying and earned a spot at the top of the qualified field, but the final round put the spotlight on Kurt Anderson and his wicked wheelstanding '69 Camaro and Dwayne Camp and his motivated '01 Mustang.Anderson proved he was ready to roll out a rewarding reaction time with an .015, and it paid off in spades, as he was able to get to the finish line before Camp, even though Camp was quicker with a 10.04 to Anderson's 10.05.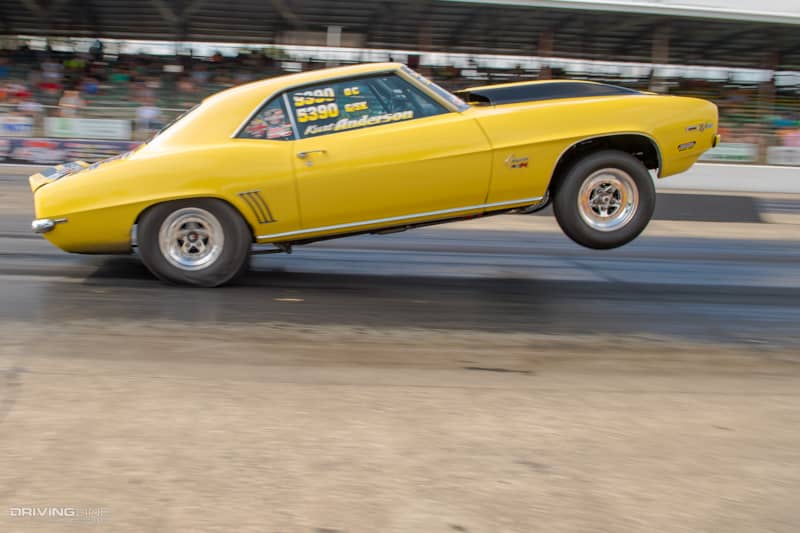 "I had changed transbrake buttons before the race to slow my reaction time because I had been going red on the tree, and it made a world of difference," said Anderson. "On top of that, the car was running well, and I have my LS 416 cubic-inch Wegner Motorsports engine to thank for that."
Anderson went on to say that he "owed Camp one," as he had been defeated by Camp in the first round of a race early last year.
"I told him he wasn't doing that again," said Anderson, with a laugh.
COPO Battle at the Green
Multi-time champion driver Al Corda captured the top qualifying spot after driving his 2015 COPO Camaro to a 10.00 in COPO Battle at the Green presented by Lingenfelter and School of Automotive Machinists and Technology.
But in the final, well-known NHRA Pro Stock driver Larry Morgan lined up against Phillip Giles. After what was one of the tightest races of the weekend on both ends of the track, with Morgan running right on his 9.38 dial-in and Giles running right on his 9.40 dial-in, Giles won.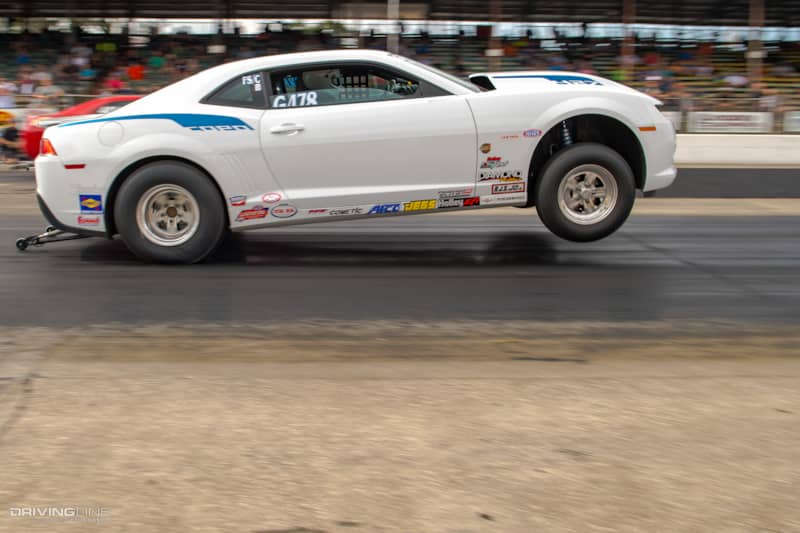 Hooker Blackheart Model Heads-Up
Over in the hot Hooker Blackheart Late Model Heads-Up category, Fran Schatz sailed to a 9.67 in a 2016 Corvette to lead qualifying, but in the final, he fell off to a 10.56, and his opponent, Greg Allen and his 2015 Corvette, got around him for the win with the starting line advantage and a 10.58.
Three Pedals Rumble
Leading the sizable Three Pedals Rumble pack in qualifying was Shawn Rissler, who rustled up a .004 reaction time in his '02 Pontiac, but in the final, Kyle Feebeck pushed his '88 Mustang to the win over Cody Alumbaugh and his '96 S10 after a 10.98 to 11.86 battle.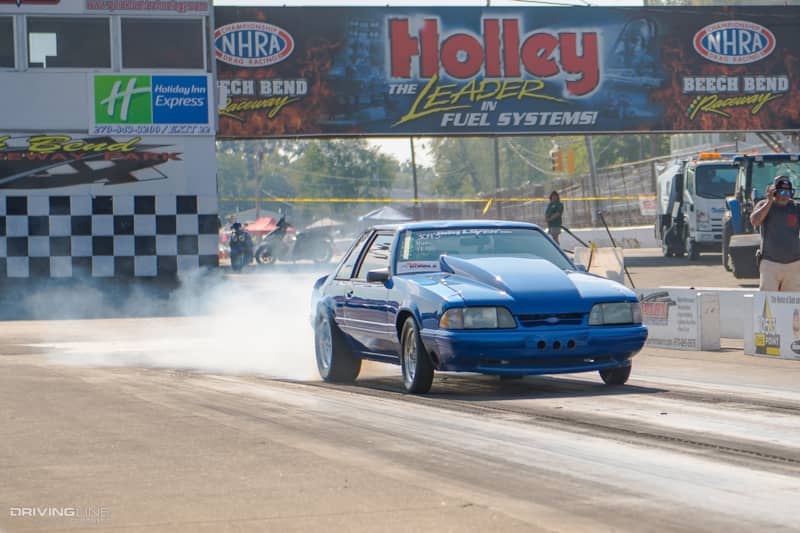 1320 Wheels True Street
Clocking miles on the street and the strip were 1320 Wheels True Street contestants, and collecting the overall win was Chris Bishir with an 8.70 average in his S10, while Justin May was the runner-up with a 9.19 average in his Pontiac. Nick Fabrick flew to the 9-second win in his Formula, and Keith Childers cruised to the 10-second win in his Camaro. TJ Johnson pushed his Chevelle to the 11-second win while Nicholas Massengale motored his Chevy to the 12-second win. Dennis Boggess drove his Camaro to the 13-second win while Terry Barnett wheeled his Camaro to the 14-second win. Now, final points for the year are being examined and 2016 Chevrolet Performance Challenge Series champions will soon be declared.
Lucas Oil Drift Challenge
While all of that action was taking place on the straight track, there was plenty of additional action on the oval track right behind it, as part of the Lucas Oil Drift Challenge. After a lot of slipping, sliding and going sideways, Nick Thomas took first place, Tyler Nelson took second place and Jonathan Nerren took third place.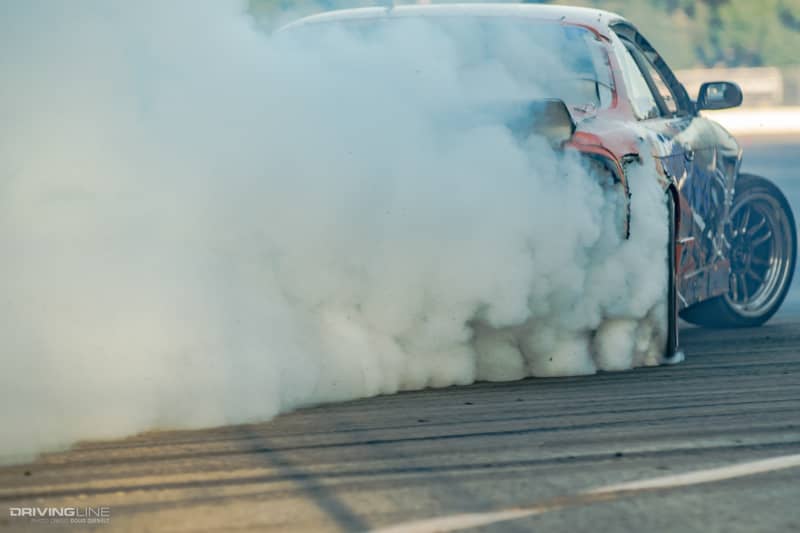 Car Craft Engine Swap Challenge
Also, CJ Durbin and Tyler Sandau wrapped up an engine swap in one hour and 26 minutes to find victory in the Car Craft Engine Swap Challenge.
According to organizers, this year's Holley LS Fest was the largest in the event's history, adding to the already-high anticipation for next year's event.
(Photos: Doug Dienelt)
For more LS Fest action, browse the gallery below.