Hands-On Chevy Hauler: Home-Built '58 Apache Pickup
There's no better reason to build a custom truck than for the sheer passion of having something cool to drive around town. That's as pure as it gets. There was no ulterior motive here to turn and burn this '58 Chevy Apache or shoot for the cover of a magazine or anything like that. Brian Lee from Westminster, California has always been into trucks, and usually has some type of project going at all times, with the last couple years being no exception.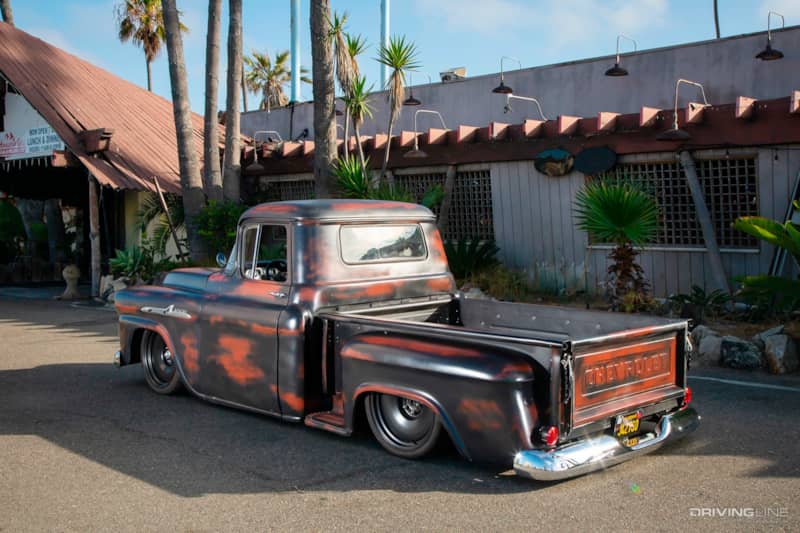 C10 Alternative
With the continuing popularity of C10 pickups builds, it's refreshing to see other classic Chevy model haulers being fabricated for show, or as in this case, everyday cruising purposes. Brian knew right away what he wanted out of his latest project. He purposely sought out a truck that would be a minority in the crowd. The frequency of 1950's model Bow Tie pickups making their way back onto the streets is no doubt far lower than C10s, but Brian still set out to go against the grain and build something slightly different from the norm.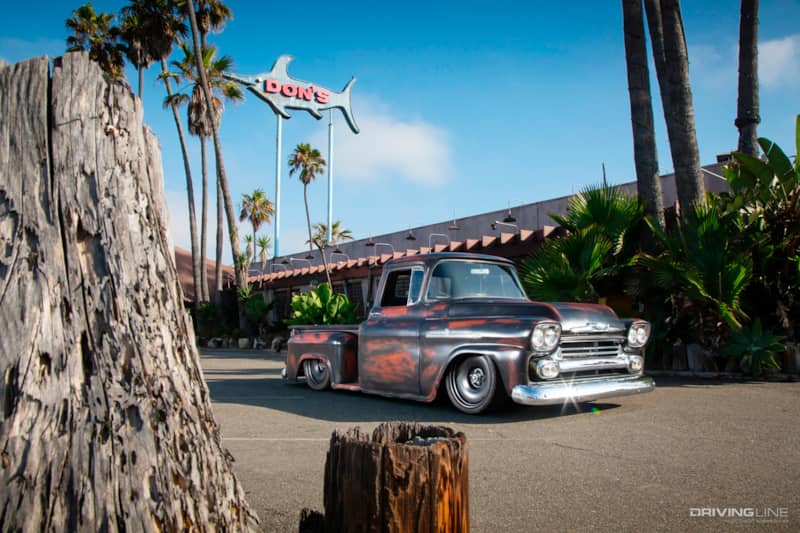 The Search
The process of finding a good project truck isn't too tough these days, given the many social media outlets at our disposal, but locating one in bone stock condition anywhere is how things get tricky. Luckily, Brian had his sights set on an Apache that had the best of both worlds, modern performance with the looks and feel of a vintage truck. "When I purchased my Apache, it was already sitting on a static drop, but I had planned to change that up eventually," says Brian. "I also like the look of patina, and wanted to go that route instead of a shiny, sparkly paint job. The previous owner of the truck had already given the truck's surface a faux weathered look, so that was just one less thing I needed to address when working on it."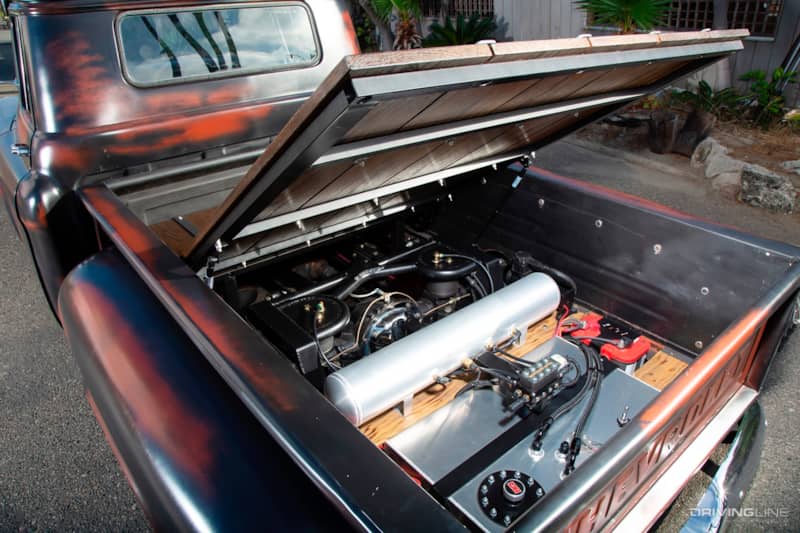 Laying it Down
Brian was looking forward to working on the truck on his own time and in his own garage. He knew there would be a couple small jobs he'd have to outsource at some point, but he planned to be as hands-on as possible during the transformation of his Apache. Some of the existing static drop components were utilized in the suspension overhaul, but Brian did source quite a bit of fabrication/air ride parts from ThorBros.com, GSI Fabrication and PorterBuilt. Although Brian might try to incorporate a complete, fully engineered chassis in his next build, he'll be quick to admit that the modified '58 Apache frame came out pretty killer.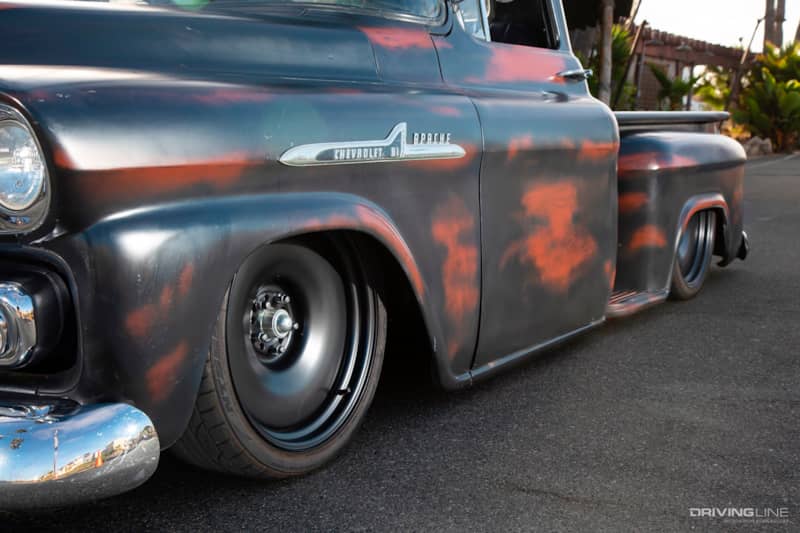 Rolling Attire
The new suspension setup was much more in tune with what he was looking for, and the adjustable height air system would give Brian the ability to lay the truck out over the 20x8 Detroit Steel Wheels that have been covered in 245/35ZR20 Nitto NT555 G2 tires. Brian made it a point to select a quality wheel selection, and match them with a set of Nitto rubber that would allow the truck to handle like a dream while cruising the SoCal streets, which is exactly what the NT555 G2 ultra high performance tires have to offer.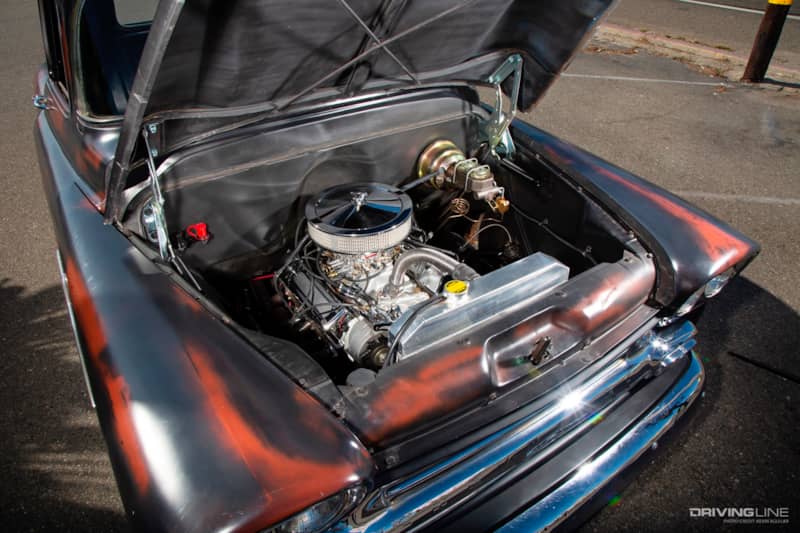 Old School Power
To round out the Apache's other custom touches, Brian wrapped up the exterior with a hinged custom oak plank bed floor that allows plenty of access to the air ride components lurking below. Also hiding just beneath the hood is a healthy and well-accessorized Chevy 350ci small block that serves the truck well, as it is dependable and delivers enough power to make things interesting when on the road. Brian did have to bite the bullet and take the truck to the shop to have a Magnaflow muffler added to the exhaust system—one of the few mods that wasn't done with his own hands. Even still, Brian's Chevy marks all the boxes on the checklist without going crazy over-the-top, which represents the Apache's true beauty. While this old pickup is heavily customized, its style is accessible and attainable for most everyday builders.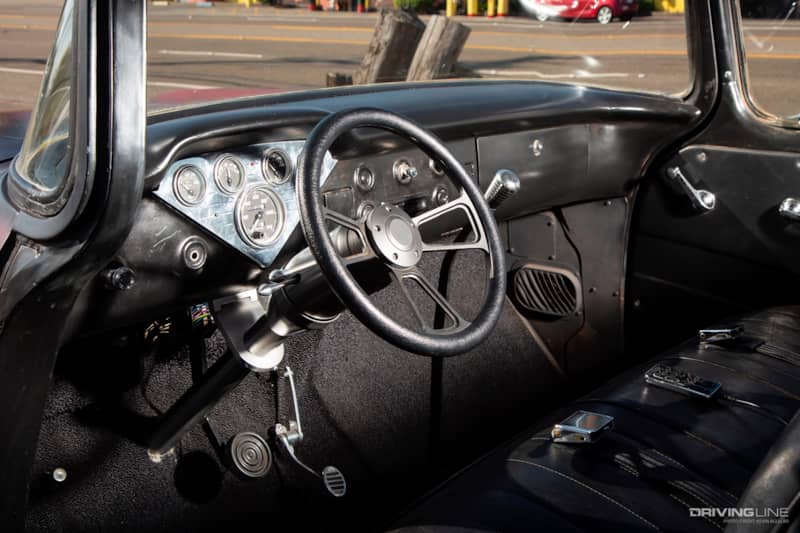 Cockpit for Cruising
Since Brian planned on actually driving his Apache around town or to shows every now and then, he figured that the interior should be as clean as the rest of the truck. From the newly upholstered bench seat, painted dash, fresh carpet and just the right amount of billet accessories, there's no reason not to want to spend time behind the Forever Sharp steering wheel. Just like the styling of the rest of Brian's Apache, the cab is cool, clean and subtly outfitted for timeless appeal.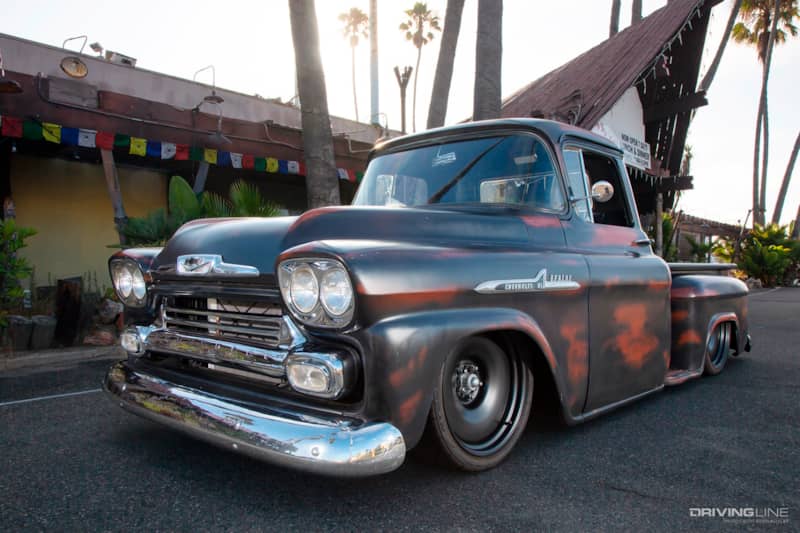 All Hands on Deck
During his spare time over a 2-year period, Brian was able to put the finishing touches on his '58 Apache and has begun the stages of enjoying the fruits of his labor. While he was ultimately successful in breaking the mold of building yet another C10, he kept the overall aesthetic of his truck as classic as can be. For a guy who prefers to work with his hands, the process of improving on a previously customized vehicle was almost therapeutic for Brian. While there is always room for further improvement, the Apache will more than likely remain just how it is for years to come, unless Brian gets bored of it, which is highly doubtful. There is always a chance there's a fresh project in the works in the future, so keep an eye on Brian to see what he cooks up next.