Heads Up Drag Racing Action: Outlaw Diesel Super Series
It's hot, it's humid, it's August in Indiana... which means it must be time for the drag racing portion of the Scheid Diesel Extravaganza!
Held each year at Crossroads Dragway in Terre Haute, Indiana, the eighth-mile stretch of asphalt is conveniently located just a short walk away from the sled pull track, dyno competition and vendor's alley. Fortunately, there's no packing up the cooler and chairs and heading down the road to catch the drag racing action. Weather permitting, a test and tune is held Friday night, followed by drag racing all day Saturday and Sunday. But, after a rainstorm on Friday and a series of oil downs on Saturday, Sunday proved to be the day to be at the drag strip in 2016.
Outlaw Diesel Super Series Drag Racing:
Thanks to the generous payouts being offered by the Outlaw Diesel Super Series, there was no shortage in competitor turnout. We can safely say that this year's field of vehicles had a little bit of everything to offer. This included 4-second dragsters, 5-second full-bodied trucks, ultra-tight index racing and even a little carnage. By the time eliminations started, it was obvious that the best diesel drag racers in the country were on hand. The side-by-side action was second-to-none, and drivers had to earn it if they wanted to take home the trophy.
Read on for a glimpse of this year's eighth-mile competition.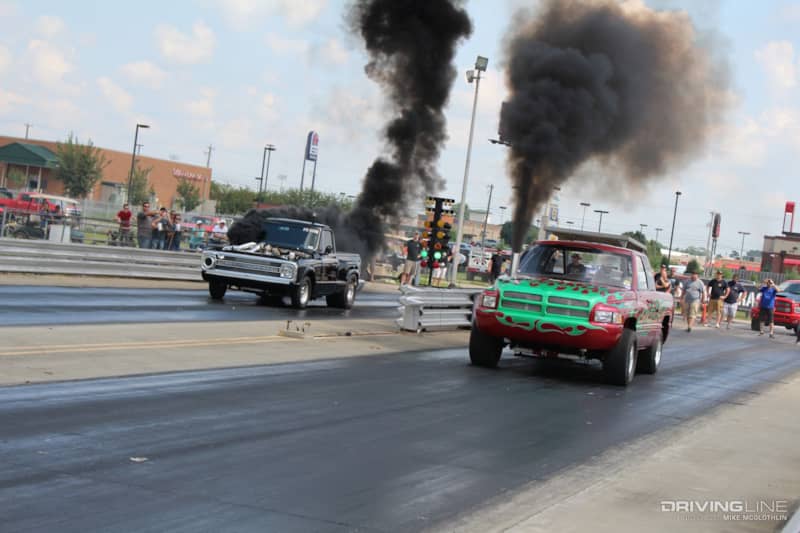 Lavon Miller of Firepunk Diesel brought his 2,200hp Ram to the event (the same truck that won the Ultimate Callout Challenge back in May). However, mid-5-second eighth-mile passes weren't in the cards this time, as the deckplated Cummins under the hood decided it'd finally had enough. After more than 100 passes (all while making north of 1,500hp), the factory 6.7L block split in half on this run. Fear not though; we're told the truck will be up and running again in just two to three weeks.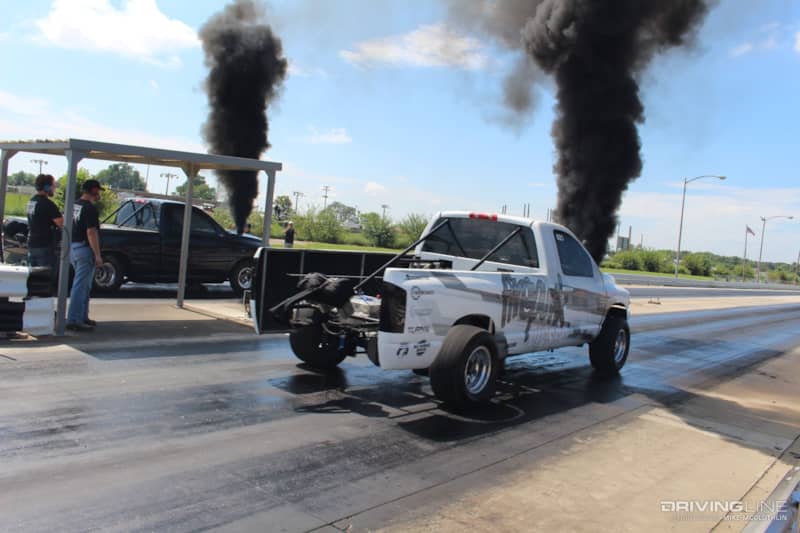 As they always do, both the 7.70-second (12.0 seconds in the quarter-mile) and 6.70-second (10.50 seconds in the quarter-mile) index classes attracted some very strong competition. The race captured below culminated in the silver common-rail Dodge ousting the black second-gen by 0.04 seconds (7.72 at 93 mph to a 7.76 at 88 mph).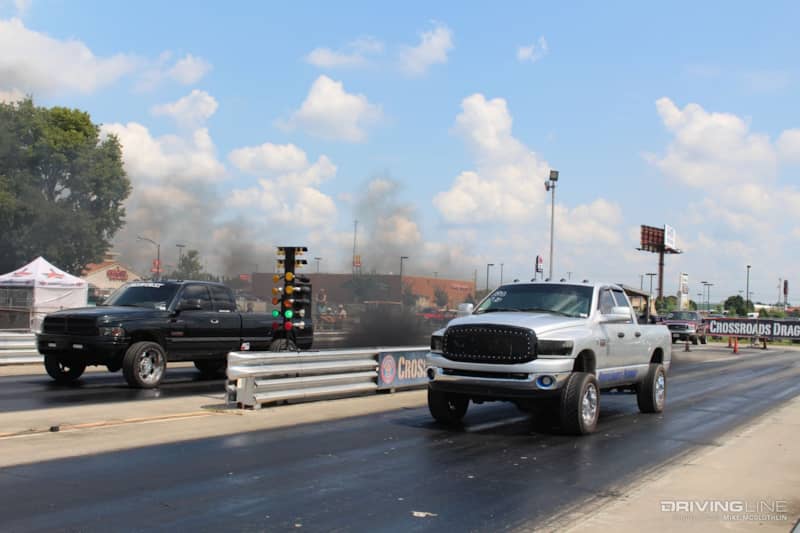 Austin Kiley helped himself to the 7.70 Index Class trophy and payout on Sunday. He and his common-rail Dodge were extremely consistent throughout the day, and clicked off a 7.77 at 84 mph (vs. a 7.83 at 85 mph) in the finals to take home the win.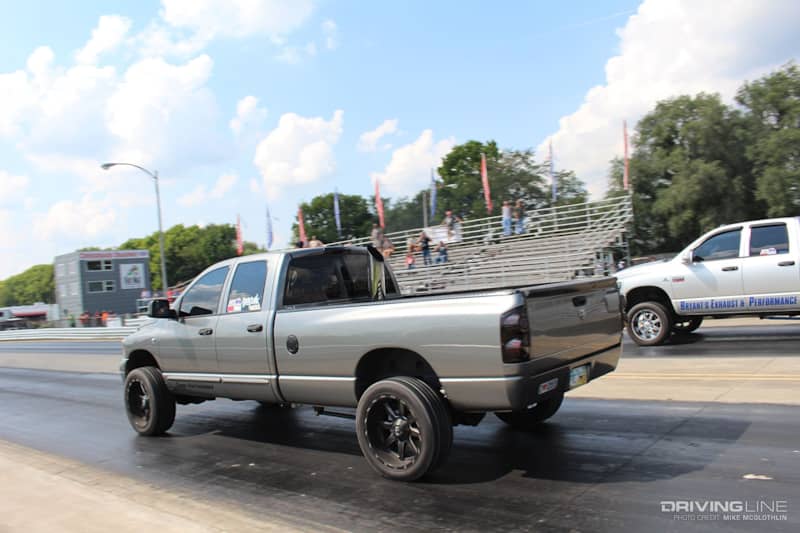 Even though Matt Maier's '97 Ford F-250 has been as quick as 7.0 in the eighth-mile on nitrous, he turned off the squeeze and ran fuel only in order to go rounds in the 7.70 Index Class. The 7.3L powered, old body style Ford would make it to the quarter finals on both Saturday and Sunday before being eliminated. Despite the fact that he was fighting a toasted direct drive in the transmission on Sunday, Maier was still able to go rounds with some of the best 7.70 trucks in the nation.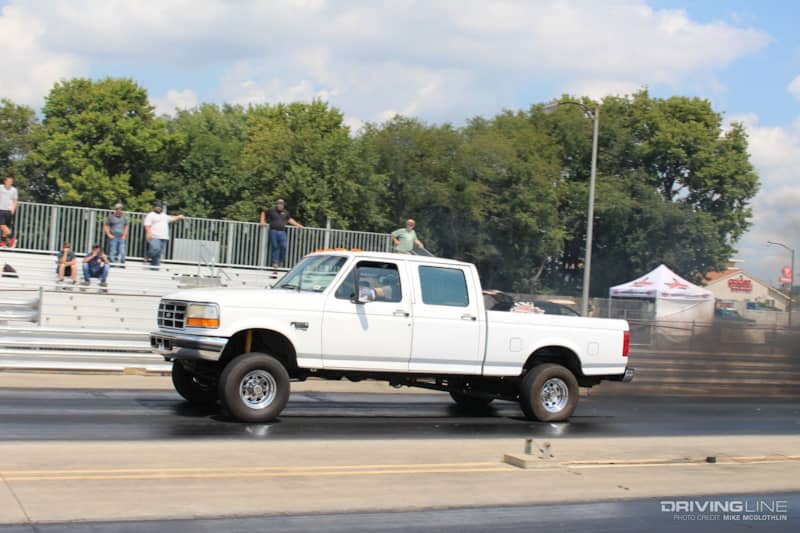 Sleeper farm truck anyone? It might appear tired or look like it's on its last leg, but don't let the cosmetic appeal (or the V-10 badge on the door) fool you; this truck ran consistent in the 7.70 Index Class. We can definitely see this thing surprising (even terrifying) a few Mustang and Camaro owners.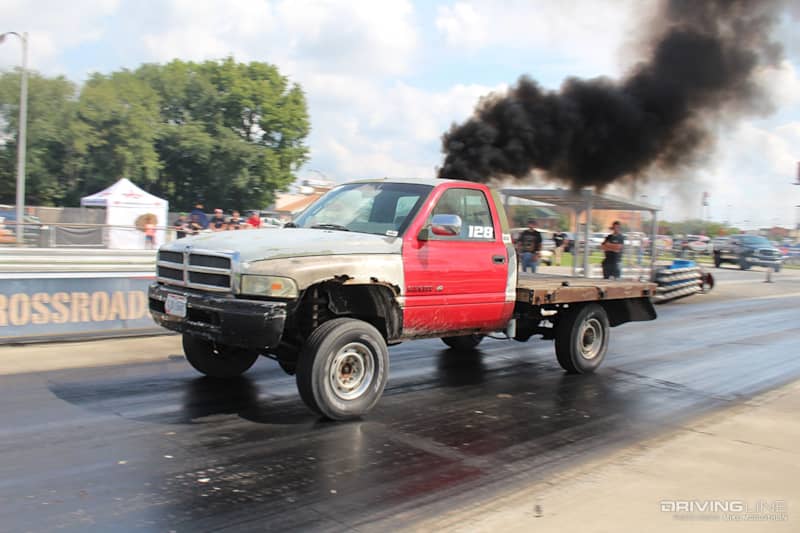 Mixing things up and keeping the mood light was this five-ton 6x6 military truck. Competing in the E.T. Class, the owner set his dial-in for 17.38 seconds. The 26,000-pound behemoth could almost crest 40 mph at the end of the eighth-mile.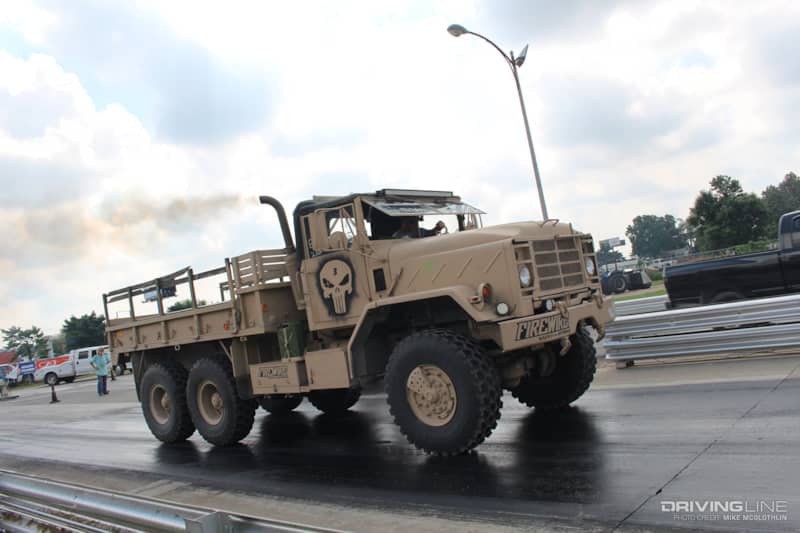 With Daniel Pierce at the helm of Ryan Milliken's '14 Dodge 1500 (known as "Miniwheat" throughout the diesel industry), he nearly put the truck in the winner's circle of the 6.70 Index class. After clicking off an unbeatable 6.70 at 102 mph, the truck would lose its grip on the track just off the starting line in the final round. On a wider set of slicks, we've seen Milliken's truck go 5.42 at 142 mph in the past.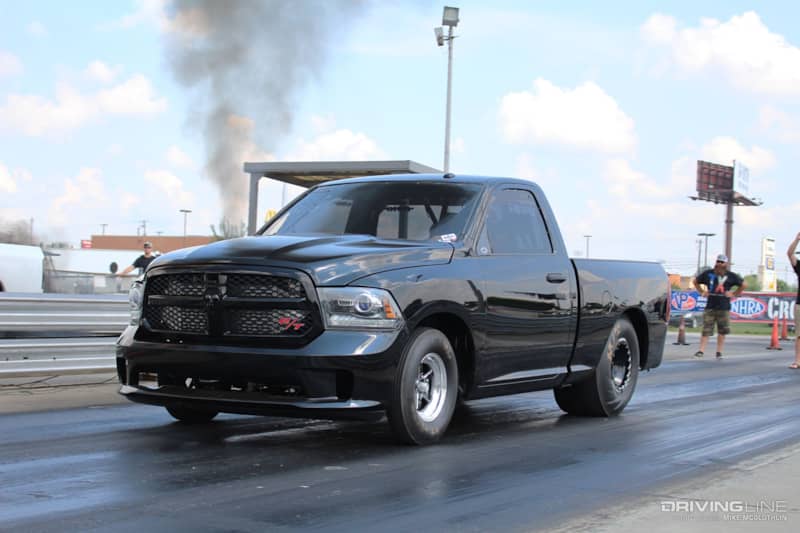 Wade Moody and the Flo-Pro Performance sponsored, twin-turbo, Duramax-powered rail continued its consistency at the Scheid event. The dragster's quickest pass of the weekend came in the form of a 4.45-second run at 159 mph, which is spot on with the 6.99-second quarter-mile elapsed times it also achieved this summer. Moody would eventually take the win in the Pro Dragster class with a 4.53 at 155 mph.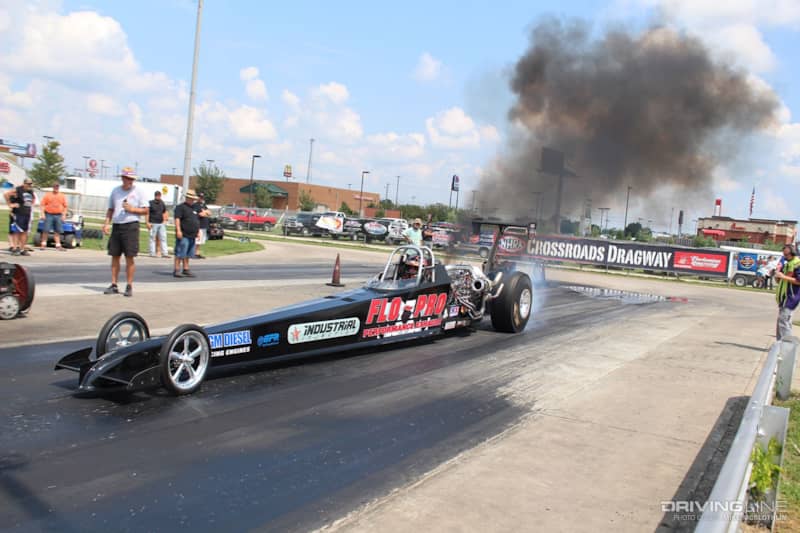 Believe it or not, a Ford body was swapped onto a GM frame to create the truck pictured below. And yes, a Duramax sits between the frame rails. The owner told us the truck is a tow rig that he just happens to go racing with. And racing he did, taking home first place in the E.T. Bracket Class with a 7.82-second pass on a 7.80-second dial-in.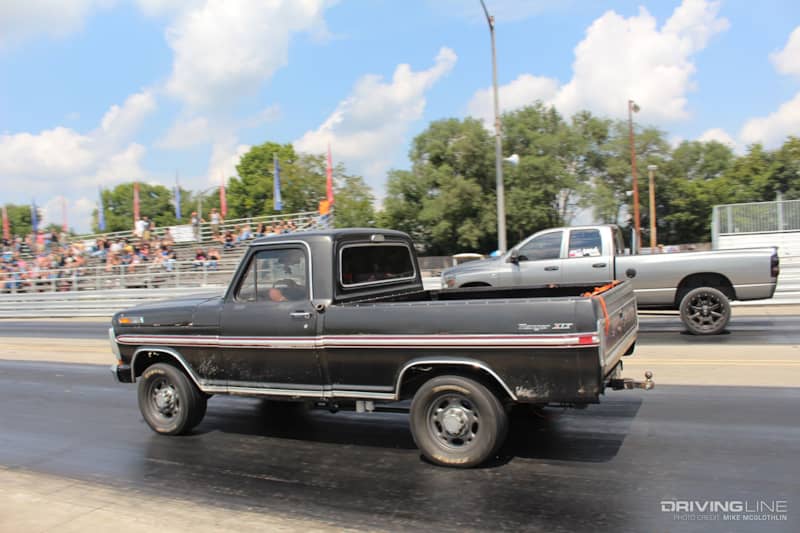 Between hot-running trucks that are still streetable and competition-only vehicles, you never know what you're going to see in the 6.70 Index Class. Banean Woosley's '05 Dodge Ram, better known as the Great White Buffalo, took second place overall on Saturday. Woosley was on his way to a 6.69-second breakout pass at 106 mph during Sunday's festivities.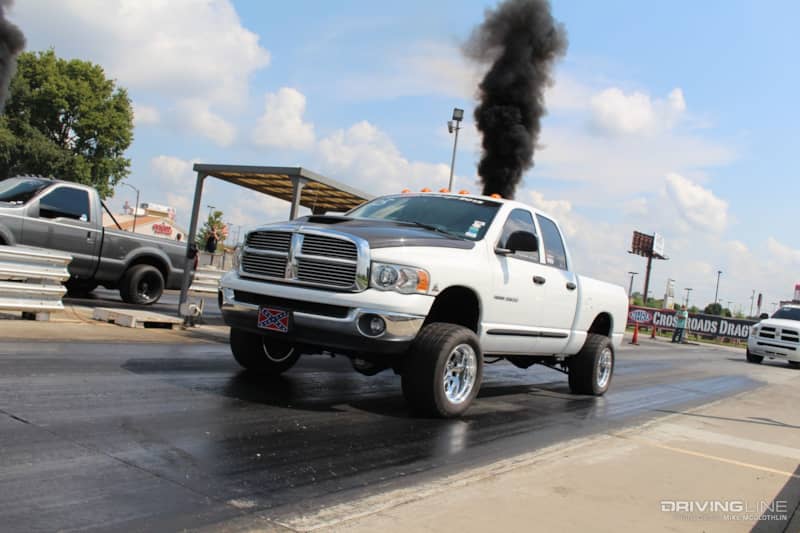 It's always impressive to see a dually going rounds with lighter, single-rear wheel trucks. After signing up for the 6.70 Index Class, this nasty GMC went 7.04 at 101 during qualifying and laid down a blazing 7.00 during eliminations. And, with Ryan Milliken's two-wheel drive Dodge breaking traction during the final, it would take home the win with ease on Sunday afternoon.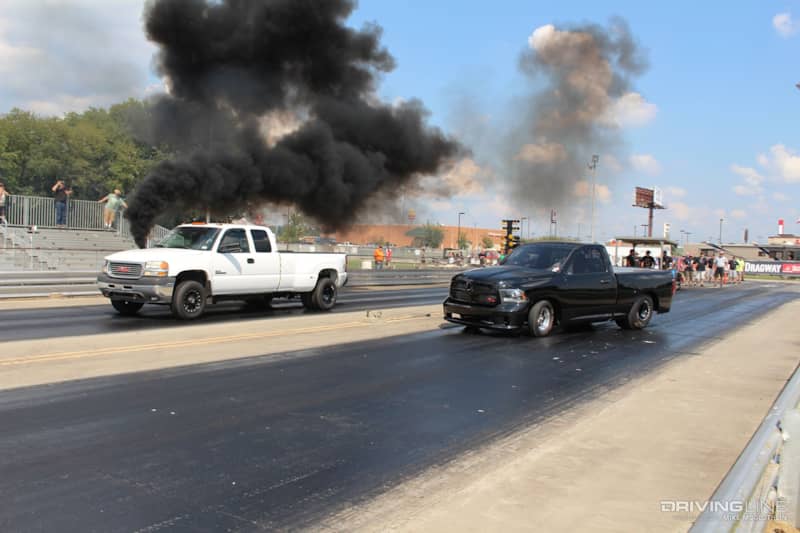 After a scary moment at Crossville Dragway just four weeks prior in which this rail took a wild ride past the drag strip shutdown area and landed in a nearby creek, Scheid Diesel's Cummins-powered dragster and driver Jared Jones were back in action for the hometown event. Unfortunately, the win wasn't meant to be this time, and the rail's low 5-second passes were off of its typical, mid-4-second performances.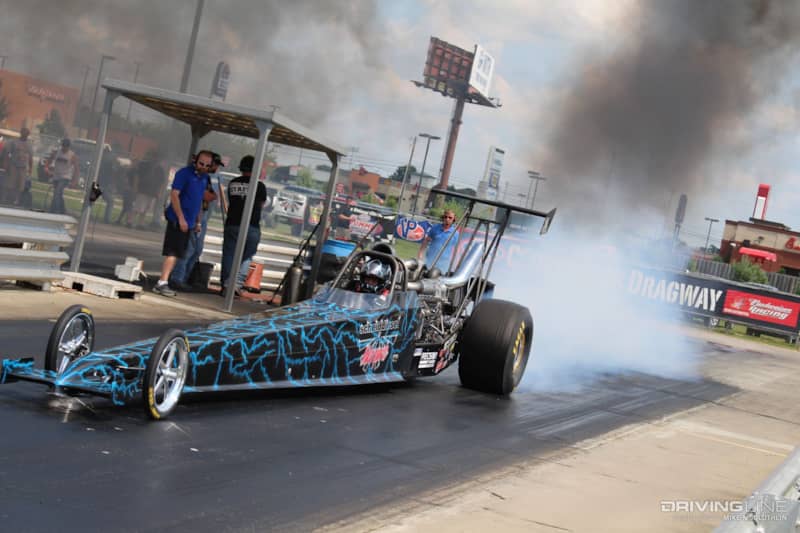 Rick Fox's immaculate '00 Dodge packs a common-rail 6.7L Cummins under the hood and plenty of go-fast goodies to be competitive in the 6.70 Index Class. He wound up taking the win on Saturday and coming close on Sunday before breaking out with a 6.65 at 104 mph.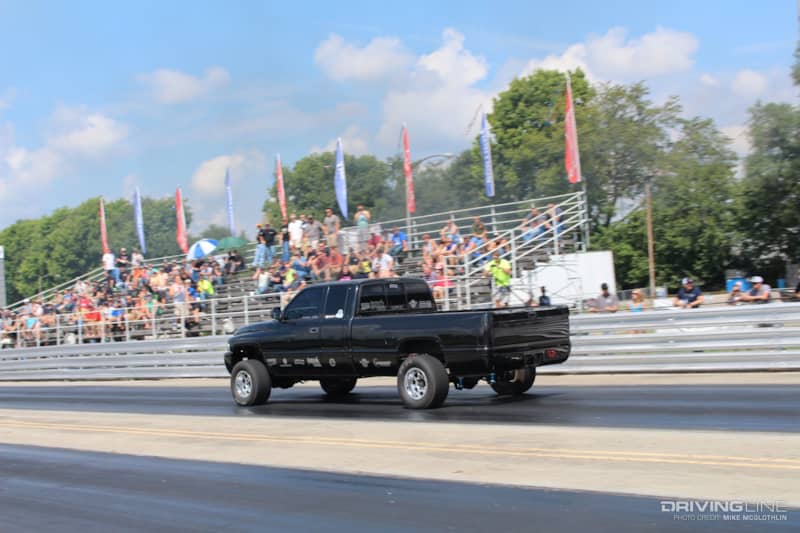 Back with a fresh engine, Matthew Misner's Chevy Silverado came out swinging in the 6.70 Index Class. With one of the nastiest launches we've seen the truck make, the triple turbocharged Dmax blazed to a 6.65-second run at 104 mph on the pass shown below.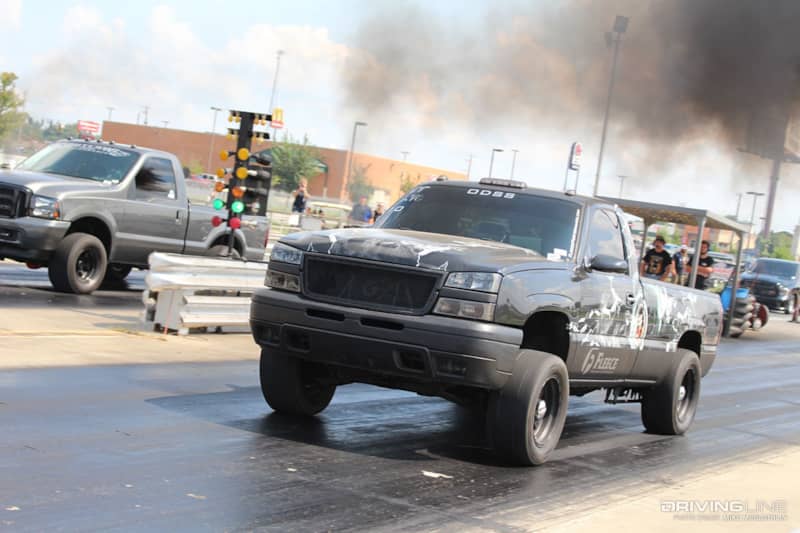 Steven Davis (far lane) came into the Scheid event fifth in points in the Outlaw Diesel Super Series' 7.70 Index Class. However, as he's been fighting all year, his lightweight Ford is simply too fast at times. The truck is set up for making nitrous-assisted, 6.9-second passes, so slowing down nearly an entire second can be tricky. After breaking out with a 7.65 at 83 mph Davis told us he simply can't slow the truck down enough sometimes.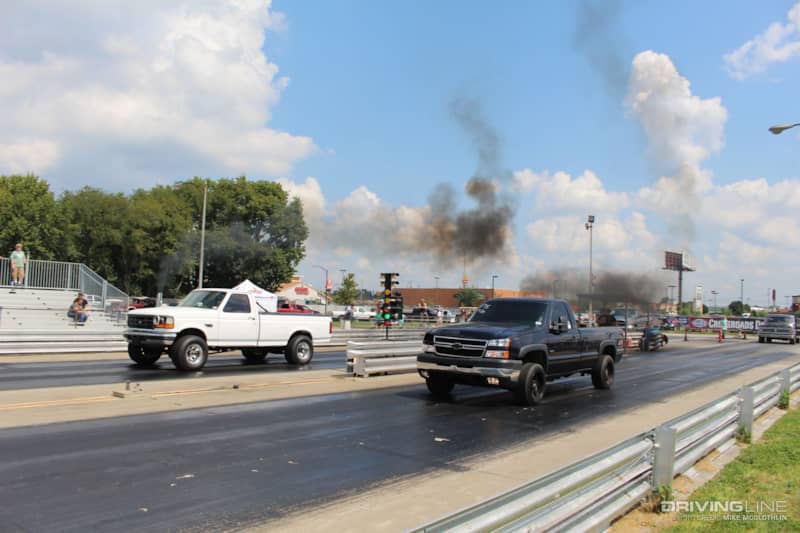 In one of the best side-by-side races of the weekend, number one qualifier Chase Lunsford and his nitrous-fed second-gen Dodge (far lane) edged out veteran racer Seth Sullivan for the win in Pro Street. A better launch kept Chase from being overtaken on the big end, as his 5.72 at 132 mph proved just enough to hold off Sullivan's 5.82 at 136 mph.