Scheid Diesel Extravaganza: The Super Bowl of Truck Pulling
With 20 years in the books, we can definitively say that no other event celebrates the diesel truck quite like the Scheid Diesel Extravaganza does. It's a three-day weekend where you're guaranteed to see 3,000 horsepower trucks rip through the dirt, blistering fast eighth-mile passes being made at the dragstrip and dozens of pickups laying down huge numbers on the dyno.
In addition, the event also plays host to one of the largest diesel Show-N-Shine competitions in the country (Cummins swaps galore!) and features a vendor row that's chock full of the biggest names in the industry. People definitely know about this event, as more than 13,000 spectators make their way to the Wabash Valley Fairgrounds in Terre Haute, Indiana, every August to enjoy it. While a lot of attractions bring people through the gates, at its core, the Extravaganza is still a truck pulling event. That's exactly why Part 1 of our coverage recaptures all the action that took place in the dirt in 2016.
Enjoy!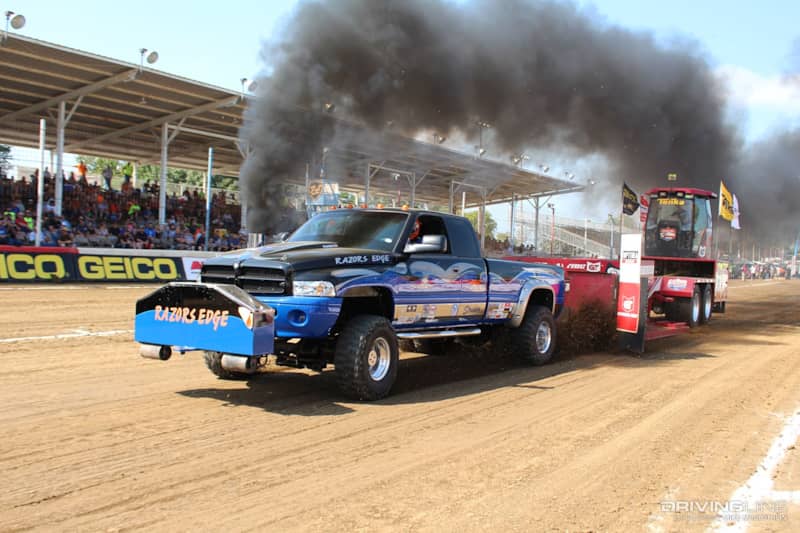 The 20th anniversary of the Scheid Diesel Extravaganza definitely delivered. There were 20 Super Stock trucks, 26 Pro Stock trucks and 43 Limited Pro Stock trucks on hand for Friday and Saturday's top notch sled pulling action. Of the 43 Limited Pro Stock trucks in attendance, only 27 would make the cut to compete in the main event held each night. This is accomplished by having the trucks qualify for the main event on Friday and Saturday morning.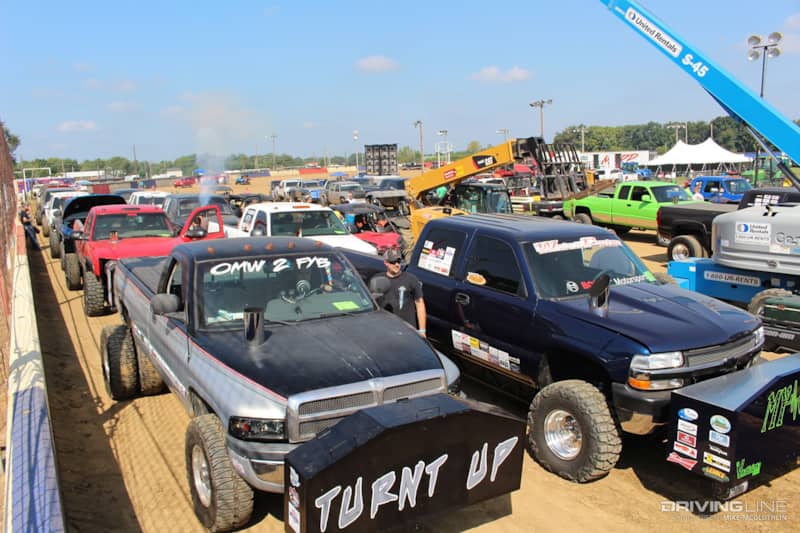 Limited Pro Stock:
The Limited Pro Stock class dictates that a smooth bore (no map ring) turbo with a 3.0-inch inducer be ran, trucks sporting open drivelines are permitted and a DOT approved tire must be used. Tires such as the Nitto Mud Grappler are one of the go-to's for many in this class. We were able to get up close and personal with the High Maintenance machine for the shot below. This nasty Duramax, campaigned by Daniel Mooney, would qualify third Saturday morning and take fourth place in that night's ultra-competitive action.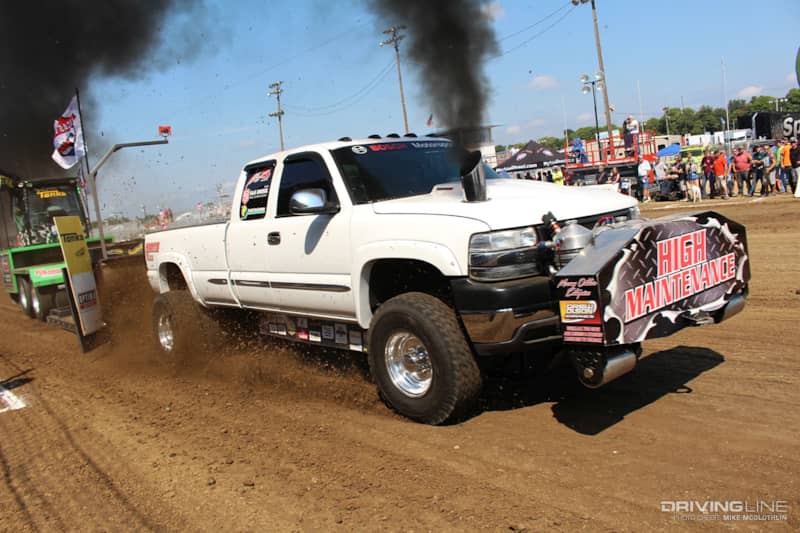 On any given night, you can bet Rob Wright's Dodge Ram has a chance to take the win in the Limited Pro Stock class. The Haisley Machine sticker in the rear window signifies a lot of the truck's success, as this company builds most of the mega-horsepower, ultra-reliable Cummins mills that tend to dominate this class.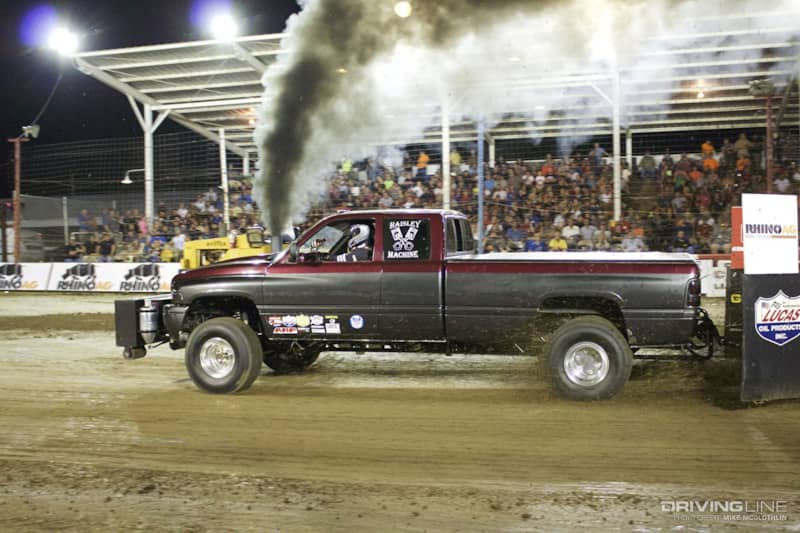 In a game of inches, qualifying for the Limited Pro Stock class nighttime show can be elusive (even heartbreaking) for some. David Reed's Duramax-powered GMC Sierra, coined Wildside, missed the mark by just one foot on Friday afternoon.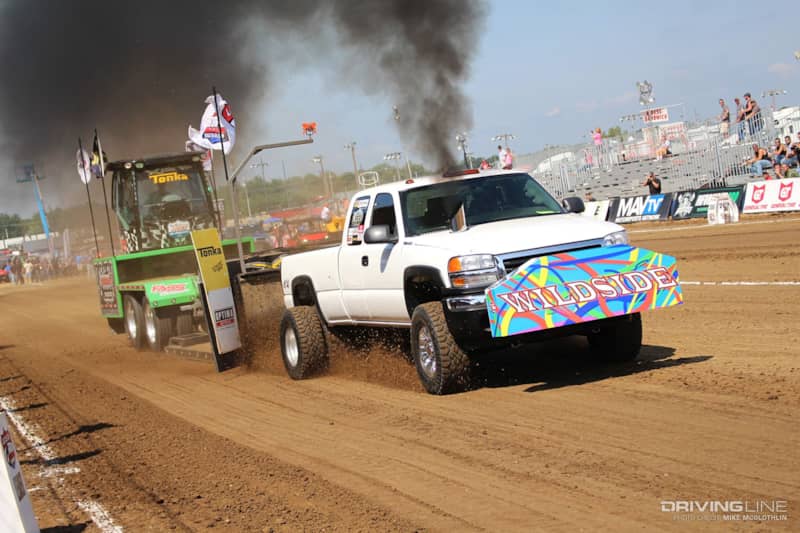 No stranger to the winner's circle, Adam Hallien's second-gen Dodge clawed its way to a 322.75-foot first place finish in the Limited Pro Stock class Friday night. Just 24 hours later, he wound up in the mix once again, landing sixth place with a 311.08-foot distance. Saturday night, just four inches separated second place from 10th. Talk about some close competition!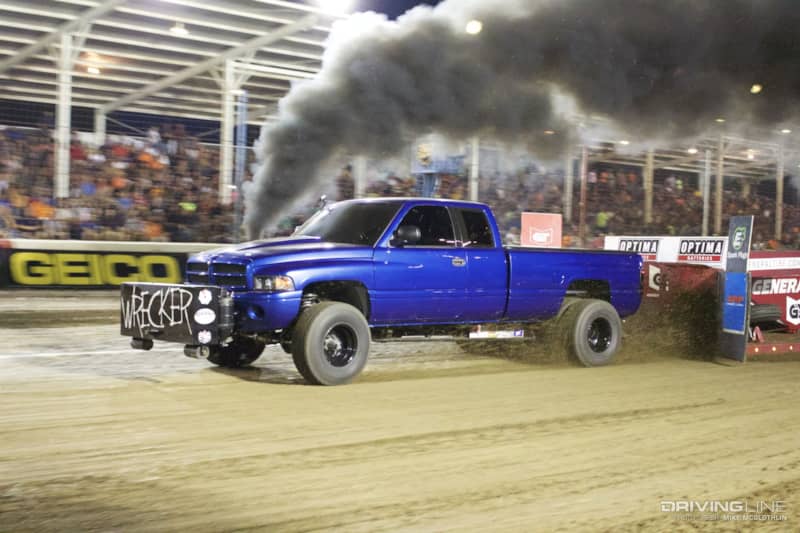 Although the podium's in the Limited Pro Stock class were populated solely by Cummins powered rigs in 2016, the Duramax faithful still put up a heckuva fight. Cole Matthews' Mud-Grappler-equipped Chevy Silverado led the charge during Friday morning's qualifying session with a 317.96-foot, fifth place effort.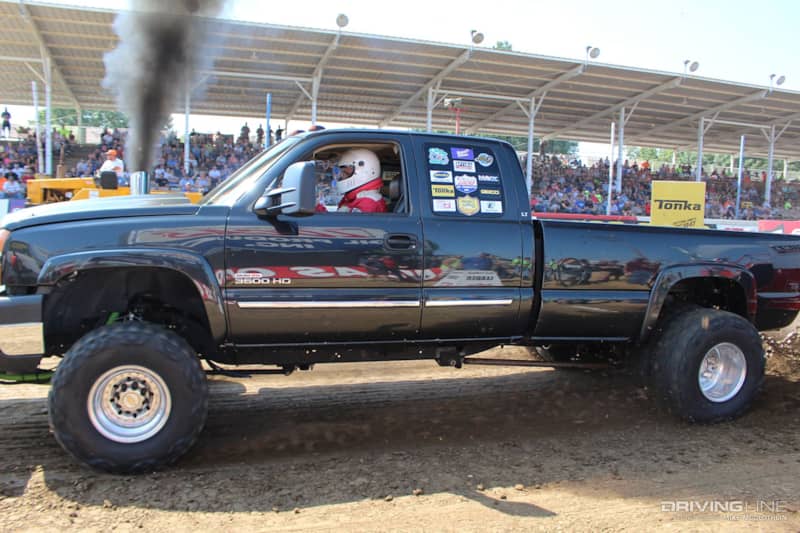 Pro Stock:
A step above the Limited Pro Stock class is (fittingly) the Pro Stock class. In this category, trucks are also permitted to run an open driveline, but their turbo rule dictates that a 3.6-inch smooth bore charger can be run and competitors have the option of running DOT tires or cut tires (although most opt for the latter). The engines that power these trucks typically make between 1,600 and 1,900 horsepower. Here, Andrew Kinsley's Cummins-powered Ram storms its way down the track. Kinsley would lay claim to a fourth place finish Saturday evening.
Turning in solid, back-to-back performances, Matt Penn's Pro Stock Ram put up two fifth place performances over the weekend. A top five finish came as no surprise to those that have watched his truck dominate virtually every pull it's made it to within the Illinois Tractor Pulling Association circuit (ITPA). Scheid Diesel built the Cummins that keeps Matt's third-generation Dodge at the front of the pack.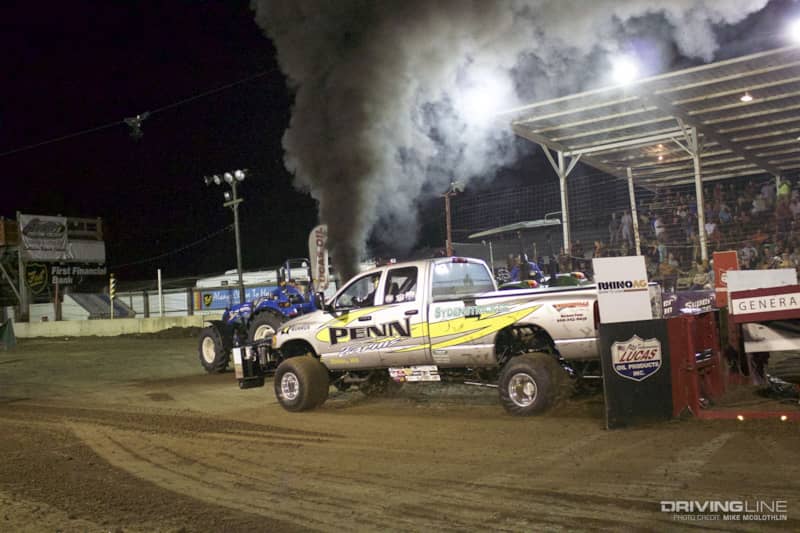 Jacob Bair's old-school, Cummins-powered Chevy (conveniently named "Grin 'N Bair It") proved dominant in the Pro Stock class. A 326.45-foot distance would land him Second Place at Friday night's show, and he would edge out fellow competitor Curt Haisley (in the "Off Constantly" Dodge Ram) the following night for the top spot.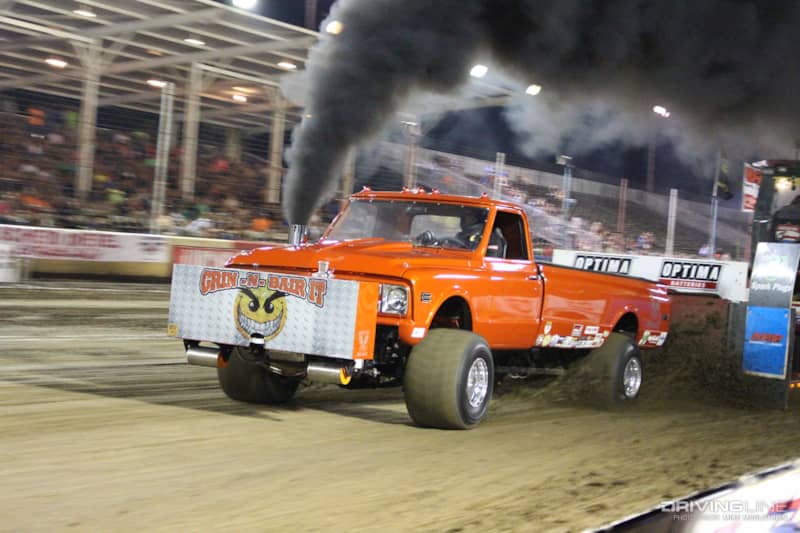 We caught up with the truck infamously known as "Cummins Killer" and wow has this wild ride undergone some changes over the last couple of years. The Duramax under the tilt body is now graced with five (5!) CP3's and a Pro Stock tractor turbo from Columbus Diesel Supply. This turbo, which features a compressor wheel inducer that is larger than five inches (130mm plus!), turns 90,000 rpm and produces triple-digit boost while screaming down the track. The truck itself would turn in 14th and 17th place efforts on the weekend, while competing in the Super Stock class.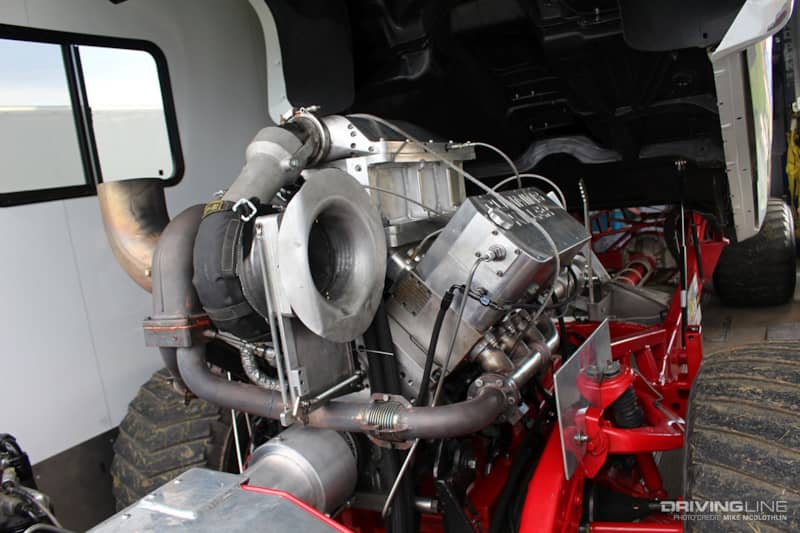 Super Stock:
The Super Stock class is where the big dogs play in diesel motorsports. Trucks here are allowed to run a two-stage turbocharger configuration, aren't subject to injection pump limitations, and weigh-in at 7,500 pounds. In this class, it's typical for the engines to see 120 to 150 psi of boost and make between 2,500 to 3,000 horsepower. Here, Shawn Hodges' triple-turbo'd, Haisley Machine-built Cummins lays down a sixth place 307.58-foot pull.
Scheid Diesel's Kent Crowder would pilot his triple-turbo'd Super Stock truck to two second place finishes at this year's show. Fellow Scheid customer, Carl Atley, would inch past him on Friday, while Kyle Michael's Duramax-powered Silverado got him by just three feet the following night.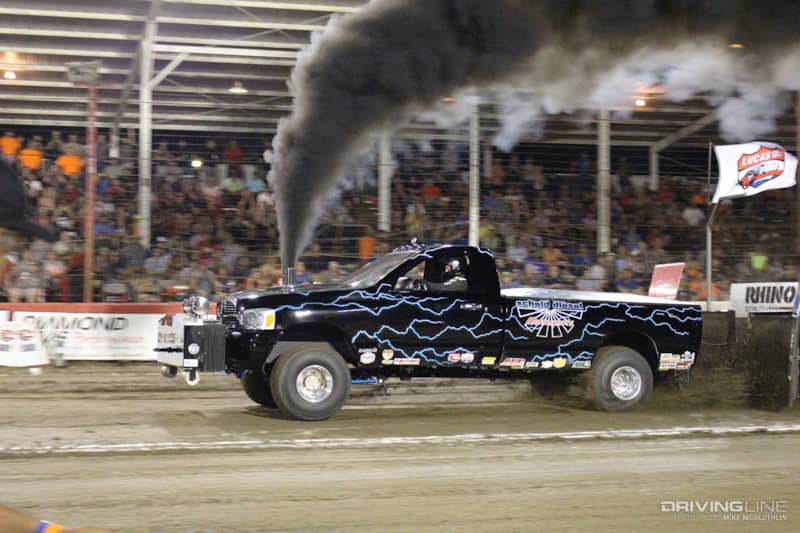 Super Farm/Pro Stock Tractors and Hot Rod Semis:
In addition to diesel trucks, Super Farm and Pro Stock tractors were also on the docket at the Scheid Diesel Extravaganza, as were Hot Rod Semis. The wheels-up Super Farm John Deere 7810 driven by Don Slama yanks the sled 333.84 feet—good enough for first place.