Hellhound: Lipstick Red '67 Chevy Camaro
Story By Mark Masker
Photos By
Raymond Espinoza's 1967 Camaro may be the only hellhound you'd actually like to meet. All of the other ones like to put death curses on people, eat them, or suck your blood. They're not exactly fun at parties but they do look cool. Which, coincidentally, is a great quality that they share with Ray's ride.
Men at Work
The car is also the culmination of a lot of hard work. Raymond caught the car bug as a kid and it grew from there. "Classic cars began to spark my interest at a very young age. Starting when I was around 14 years old my grandpa began providing me with ample knowledge and stories of cars he had previously owned," he says. Additionally, Raymond's dad also told him about the work he had done on various classics, including his garage-built custom Astro van.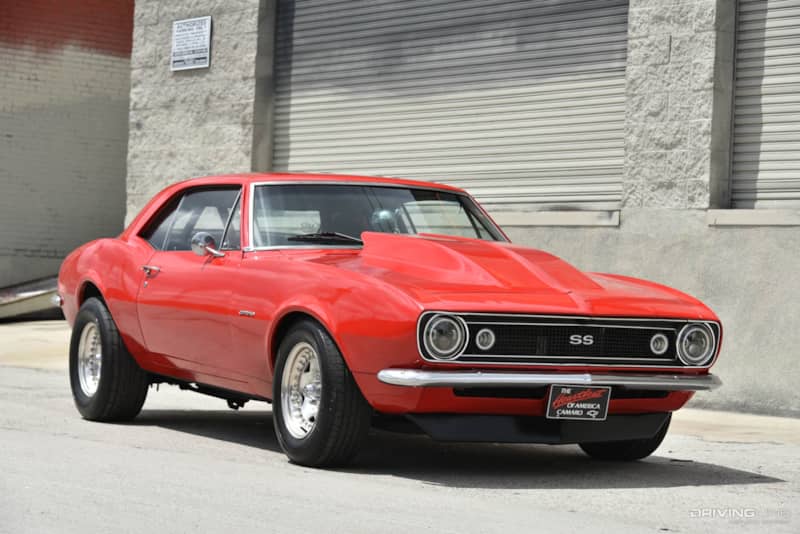 His family laid the foundation and Raymond built on it himself. During his high school years, he tuned to Street Outlaws (@Stoutlaws) as well as @1320video on Youtube. "These channels kept my interest going until the age of 17 when I sought out purchasing a classic," he continued. "A few outside influences acquired through this process included neighbor cars that I would admire as well as cars I would see in town and on big car pages on social media. I fell in love with the car scene and immersed myself as much as possible." As he started looking for that dream car, Raymond knew he wanted something that he could make into his own, with his own two hands.
Reno 411
Months of hunting ensued but finally Raymond bought Hellhound in Reno, Nevada. It had excellent potential (what 1967 Camaro wouldn't?). But it also needed some love. One thing that didn't, though, was the sweet sexified paint. "Something that was going to remain untouched was the lipstick red color that it had, this standout aspect was one of my favorite components," he tells us.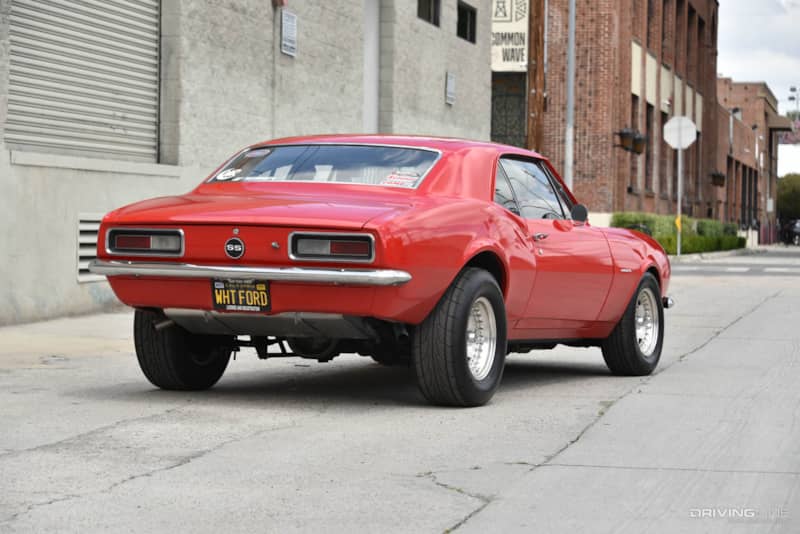 Although he'd gotten it in Reno, the Camaro was a local California build from Van Nuys. After more digging and reading up on the car, Raymond came to find that the original owner of Hellhound and he shared same first name. He considered that a good omen.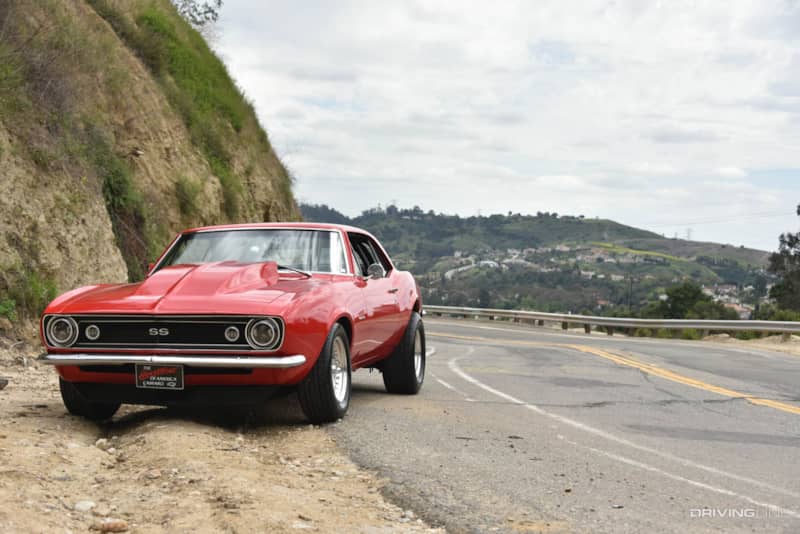 As soon as Raymond brought it back to California, he and his dad tore it down and got to work, fixing the major and minor issues while making it his own animal in the process.

Head Games
In its current configuration, Hellhound runs on a modified version of the stock motor that's much stronger and more powerful than it was back in `67. L&R Engines took care of the machine work and now it packs Wiseco pistons, Edelbrock Performer RPM aluminum heads, and a Comp Cams Magnum Hydraulic Roller camshaft.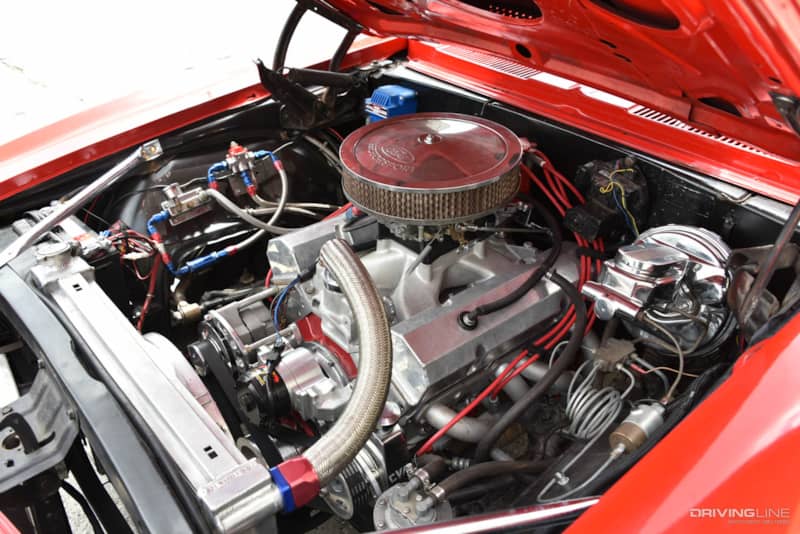 It breathes heavy thanks to a Holley 650 Double Pumper carb and Edelbrock aluminum intake manifold (please disregard the Ford air cleaner cover). Flow Master Super 44s with Hooker Headers expel the spent gasses. Raymond says the small block combination makes 454 ponies at 5800 rpm and 450 lbs/ft of torque at 4800 rpm.
Power Play
That power makes its way to the 15-inch Center Line Convo Pro 2.0 polished aluminum wheels with meaty Nitto 555R 275/60R15 DOT compliant drag radial tires in rear.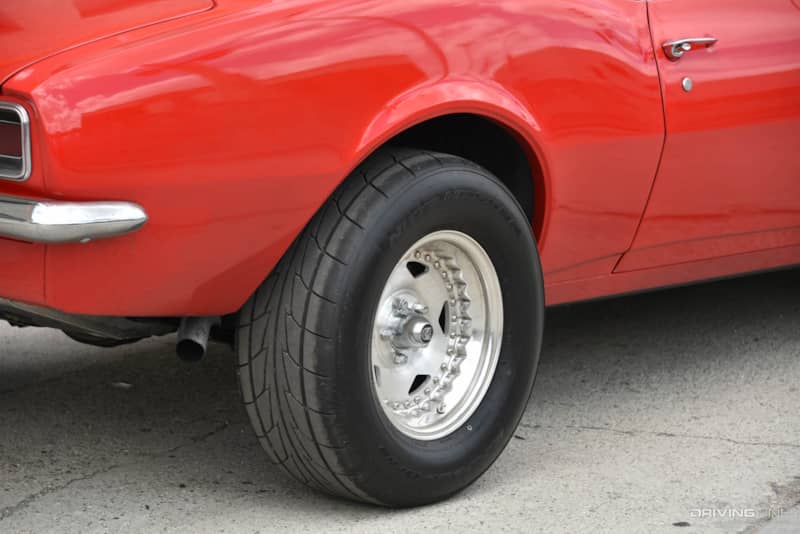 "The 555Rs give me great grip on the road and at the 'strip no matter what. They're the perfect rear tires for Hellhound and I wouldn't have it any other way," he says. Although the suspension (and most of the axle side of the equation) remains stock, Hellhound does carry a 9-inch Ford rear differential with ladder bars and rear locker from Detroit Lockers.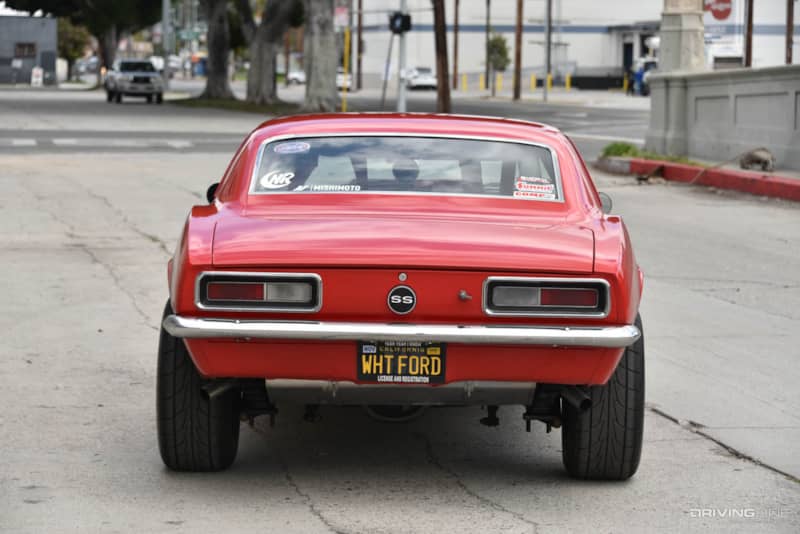 Feelin' Hot Hot Hot
Appearance-wise, the real star of the show here is the hotness oozing from the Lipstick Red paint firing up the bodywork.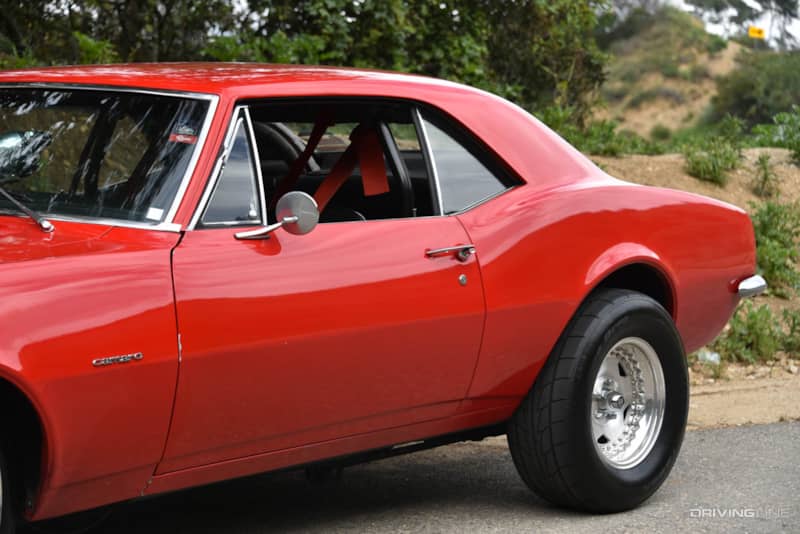 Which isn't to say the interior is ugly in any way, shape, or form; far from it. A Grant GT steering wheel sits among Auto Meter instrumentation but other than that the cockpit is basically what it was when Raymond bought the car.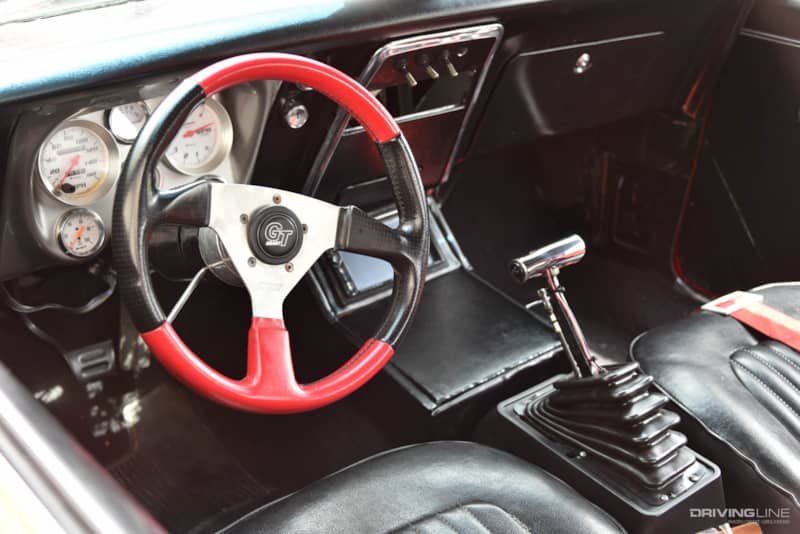 After years of hard work, moving along further day by day, Hellhound was where Raymond wanted it and he's loving the results. "This vehicle gave me an entrance to an immensely supportive community filled with amazing friends and industry connections," Raymond says.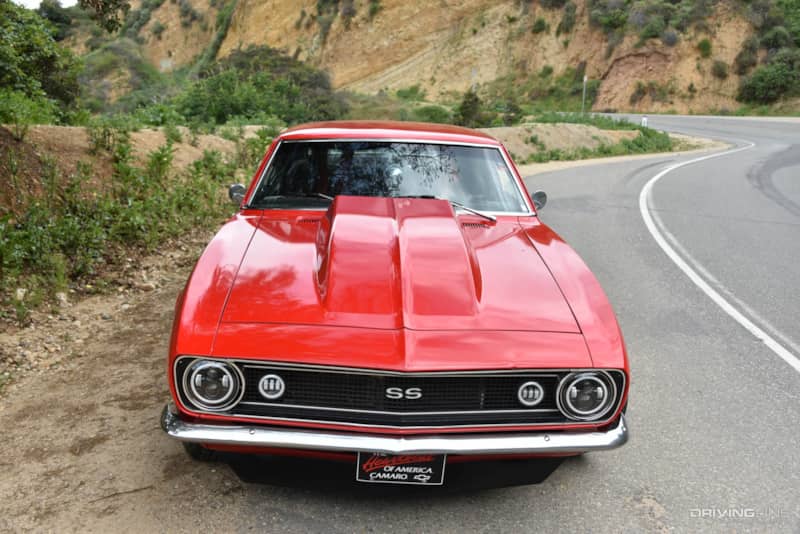 "Without the help of people I met along the way, this car would not be where it is today, and I am extremely grateful for their guidance and help. Ultimately, I aspire to keep building this car and be a part of the SEMA Young Guns competition one day to battle it out with other like-minded car enthusiasts." With the foundation his dad and grandpa provided, he's off to a great start.