There's No Denying This Is a Hot Rod Bug
The Volkswagen Bug may at one time have been the car of the masses, but today they often get a bad rap in the hot rodding world. Maybe it's their quirky owners, quirky engineering or quirky small stature that does it — all the more reason for Gas Monkey Garage of "Fast N' Loud" to give this '65 VW Beetle their star treatment.
"We love venturing out and building cars in different niches. I've owned a number of different VWs," notes GMG fabricator Charles Cimino. "It was great having the opportunity to do our take on this car and present it to the VW community." In building it they replaced some of that aforementioned quirkiness with badass hot rod power and classic SoCal style.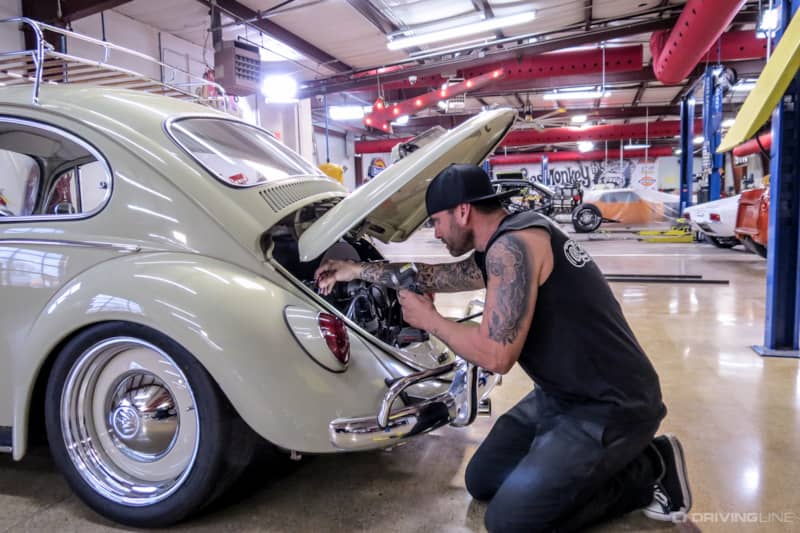 While Gas Monkey Garage chose to retain the Bug's beige exterior, the performance needed a definite upgrade. To accomplish this, GMG hooked up with engine builder of choice for VW connoisseurs Ukrainian Motorwerks. The replacement 210-horsepower engine upped the engine size from 1600 to 2276 cc's while more than quintupling the Bug's original 40 hp output.
"We had to dismantle the motor a little bit to get it in there," Cimino says. "It looks basically factory, but the engine's external dimensions are a little bit wider."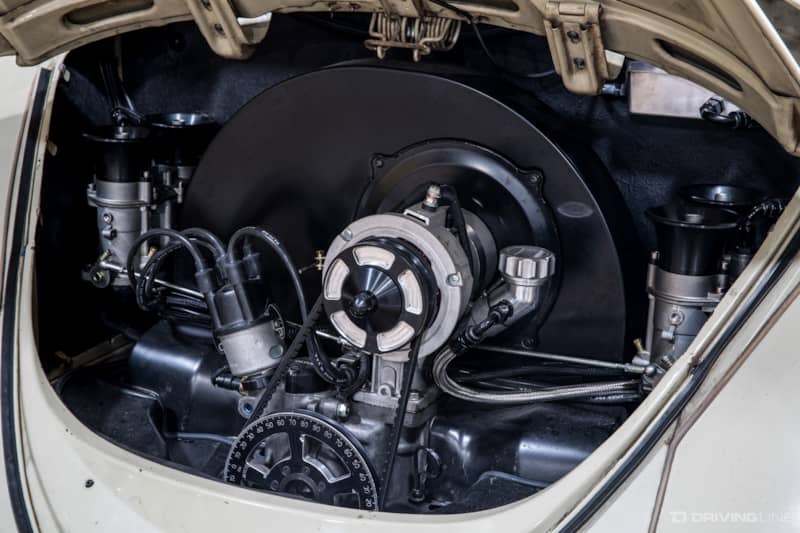 While 210 horses may not sound like a ton on paper, the fact that VW Beetles weigh in below 2,000 pounds puts the new power output into perspective. Of course, our first question after hearing the power boost was, "How does it feel?"
"It'll break the tires loose," Charles laughs. When you whomp on it, it sets you back in the seat. You're just not expecting that when you get behind the wheel of a Beetle." Helping to ground that power are Nitto NT01 performance tires paired with staggered fitment Airkewld smoothie wheels.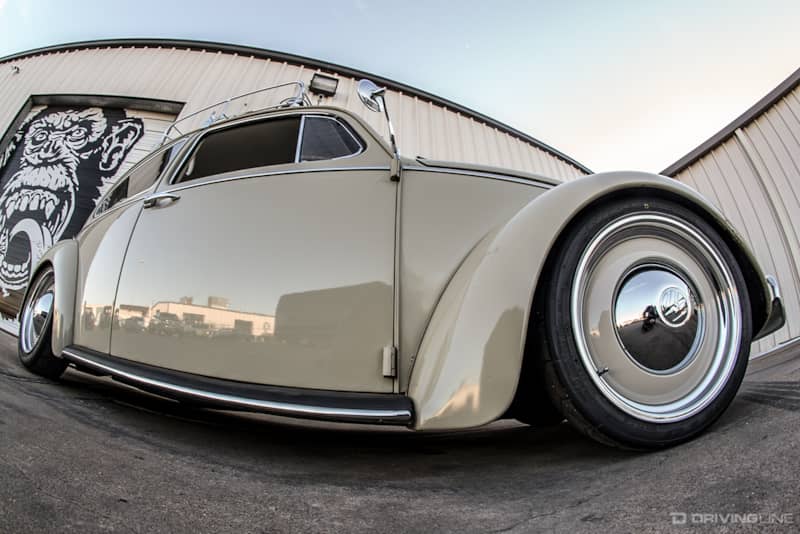 Choosing to keep the exterior clean, simple and SoCal-style makes the surprise of power even less expected. "Low and slow" may be a motto for some similar-looking Bugs, but not Gas Monkey's.
"I love that the car looks basically untouched until you start looking at it. The stance and the wheels don't pop out too much, but they just fit," Cimino explains. "SoCal style has always been my favorite way to see these built. But all the go-fast stuff we added to this build, it really put it a leg up."
In case you're wondering what to look for if you're trying to do a similar build in your own garage, Cimino advises:
"Find the cleanest car you can. A lot of Beetles are so deteriorated that you basically have to start from scratch. It seems like the front apron of almost every old Bug I've looked at has been smashed in. If you can start with something that hasn't, it'll be a huge bonus in the long run."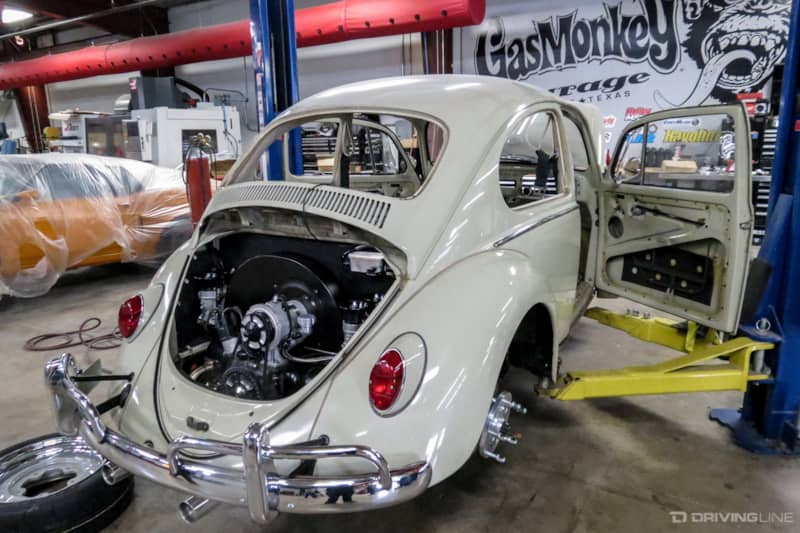 Cimino has owned a few VWs himself through the years, and while he drives a much larger vehicle on the daily — with dreams of recreating the '80s GMC truck of "The Fall Guy" TV series — he also noted that Gas Monkey Garage's VW would "make a killer daily driver." We couldn't agree more.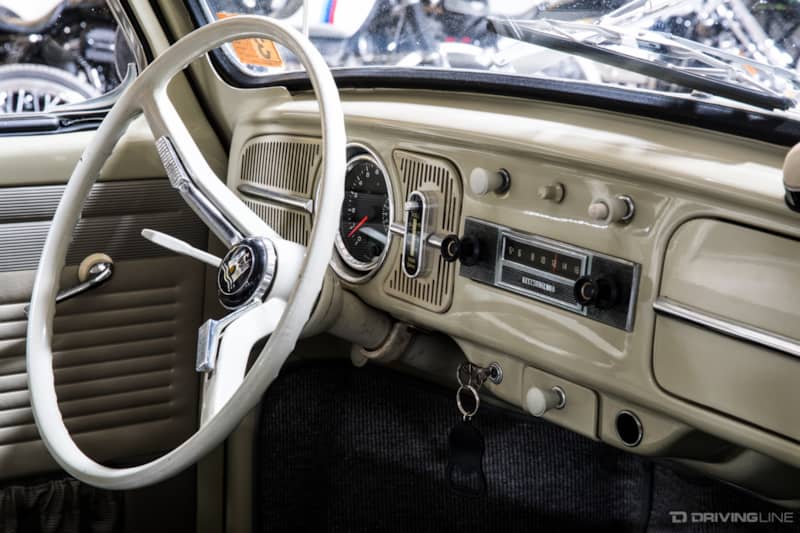 Details
| | |
| --- | --- |
| YEAR/MAKE | 1965 Volkswagen Beetle |
| BUILT BY | Gas Monkey Garage for Fast N' Loud |
| ENGINE | 2276cc engine by Ukranian Motorwerks, 210 horsepower |
| AIRFLOW | IDA intake with dual Weber .48 IDA carburetors |
| DRIVELINE | Rancho Billet performance transmission, Vintage Speed Black Mamaba throw performance shifter, Vintage Speed exhaust system, Lucky's Fab Shop cooler, 4.12:1 gears |
| SUSPENSION | Torsion Beam, Airkewld 4" narrowed adjustable beams, Wilwood brakes and rotors |
| WHEELS | Airkewld staggered-fitment billet smoothies |
| TIRES | Nitto NT01 205/40ZR17 front, 215/45ZR17 rear |
| BODY | Stock body, TMI products replacement seats, GPS digital gauges by Speed Hut; Wolfsburg West window sills, door latches and chrome sides |
Follow along with what Charles is up to at Gas Monkey Garage on Instagram @cimi1220. Want to talk about power? Catch Gas Monkey Garage's LS-swapped Porsche build.