How Petersen Museum Helps Make So Cal Capitol of Cars
Of all the cities in the world, which would you consider to be the Capitol of Cars? Certainly, Detroit (well, Dearborn) is a frontrunner as the birthplace of the American automotive industry and assembly-line technology. Modena, Italy's history of Ferrari, Lamborghini, Maserati and Pagani solidifies its place in the world's motoring consciousness. Monterrey is a strong contender, but primarily due to the increased populations during Pebble Beach and the other Motorsports gatherings. Scottsdale, Arizona has become synonymous with collector car auctions and the lack of rust-anxiety.
But if you've been following The Petersen Automotive Museum's activities recently, it's pretty obvious they feel that Southern California and Los Angeles in particular is the Car Capitol of the World. The constantly expanding enterprise founded by Robert E. Petersen and his wife Margie in 1994 is definitely on a course to take the storied auto-centric past of the area and build on it until no one can dispute its dominance.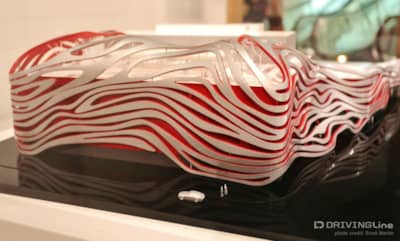 By virtue of a completely new architectural look for the entire building, the Museum is slated to become the gateway to Museum Row on the Miracle Mile which should bring even more notoriety to the automotive community in Los Angeles. As with any type of change, there has been controversy… An L.A. Times article raised public alarm when it claimed that 30% of the Museum's collection was being sold to finance the upgrades. Terry Karges, Petersen's Executive Director has set the record straight by describing the deliberate course of action the Board of Directors is taking. He said, "To broaden its appeal, the museum needs to modernize, with things like interactive exhibits, while expanding to include more galleries. We'd like to see things like a motorsport gallery, a biography gallery addressing those significant to the history of the automobile, and an advanced technology gallery…"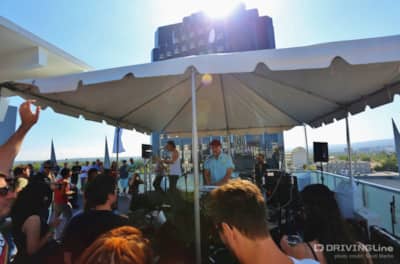 Public outreach for the institution has grown from 40 annual special events per year to over 100 currently. One of several on-going programs is called "The Vault" which is in the basement level of the ex-Ohrbach's department store building and contains over half of the Museum's collection.
On The Vault tour, members and the public can view rarely seen vehicles such as Steve McQueen's Jaguar XKSS in an hour-long escorted tour. Other cars that make the nominal extra fee worthwhile include a 1925 "Round Door" Rolls-Royce Phantom 1 Aerodynamic Coupe, a Popemobile and a Ferrari given to Henry Ford II by Enzo Ferrari, plus many Hollywood vehicles and a variety of hot rods, exotics, motorcycles and muscle cars. Some of the special activities include movie screenings, a weekly family event called Discovery Hour and a Breakfast Club Cruise-In on the last Sunday of every month. There's even a special summer concert series with live music on the roof in conjunction with KCRW and BMW. You can RSVP for The Petersen Concert Series at www.petersen.org or www.krcw.com.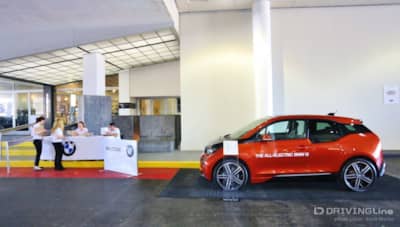 Sign-ups for test drives of the all-electric BMW i3 are at a table before the entrance of the Museum during evenings of the Concert Series. They have several there, so the wait is not long - although they ask that you please take the drive before going upstairs and drinking alcohol on the rooftop.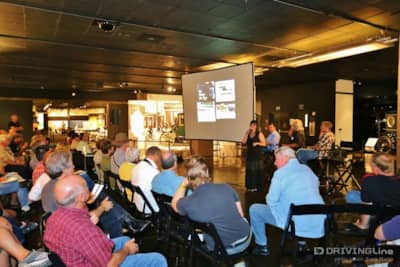 Another recent example of a special, informative and educational, program was the Automotive Photography Seminar conducted at the Museum on June 29th. It featured four professional photographers, Scott Williamson, Randy Lorentzen, Evan Klein and Brenda Priddy, all with completely different styles, speaking about their careers, experiences and techniques. The packed audience included college students, automotive professionals, Museum members, and burgeoning photographers who wanted to learn more about the art of shooting cars.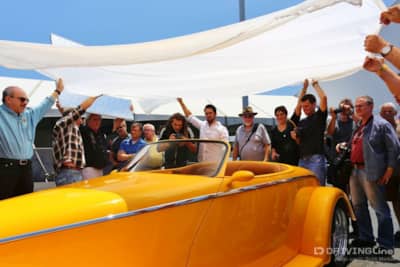 The slideshow presentations were very informative and included a lot of information, but there was also a hands-on demonstration after the seminar that was even more fun! Evan and Randy went outside with diffusion and bounce-lighting equipment and materials to show the attendees some simple ways to dramatically light a classic red exotic and a bright yellow Foose custom hot rod. I even learned a few tricks!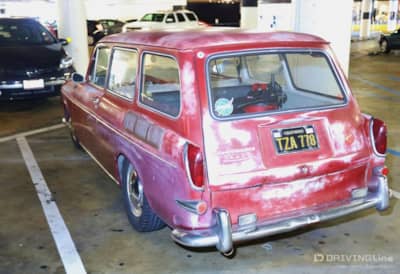 Most recently, as it does every year, Petersen Automotive Museum celebrated National Collector Car Appreciation Day. This year, on July 11th, every collector car that took a "selfie" on-premises was given free admission to the museum for the day. In the past, there have been live broadcasts from the facility in conjunction with Motor Trend and Ebay Motors.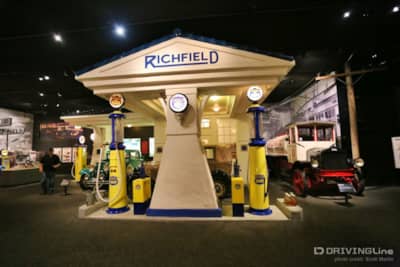 Not that their permanent displays or "Mainstreet Diorama's" are anything but cool - the setups are made to look like everyday scenes from historic Los Angeles, including gas stations, motorcycle police, and long-gone but famous restaurants - but as Mr. Karges says, they may be getting a little dated.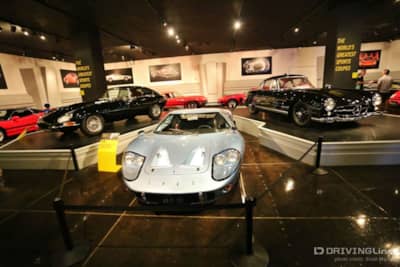 Be sure to check www.petersen.org regularly or join the Museum's email list to find out all the great things that are going on at the Petersen Automotive Museum and be watching for announcements of the impending facelift. While its still summer, it's a really cool place to get out of the hot summer heat!