How to Battle Rust in Your Home Garage
So you've spotted some surface rust on the frame of your daily driver. Although it's more of an eye sore than an emergency for the time being, if the Fe2O3 gremlins are given enough time to work their black magic, the disease will spread. And when they do, they will become harder and harder to eradicate. If you live in the Midwest or the Northeast, your car, truck or SUV is perpetually exposed to a plethora of elements that allow oxidation to rapidly set in. Whether it's the hot, sticky summer air or the salt-treated roads of winter, the underbelly of your pride and joy is either moist or exposed to a corrosive chemical nearly every time it pulls out of the driveway.
Don't let rust send your car to an early grave. Fight back by following these rust-spotting, treatment and prevention tips and your daily's underbody will laugh in the face of salt spreaders and 90-percent humidity. The advice and steps taken below have helped us keep what was initially a basket case of a vehicle on the road for more than a decade.
The Real Enemy: Neglect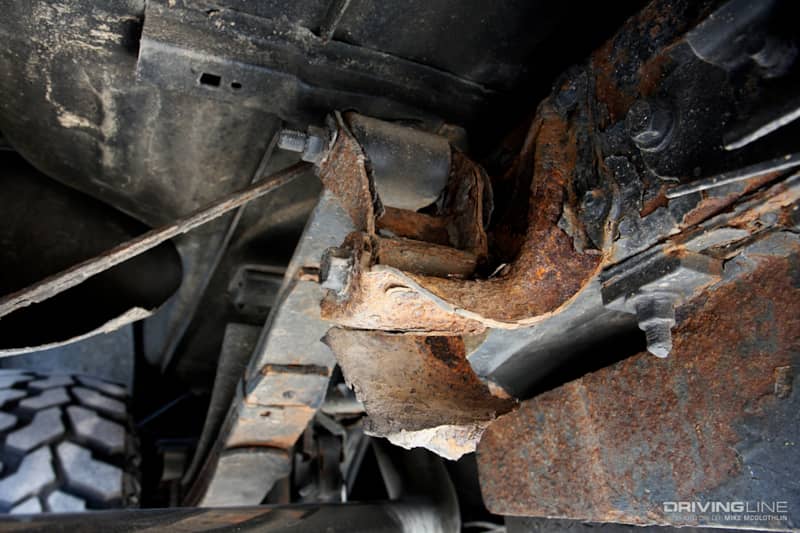 This is what can happen if you live in the Midwest, drive your truck year-round and wait 12 years to look under the body: rust from front to back, a badly corroded hitch and dilapidating leaf spring shackles. Believe it or not, this photo was taken back in 2009 and the truck is still alive and kicking. In fact, it's in great shape. The secret to saving it was no secret at all. In fact, after one full weekend of hard work the frame was on the road to recovery. Following that first hit, subsequent instances of rust-busting consist of 10-minute, annual touch-ups.
When and Where to Fight Rust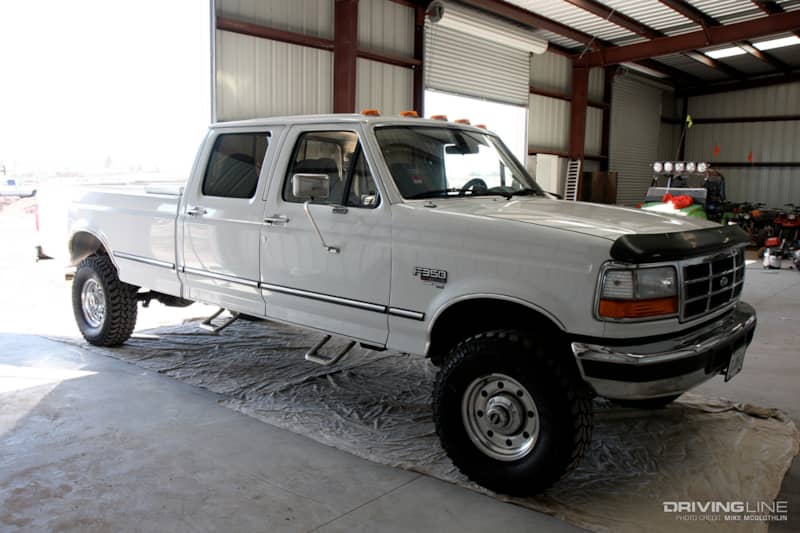 When you set aside time to tackle your rust gremlins, and if it's possible, do it when outdoor temperatures (or the inside temp in your well-ventilated garage) are above 50 degrees and humidity is below 65-percent. This ensures proper adherence and drying from most rust converters, primers and paints.
Step 1: Give it Hell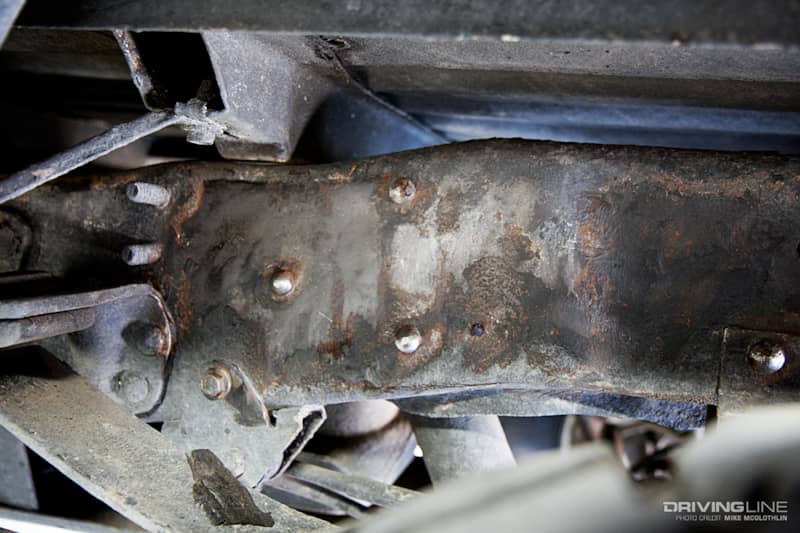 If you're starting from scratch, as in heavy surface rust, go all-out in stripping the frame down as close as you can get it to bare metal. For us, this meant the use of an electric grinder equipped with a wire wheel, a variety pack of wire brushes, various grades of sand paper, a 5-in-1 scraper and a 10-hour day dedicated to cleaning up the frame.
Other Battle Equipment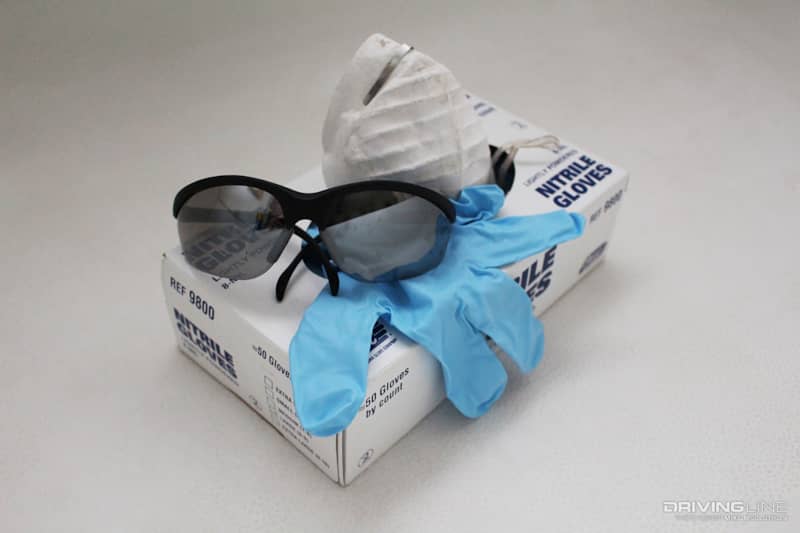 Long sleeves, gloves and eye wear are all good ideas with air born adhesive and pieces of rusted metal filling the air. And depending on which chemicals you're using you may even want to invest in (or borrow) a respirator or mask. The chemical makeup of most rust inhibitors and reformers work wonders on iron but can be quite harsh if inhaled.
Prepped for Treatment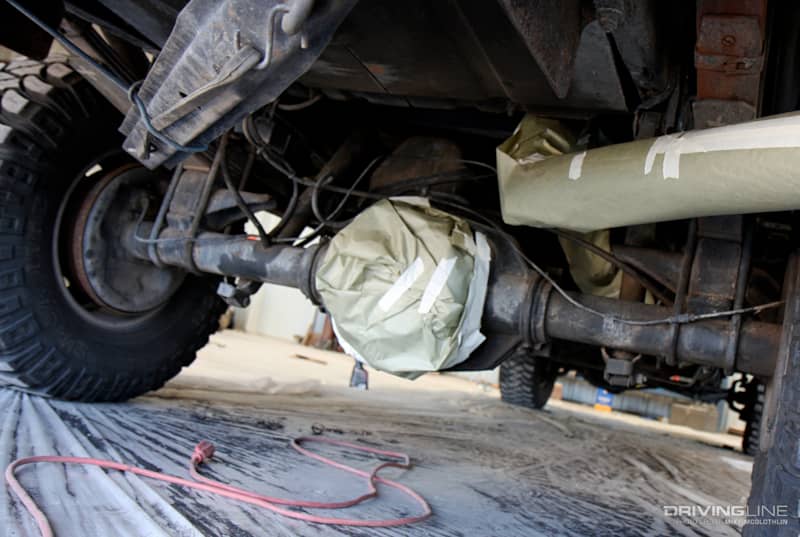 When you're finished grinding, scrubbing and sanding, don't forget to wash the surface as well. In our case, we hit the frame, axles and suspension with compressed air first and then fired up the pressure washer. You'll have to allow time for the underbody to dry before you start applying any rust-fighting product, but you can speed up the process by placing a few fans around the vehicle. Then it's time to wrap all the components you don't want painted or seeing any overspray such as the transmission, transfer case, exhaust system, diff covers, shocks, etc. We happened to have masking paper on hand, but aluminum foil and old newspapers work great for this, too.
Annual Touch-Ups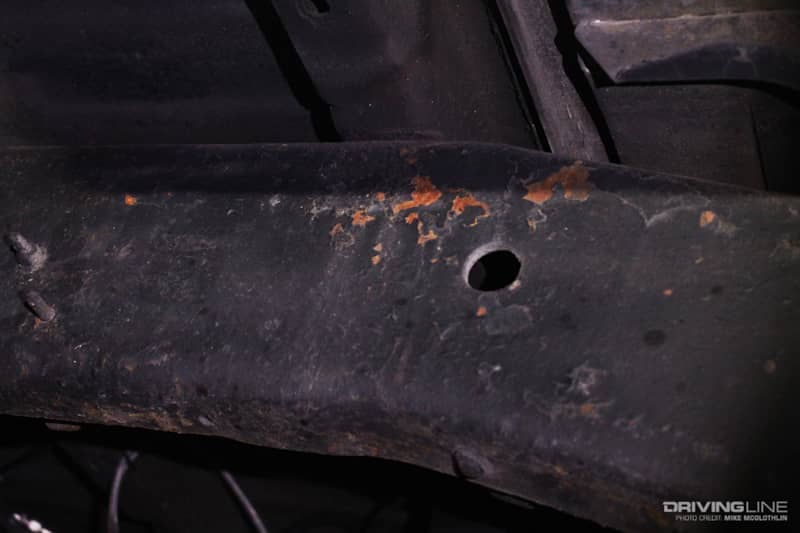 Don't worry, going to war with your frame won't be a regular occurrence if you do a thorough job the first time out. In fact, if you maintain a regular rust-check schedule this is likely the worst you'll have to contend with. When we inspect the frame on our F-350 every fall, this is the extent of the damage we find (again, thanks to that first, thorough treatment). After our first semi-complete ("semi" meaning the cab and bed were never pulled) stripping of the frame, rust treatment and paint, 95-percent of all rust has been contained. Now, having a few spots that require touch-up like this is a far cry from what we saw when we first laid eyes on the truck.
Off-the-Shelf Rust Reformer in a Jug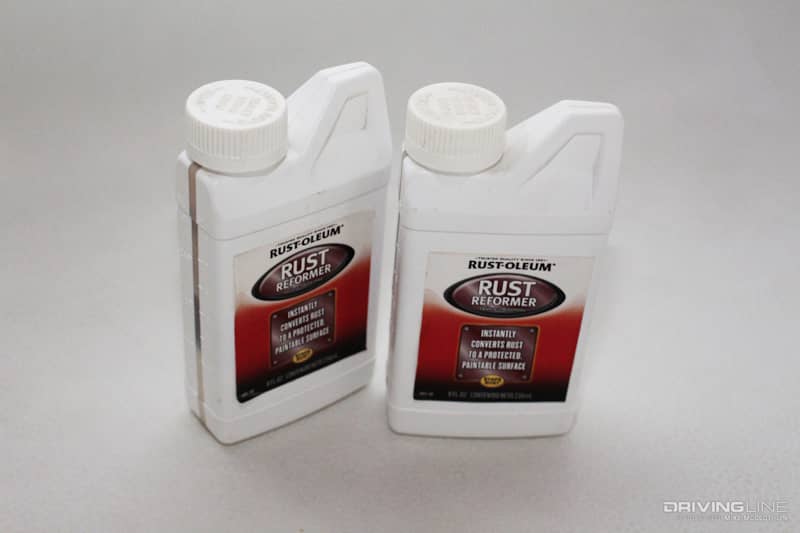 This is how we were first introduced to Rust-Oleum's Rust Reformer: its 8-ounce jugs. You can add the fluid to a pressure pot, Hudson sprayer, repurposed tire shine bottle or even administer it via paint brush. We've used all four means of applying this formula over the years and it's never let us down. The best part is that you can literally pick this stuff up anywhere (Walmart, Harbor Freight, Home Depot, Tractor Supply) and it's one of the cheapest rust reformers on the market. As a bonus, its vapors aren't as harsh to be around as that of SEM's Rust-Mort or POR 15's rust preventative. Those are products we really like, and they perform just as well as Rust-Oleum's stuff (if not better), but they definitely sting the nostrils.
Off-the-Shelf Rust Reformer in a Spray Can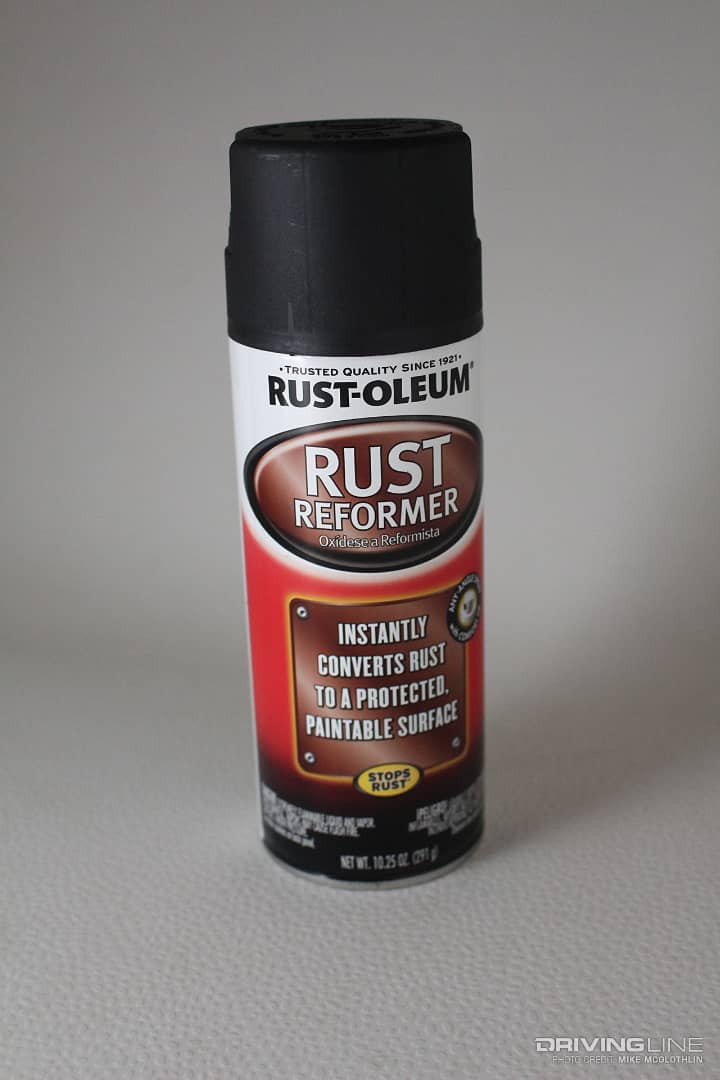 For a much more convenient way to apply Rust Reformer, Rust-Oleum released the 10.25-ounce spray can version of Rust Reformer a few years ago. Simply shake, remove the cap and let it rip. And not only that, thanks to Rust-Oleum's unique spray technology you can spray at any angle, even upside down. This makes coating areas that were once impossible to reach possible. After 24 hours, the Rust Reformer can be hit with a top coat or left completely alone. According to Rust-Oleum, painting over its Rust Reformer isn't necessary provided you've treated the surface to two rounds of it.
Top Coat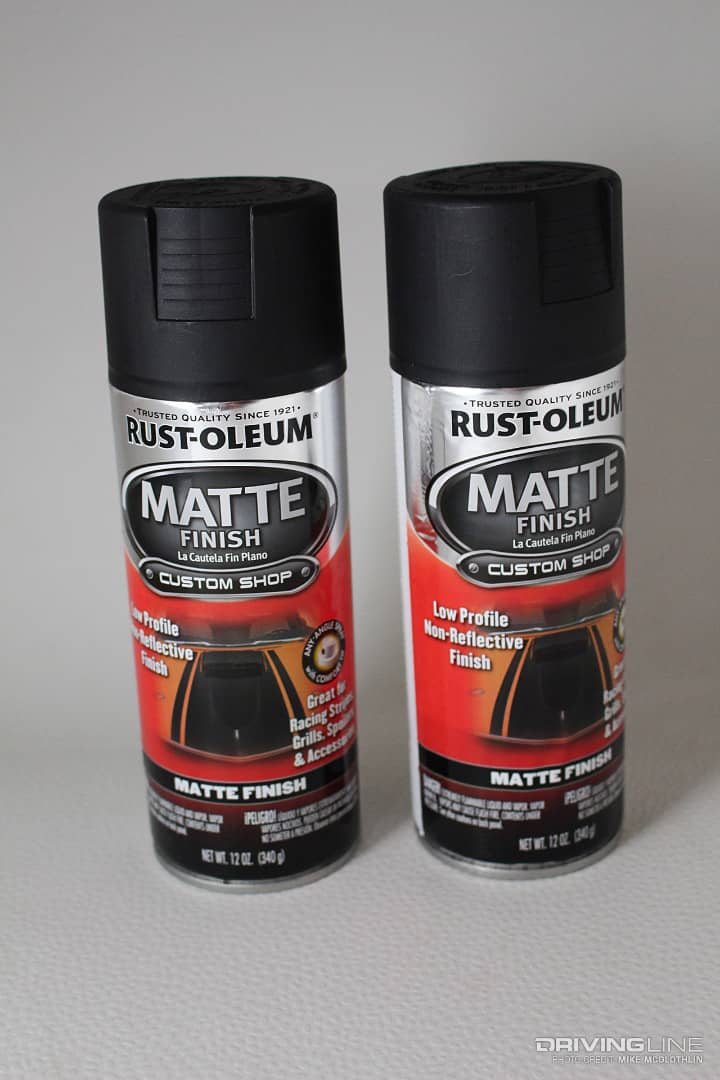 As far as touch-up is concerned, flat black or matte black is usually a better way to go if you want to avoid having random spots of glossy finish along your frame, axles or underbody. For our annual corrosion inspection, we paint over our Rust Reformer work with Rust-Oleum's low-profile, Matte Finish. Like the aforementioned Rust Reformer, Rust-Oleum's spray can Matte Finish will work flawlessly regardless of the can's angle.
Applying Rust Reformer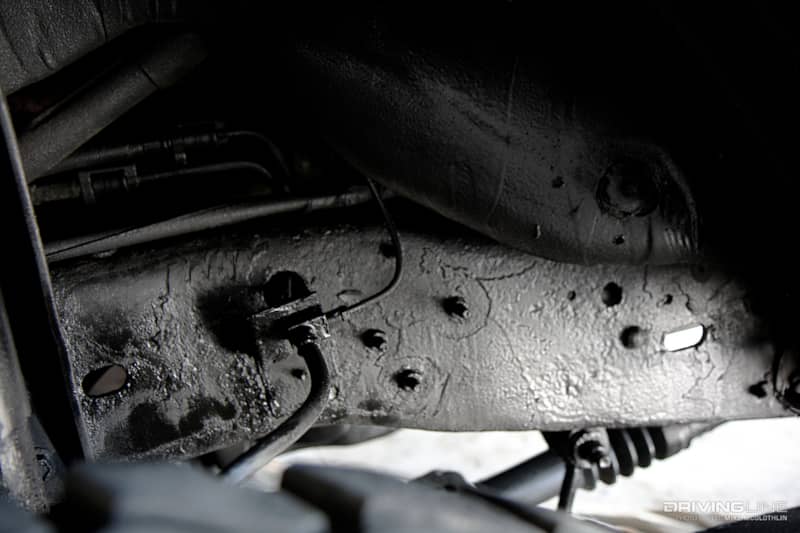 With the prep work of scraping, sanding, grinding and taping off out of the way, it's time to apply your rust reformer. When spraying, it's important to maintain a foot to 16 inches worth of distance between the spray tip and surface. Steady, back and forth strokes with some overlapping is ideal. If you're like us and opt for Rust-Oleum's products, as was previously mentioned the company's Rust Reformer can save you the extra step of having to cover the reformer with paint—so long as you're OK with flat black. Its Rust Reformer naturally converts all rust into a paintable, black surface.
Body Rust: A Whole Other Animal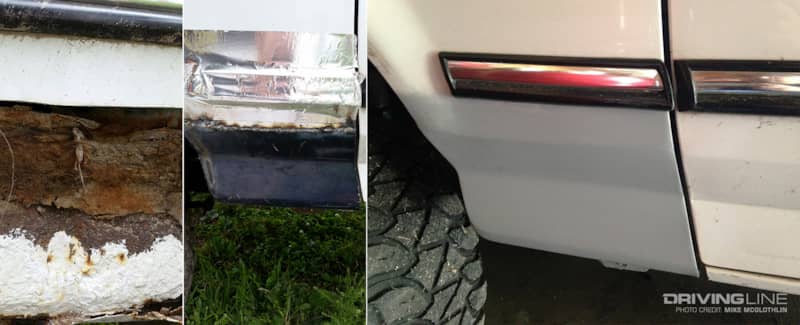 Obviously, some jobs call for more than what a simple surface rust job or touch-up can accomplish, and rusting body panels are a whole other animal. Here, there was no other choice than to enlist the help of a body shop (or in our case, a former auto body man that still enjoys practicing the trade on the side). In this particular case, the bottom of the driver side front fender—an area known to hold road salt and moisture back behind the inner fender liner—had corroded from the inside out. By the time the first hints of rust began to poke through the clear coat it was way too late.
This isn't the first time we've declared war on rust. Click here for more prevention tips and an in-depth look at three of the most popular rust-fighting products on the market.