How to Properly Add a 44-Foot Camper (And Air Springs) To Our Ford Super Duty's Workload: A Truck for Work And Play, Part 3
We've spent the last two years throwing everything but the kitchen sink at the set of F load range Nitto Terra Grappler G2 all terrains mounted under our '18 F-250. It has towed mini excavators, skid steers, a dump trailer full of dirt, rock and sand, and a host of recreational vehicles. Now, it's time to see how the Super Duty's heavy-duty tread holds up with a 44-foot fifth-wheel toy hauler in tow. But as we embark on this new chapter, we're making sure the truck itself is up to the task of towing at its max GCWR. We're equipping it with a LoadLifter 7500 XL air spring system from AirLift.
For years, air springs (or air helper springs) have been a popular way to improve a truck's towing performance by eliminating squat and promoting level towing, restoring steering stability, maximizing carrying capacity and reducing body roll and trailer sway. Of course, it's hard to ignore the proper headlight aim and improved ride benefits that also come with adding air springs. In addition to installing the LoadLifter 7500 XL system, we're throwing AirLift's Wireless Air EZ Mount system on the truck. With wireless control over the air springs, they can be custom-tailored precisely where we want them, no matter which trailer we're hooked to.
Why We Need Air Springs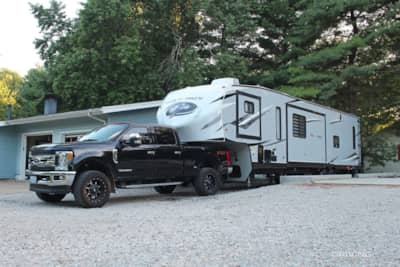 While we've lugged the dump trailer around at 16,000 pounds no problem, the overhang of the master bedroom on this recent acquisition proved a bit too much heft hovering over the bed of the Super Duty. The fifth-wheel Cherokee Wolf Pack toy hauler measures 44 feet in length, boasts two bedrooms (one being the aforementioned master), two bathrooms, slide-outs, a sizable garage, a kitchen/dinette area and a living room. Loaded up for a big weekend, it tips the scales at more than 16,000 pounds.
AirLift LoadLifter 7500 XL System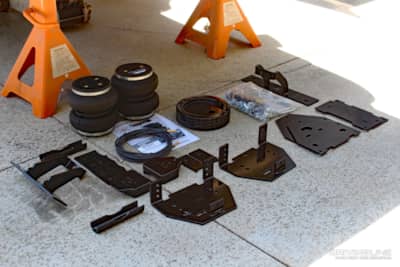 Offering 7,500 pounds of load leveling capacity, AirLift's LoadLifter 7500 XL air spring system comes with everything needed to install it on a '17 and newer Super Duty. This includes the massive air springs, mounting brackets, frame braces, fittings, Nylon air lines and all necessary hardware. True to its advertisement, the LoadLifter 7500 XL system was a 100-percent bolt-on install, with the only drilling required having to do with the install of the separate, Wireless Air EZ Mount system (more on that in a bit).
Massive Air Springs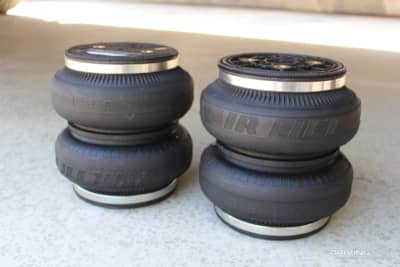 The centerpieces of AirLift's LoadLifter 7500 XL system are its girthy air springs. Each spring measures 7-inches in diameter (vs. 6-inch diameter on the company's LoadLifter 5000 series air springs). The larger diameter provides for superior load leveling at lower pressures and the commercial-grade, dual convolute bellows offer 20-percent more air volume than the springs found in its LoadLifter 5000 systems. The air spring's end caps are made from a high-strength, nylon composite that AirLift claims makes them corrosion-proof. The AirLift LoadLifter 7500 XL springs' maximum recommended pressure is 100 psi.
A Bolt-In Affair With Very Few Hang-Ups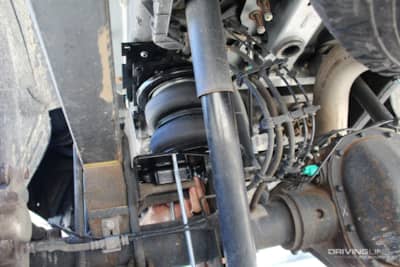 Following AirLift's extensive, highly-detailed instruction booklet, we had the 7500 XL system installed in about six hours. Our one snag occurred on the driver side air spring assembly, which needed to be partially disassembled in order to finagle it into place between the truck's drooping rear axle and the frame. Conveniently, AirLift includes three different air spring assembly lower leg adapters to match the three rear axles available on '17-newer Super Duty's. Our F-250 required the adapters that fit the 10.5-inch Sterling's 3.5-inch diameter axle tubes. Note: the Dana M275 measures 4.0-inches and the M300 axle's tubes measure a beefy 4.5-inches.
Wireless Air EZ Mount System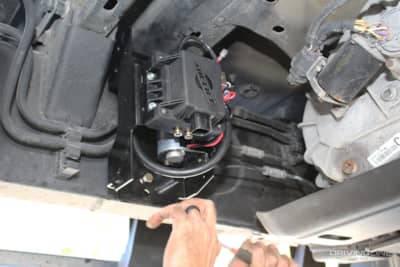 AirLift's Wireless Air EZ Mount system arrived mostly assembled and we were pleasantly surprised that the tightly packaged system located both the compressor and manifold on one shared mounting bracket. We singled out the inside of the driver side frame rail (rearward of the transfer case) as the best spot to mount the compressor. To clear the factory fuel lines mounted on the frame rail, we sourced our own stainless steel spacers. Then came the process of stringing the supplied air lines back to the air springs.
Fuel Door Manual Fill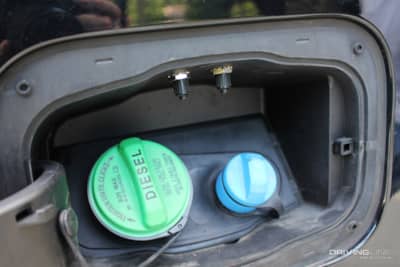 Should the air compressor fail for any reason, we have a slick way of inflating the air springs the old-fashioned way: behind the fuel door. The holes for the Schrader valves were made using a stepped bit on a right-angle drill, carefully enlarging the holes as we went until the correct diameter was achieved (roughly 5/16-inches). Note that with two Schrader valves we can inflate each air spring individually (i.e. dual path control).
Wireless Communication With The Compressor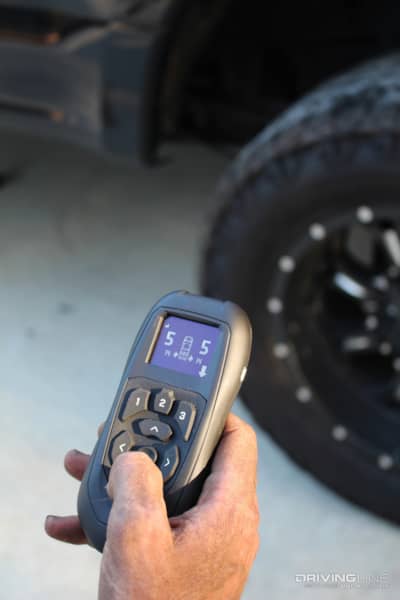 Once the Wireless Air EZ Mount system was in place and the supplied 15-amp fuse was installed, the air compressor immediately came to life and pumped the springs up to 5-psi—the minimum recommended pressure. After the remote was paired with the compressor it was game-on. Precise inflation, bleed-off and programmable inflation settings are all at your fingertips. In fact, since the install we've programmed all three savable settings to accommodate each trailer the truck regularly hooks to.
Checking Up On Our Nitto Terra Grappler G2s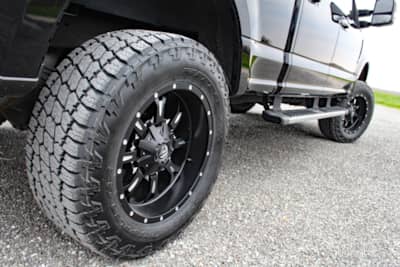 Installing the air spring system was an opportune time to inspect the Terra Grappler G2 all terrains we've been running since the spring of 2020. Despite having 16,000 miles on them at this point, they remain very quiet on the highway and look brand-new. Checking tread depth, the G2's still sport 15.1/32" which we consider above average, especially when you take into account how much weight they see on a regular basis. We've kept up on tire rotations (5,000 miles at a time) and check inflation pressure at least once a month. With regular maintenance, the popular all-terrains have many more years left in them.
More From

Driving Line
Curious what wheels and leveling kit are on the truck? You can find out what we did to properly accommodate the 35x12.50R20LT Terra Grappler G2s right 

here

.