How To Properly Calibrate Your JK for Taller Tires
The evolution of the modern 4x4 has been a blessing and a curse. With so many safety advances, we can't help but concede that despite the technological complexities and electronic nannie interferences, modern four-wheel drives are hands down better vehicles than those of yesteryear.
Don't mistake us for saying that all modern 4x4s are more capable off-road than their previous models. We're simply stating that they are safer – and at the end of the day, safer is better.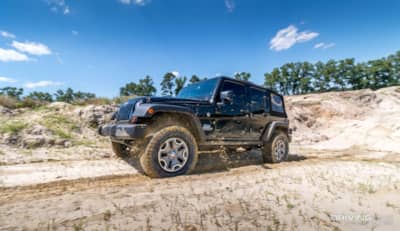 When modifying a late-model 4x4, the electronic safety advances must be taken into consideration. Recently, we installed a small lift and taller tires on our '13 Jeep Wrangler Unlimited Rubicon. As such, our speedometer needed to be recalibrated for the larger tire diameter.
There are a few ways to recalibrate your vehicles computer, but by far the easiest is with a handheld programmer. We picked up ours from the Jeep suspension and aftermarket accessory company JKS Manufacturing.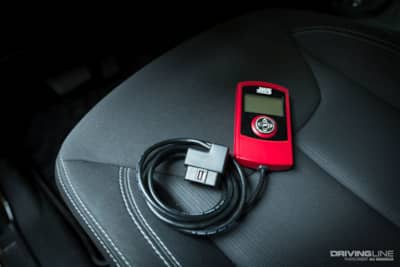 JKS offers what the company refers to as the J-Cal. It's essentially a handheld programmer that can be used to input new data to your Jeep's stock computer. The J-Cal is internet updatable, and since JKS has partnered with Superchips, you can also download performance tunes for an additional fee.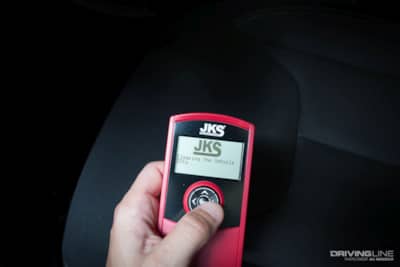 To use, simply plug the J-Cal into your JK's stock OBD-II port, located under the driver's side dash. From there, the J-Cal will walk you through a series of easy-to-follow prompts for modifying your vehicles parameters.
One additional feature that will be extremely valuable for you DIY types is the ability to read and clear diagnostic trouble codes or DTC's as they are commonly known. No more taking your Jeep to the dealer to figure out why the check engine light is on!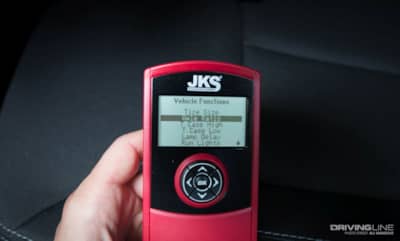 There's a variety of program options that you can adjust on the J-Cal. For Rubicon-model owners, there's even a feature that allows you to engage the differential lockers in high range.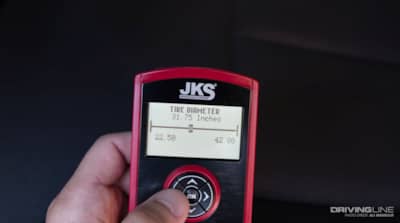 The J-Cal is designed to allow you to adjust the tire height in ¼-inch increments from 22.50 to 42 inches. It's important that you actually measure your tire on the vehicle rather than going by the sidewall number.
For example, a tire with a 33x12.50R17 designation may only be an actual 32 inches tall. That's the number you will need to input to achieve the proper calibration.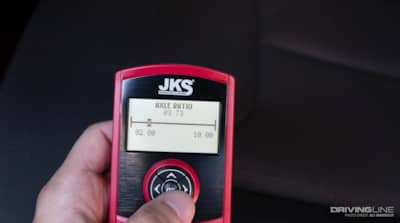 Swapping differential gears is another common-place item that can throw your computer for a fit. Being able to input the correct differential gear ratio will take care of any potential issues and get your Jeep driving and shifting normally again.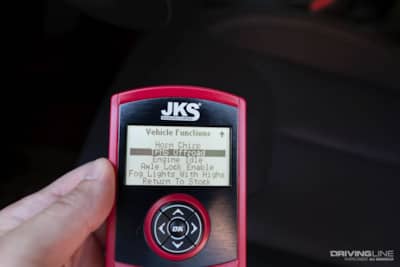 For the avid off-roader, you'll want to update your J-Cal with the TPMS off-road download. This will allow you to run bellow factory recommended air pressure, without dealing with the constant chime and low-tire pressure indicator illumination.
To access this feature, you'll need to visit Superchips.com and download the company's Spark updater. You'll then register your programmer online and sign the necessary waiver so you can access the TMPS off-road feature.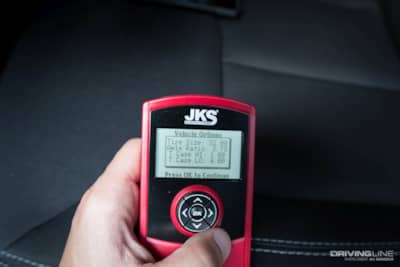 Once you've input all of your desired parameters, you can quickly check out the settings in the vehicle options menu.
As your JK evolves, so can your settings. While the J-Cal might not be something ultra-shiny to show off to your fellow Jeepers, it's definitely a tool worth having in your glove box.
For more information visit: JKS Manufacturing.
Check out our article on a Dual Purpose JK for tips on upgrading your Wrangler for on- and off-road terrain.
Save