Tested: 35s with No Lift on the Jeep Wrangler JK
If you want to run a larger-than-stock tire on your 4x4, it really helps to have a spacious wheelwell. The 2007 to 2018 Jeep Wrangler JK platform has one the biggest wheelwells of any SUV ever produced. This allows you to squeeze on a significantly larger tire without a lot of work. It was with this in mind that we set out to answer one of the most common questions we receive: can you install a 35-inch-tall tire on a stock Jeep Wrangler JK?
Since we would be using a 2017 Jeep Wrangler Unlimited Sport, we knew that we'd need to test this theory out with an aftermarket wheel set as well. The main reason being this Sport model came with a 16-inch steel wheel that doesn't have nearly as many tire options as a 17. Thankfully, we still had our 35x12.50R17 Nitto Ridge Grapplers that we pulled off our JL Rubicon project after we lifted it. Mounted on a set of 17x9 Venom Rex VR-501 series wheels, we bolted on one of our favorite tire-and-wheel combos to find out if you can run such a large tire, without a lift.   
While you can watch our video breakdown here, we're diving further into the details in the article below.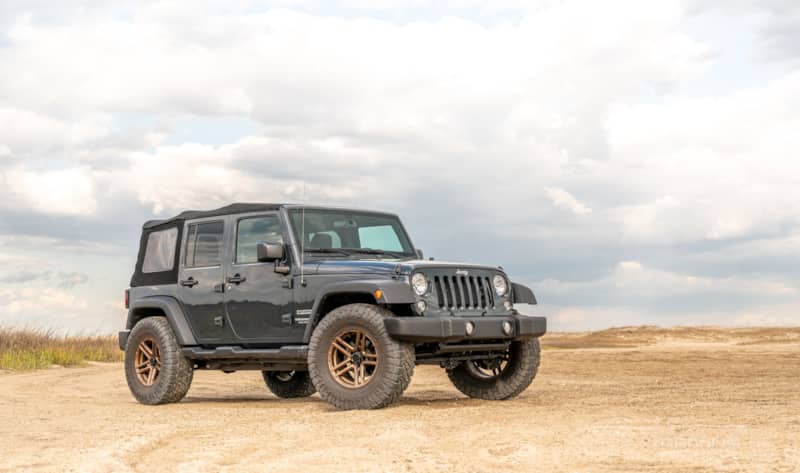 Splash Guard
The good thing about having years of experience with the JK platform was that we knew we needed to take care of one potential rubbing issue right away. Even on lifted platforms, it's not uncommon for the tire to rub on the stock splash guard that comes standard on most Jeep Wrangler JK's. While you can trim it to gain clearance, we prefer the look of it removed. Taking it off only requires a plastic trim tool and takes less than a minute to do.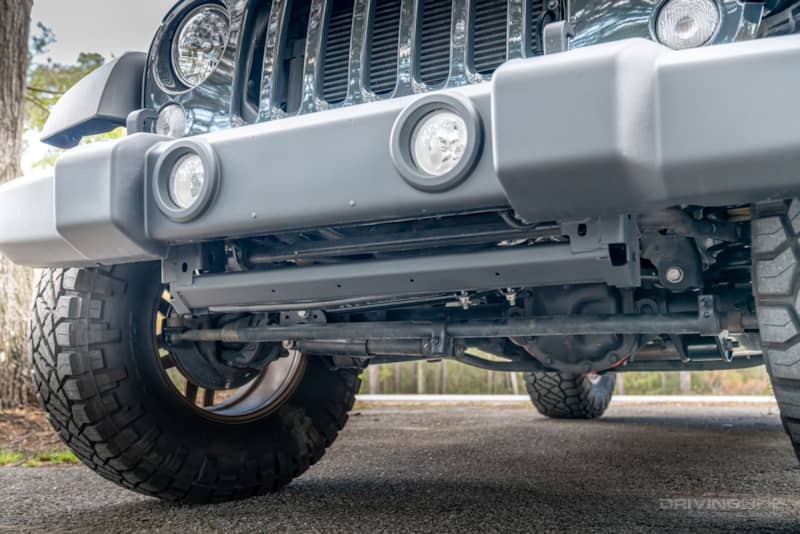 The 35s
Not all 35-inch-tall tires are created equal. We mean this in a very literal sense. One company's 35 might only measure 33.75 inches, while another will be closer to the true stated diameter. Nitto tends to make its tires very true-to-size. Our 35x12.50R17 Ridge Grapplers for example come in with an overall diameter of 34.76 inches and overall width of 12.52 inches. This means we're testing about as true of a 35-inch-tall tire as you'll get.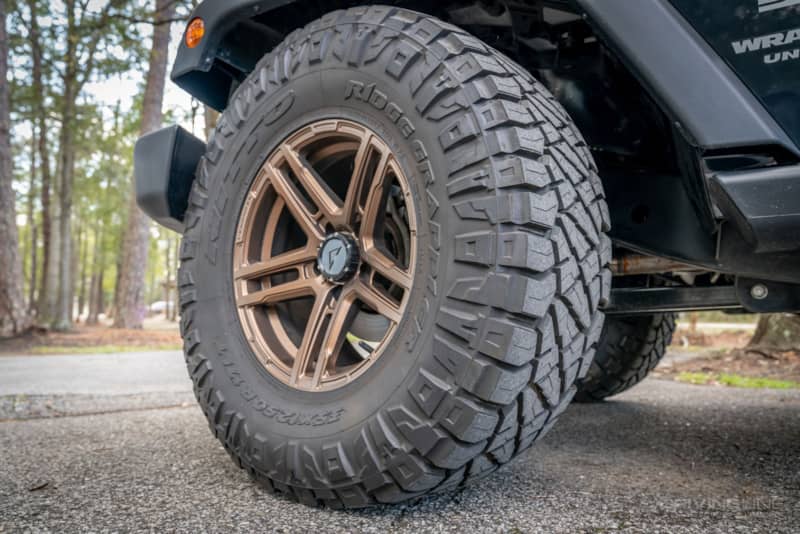 Upfront
In terms of clearance in the front, there is plenty of room between the tire and the frame/suspension components. Behind the front bumper however, it is extremely close.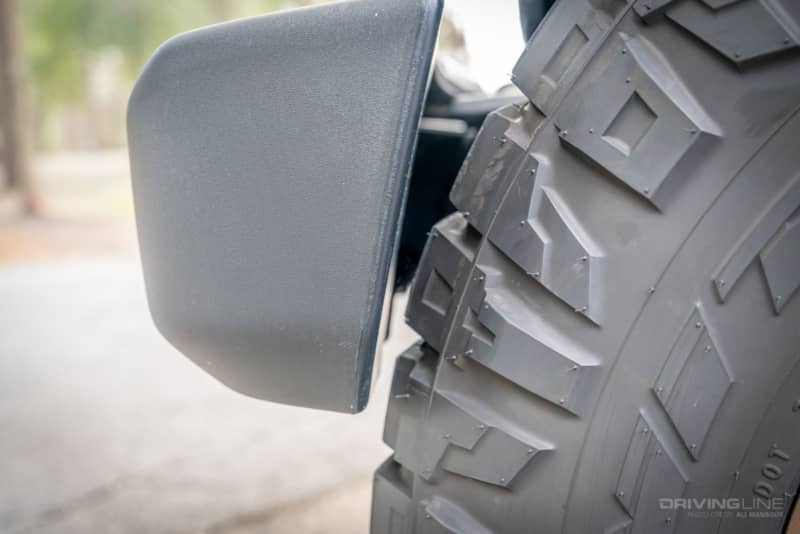 Outback
The later-model Wranglers were built with a slanted rear pinch seam, which offers plenty of clearance between the tire and body in the rear of the Jeep. Even though it's close, there was also breathing room between the rear bumper and tire.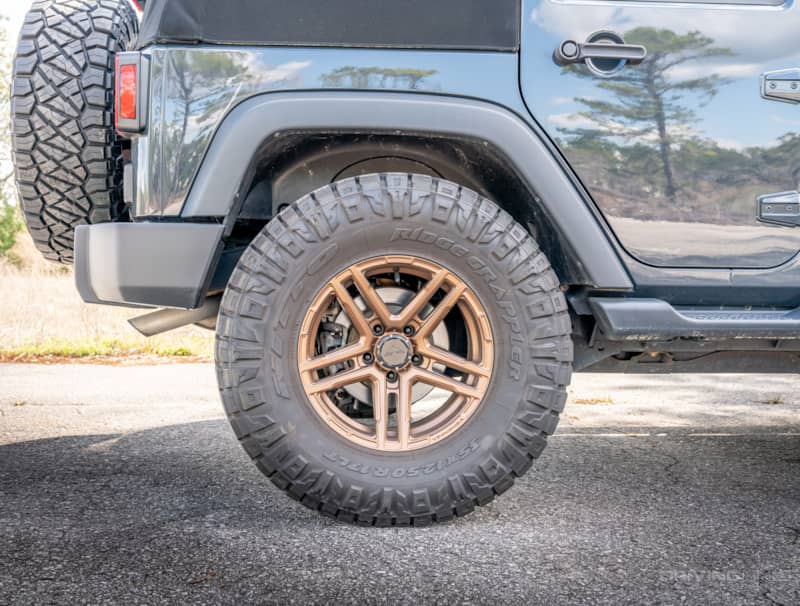 Tire Carrier
We had a fullsize spare wheel and tire, so we bolted it on as well. The big thing to note here is that the tire does put a little pressure on the rear bumper. Not enough to keep the tailgate from closing, but it's worth being aware of. It's also worth noting that you'll need some tire-bumper extenders in order to maintain contact with the tire and the tailgate. Without these, the tire will rattle a bit over rough terrain.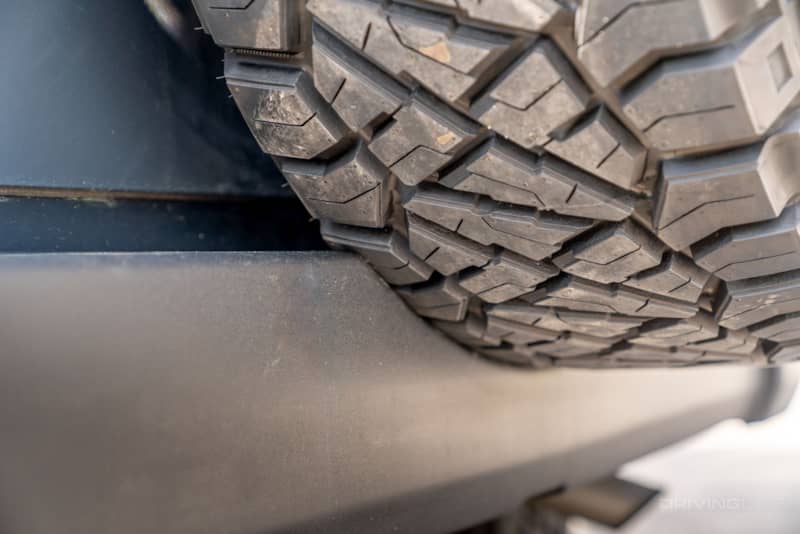 Spacing
The Venom Rex 17-inch wheels are fit with 4.75 inches of backspacing, which helps keep the majority of the tire under the fender of the Jeep. While this increases the scrub radius a bit over the stock setup, we didn't find the steering to be overly heavy.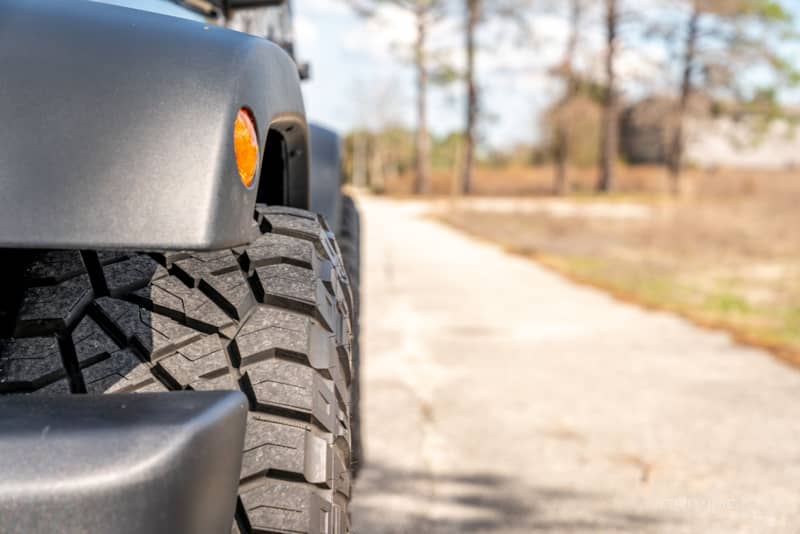 On-Road
Hitting the tarmac, you could immediately feel a big difference in the Jeep. While we prefer how it rides with this tire setup over stock, the power is down significantly. This is primarily due to the JK only have 3.21 gears. Couple this with the fact that we didn't use a calibrator to properly adjust for the new tire size, and it made for a less refined driving experience. At the very least, we recommend adding a module to dial in the tires. We're sure the fuel economy is going to take a big hit as well, so 4.56 gears may be a smart future modification as well.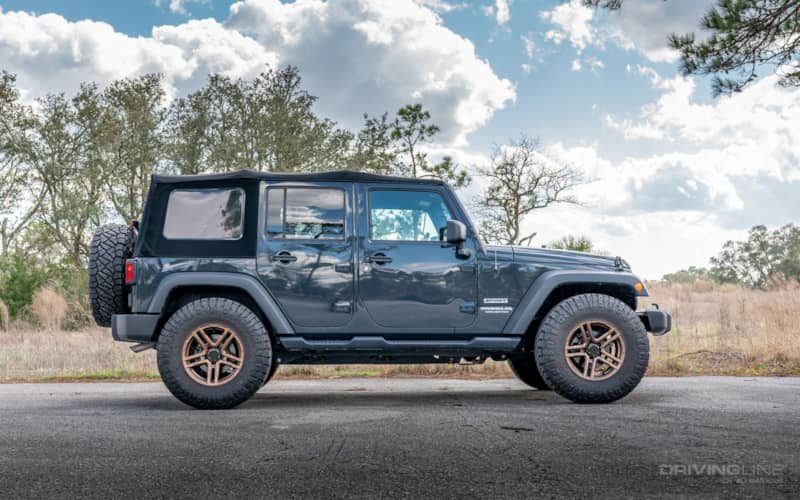 Stuffed
We wanted to get a little dirt under the tires to see how badly the interference would be between the tires and the fenders. Not surprisingly, flexing the Jeep put a tremendous amount of pressure on the rear flares. While we went slow so not to damage the flares, if we spent a weekend on the trail this way, we have a feeling the rear plastic clips that are holding the fender to the body would no longer be there come Monday morning.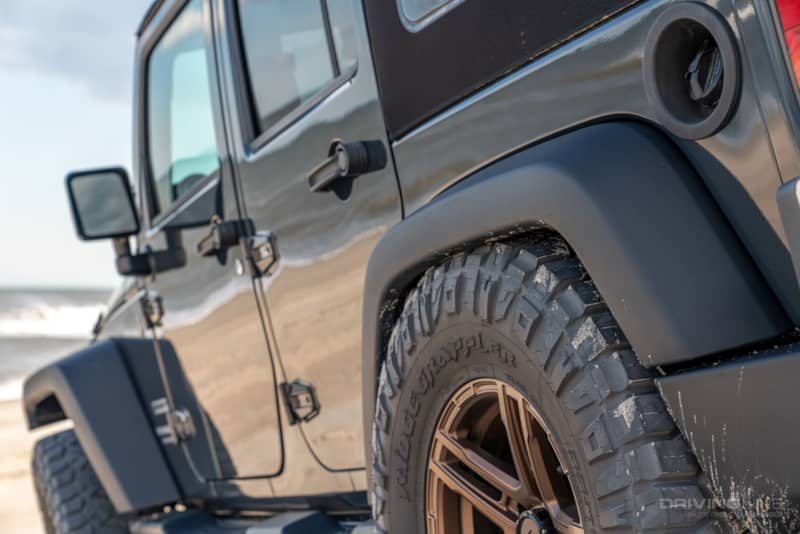 Connected
Seeing how quickly and how much the rear tires were putting pressure on the rear flares; we made the decision to leave the front sway bar connected. While we fully contacted the bumpstops off-road a few times, it was never in a way that the front axle was articulated. Yes, we did hear the tires rub at full compression, but didn't note any damage on the flare.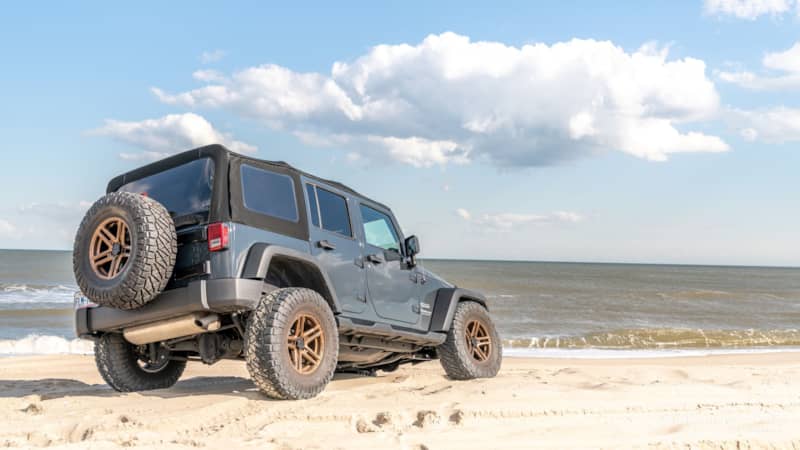 Things to Consider
So, does it work? Technically, yes. You can indeed put 35s on a stock Jeep Wrangler JK and drive around town without issue. However, if you are going to hit the trail, it's going to rub. Now, if you are just overlanding down an old desert trail or simply hitting the beach like we did, it's not a major issue. If you disconnect the front sway bar and hit your local wheeling spot, there's a good chance your going to rip-off a flare.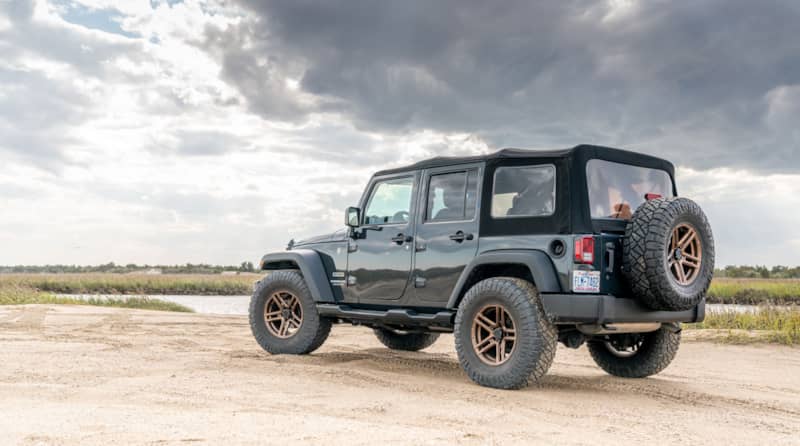 Moving Forward
Obviously, we like wheeling. So, we don't want to be limited as to what this Jeep can do now that it has a 35-inch-tall tire. Our current plan is to install a 2-inch lift. (Something similar to the suspension we installed here). That will give us the extra breathing room the tires need and bumpstops to keep the tire from contacting the flare. It is worth mentioning that we fully believe you can keep this no-lift, 35-inch tire setup if you are willing to upgrade to a set of aftermarket flares. Or, you can go the more budget route and trim the stock flares heavily.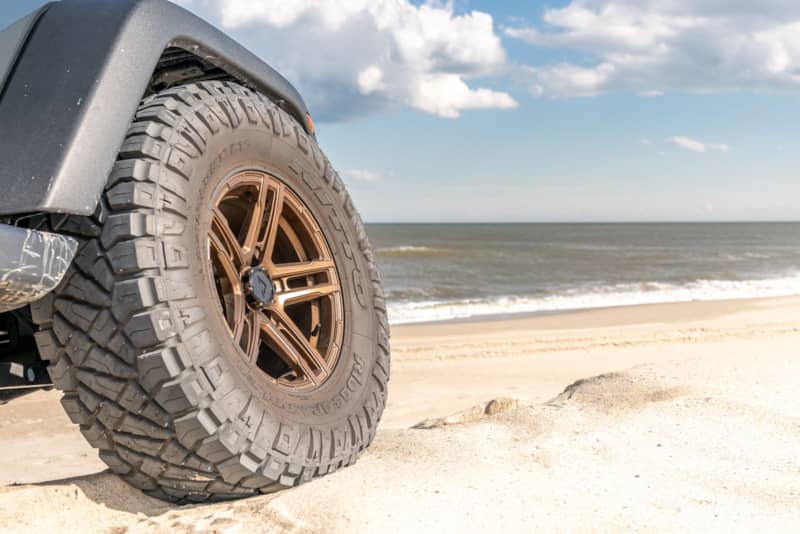 Thinking about lifting your JK? Check out our JKS Suspension review.