Instant Classic: VW's European-Spec, 416HP Touareg Diesel
They're at it again. It's only going to be available in Europe, of course, but Volkswagen is building diesels once more—and this one promises to offer quintessential German engineering. Power will be refined and torque plentiful, it will have full-time AWD, four-corner pneumatic suspension and a fully digitalized cockpit. First showcased at the Geneva International Motor Show back in March, VW unveiled that its Touareg SUV will be configurable with a potent 4.0L V8 TDI under the hood. By potent, we mean 416hp and 664 lb-ft of torque will be on tap. Even though it's rumored to be the last V8 diesel vehicle Volkswagen will ever produce, it won't stop us from being excited about it. After all, what's boring about a 5,000-pound SUV that can zip from 0 to 60 mph in less than five seconds?
Why It's a Diesel and Why It's a V8
Somehow, we just knew the Wolfsburg-born automaker couldn't stay away. Diesel runs deep at Volkswagen, even despite the Dieselgate scandal that erupted in the fall of 2015 and its lingering after-effects. But even more importantly, VW (along with other manufacturers) needs diesel in order to meet the European Union's CO2 emissions target of 95 g/km by 2021. Simply put, diesels emit less carbon dioxide than gasoline/petrol engines, but in light of all the bad press diesel has received the past few years most consumers have drifted toward higher (CO2) polluting gasoline-powered cars. With the world yet to be ready for full-on electrification, diesel is the sensible solution to the EU's fast-approaching deadline. As far as the choice of a V8 engine, VW thinks the new Touareg will become a collector's car, right out of the gate. When you get your fill of the data offered below, don't be surprised if you feel the same way.
It's Not the Old 5.0L V10 TDI—It's Even Better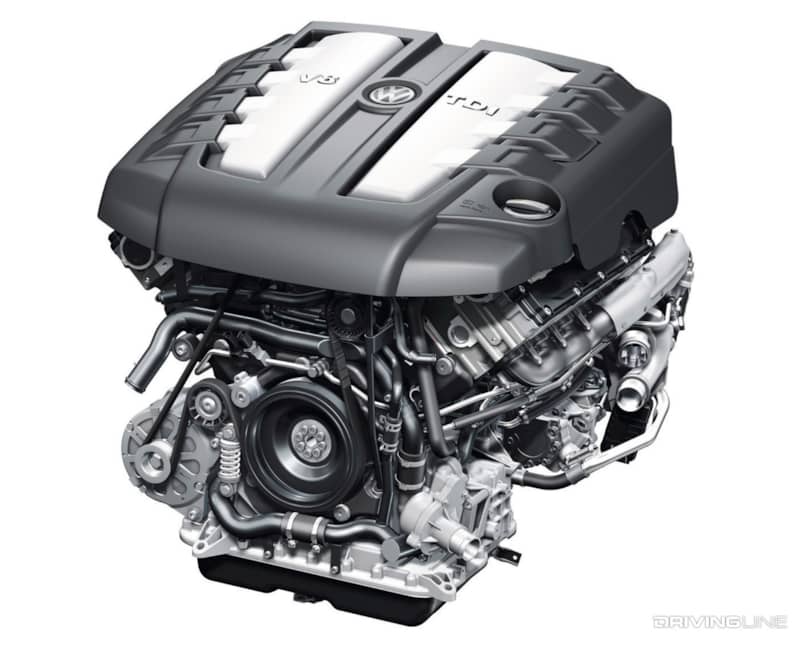 See that turbo hanging off the driver side exhaust manifold? If this 4.0L V8 TDI is anything like what's already been used in the Audi QS7 and the late Bentley Bentayga, it's got a friend. If it is indeed the same exact iron block, aluminum head power plant, the engine's sequential turbo arrangement will promote great drivability. Not only that, a 48-volt centrifugal compressor (supercharger) will also be onboard to help spin both chargers up quick enough to avoid precious milliseconds being lost to turbo lag. Sequential (i.e. compound) turbo configurations are known to produce huge torque numbers, too, so it's easy to believe VW's claimed 664 lb-ft is being made at the same 1,000 rpm the Audi and Bentley versions achieved it at (as well as carrying it through to 3,250 rpm).
It's Fast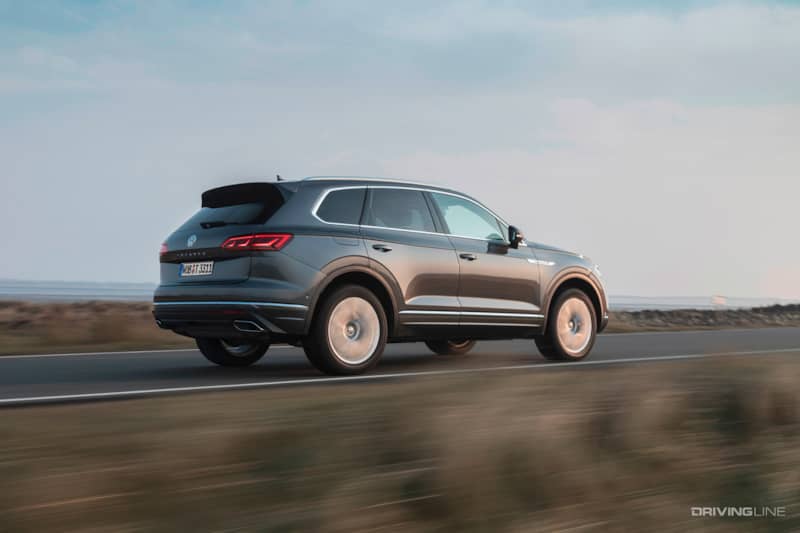 Thanks to the lively 4.0L TDI's abundance of low-end grunt, help getting off the line courtesy of 4Motion all-wheel drive and an optimal horsepower curve, the Touareg can sprint from 0 to 62 mph (or 0-100 km/h) in 4.9 seconds. With that kind of initial giddy-up, low 13s should be a cinch in the quarter-mile and at trap speeds in excess of 100 mph.
Conservative on Paper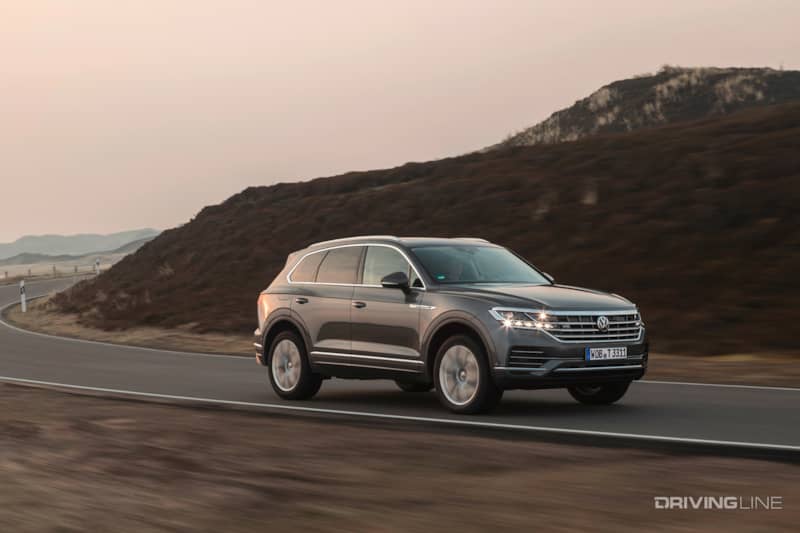 Of course, VW has been known to underrate its diesel engines, so we wouldn't put it past the Touareg V8 TDI to be a 12-second performer right out of the box. According to Car and Driver's time behind the wheel of a 2018 Bentley Bentayga with the same engine, it listed the SUV's quarter-mile elapsed time at 12.6 seconds—and that's with a curb weight of 5,800 pounds. If that mid-12-second E.T. is legit, the V8 TDI in the Bentley was producing somewhere between 70 and 90 more ponies at the crankshaft than it was rated for. Even if the Touareg-destined version of the V8 TDI is less of an overachiever it could still creep into the 12s based on its lighter curb weight.
155 MPH Top Speed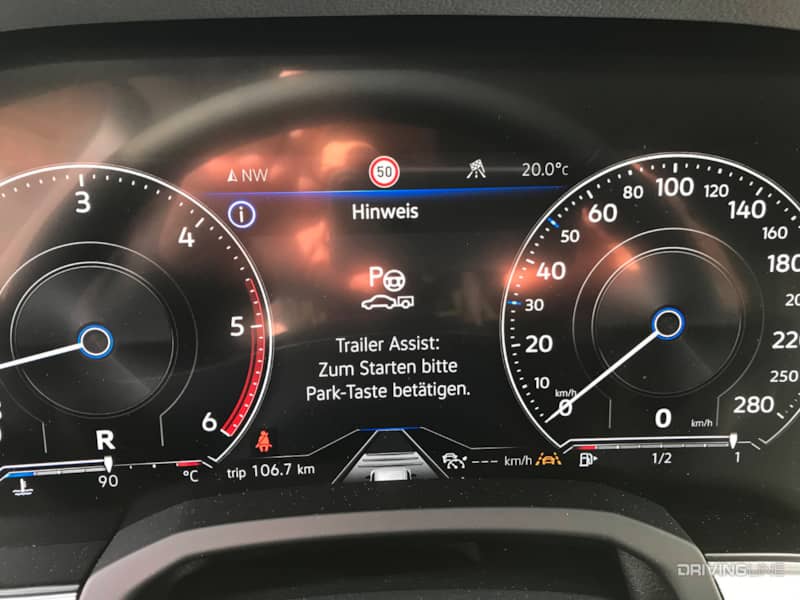 As with the previous 4.1L TDI Touaregs, Volkswagen has electronically governed the 4.0L TDI version to 155 mph. The 12-inch wide gauge cluster makes for sound visibility and is part of VW's larger Innovision Cockpit system.
Rated to Tow 7,700 Pounds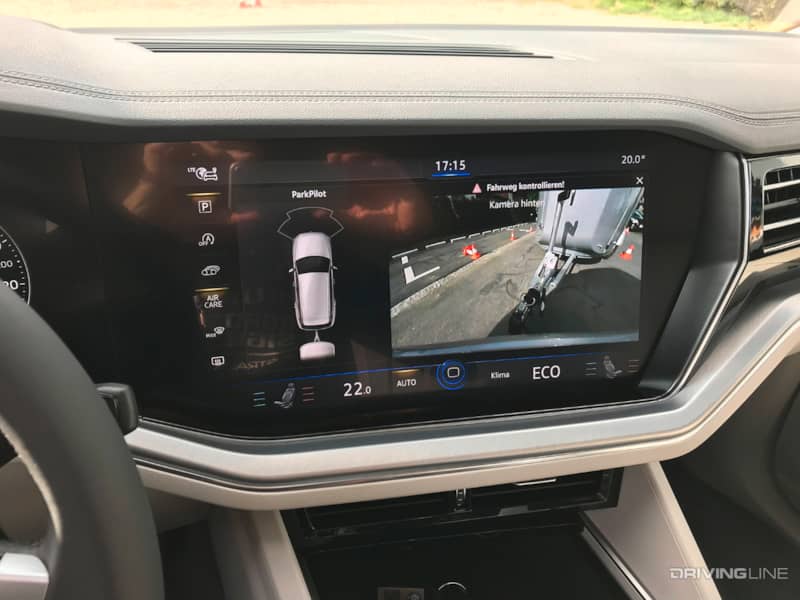 More than just a Cayenne-chasing luxury cruiser, the Touareg V8 TDI can hold its own in the towing department, too. It's capable of lugging 3.5 metric tons behind it (or 7,716 pounds) and can be equipped with a matching optional towing bracket that both extends and retracts with the touch of a button.
Cutting-Edge Interior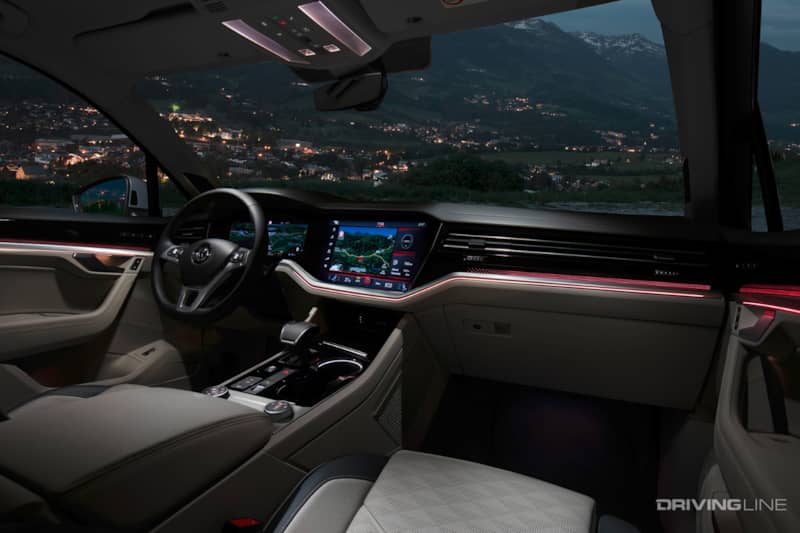 In the cabin, VW's Innovision Cockpit arrangement incorporates very few traditional buttons, switches or controls, although it does use them where it makes sense. A can't-miss, 15-inch navigation screen is present in the center of the dash and features complete touchscreen functionality. Several driver assist systems are integrated as well, such as Volkswagen's Night Vision (a thermal imaging camera that helps detect people and animals), Traffic Jam and Roadwork Lane Assist (partially automated steering and lane departure warning) and Front Cross Traffic Assist (reacts to cross traffic in front of you).
Trim Levels
Three trim levels are available on the Touareg V8 TDI. The standard trims are coined the Elegance and Atmosphere packages. In Elegance trim, metal and select color tones dominate the landscape. With the Atmosphere package, wood trim and natural tones are employed in an attempt to warm up the interior. The third option—and what VW had on display at the well-covered Geneva Motor Show—is the R-Line package. A sportier trim level (shown above), the R-Line option brings different exterior accents, a rear half-wing, available 21-inch wheels, a flat-bottom steering wheel and select other nuances into the mix.
Above-Average Standard Features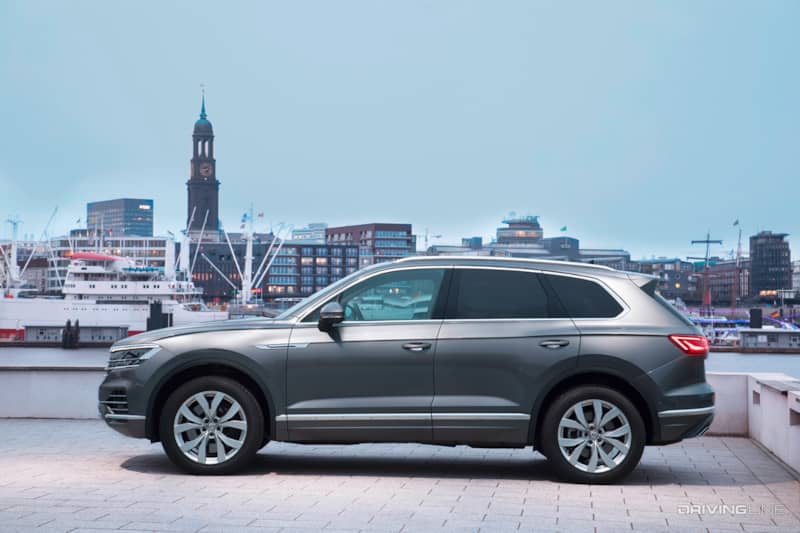 Standard options on the Touareg V8 TDI include the 19x8.5-inch Tirano alloy wheels shown here, along with 255/55R19 tires, an electrically opening and closing boot lid, stainless steel accelerator and brake pedals, LED headlights with daytime running lights and LED taillight clusters. Volkswagen's Light & Sight package comes standard as well, which entails electrically-adjustable, removable and heated side view mirrors along with headlight control.
Spotting Them in the Wild
Volkswagen only began taking orders for its Touareg V8 TDI back in May, so no tangible sales figures are available to report as of yet. However, with just 20,000 total Touaregs moving off dealership lots per year in Europe, one shouldn't expect to see them everywhere. The only real giveaway that you've come across a V8 TDI model is the subtle V8 badge present on the passenger side of the grille, with the exception of the R-Line trim (which carries special R-Line badging).
Need more speed? Check out the fastest VW TDI-powered vehicle on the planet here!