Intro to Classic Imports at JCCS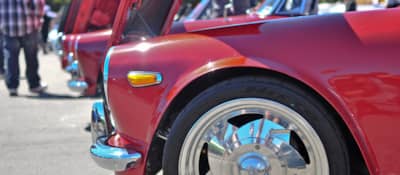 "Skyline, Corolla, and Datsun" I'm sure if you say that to people today the most common responses include "Fast and Furious," "cheap economy car," and "Dat… what?" But not if you were in Long Beach, CA at the Queen Mary on September 28, 2013 for the 9th Annual Japanese Classic Car Show. JCCS, for short, puts together a show that looks like it just came out of a time capsule. It's amazing the type of work these enthusiasts put into their builds. There is no doubt that the passion is real. One of the first sights that caught my eye was a pair of icons in Japanese automotive history, side-by-side to each other. "Skyline" is already a name that catches ears, but adding "GTR" to that could make anyone's mind explode!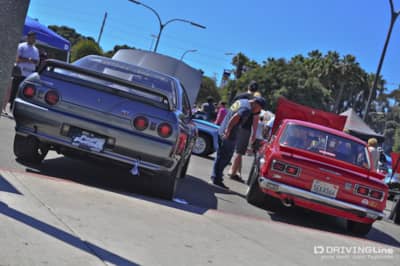 The KPGC10, aka Hakosuka, is the first GTR version of the Skyline introduced back in 1969 (in red above). The GTR was produced for 3 more years, but stopped for more than a decade and a half. Nissan brought back the line with the R32, aka Godzilla, in 1989 (in grey above).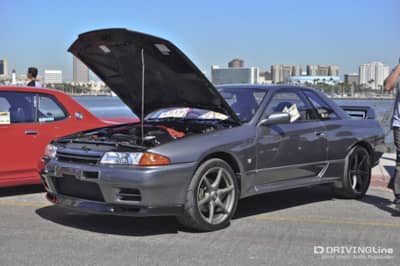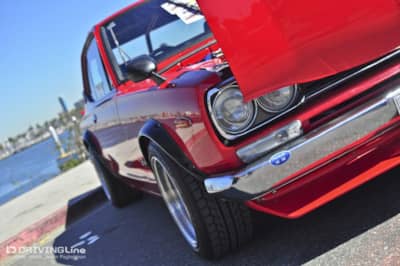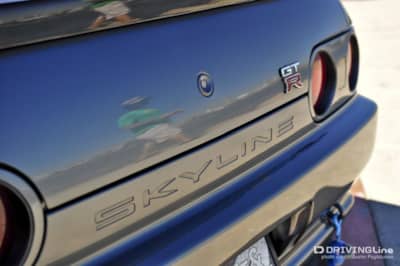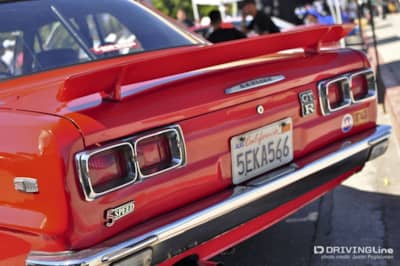 As we continue down this path back in time, I set the Time Circuits to May 1964, and suddenly find myself face to face with a blue Prince Skyline 2000GT. That's right, JDM Legends had an exact replica of the race car used in the 1964 Japan Grand Prix.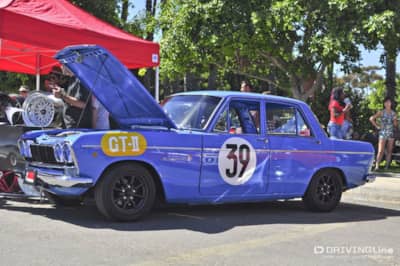 Few people know this, but Skyline did not start from Nissan. Not even from Datsun ("Dat.. what?"...I'll get to that soon). It was Prince Motor Company who is the originator of the Skyline.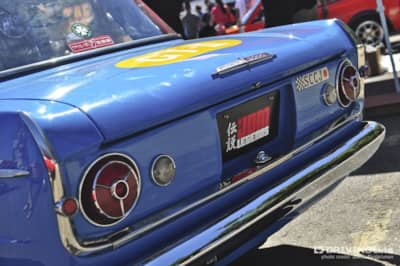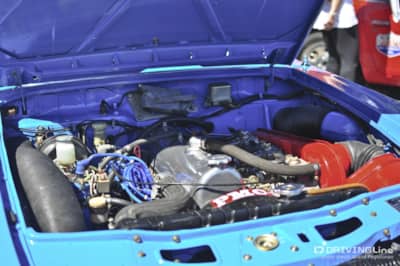 The name Datsun could trace its roots as far back as 1911 and eventually became Nissan before phasing out completely in the 1980's. Before phasing out, Datsun produced cars more popularly known as the Fairlady Z.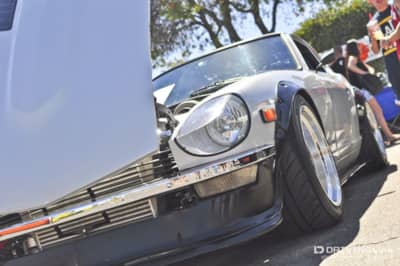 The 260z was one of the early sports cars with a FR (front-engine, rear-wheel) layout.  I fancy myself as more of a "new schooler" in the auto scene, which is one reason why I enjoyed this particular classic. The game for classics cars might be restoration, but it's intriguing when owners take it to the next level to modify them with today's styles. The aggressive wheel fitment under the fender flares gave it a nice stance which pulled me in right away.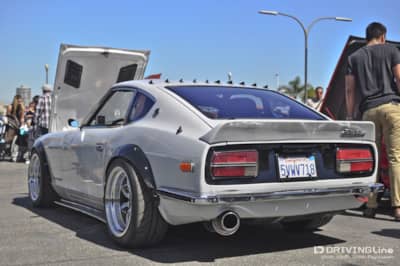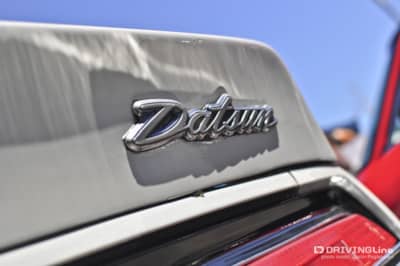 Why hood vents? Because Garret turbo!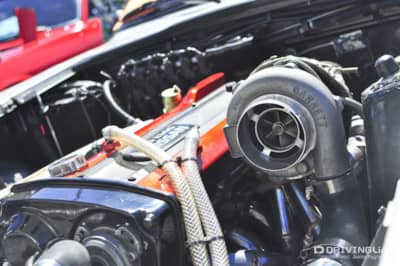 Another classic that sometimes gets forgotten is the 1981 Toyota Starlet, or the KP61. Neil De La Cruz of Team Klassified wasn't planning on showing at JCCS this year, but in the last minute he was requested to provide a booth car. With only had a few days to prep "Milo" but it all paid off, winning Best Toyota "Old School" 3rd Place.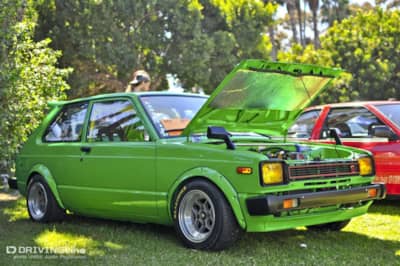 Despite being one of the nicest Starlets around, Neil told me that he has plans for some major changes for the coming year. Focusing mainly on engine and suspension upgrades, "Milo" will transform from a showstopper into a full track car. Neil said, "This transformation will be a year long process, but all of you are going to have to wait and see what will be the outcome."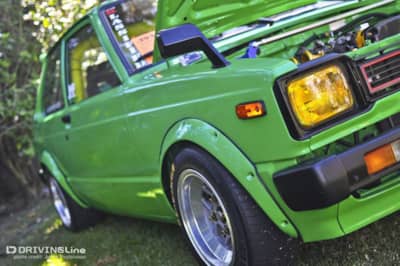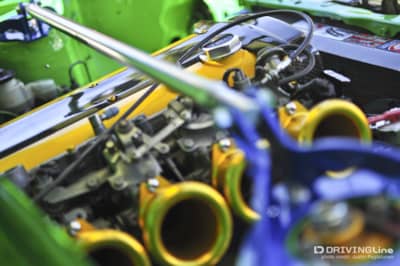 Warning: This Toyota Corolla (yes, it's a Corolla!) is not a build you should try at home. This beast, built by Mark Still, was always surrounded by spectators, so it was tough to photograph. Too good not to include, I waited for the perfect opportunity. Unfortunately that time never came and I had to settle for one with a young'n admiring the engine...it's never to early for the next automotive convert!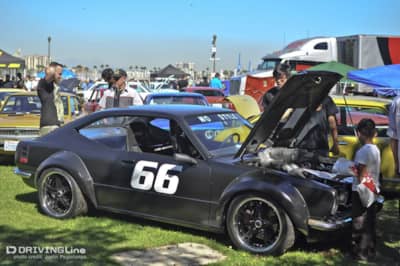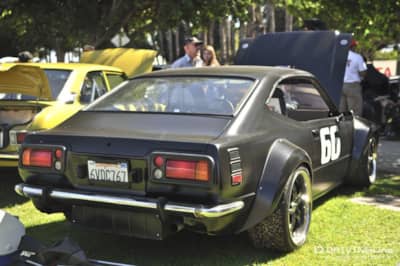 This Corolla might be from 1975, but its motor boasts a Lexus 1UZ-FE V8 with an M112 supercharger from an SVT Cobra Mustang; all connected to a T56 6-speed from a Camaro. In fact the entire chassis was fabricated from scratch and incorporats parts from other powerful cars (both import AND domestic!); this is truly a Frankenstein monster on four wheels.
If you can collect yourself, even just for a moment after that one, I'd like to share this super clean restored AE86 coupe, aka Hachi-Roku, by Janet Fujimoto. Janet has one of the strongest passions for this lifestyle, she has probably restored more cars than years I've been alive!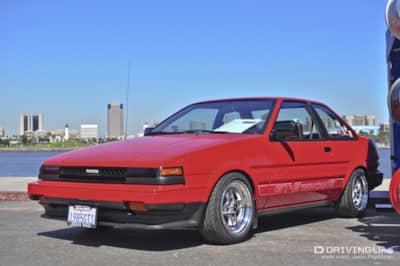 She spends hours upon hours searching for the perfect part that would fit the vision she has in each of her restoration projects, and this 1985 GT-S Corolla is no different. At first glance this car might look fresh out of the Toyota factory, but actually, Toyota probably couldn't build it as clean as Janet.
Her AE86 is fully restored with OEM and JDM parts, add a slew of slight modifications to give that extra "oomph." These mods include TRD motor mounts, CUSCO strut bar and other braces, Megan coilovers, A'PEXi exhaust, and Eneki Apache II wheels.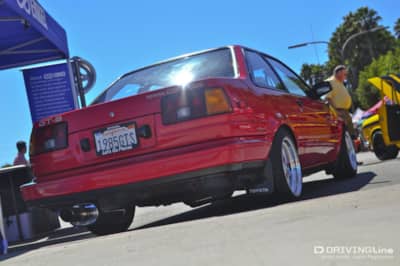 Speaking of cars looking like they just came off the assembly line... Honda proudly displayed the first Honda officially imported to the US, the N600.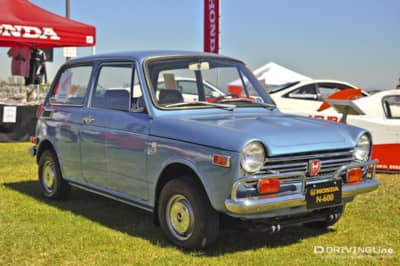 Only a 2 cylinder car, pushing 45 hp and maxing out at 80 mph, it was actually advanced for 1970. What's crazier is that the car weighed about as much as it cost! 1,356 lbs. to a MSRP of $1,395, that's about $1 per pound.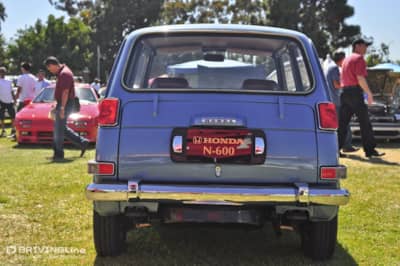 This little guy is in such a good condition that it even has its original window sticker attached to it. I wish I could walk into a dealership and buy a brand new car for just a little over a grand! I'd probably pick up two and not even try to haggle.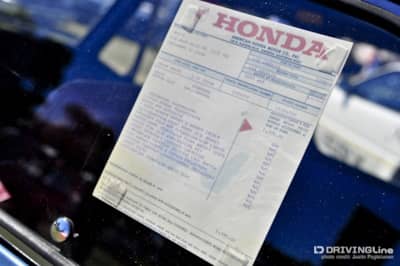 I hope you all enjoyed some of the classics that caught my eye and maybe even learned a little something about Japanese classic cars too. The goal is always to look forward, but there is so much rich heritage to experience and appreciate when looking back. So be on the look-out next year for JCCS's 10th year! -Justin Pagtalunan