Ladies Run This: L-Tide's VIP Toyota Aristo
If you aren't familiar with "VIP style," it is as the name implies: taking luxury cars and making them more exclusive. This usually includes large deep dished wheels, extremely low ride-height and fancy executive interiors. Basically, everything that a "VIP" would want. 
Tucked away in the western suburbs of Tokyo is a shop specializing in VIP styling. L-Tide offers body kit installation and paint services in addition to their speciality, interior dress-up. L-Tide President Mayumi Fujita agreed to let us visit her shop and check out one of their projects, a 2000 Toyota Aristo (Lexus GS300/400).
Getting Reacquainted
The last time we saw the Aristo at Tokyo Auto Salon, it was matte white. Imagine our surprise when we were greeted by it in candy-pink! This recent color change definitely matches the style that L-Tide promotes with plenty of luxury and plenty of pink.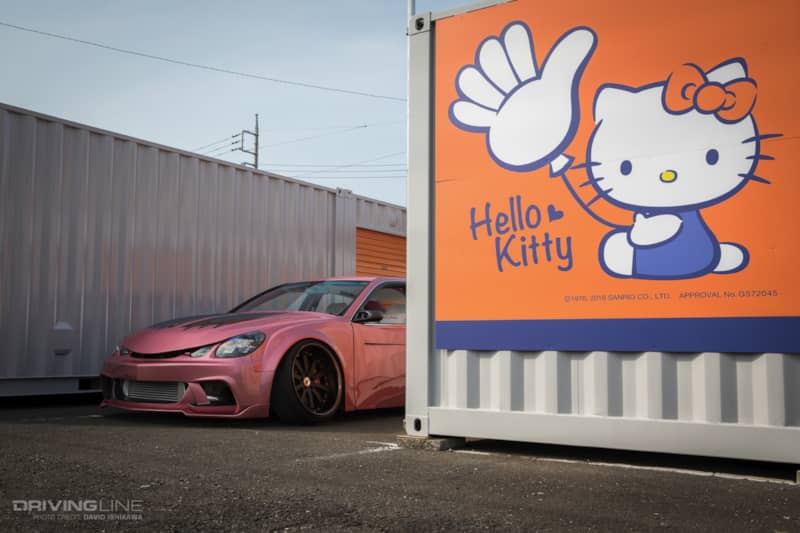 Our assumption was that this was an L-Tide demo vehicle owned by the shop or its president, but that isn't the case. The Aristo's owner, Sayuri Sugimoto, has actually owned the car for about 10 years, and during that time has amassed quite the modification list.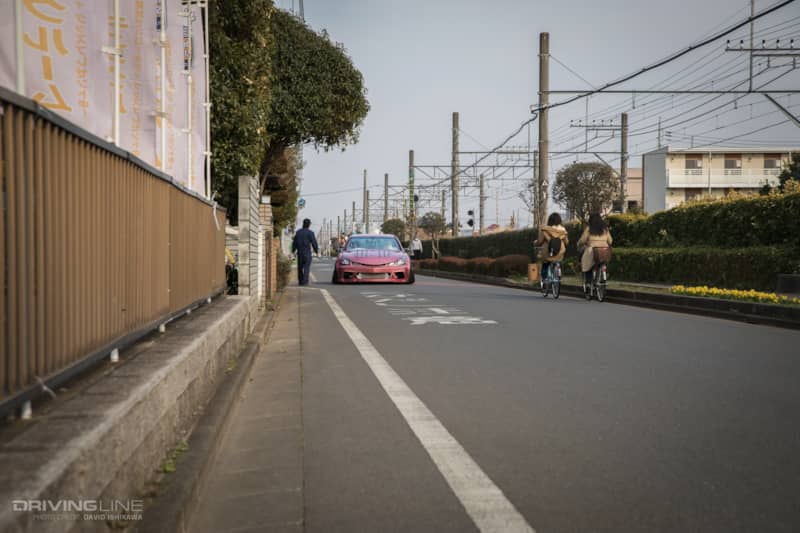 Concept to Reality
After overcoming the initial surprise of the color change, we started to get a run down of all the details. If the body lines look familiar, you would be correct to guess that body was reshaped to resemble the BMW M9 concept.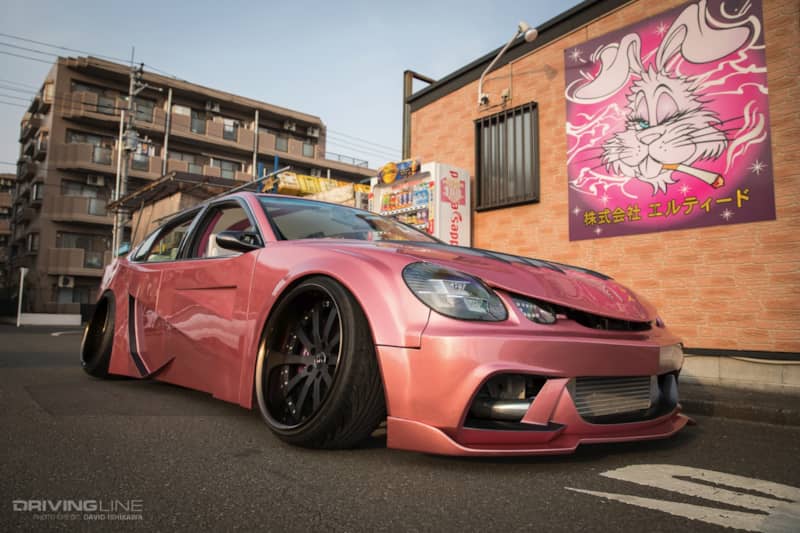 All of the external fabrication done the Custom Project 2000 service provided by Chic Inc. This includes the custom door fabrication, front hood fabrication and a seamless rear spoiler. Additionally, the car was given cleaner lines with the removal of the door handles and fuel door. There is so much to take in from this wild body style; we're still scratching our heads trying to figure out where the gas goes.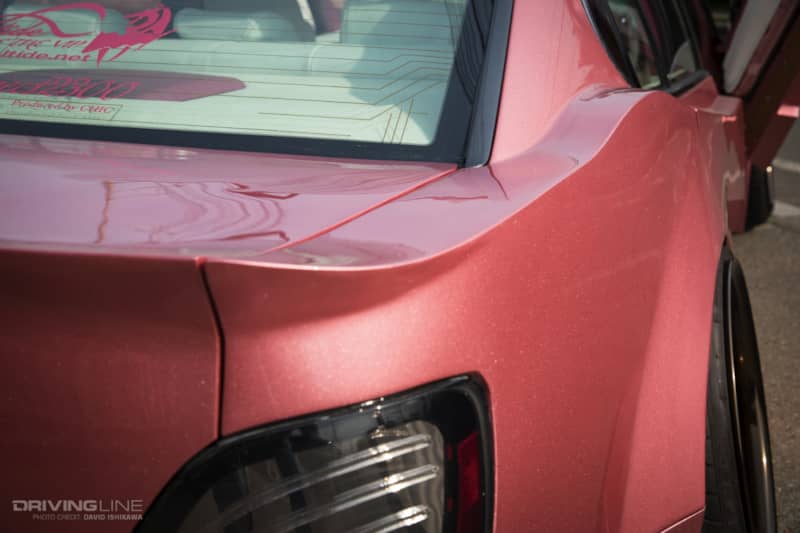 Custom Everything
The front headlights were stunning. This was our first time seeing anything like them. Custom-built by Chic Inc. with their L's Factory division, Aristo headlight internals are often replaced with Infinite Q45 projectors, but in this case, Chic Inc. owner Tomoyo Sugimoto chose to go with Lexus NX internal components.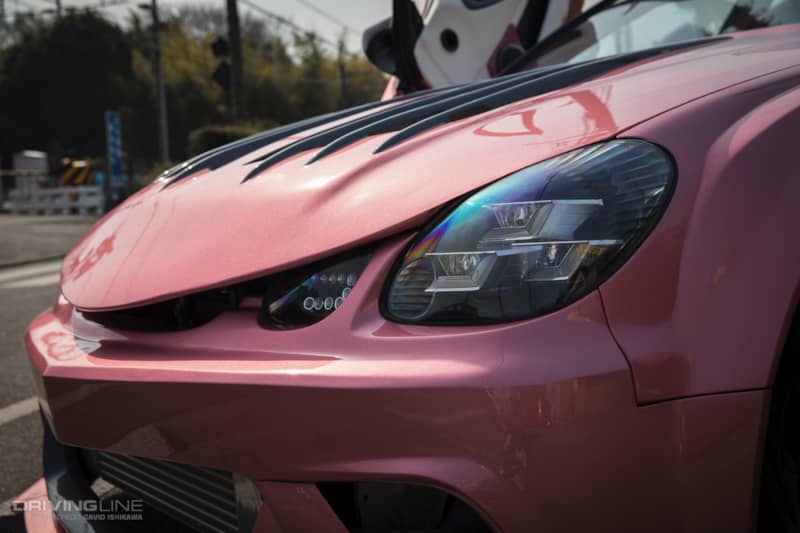 Rounding off the body modifications are a set of custom fabricated rear tail lights, Wald front and rear bumpers and of course the fresh candy-pink finish.
Static
In the world of VIP, most cars are fitted with air suspension, allowing the owner to have the car parked as low as possible while still being able to raise it in order to be able to actually drive it. In Sayuri's case, her car is static, fitted with a set of coilovers with a spring rate of 6k front and 5k rear.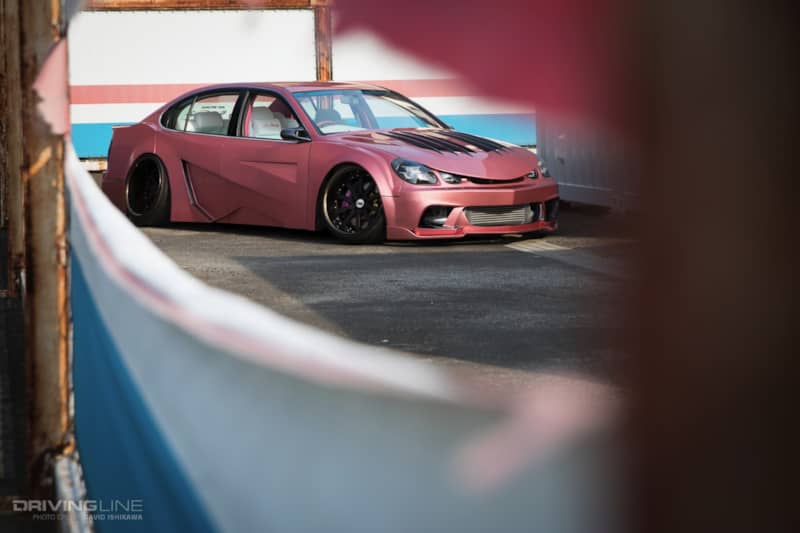 The static ride height proved challenging as we moved the car to various locations. Although definitely drivable, on smooth and even pavement, it takes a spotter to move over anything more than an inch in height. But, that is the life of VIP style.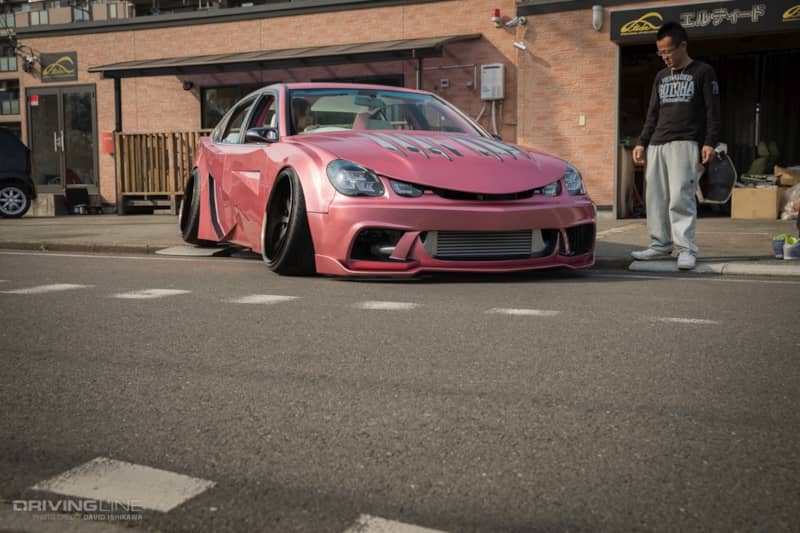 High Heels 
Modification of anything is a slippery slope as most people know. Once you modify one thing, something else will not quite look right and has to be modified. This is definitely the case when you modify the body of a car like Sayuri did. To keep the proportions in balance, she chose a set of Work Equip E10s in a staggering 20x10.5 -41 in the front and 20x12.5 -63 in the rear.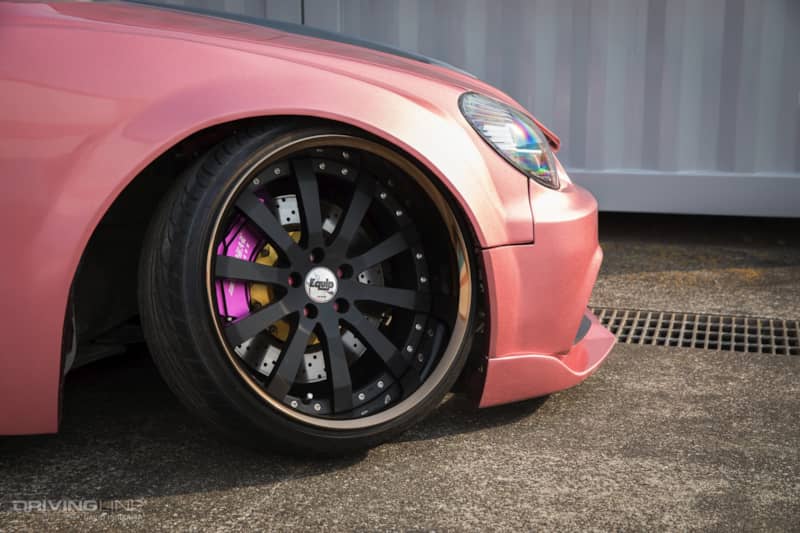 To bring a sedan like this with massive wheels like that to a stop requires equally massive brakes. A set of 8 pot front and 6 pot rear big brake sets will definitely bring you to a stop quickly and perhaps leave you with a sore neck afterwards.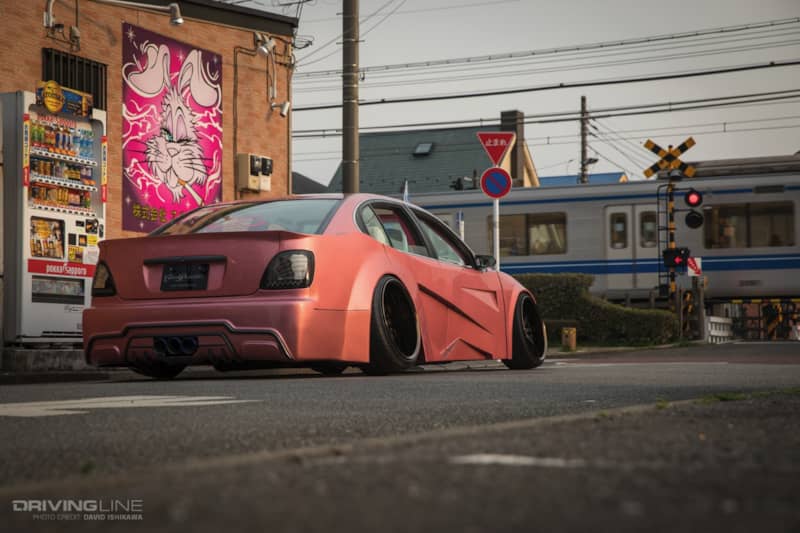 Fashion Over Function 
The 2JZ engine has been left pretty much stock except for the addition of a front mount intercooler, blow-off valve and three-row copper radiator. When you have this kind of style, it's all about the slow roll in order to get noticed.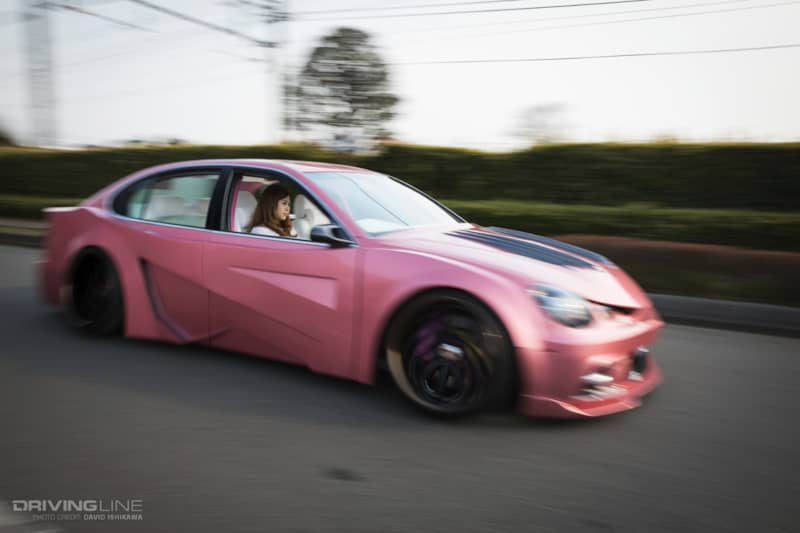 Opening the scissor doors reveals an immaculate interior as one would expect from the experts at L-Tide. The perfectly white leather with pink stitching was flawless with no interior panel left untouched. Although white does cause significant glare, it does look good and complements the pink interior perfectly.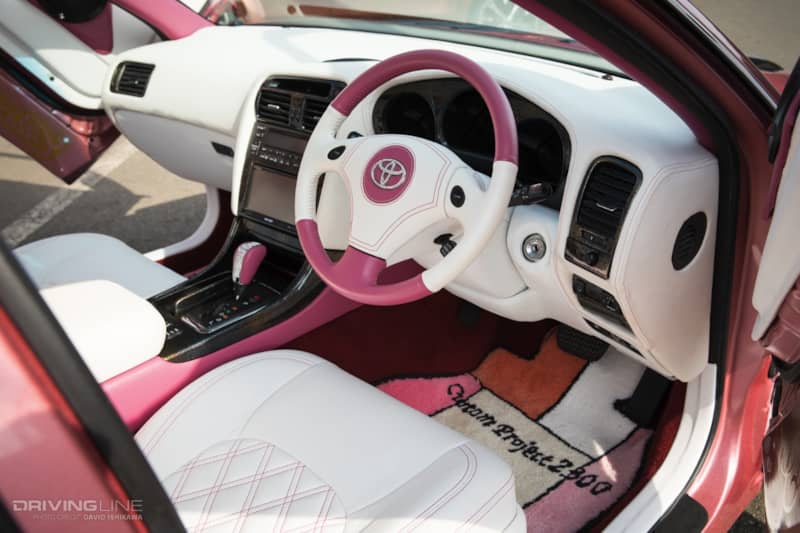 The head rests and floor mats were also customized to match. Additional touches such as the crystal steering wheel and gear select definitely personalizes this Aristo to Sayuri's taste. The car's interior is kept clean by requiring all passengers to remove their shoes before entering. We definitely enjoyed everyone climbing in and out through the window while holding their shoes.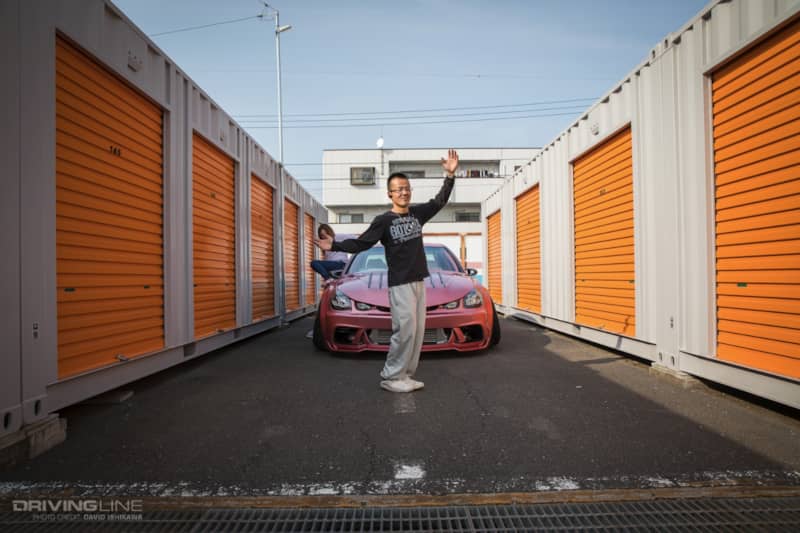 Always More 
As most custom car owners admit, it is never finished. In Sayuri's case, there isn't much left to do to the body or interior — maybe some engine dress-up and a bit of detail finishes such as the underside of the hood. There may even be some air suspension upgrades in the near future.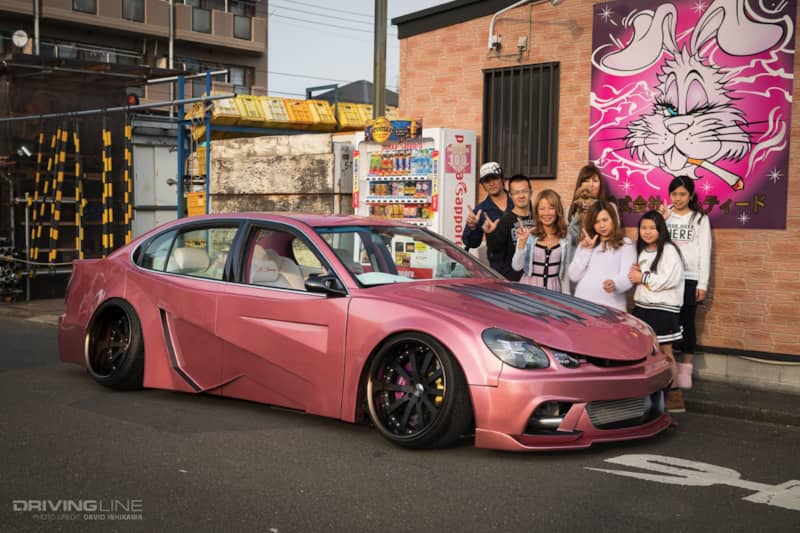 We are sure to see more of Sayuri's Aristo at future events or even at an L-Tide hosted VIP meet. However, we may have to look twice, as it might have changed color again.
Check out all the photos of Sayuri's L-Tide Project 2000 Toyota Aristo in the gallery below.