Leave The Rooftop Tent At Home: 3 Overlanding Alternatives For Camping With Your Truck Or SUV
A roof-top tent is seemingly a must-have accessory in the world of overlanding—or at least, that's the impression you get from just how often a roof-top pop-up picture appears on social media.
The truth is, there are many different ways to go adventure camping that don't require a ladder and a platform. Several of these options are less expensive and simpler than a roof tent, while others offer better comfort and convenience for those who want to spend some time away from civilization, but don't want to rough it.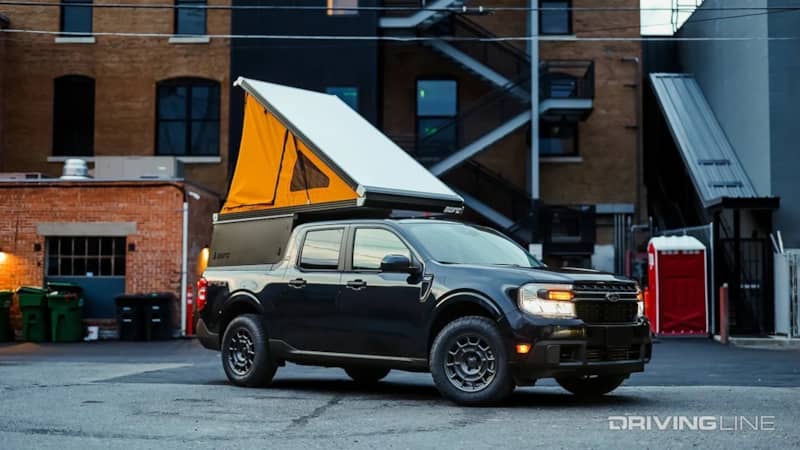 Here's a look at three overlanding alternatives to a roof-top tent that will let you take full advantage of the camping potential of your pickup truck or SUV.
In-Bed Tent
If you own a pickup, you've already got the perfect spot to pitch a tent: right in the cargo bed. Although there are plenty of roof-top tent platforms available for pickups, there are compelling reasons to avoid the extra height when choosing a sleeping spot for a night in the wilderness.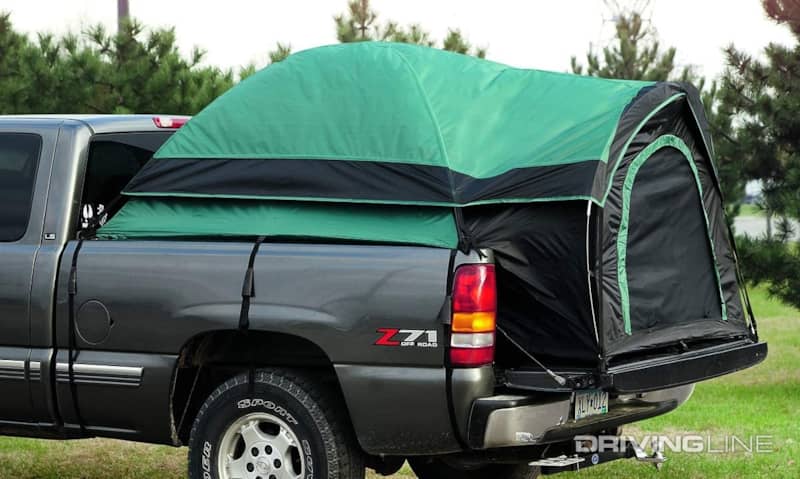 The first is, well, the climb. If you have to get up in the night to relieve yourself, it's much easier to deal with a short jump down from the tailgate than it is to navigate a ladder in pitch black conditions. Ladders can also pose a problem for older campers who might not be as spry as they once were, or families camping with children who are concerned with the hazards presented by a potential fall.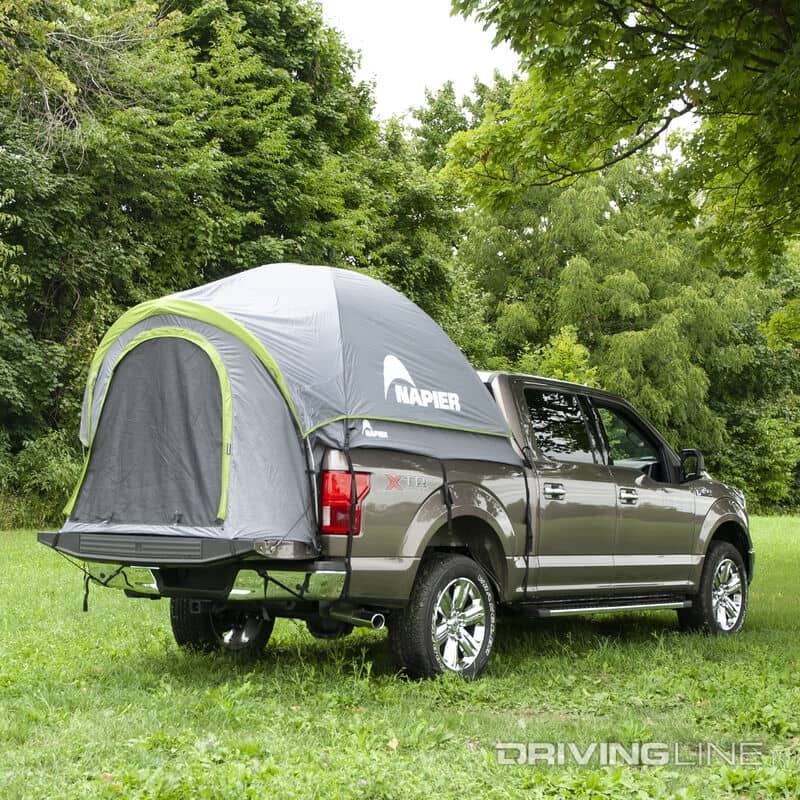 Next there's the easier transport and setup. Popping up that much lower to the ground is a cinch compared to a rooftop tent, especially considering you have the tailgate and cargo bed to work from. With the tent stored in the bed on your way to and from the campsite, you also avoid the fuel economy impact of a rooftop tent's extra drag, which can add an extra, unforeseen cost to your weekend away.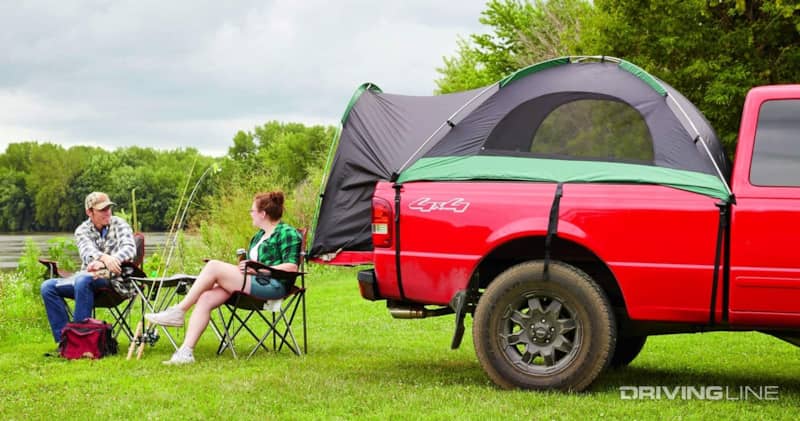 Finally, truck bed tents are more affordable than roof-top tents. The reason is pretty simple: with no extra infrastructure required to provide a safe and secure platform for the unit, a truck bed tent isn't all that different from a traditional sleep-on-the-ground tent.
Stay Dry, Stay Cool With An Awning
If you don't have a pickup, you can still take advantage of extra protection while camping in the form of an extendable awning.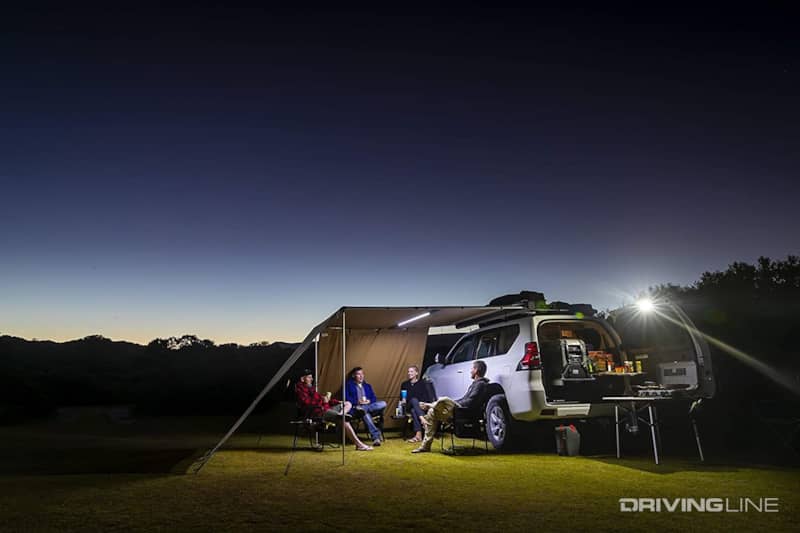 Awnings offer versatile protection from the elements, serving to keep the sun off your camping spot during the day while also fighting back rain should skies turn grey. Awnings can be paired with both pickups and SUVs, and typically mount either on the side of a roof-top cargo rack or using their own proprietary attachment points.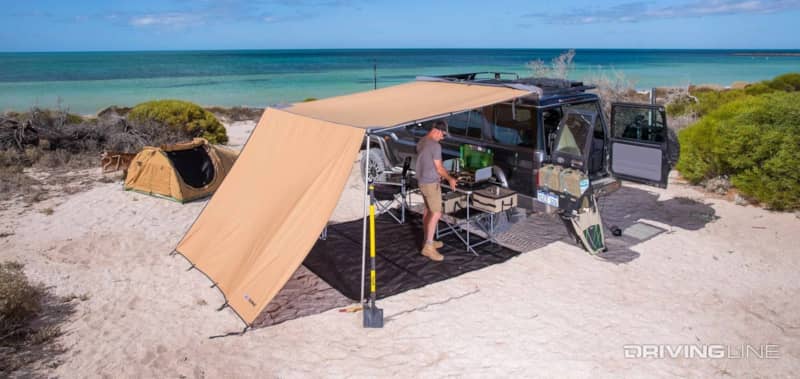 There are a number of different awning styles out there. Some pull straight out from an aluminum housing and provide a rectangular coverage area, while 'batwing' awnings can spread in more than one direction, in some cases protecting 360 degrees with the vehicle at the center. If you're concerned about horizontal, blowing rain, you can also find awnings that feature add-on windbreaks or detachable 'walls' that provide extra shelter. Some awnings even go so far as to provide walls and screened-in sidings, creating an almost tent-like atmosphere.
Teardrop Trailer Travel
The rough and rugged image associated with overlanding can sometimes make it seem as though a traditional travel trailer isn't an option. Fortunately, this isn't the case as a number of manufacturers have produced teardrop-style trailers that combine decent ground clearance with a small form factor—two crucial requirements when accessing more remote camping areas.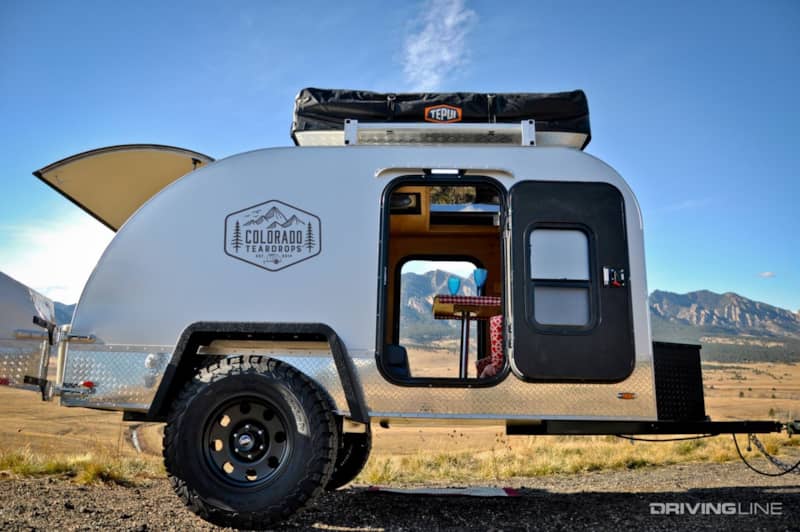 Teardrop trailers might look too small to be practical, but the secret is in how they organize their internal space while maximizing the area immediately around the trailer. In addition to a dedicated sleeping compartment (that's a little more comfortable, better insulated, and weather-proof than a similarly-sized tent), most trailers also provide a separate cooking nook and storage area at the rear. Some trailers also convert the sleep space into a living room-type arrangement with couches and a table. Combine this with an awning, and you've got decent square footage available for more civilized overlanding adventures.
A teardrop trailer might not be able to climb a rock face with you, or make it to the other side of a mud pit, but for most crossover and SUV owners its knobby all-terrain tires and strong axle are rugged enough for handling whatever might be encountered when the pavement is left behind.