Ford Maverick Camping 101: Gear for Overlanding in Ford's Compact Pickup Truck
The Ford Maverick's popularity among compact pickup customers is inextricably tied to its versatility. Whether you're looking for a truck to handle light hauling duties, tow a modest trailer, or head out into the woods for some peace and quiet around the campfire, the Maverick's extensive accessories catalog makes it a solid choice for a wide range of owners.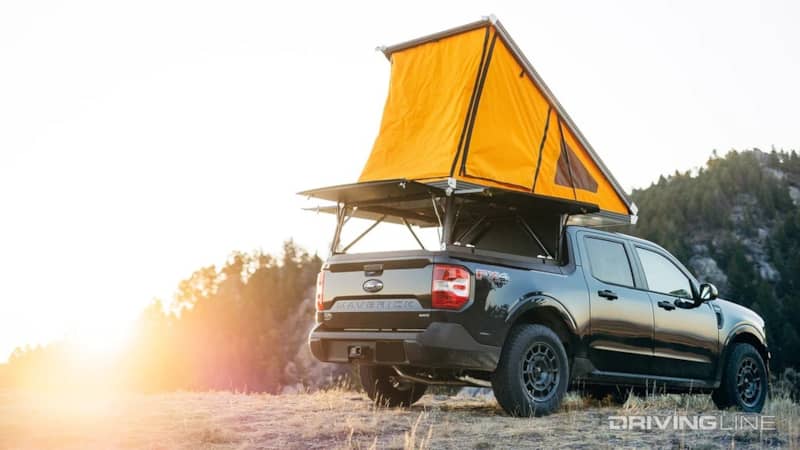 Photo credit: GFC
Here's a look at some of the gear that can transform the Maverick from daily commuter to comfortable camper, for a surprisingly affordable price.
Catching Z's
The Ford Maverick initially caught some heat for its 4.5-foot bed, which some considered to be too short to be useful. Given that the Maverick isn't exactly a traditional truck (and considering the availability of a bed extender from the factory), it was largely a moot point for most buyers, but a company called Go Fast Campers has come up with a tent that proves the Ford's compact cargo area is the perfect size for camping.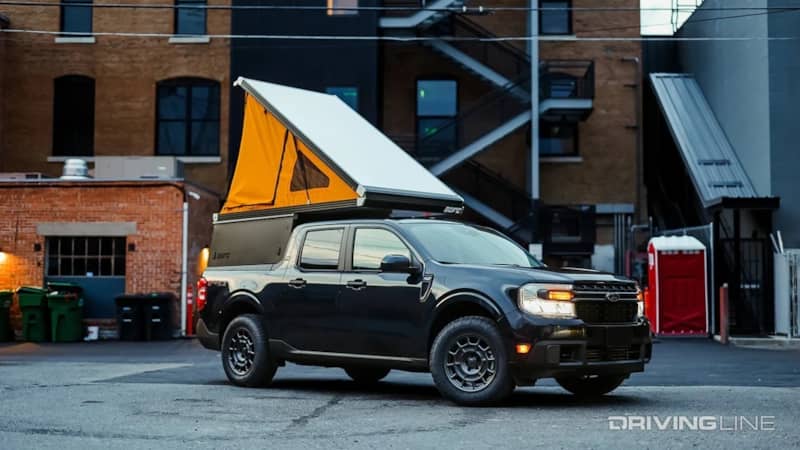 Photo credit: GFC
Called the 'Maverick Camper,' the unit is part of the Go Fast's 'Platform Camper' line, which anchors itself to the bed and perches up over the roof to provide 31 square feet of sleeping area. Not only that, but it pops up to deliver seven and a half feet of standing height, which means even a curious Sasquatch will be comfortable if it stops by for a wilderness visit.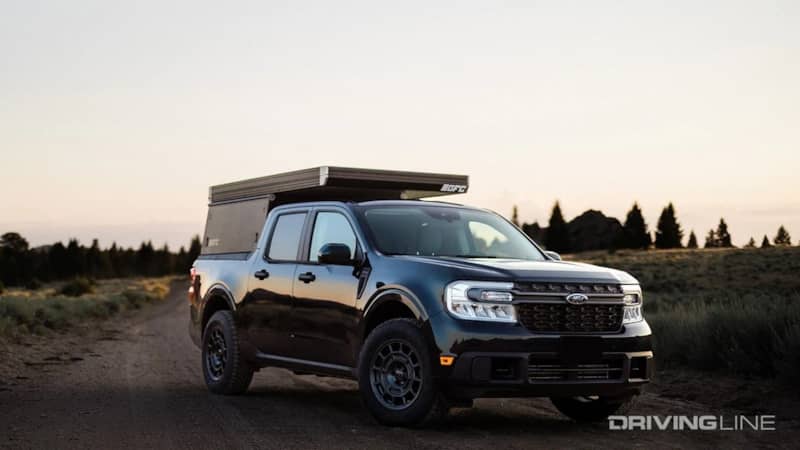 Photo credit: GFC
The Camper, once folded, projects a mere 6.5 inches above the Maverick's shark fin antenna, keeping a low enough profile (along with a 255 pound weight) that Go Fast claims has negligible impact on fuel economy. Its design also preserves the pickup bed so that you can load it with all the other camping gear you'll need for a weekend away, all for just under $8,000.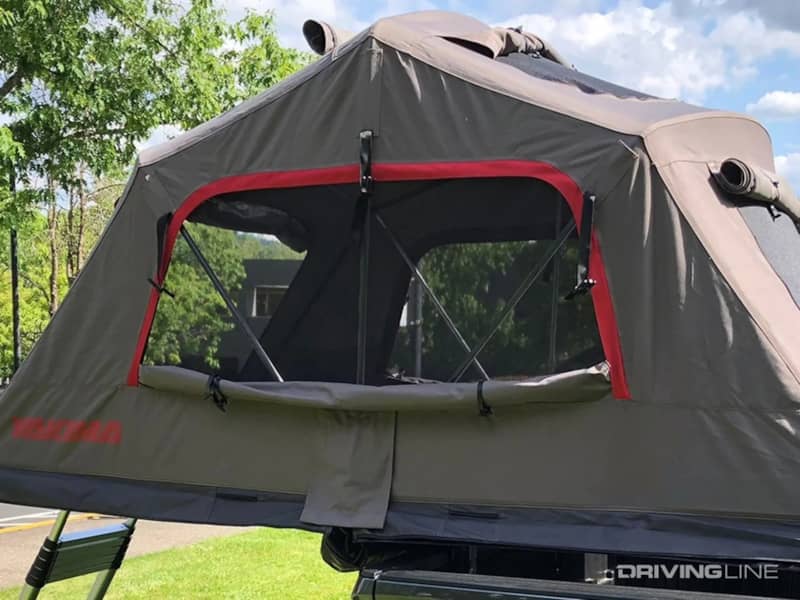 A more affordable Maverick tent option is available directly from Ford through its accessories program. Designed by Yakima, the two-person 'Skyrise 2' tent mounts in the pickup's bed using a Yakima rack (taking up more space than the Go Fast rooftop setup), and retails for about $3,000.
Staying Dry, Staying Fed
If you want protection from the elements while cooking, lounging, or perhaps even roughing it in a sleeping bag on the ground beside your truck, Ford's accessory program comes through with pull-out awning. Also built by Yakima, the $359 awning covers 42 square feet just to the side of the pickup, but bear in mind that like the Ford accessory tent, you'll have to install a set of Yakima racks on the bed or the roof in order to anchor the unit to the vehicle.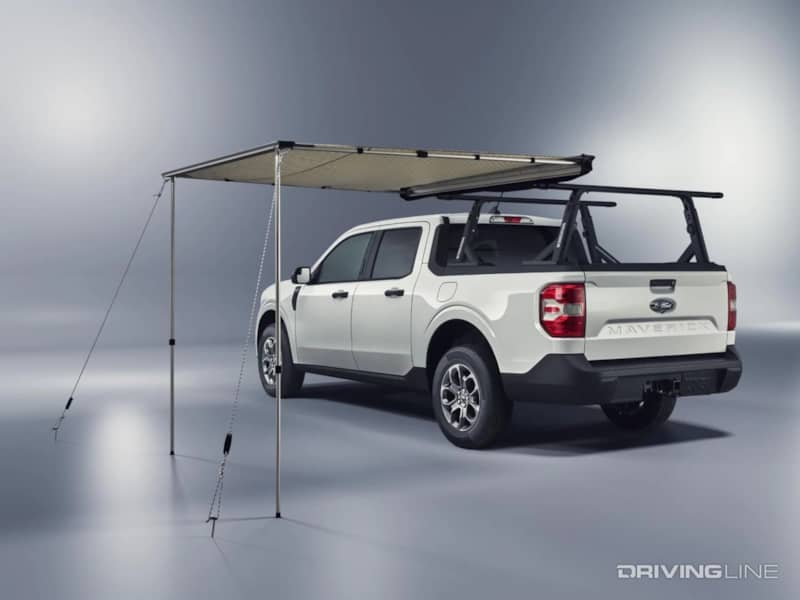 On the plus side, that same rack can be used to help haul additional gear to the camp site. Yakima offers both a lockable cargo box and an open bin that can be used to stack oversized items above the Maverick's roof, or add a double-decker storage solution above its bed. Both of these options are priced at under $900.
If your truck bed is full, the Ford accessories catalog comes through with a hitch-mounted basket from Curt that retails for $259, and is the perfect size for a pair of large coolers, but when the food you're hauling needs to stay fresh longer than your cooler can handle, Ford also offers a fridge that is mountable inside the cabin of the Maverick, and which can be powered by both DC and AC electricity.
Getting There
If you plan to rough it, chances are you might encounter less-than-smooth terrain on your way to your sleep spot under the stars. Giving yourself the best chance at dealing with mud, rocks, and gravel means installing the right set of tires to avoid getting stuck far from home.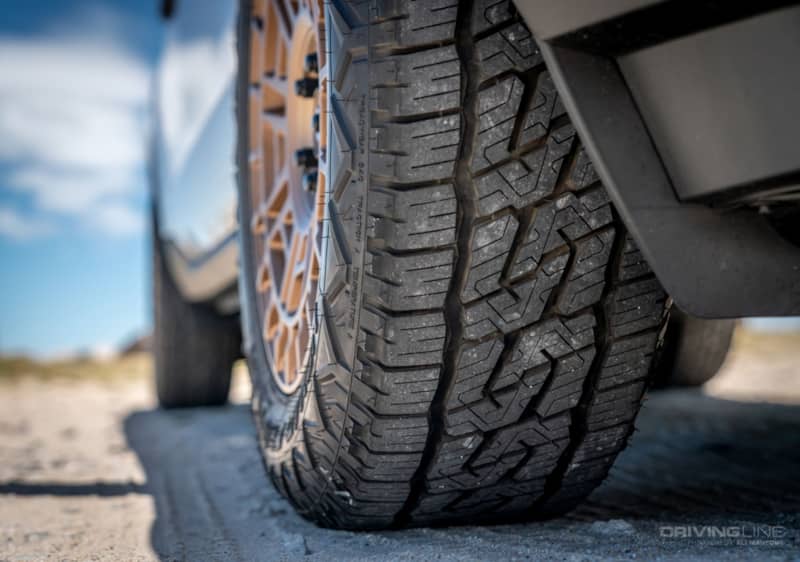 The Nitto Nomad Grappler offers two advantages over a traditional all-terrain tire. For starters, it's designed to be used by modestly-sized compact trucks and crossovers, like the Maverick, which means it's not as heavy as a comparably-sized LT tire, and therefore won't ruin your mpg. It also manages to add extra grip thanks to its more aggressive tread design, without compromising on-road comfort, noise, or handling.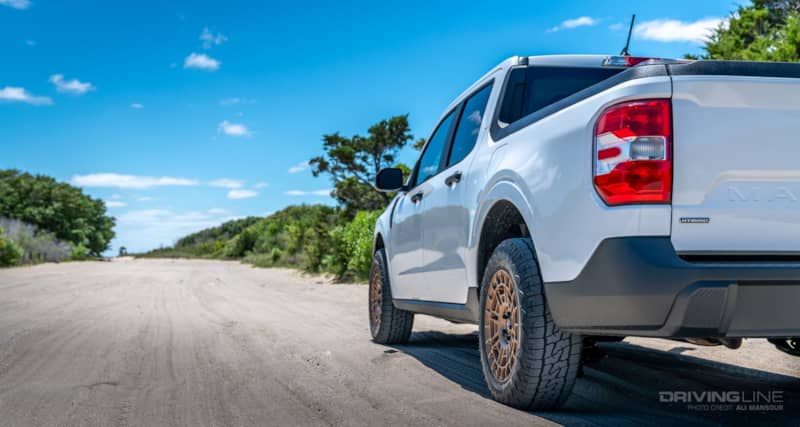 The Nomad Grappler is available in a variety of Maverick-friendly sizes, and even matches some of the optional-from-Ford sizing (including 235/65R17).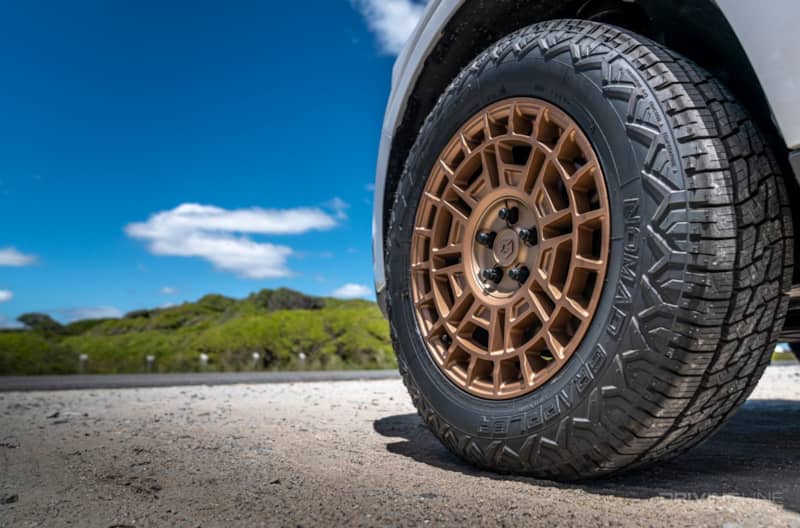 To further improve your odds on the trail to the camp site, Ford also offers a set of off-road recovery boards that fit in the Maverick's bed ($315), along with a full off-road recovery kit from Warn that includes a strap, shackle, and gloves.