Lighting it Up with "Rad Bronco": A Badlands Sasquatch Built for Work & Play
When Ford debuted the reborn Bronco back in 2020, anticipation was off the scale. And now nearly three years later, excitement over this retro-styled 4x4 has shown no signs of slowing.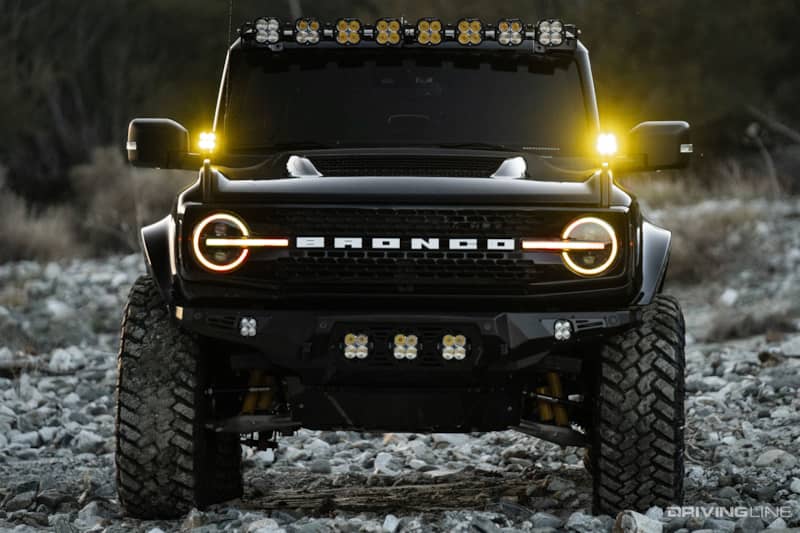 Ford has done a great job of offering Broncos for many different buyers and budgets, from the no-nonsense base model with its four-cylinder engine to the radical flagship Bronco Raptor. 
The Bronco Promise
And from an enthusiast's perspective, one of the best things about the new Bronco is that, just like its rival the Jeep Wrangler, it was promised to be easily customizable and upgradeable.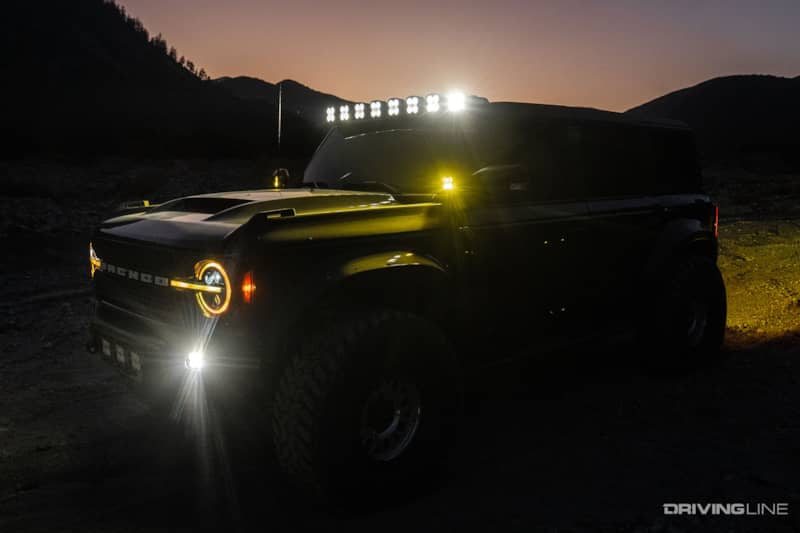 Sure enough, the aftermarket for Bronco upgrade parts has exploded in just a few short years. And the black machine you see here is perfect evidence of Ford delivering on that promise. 
This rig belongs to Nick Tellez, a photographer and marketing man at Wheel Pros, whose job leads him and his cameras to many off-road events and remote locations across the wilds of Southern California.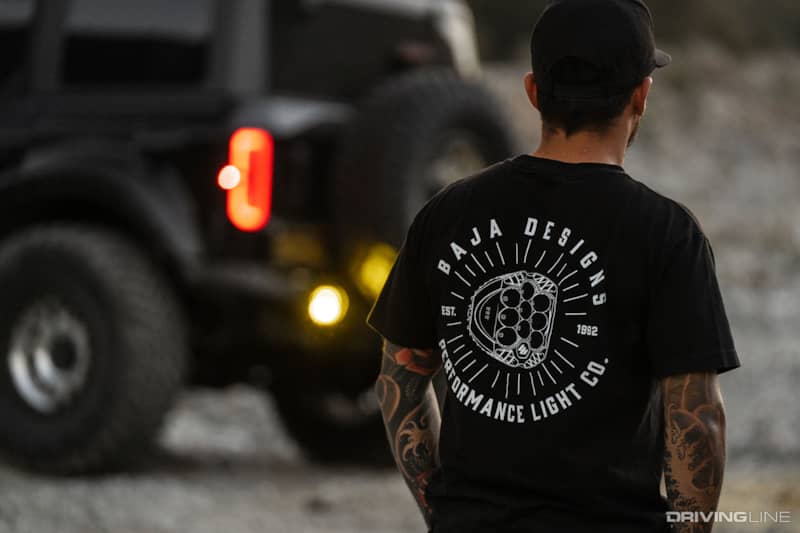 So when he picked up his 2022 Bronco Badlands Sasquatch from Galpin Ford late last year, he immediately began planning out the upgrades.
Sure, it'd be a fun toy for weekend adventuring, but it would also be a workhorse — chasing other 4x4s during photoshoots and getting Nick out to jobs at large events like King of the Hammers.
Ready for Action
The project has gone very fast, and today less than six months after he signed the papers at the dealership, the Bronco has been transformed into a pretty wicked machine — one that Nick has dubbed "Rad Bronco."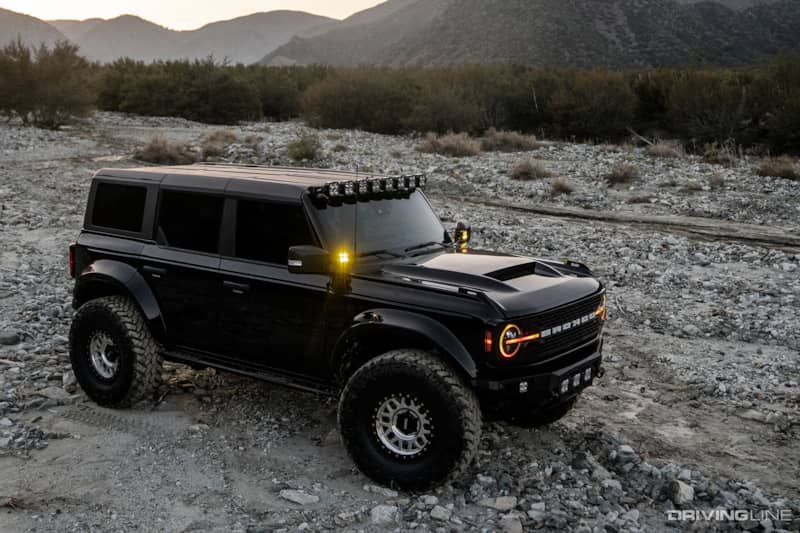 One of the first things you notice is the Bronco's beefy profile, with Advanced Fiberglass flares pushing the fenders outward five-inches and a hood scoop bulging above the twin-turbocharged EcoBoost V6.
Though the Bronco Badlands' suspension is quite capable out of the box, it's now even better with a set of billet trailing arms and upper arms from Camburg Racing.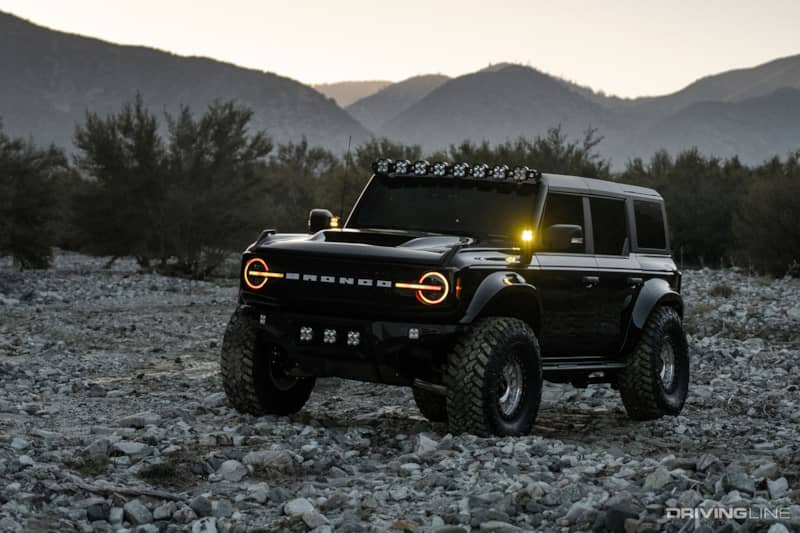 Power-wise, Nick has also hopped up the Badlands with a Magnaflow exhaust, Ultimate9 throttle controller and a Superchips programmer, all of which come in handy when powering the Bronco across desert trails.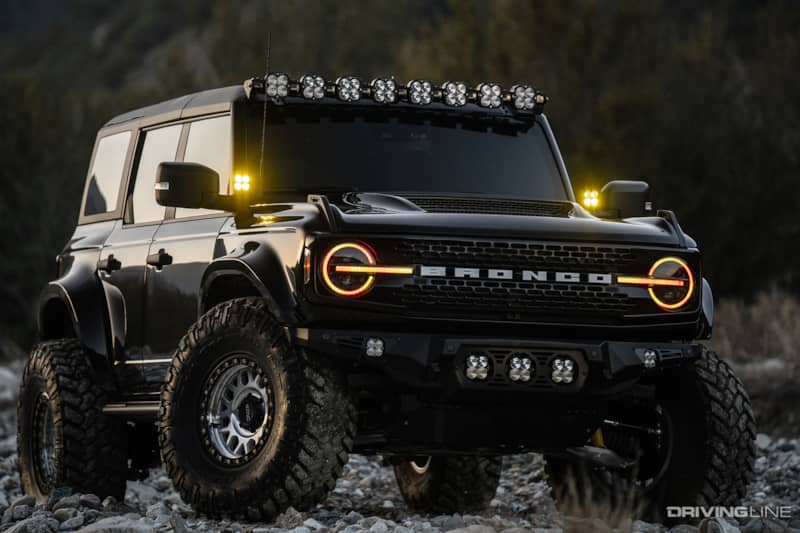 The front and rear bumpers are from ADD's Bomber series and a Smittybuilt HD pivot tailgate support helps carry the weight of Nick's oversized spare tire.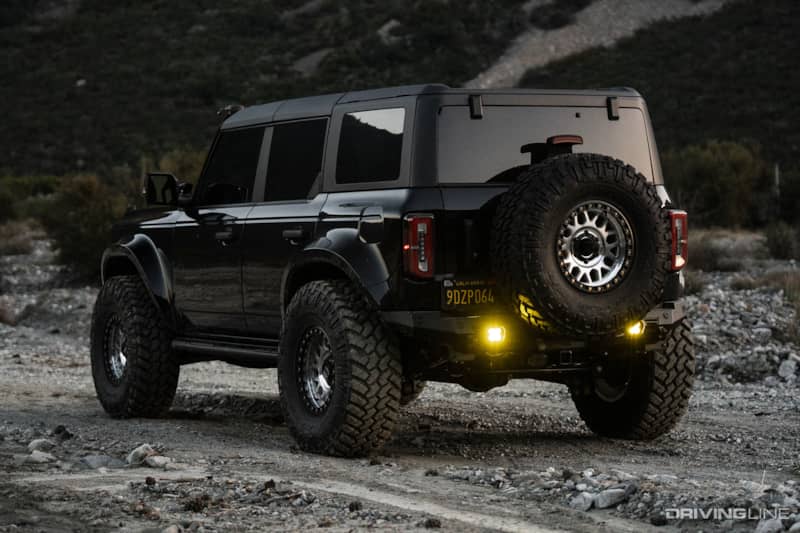 And speaking of the tires, after the experience of spending his day job around so many serious off-road rigs, Nick fitted a set of 37x12.50R17LT Nitto Trail Grapplers.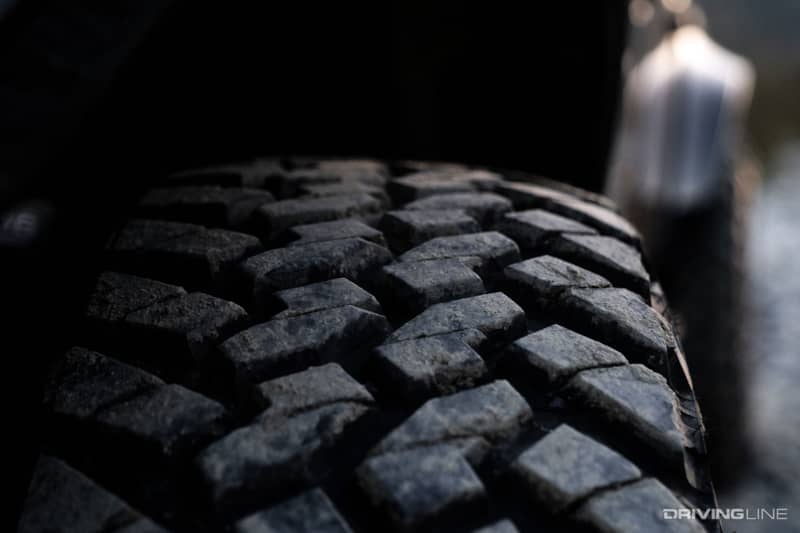 The Nitto 37s are fit over a set of 17-inch KMC Grenade Desert Beadlock wheels, providing just the right amount of contrast against the Bronco's all-black body.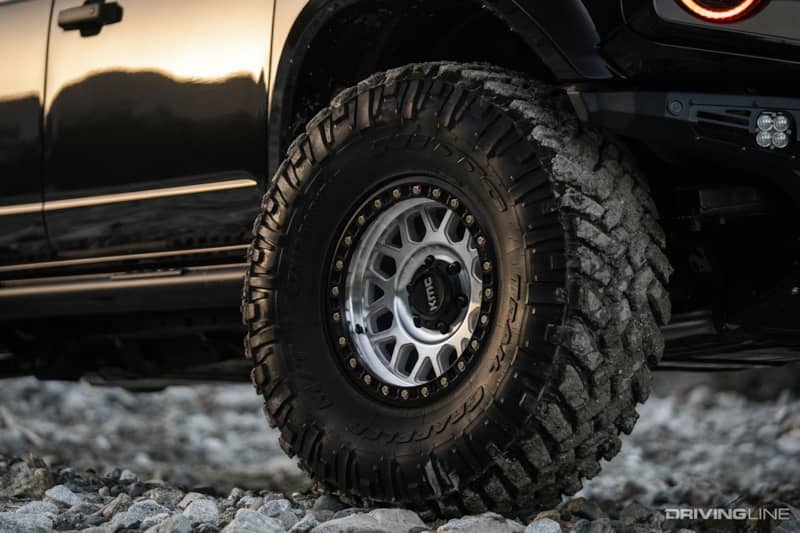 Lighting Up the Trail
Seeing as the Bronco spends a lot of time in the darkness of the desert, lighting was another major focus point for Nick's build.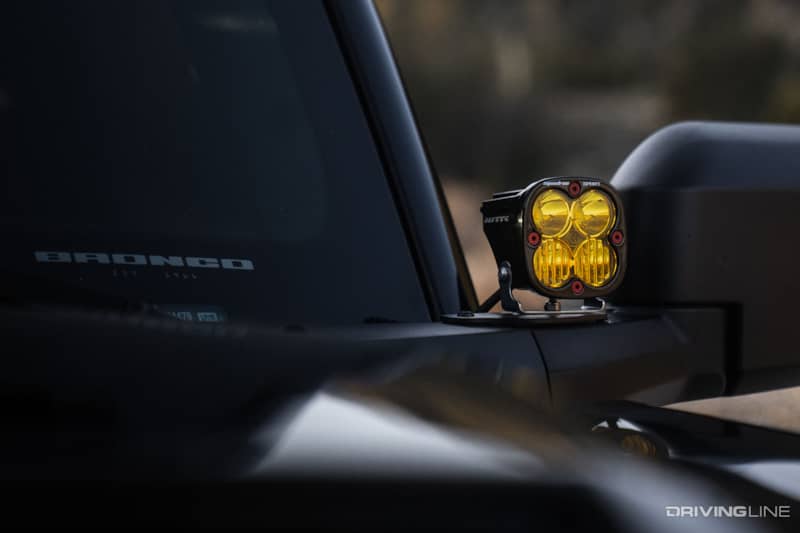 Along with Morimoto headlamps, he runs a full complement of Baja Designs auxiliary and fog lights mounted on both the roof and bumpers.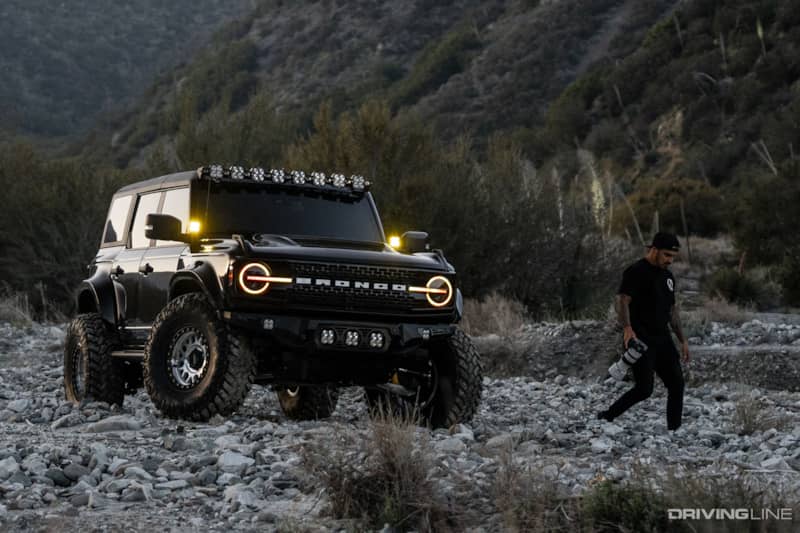 And one of the more recent additions to his lighting set up are a set of limited-edition Nitto Tire x Baja Designs Squadron Sport lights mounted beneath the A-pillar. These lights are a part of an exciting collaboration between both brands, made exclusively for Nitto Pit Crew members. Featuring custom red hardware and Nitto engraving on each side, this set up is sure to turn heads.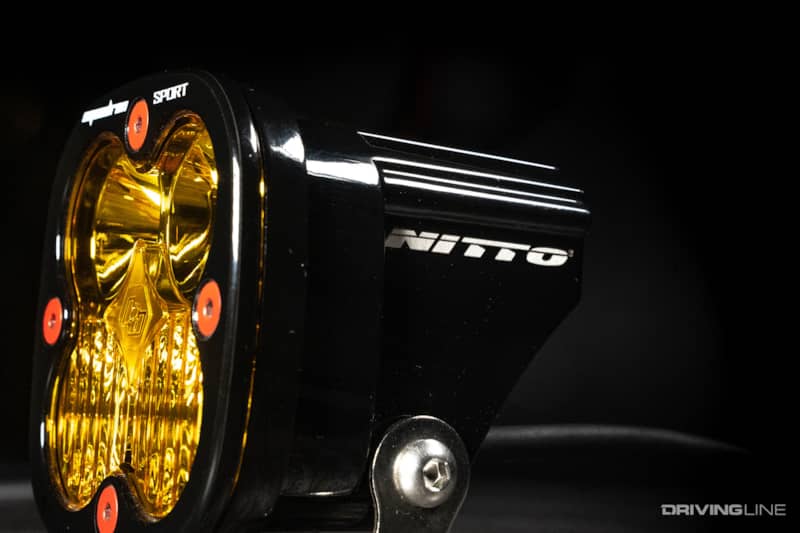 Other small things tie up the build, from the Full Throttle battery to the Westin Automotive rock sliders, but like so many builds he's far from done.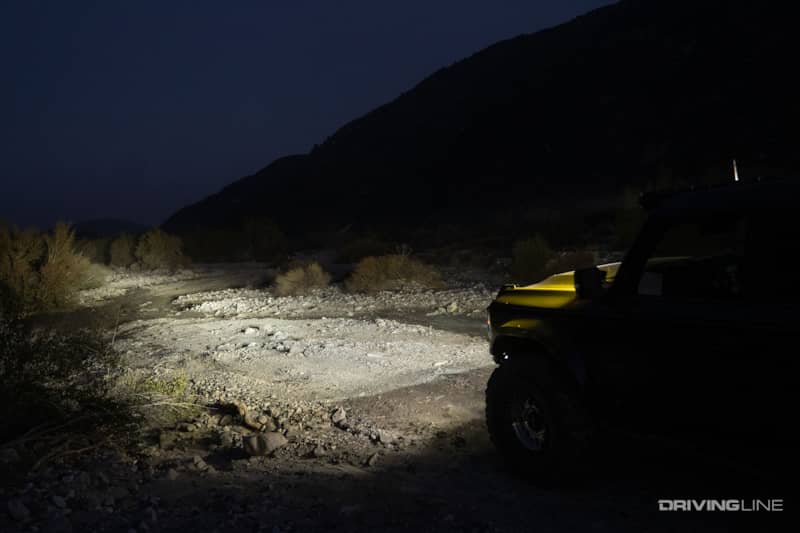 Up next are a set of King remote reservoir coilovers to take the Bronco's desert-running ability to the next level.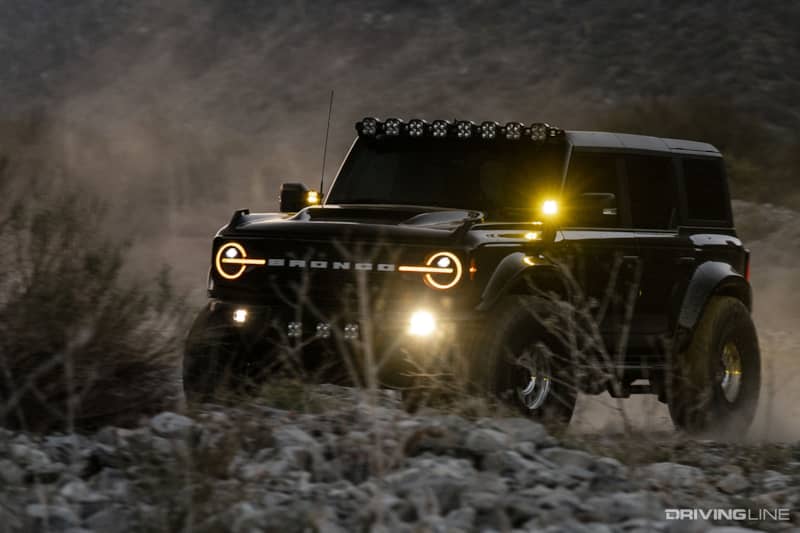 Great out of the box and even better when you make it your own. This is what the modern Bronco is all about and we'll be watching to see what comes next for Nick's project.