Like Father, Like Son— The SRT Bees: Part One, the Challenger
Back in 2016, James Bradford was wrapping up high school and growing to dislike driving his Scion tC. Even though it had slowly been molded into a fairly respectable daily driver, it was small, slow, and the act of folding the front seats forward to let people in and out of the back seats was getting tiring. Skip ahead to a month after graduation and, after much deliberation and research, he's finally upgraded to a 2017 Charger Rallye. Of course that isn't either of the cars featured in this article, but it'll become important shortly.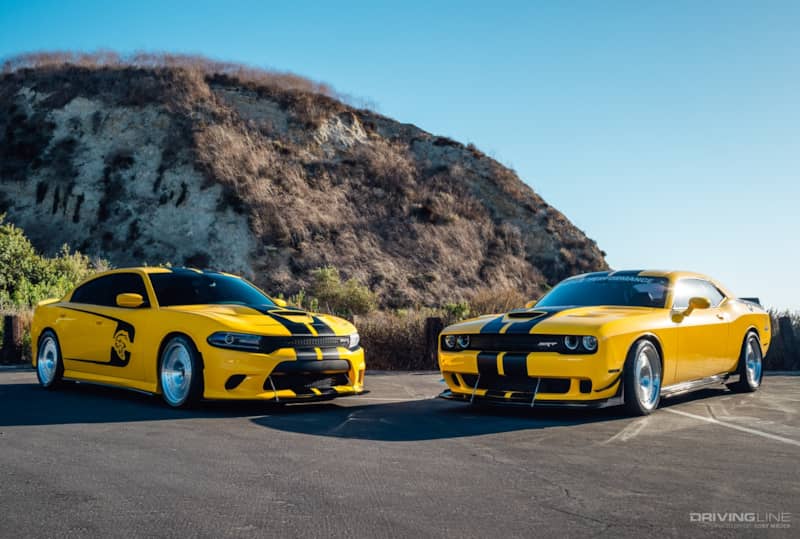 Right around that time James's father, also named James, sold off the family Suburban and was in the market for something a little more fun than the 'Burban and his day-to-day work truck. James Jr. gave the keys of his Rallye to James Sr. and dad was immediately sold. The next few months James Sr. combed through Chargers and Challengers around the southern California area to see which model he liked best.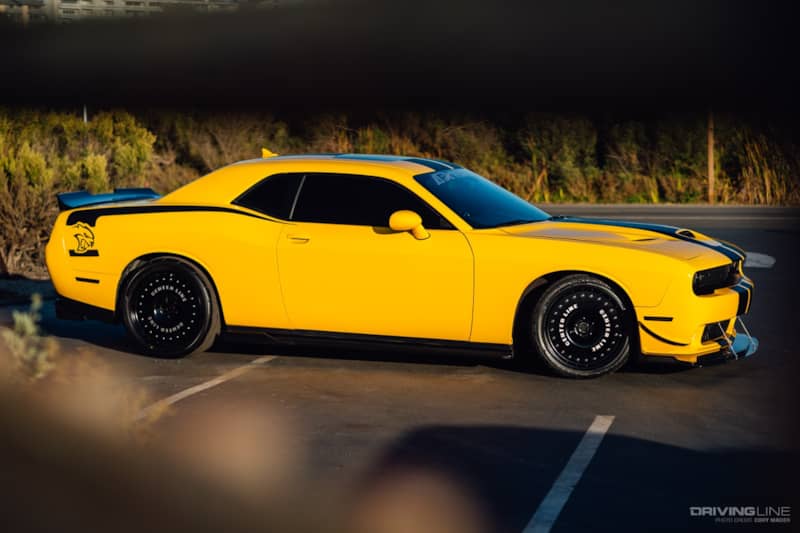 After noticing that no SRT 392 was quite catching his father's eye, James Jr. suggested to his dad to look into the Hellcat and was immediately met with "A Hellcat? What the hell is a Hellcat?" and then after explaining, "Why would anyone buy that? What is anyone going to do with 707 horsepower?" But just like that, the seed had been planted. Slowly but surely more Hellcats were brought under consideration and finally—after months upon months of searching—James Sr. made a move on the pictured 2017 Dodge Challenger Hellcat. It didn't take much effort from the salesman—a simple cold start and time to fill out some paperwork sealed the deal—and the father-son duo left with that Hellcat.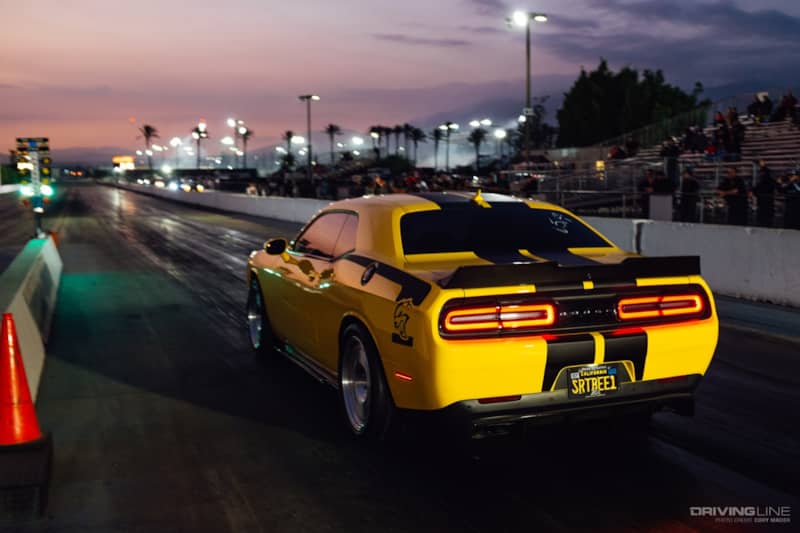 Of course the showroom model didn't quite look this way rolling off the factory line, so let's dig into just what's been done to this half of the SRT Bees. Starting up front, the APR Performance aero adds some additional aggression to the Challenger's nose. An air dam, set of canards, and front splitter chisel out some additional angles forged in carbon fiber.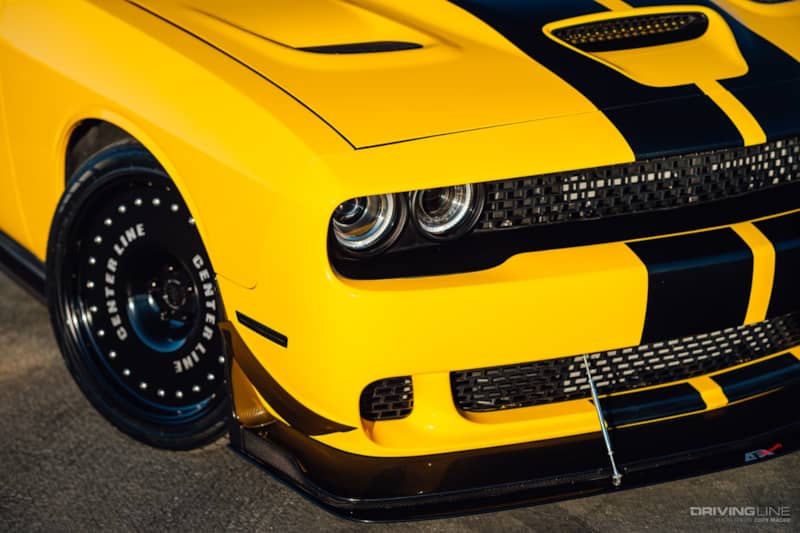 Along the side and to the rear, more carbon fiber from APR Performance comes in the form of side skirts, a spoiler and a rear diffuser.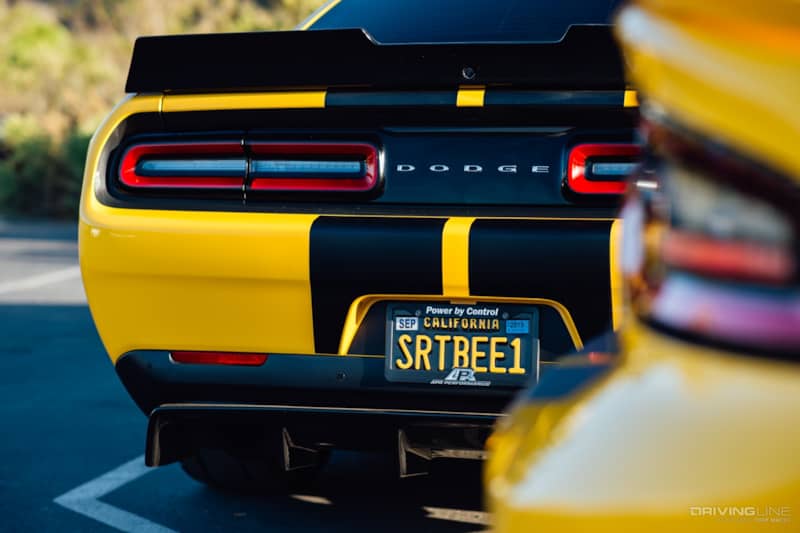 Of course we'd be remiss not to mention the most obvious upgrade to the Hellcat, the 20" x 9.5" Centerline LP2s wrapped in meaty 315/35R20 Nitto NT05R tires in rear and 295/35R20 Nitto NT555 G2s up front. And yes, the driver's side wheels are brushed aluminum while the passenger's side are gloss black, there wasn't a mixup while uploading the photos.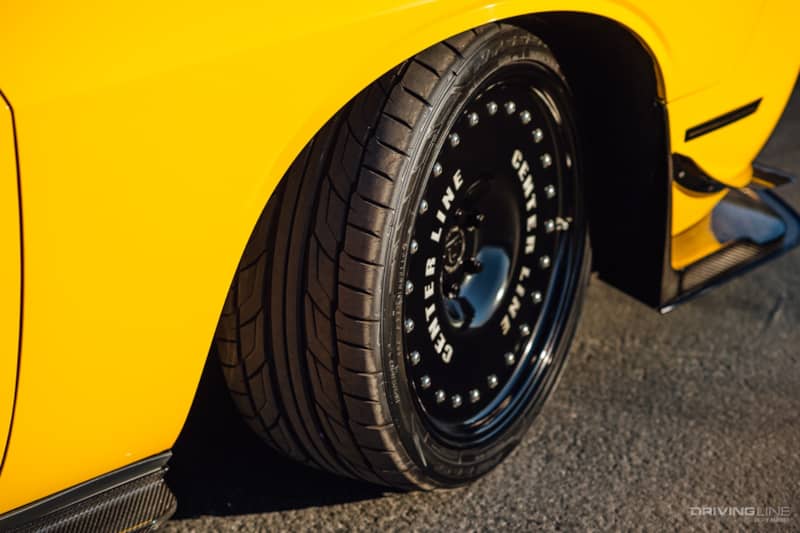 The striping running along the side of the car was based on the famous old school hockey stick graphic found on the Barracuda and reworked to integrate the modern Hellcat imagery.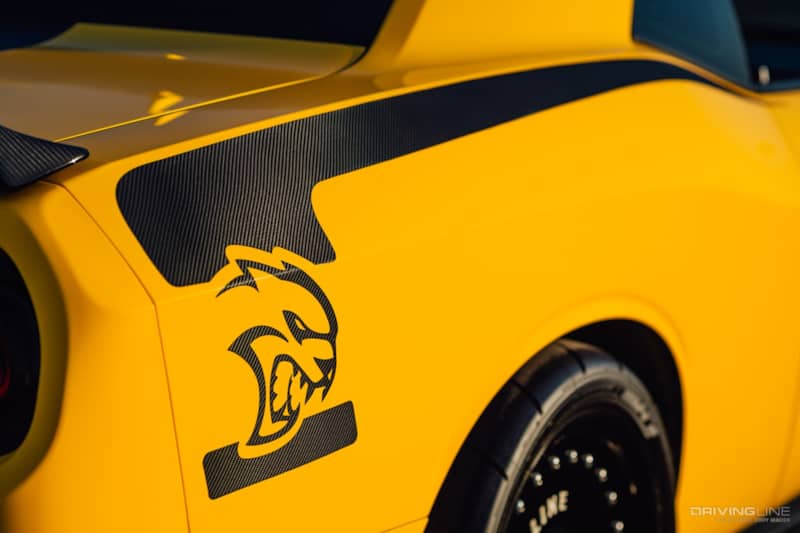 Moving to the engine bay, a full American Car Craft stainless steel engine bay and hood cover set shine brightly, adding some showcar glamour to the powerplant's usual grit. An AFE Power Magnum Force Stage 2 XP cold air intake and Black Widow Widowmaker 10 mufflers let the Supercharged 6.2 L Hemi V8 inhale some extra air and exhale even louder than before.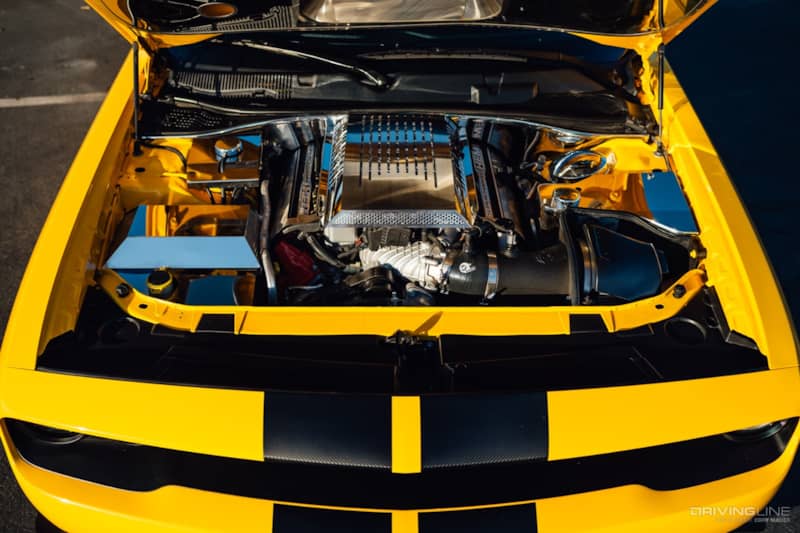 The astute reader would notice not much has been said about James Jr's Charger, but that'll be coming soon to part 2 of this feature. For now, enjoy the gallery below!