Limelight: Superior Off-Road's Shop Truck Turned SEMA Show Truck
Having a shop full of customer builds often means pushing off personal projects. There is an old cliche of a painter driving a primered car, or in this case a SEMA truck builder having never built something of his own for the show. That cliche finally ended for Houston Haskins of Superior Off-Road. As a builder of dozens of SEMA trucks for companies and clients; he finally took the opportunity to bring a personal build to the big show.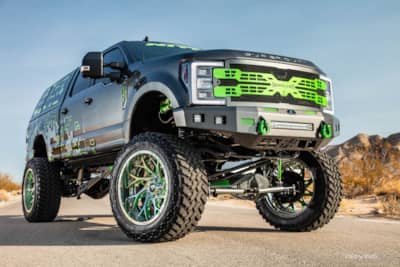 Houston grew up catching the bus to his family's shop, Superior Auto Body, after school. As soon as he turned 16, he picked up his first truck, a Toyota Tacoma and with all of the knowledge he had gained helping in the back of the shop; installed a 7-inch lift and 35-inch tires and anything else he could bolt-on. That truck set him on the path to opening up his accessory shop, Superior Off-Road, shortly after graduating high school.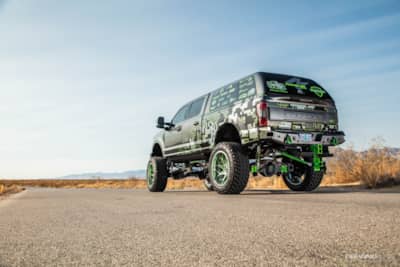 Jump to 15 years later with over 1,000 trucks under their belt; the shop's talent and reputation have gained them many industry partners that rely on them to build display trucks for SEMA. This past year, Houston finally decided, with the help of Truck Guru, to take his brand new shop truck, a 2019 Ford F350 Super Duty Platinum to the next level and include it in the group of trucks on display at SEMA with Kompression/Rouge Off Road wheels.
Accented Wheels, Huge Tires
At the SEMA show; the truck sported a set of Kompression's new Rogue Offroad forged wheels with a Truespike lug nut secured 3D machined centers with sublime green accents; a favorite accent color of Houston's. The natural fit for the 26x14-inch forged wheels was a set of 42x15.50R26 Nitto Trail Grappler M/T tires. Helping to bring the steamrollers to a stop is a set of Wilwood brakes.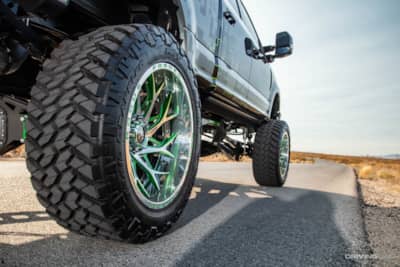 Instant Power
Helping the 6.7L diesel engine is a throaty Banks Monster 4-inch exhaust system. But that wasn't the only power being added to the Ford. A Banks Power Derringer tuner was integrated as well allowing Houston to increase the horsepower of the diesel by 70 hp and the torque an extra 150 ft. lbs at any time; all monitored by a Banks iDash gauge. The added torque and power would come in handy with the towing duties the truck would have to handle after its SEMA show debut.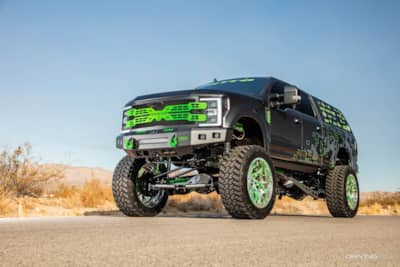 Suspension Set to Tow
That extra power would be just what the Ford needed as Houston planned on beefing up the suspension with Precision Metal Fabrication trusses in order to properly handle the 12-inch Precision Metal Fab coilover conversion with King 2.5" Remote Reservoir Coilovers. Whenever one modifies the geometry and height of a truck's suspension, a few addons are necessary to keep everything handling properly. The steering stabilizer setup from PMF was added while the front driveshaft was replaced with one from Fabtech. Finally, the front and rear gears were swapped out for 4.30 Nitro gears.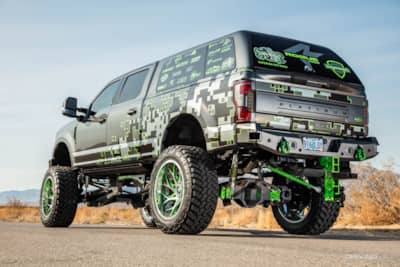 The rear suspension saw a set of PMF spec Deaver leaf springs and traction bars with a set of King 2.5" reservoir shocks as well. The rear setup provided a better ride quality with minimal loss to the towing capacity that the Super Duty would need to get Houston's shop projects around town and take his boat to the water.
Matching Looks
The sublime green accents continued throughout the rest of the truck accenting the PMF suspension and Royalty Core mesh grille. Sitting below the grille is a color matched Hammer Head bumper mounted up with a 20-inch Rigid Industries E-Series LED light bar saddled between Rigid D-Series Dually lights to help the rig light up the night along with a set of Onpoint Retrofit custom headlights.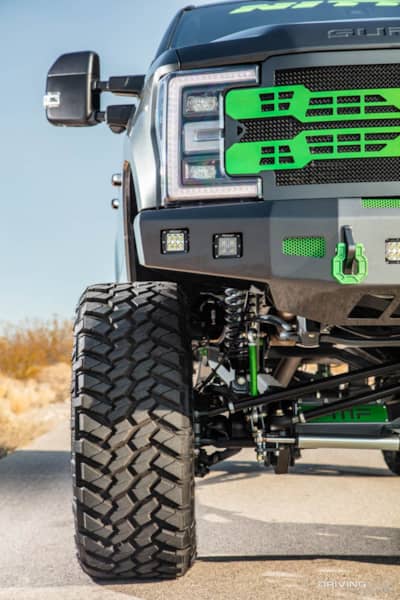 But it's the graphic wrap around the back half of the Super Duty that really stands out thanks to NW Signs. Houston wanted to have something that was bright and with the Super Duty set to pull his sublime green and grey boat, it was only natural that they matched.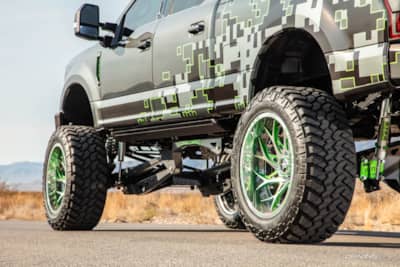 The graphic continues onto the ARE bed cap covering a Bed Rug lined bed with a set of Hornblaster Goliath air horns mounted up underneath. But the truck isn't just show and attention grabbing; a drop Gen-Y hitch with powder coated stabilizers and Bolt Lock helps Houston perform hauling duties for both work and play.
HARD FACTS
| | |
| --- | --- |
| VEHICLE | 2019 Ford Super Duty F350 Platinum |
| OWNER/BUILDER | Houston Haskins/Superior Off-Road |
| POWER | 6.7L Powerstroke Diesel, Banks Monster 4-inch Exhaust |
| TRANSMISSION | 6-Speed |
| FRONT AXLE | PMF Truss, Fabtech Driveshaft, 4.30 Nitro Gears, Wilwood Brakes |
| REAR AXLE | PMF Truss, 4.30 Nitro Gears, Wilwood Brakes |
| SUSPENSION (F) | 12-inch Precision Metal Fab (PMF) Coilover Conversion, King 2.5 Remote Reservoir Coilover, PMF Steering Stabilizer, Powdercoated |
| SUSPENSION (R) | Deaver Leaf Springs, PMF Traction Bars, King 2.5 Shocks, Powercoating |
| WHEELS | 26x14-inch Kompression Rogue Forged Wheels, Truespike Lugnuts |
| TIRES | 42x15.50R26 Nitto Trail Grappler M/T |
| LIGHTS & ACCESSORIES | Onpoint Custom Headlights, Rigid Industries E-Series 20-inch & D-Series LED Lights, Hornblasters Goliath Horns, Gen-Y Hitch with Bolt Lock |
| INTERIOR | Banks Power Derringer Tuner & iDash |
| BODY | Hammerhead Bumpers, ARE Canopy, Royalty Core Grille, Bed Rug, Custom Wrap, Renegade Products Detailing |

Want to see more of Superior Off-Road's work? Their SEMA 2019 Ram sits on 40-inch Nitto Trail Grappler M/T tires.