Long Live the Muscle Sedan: 5 Four-Door Muscle Cars from the 2000s You Probably Forgot About
The days of the sedan ruling the American landscape are drawing to a close. With Ford and Chevrolet having canceled, or sunset their basic four door offerings, the sedan has become somewhat of a specialty offering, sold only by their luxury counterparts. Cadillac recently unveiled their CT5-V and CT4-V Blackwing models, and they are largely being hailed as the swan-song to the American four door muscle car. Even Dodge, who has largely ignored the march to crossover dominance, has admitted that their muscle cars will ultimately have an end date, sooner than later.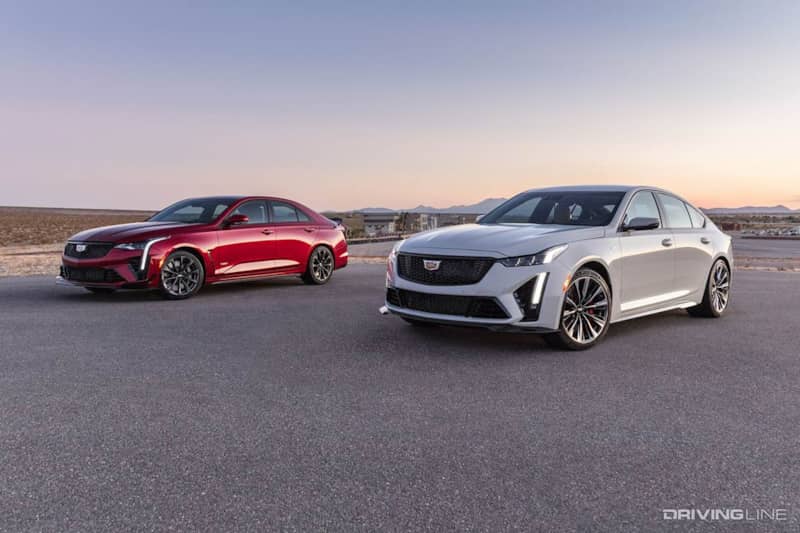 Twenty years ago, the automotive landscape looked very different. Going into the 2000s, the Mustang was the sole survivor of the traditional muscle car wars. Performance cars, both import and domestic, large and small, saw a move away from coupes, as the Evo, STi, Civic Si, Neon SRT-4, Mazda RX-8, and Dodge Charger burst onto the scene. Practicality and performance were in, and American manufacturers responded with a deluge of not only passenger sedans, but performance variants, each with strong numbers. A decade and a half later, those cars are at the bottom of their depreciation curve and are worth another look.
Mercury Marauder
Released in 2003, the Mercury Marauder was a reworked version of the stalwart Mercury Grand Marquis. Ford combined upgraded chassis, brake, and suspension components from the Ford Crown Victoria Police Interceptor and the 302hp V8 from the contemporary Mustang Mach 1 and Lincoln Aviator.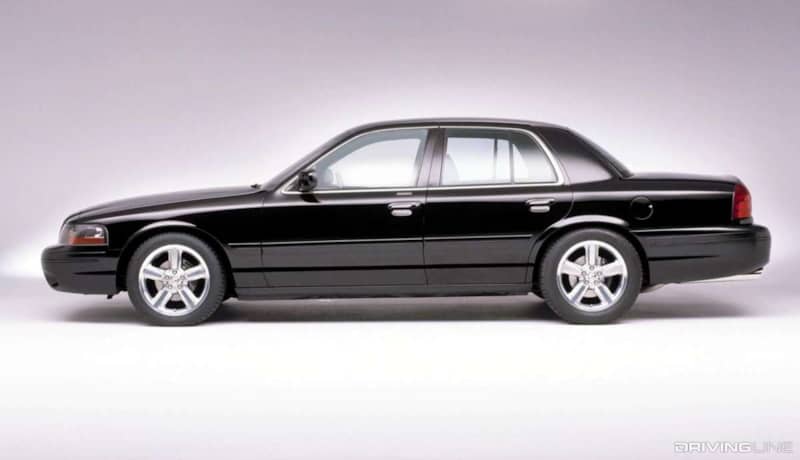 Although the big sedan wasn't fast, especially not for modern standards, the shared Mustang's 4.6L V8 is ripe for modification, and the Panther platform's long-term existence means that any problem has likely already been solved. Low mileage examples have brought relatively big money in recent auctions, but a driver quality example should be an easy sub-$10k purchase. Performance wise, the Marauder is probably the closest thing to the everyday classic American muscle car one can get from a car in the 2000s thanks to its ancient bones.
Cadillac STS-V
The Cadillac STS-V was a four year only performance variant of Cadillac's otherwise vanilla executive car. Positioned as a somewhat more mature older brother to the much more popular CTS-V, the sedan featured a supercharged 4.4L V8 with 469hp.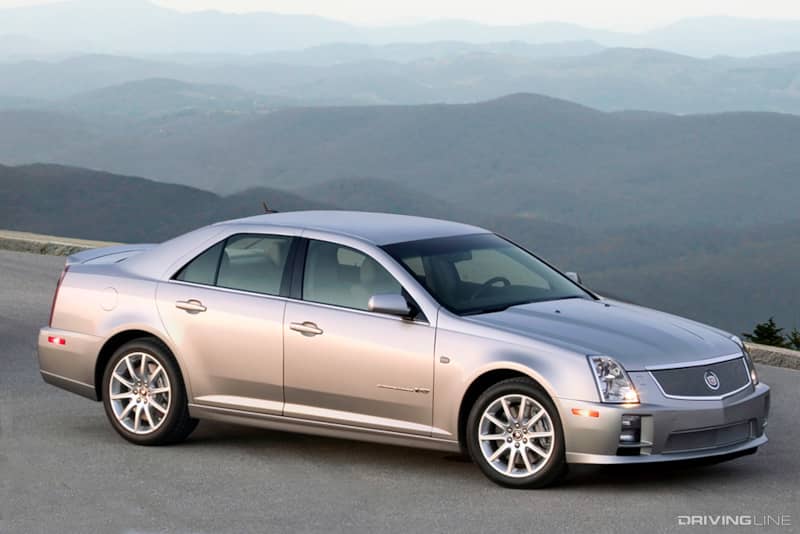 Aesthetically, the STS-V was a true sleeper, with the only visual cues being a mesh front grill, slight changes to body work, and six lug wheels. Finding one today will not be easy, but for under $15k, the Cadillac is an interesting option for someone wanting a lesser known muscle car.
Pontiac G8 GT
If one felt that muscle car performance was ever in danger of being erased, Australia historically was the place that could change your mind. With V8 sedans, wagons, and utes, power has never been lacking down under. In 2008, GM brought the Australian-made Holden Commodore to America as the Pontiac G8.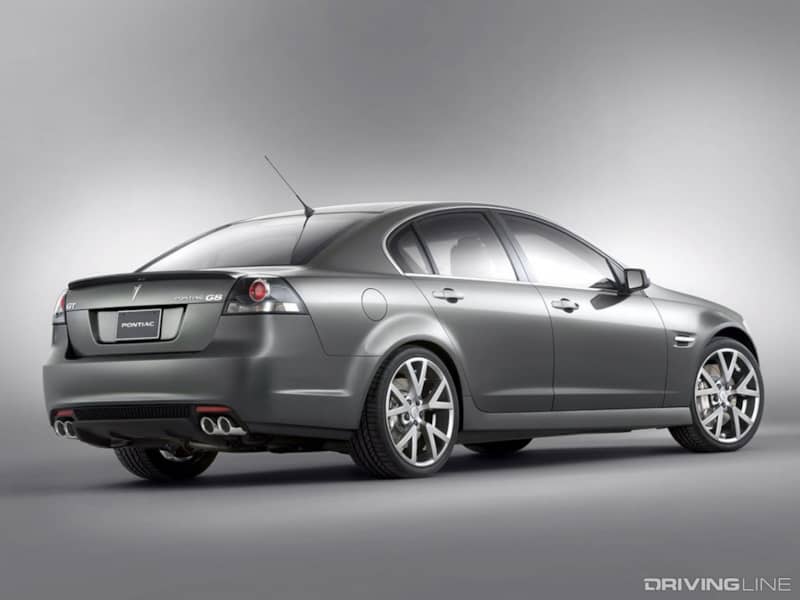 Offered with a choice of a V6 or a V8, the most powerful GT GXP version had an LS3 with 415hp and an available Tremec six speed manual. Total sales of the Pontiac G8 GXP were 1,829 units. The GXP was eventually replaced by the Chevrolet SS in 2014, which like its older Pontiac brother, has avoided depreciation far better than the others on this list.
Chrysler 300 SRT-8
The 300 is the only vehicle on the list that is still available for purchase in the US. In its first generation, Chrysler released the 300 SRT-8 as a more luxurious sibling to the nearly mechanically identical Dodge Charger. With a 6.1L Hemi engine producing 425hp, the big sedan could accelerate to 60 mph in under five seconds.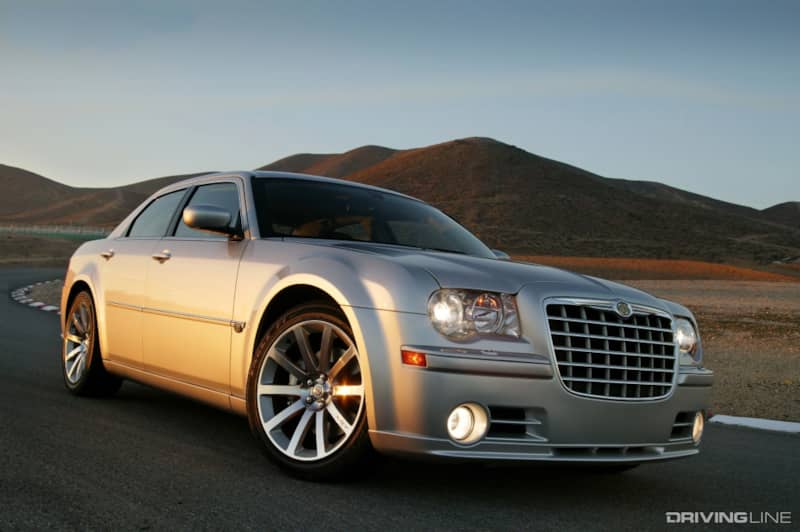 Clean examples of the first generation SRT8 are available for well under $15k. Chrysler stopped production of 300 SRT models in 2015, so these will only increase in value. Personally, we'd love to see that first generation body with a Hellcat motor.
Ford Taurus SHO
As the only AWD model on the list, the Ford Taurus SHO is certainly a different breed of American muscle car. It was equipped with one of the first variants of Ford's Ecoboost motors, a twin-turbo 3.5L V6 making 365hp. Featuring Ford's advanced SR1 suspension setup, it could be optioned further with better brakes, additional cooling, summer tires, and shorter final drive ratio.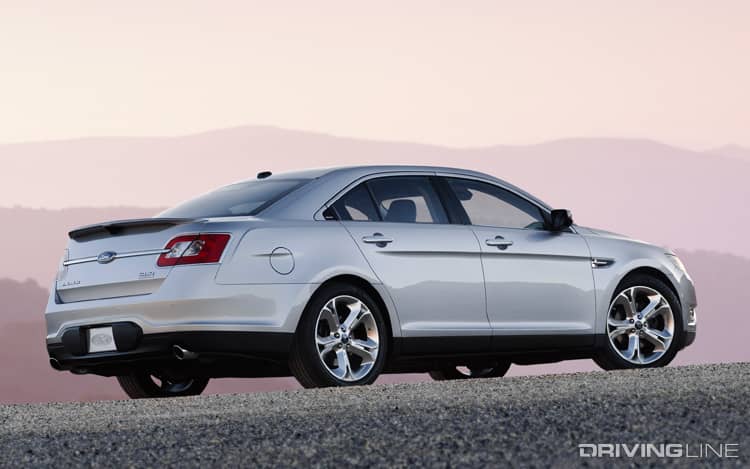 Early SHO models can be found for an absolute bargain. Priced under $10k, the twin-turbo sedan is a lot of car for the money, and as the genesis of Ford's now ubiquitous Ecoboost movement, these are destined for spots in collector garages. With mild mods, the Taurus SHO is capable of 400hp to the wheels, which when paired with the model's mild aesthetic upgrades, would make for a killer sleeper.
More From

Driving Line
Hats off to GM and 

Cadillac for keeping the radical gasoline-powered super sedan alive with the Cadillac CT5-V Blackwing!