Military-Tough, Baja-Forged 2019 Ford Ranger
Story By Jason Mulligan
Photos By
LGE-CTS Motorsports in San Dimas, California is the evolution of a family business that started out as a custom paint and collision shop over 30 years ago. Sisters Theresa Contreras and Sara Morosan continue the work that their parents, Louie and Gerry, started and have been expanding ever more into the off-road truck market. If one were to take a look through old Morosan family photos or listen to the stories shared around a campfire; the common theme of off-road adventures (with a few mis-adventures thrown in) had started at a very young age for Theresa and Sara. Another common theme throughout the family lineage…is Ford trucks.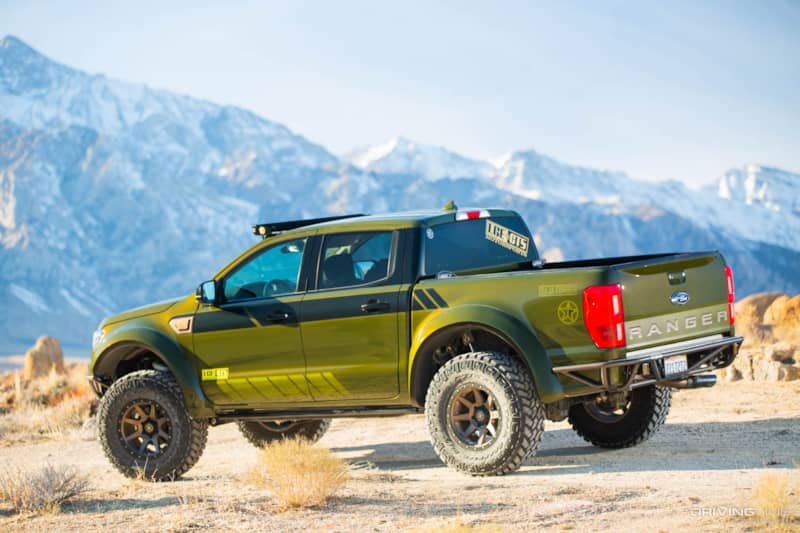 First Up
Nearly two decades ago, with a handful of Bronco builds and hundreds of other truck builds by the shop; then L&G Enterprises, along with Custom Truck Shop (LGE-CTS) began customizing brand new model vehicles in conjunction with Ford. So, when the Blue Oval from Detroit was looking to make a statement at the 2018 SEMA show with their freshly redesigned Ford Ranger; LGE-CTS Motorsports was one of few shops selected to help transform the factory fresh truck into an purpose built off-road rig—and in true SEMA fashion, with just a few weeks remaining before the show.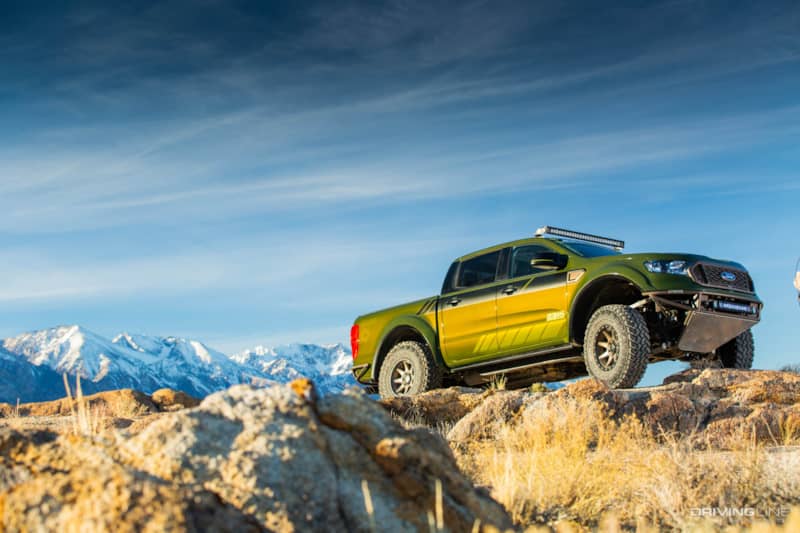 Theresa's design concept for the new Ranger was to create a desert 'military tough' inspired pre-runner that would not only bring out the body lines of the new Ranger design but be able to handle any terrain it found itself in. Sara would take on the task of ensuring that the parts for the build, many of them one-off or being developed on the truck itself, would be on hand before it headed into the paint booth for Theresa to bring the vision to reality.
One-Off Suspension
Customizing an all new platform that was not available to even dealerships yet, all within weeks of the SEMA show, had its challenges. They worked with the crew at ICON Vehicle Dynamics to R&D a suspension setup for the new Ford Ranger…and then went above and beyond to create a custom setup perfect for running the deserts of Southern California. Up front, a set of ICON 2.5 Remote Reservoir Adjustable coilovers were beefed up even more thanks to a set of secondary shocks and a lower A-arm skid plate. Billet upper control arms with the ICON Delta joint allow for even more travel.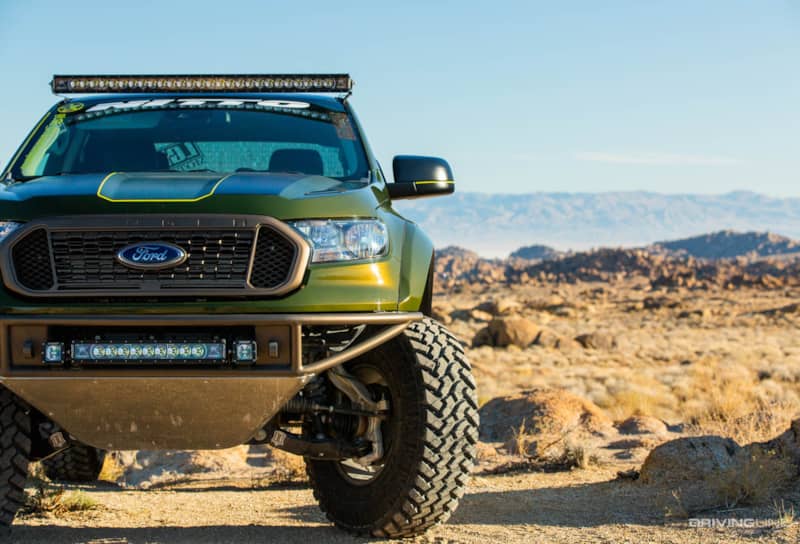 The rear suspension was a custom creation between the shop and guys at ICON. 3.0 Series bypass shocks intended to upgrade a Ford Raptor truck were utilized in a custom fabricated shock hoop. That extra length of travel would be needed along with a custom leaf pack from ICON and hydraulic bump stops for those heavy hits in the dirt.
Baja Forged Parts
LGE-CTS fabricated their signature Baja Forged front and rear bumpers allowing for plenty of ground clearance and mounting points for a Rigid Industries Radiance light bar. The 40-inch light bar on the Baja Forged roof rack and a pair of chase lights are all controlled by an sPod panel.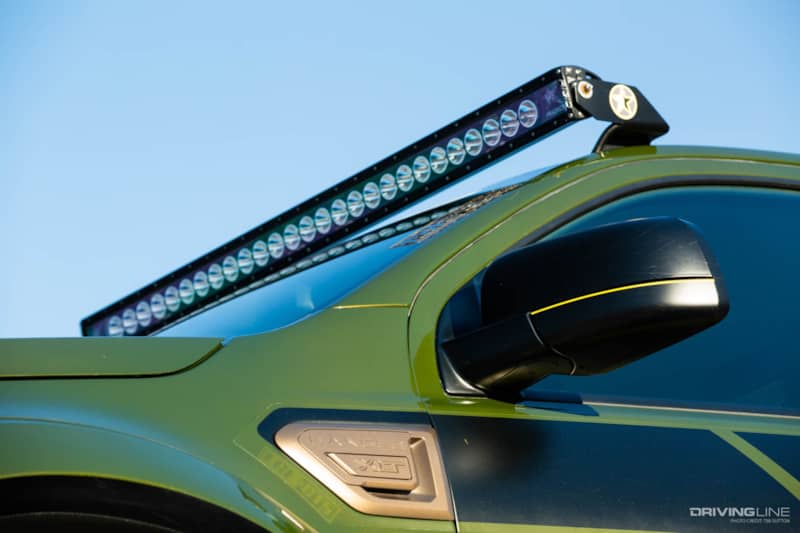 The new Ranger carries a 2.3L EcoBoost V6 under the custom painted hood. To help wake up the turbo'd engine, a blow off valve from Turbosmart and catback Borla exhaust system were installed. Behind the engine, on the inside of the SuperCrew cab, Theresa had the crew at the shop pull out interior pieces to be sprayed in matching tones. A set of black Katzkin seat covers with her signature yellow accent finishes the interior off.
Rugged Rubber
To accommodate the mid-travel suspension when hitting the open desert trails; custom fiberglassed fender flares were developed enveloping the 17-inch wheels and tires. Inspiring the matte bronze accent is a set of 17x8.5-inch ICON Alloys Rebound wheels. The larger fender flares allow for a set of 35x12.50R17 Nitto Trail Grappler M/T tires.
Fitting 35-inch tires on a mid-size truck and having it perform is no easy task; but naturally, the crew at LGE-CTS Motorsports accomplished this in no time. A full-size spare along with a Pro Eagle jack and Ford Performance Recovery Kit are mounted to a Baja Forged Bed Cage for quick off-roadside repairs and rescues.
Artistic Details
Desert inspiration flows into the paint scheme as well taking cues and hues from the earth tones and plant life of the local off-road world. Theresa pulled from her bank of PPG paint to custom mix the green base with some gold pearl and a few other secret tones; dubbing it Desert Cactus Glow. Matte clear was used in a few strategic sections on the hood to help reduce scorching sun glare while out running the desert. The custom fabricated Baja Forged bumpers and other accessories were sprayed in matte bronze to match the Icon Alloys wheels. Down the side of the Ranger, a modernized flat black racing stripe was hit with Theresa's signature Race Yellow pinstripe for an inspired accent color.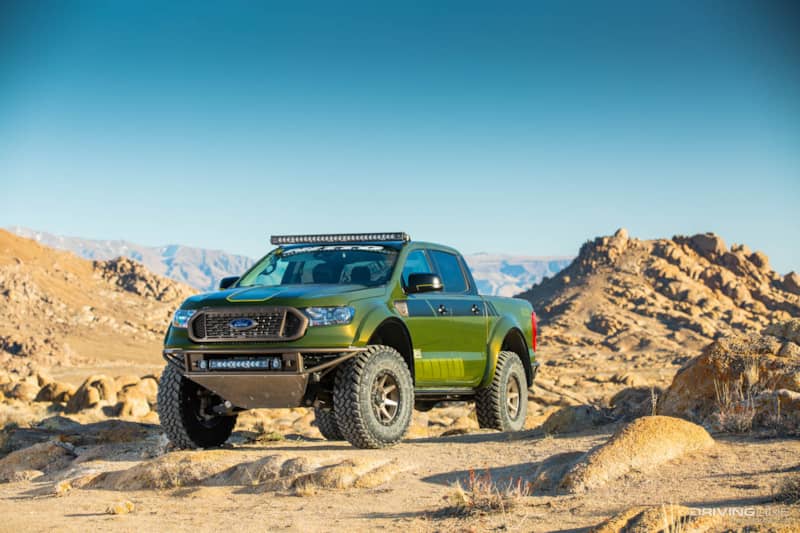 Showcasing how custom work and aftermarket parts can take the latest platforms to the next level can also inspire the designers and engineers at Ford. The growing popularity of the desert style off-road truck has brought many manufacturers into the world of aftermarket. And they look to shops like LGE-CTS Motorsports to help set the tone.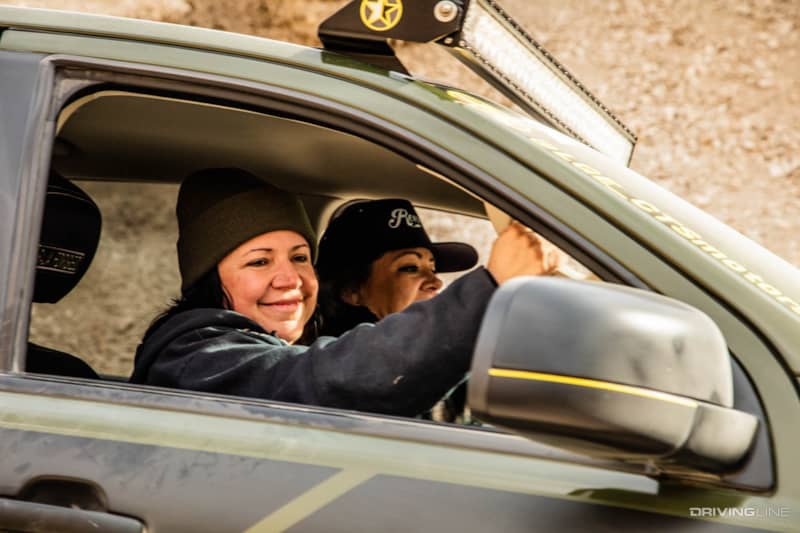 Hard Facts
| | |
| --- | --- |
| Vehicle | 2019 Ford Ranger FX4 |
| Owner/Builder | LGE-CTS Motorsports |
| Engine | 2.3L V6 EcoBoost, Borla Cat Back Exhaust, Turbosmart Blow-Off Valve |
| Front Suspension | Icon Vehicle Dynamics Suspension, ICON 2.5 Series Remote Reservior CDC Valve Coilovers, 2.5 Series Remote Reservior Secondary Shocks, Billet Upper Control Arms, Lower A-arm skid plates |
| Rear Suspension | ICON Custom Leaf Spring Pack, ICON 3.0 Series Bypass Shocks, ICON 2.0 Hydraulic Bump Stops, Ford Performance Differential cover |
| Wheels | 17x8.5" Icon Alloy Rebounds |
| Tires | 35x12.50R17 Nitto Trail Grapplers |
| Lights | Rigid Industries Radiance Plus 40-inch Roof Mount LED Light Bar and Radiance SM Chase Lights, sPod Panel |
| Interior | Katzkin Leather Seat Covers,body paint match interior pieces |
| Exterior | Baja Forged front and rear bumpers, Baja Forged bed cage, Baja Forged Rock Rails, LGE-CTS custom fender flares, PPG Envirobase Desert Cactus Glow paint |
| Accessories | Pro-Eagle jack, Ford Performance recovery and compressor kit |
Click here to see how this LGE-CTS Ford Ranger handled the trails in Alabama Hills, California.