The Cars that Dominate Hill Climb Races (and some Oddballs, too)
The sounds of engine revs and exhaust backfires ricocheted through the forest during the historic Empire Hill Climb, which is nestled on the outskirts of Lake Michigan in the small village of Empire, Michigan. Forty-five competitors came well-prepared for the 6th annual race with their SCCA regulated cars. Builds ranged from insane engine swaps, low-budget builds and mostly-stock setups. It's grassroots racing at its finest. Here's the low-down on what we saw, and which cars won the competition. 
Rolls-Royce with Viper Power
It's something you just need to see to believe: A Rolls-Royce powered by a SRT-10 V10 engine.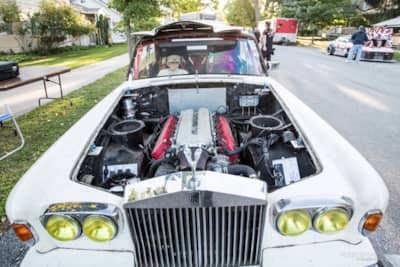 Darko Stojanovski built this 1977 Rolls Royce Silver Wraith II as a Lemons racecar from parts laying around in his salvage yard. The car blew through two engines during two separate Lemons races, but Stojanovski is determined to make this beast live. So far, the third engine is the charm.
A Mercedes/Datsun Mashup
Jordan Easter came back for her second year after giving her Datsun 280Z a stronger heart. The donor was a V12 engine from a 1993 Mercedes SL 600.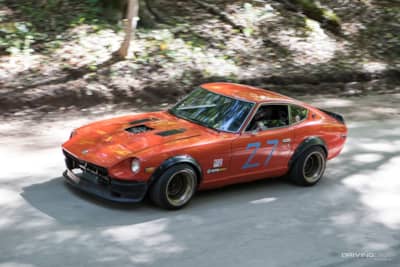 Easter tuned the 400-hp setup herself via a Megasquirt Pro EVO Series 3 ECU. We hate to cut the details short, but consider this mention a teaser for an article that's coming to your screens in the near future.
A Well-Fed Gremlin
Ian Dawkins isn't one who is against feeding a Gremlin after midnight.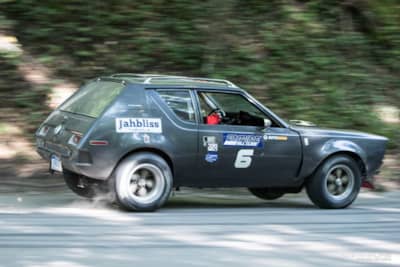 In fact, he ripped a 401 engine out of a '76 Jeep and stuffed it into his now 400-hp '73 AMC Gremlin. But before the install, he gave the engine an overhaul. It is bored .040 over to make it 409ci, and the forged internals are balanced and blue printed.
Stock or Not?
This 1972 Ford Mustang appears mostly stock, but Mike Purzycki completely rebuilt and installed a 460-cid big-block engine under the hood just in time for the Hill Climb.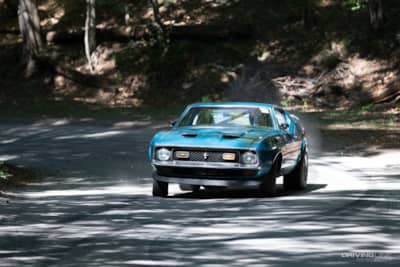 "The only time I've had it on the road was the couple hours to get here," he grinned. After a proper shakedown (and then some), the car was still running soundly and Purzycki was still smiling, only wider. 
When an MG and a Ford Ranger Procreate
When Daniel Atsma first started stuffing a 4-cylinder '08 Ford Ranger engine into his mostly-gutted 1970 MG MGB, he ran into complications and questioned his motive.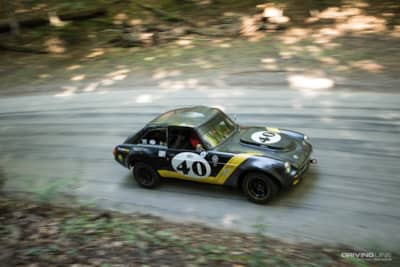 To avoid any roadblocks, Atsma transplanted all of the Ranger's electronics into the MG, including the interior gauges. The setup has a whopping 150-hp, and the weight-to-power ratio makes this a great car for ripping up the hill. After experiencing all that this fun-enhancing machine has to offer, Atsma hasn't given his decision a second thought. 
Corvette for the Win
What about the aforementioned mostly-stock vehicles, you ask? Well, out of all the insane mash-up builds, Robert Meyer got the chicken dinner.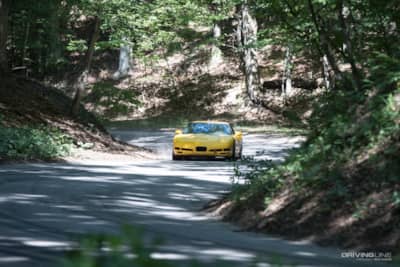 He earned 1st Place overall piloting his 2003 Chevrolet Corvette Z06 to the checkered flag. The car has minor upgrades, like GM T1 anti-roll bars and Johnny O'Connell Black Series coilovers to stiffen up the suspension. The engine is an original LS6 that makes only slightly more than the stock 405-hp. It was originally set up for the SCCA Touring 1 class. "The touring classes are pretty cool because the cars are very similar to their road-going counterparts, which is great because it helps manage the cost of the build while enabling an extremely capable racecar," Meyer said.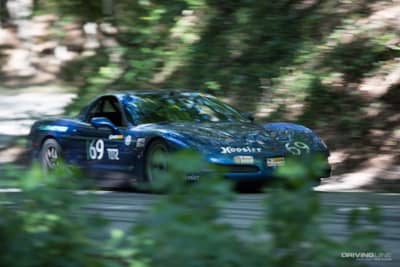 Speaking of extremely capable platforms, a second Corvette Z06, manufacture year 2002, took 2nd Place Overall. Daniel Milewski pushed hard up the hill to finish just milliseconds behind Meyer, and word has it that this Corvette is even less modified than the first. 
Want to see more cars from the 2019 Empire Hill Climb? We thought so, which is why we included the photo gallery. Enjoy.
If you still need more Hill Climbing action, check out last year's event.