Nitto Tires: The Tread of Choice for Pullers, Drag Racers and Street Trucks
You've seen them doing their thing on the street, at the drag strip and in the dirt—on tow rigs, daily drivers, drag racers and pull trucks alike. From A to Z, Nitto offers the tires that get diesel owners where they want to be. At the 2018 Scheid Diesel Extravaganza, we found that better than one in four street trucks were sporting a set of Nittos (be they Ridge Grapplers, Terra Grapplers, Trail Grapplers or NT420Ss). Over at Crossroads Dragway, that ratio increased to roughly one in three thanks to the immense popularity of the NT420S and Terra Grappler lines. Out on the pulling track, trucks fitted with Mud Grapplers ran at the front of the pack in the Limited Pro Stock and Pro Street classes. Even in the cut tire, Pro Stock category, the Mud Grappler found success.
For a closer look at how well Nitto tires performed at this year's Scheid Diesel Extravaganza, keep scrolling.
Grabbing a Bigger Bite With Mud Grapplers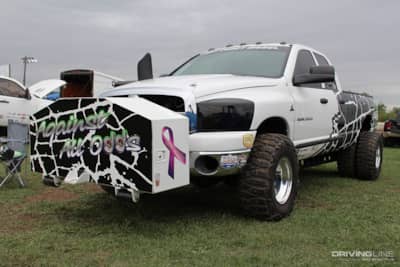 In truck pulling, running the most aggressive mud tires on the D.O.T. market can pay big dividends if you've got the power to turn them. For countless competitors, this means Mud Grapplers. At the 2018 running of the Scheid Diesel Extravaganza, Nitto's extreme mud terrain had a strong showing in both the Pro Street and Limited Pro Stock classes, with a handful of trucks even running them in Pro Stock (a category that allows cuts). In Limited Pro Stock, Clint Mills' 1,300hp+ Cummins used six Mud Grapplers to dig his way to a fourth place finish in a 49-truck field. Look for a full feature on his '06 Dodge Ram in the near future.
700HP + Driver Skill + Terra Grappler G2s = Winner's Circle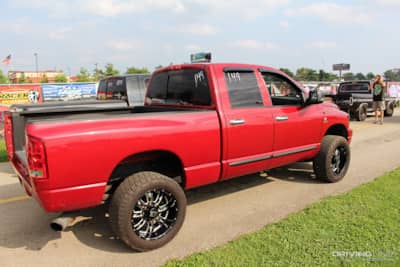 The 7.70 Index class at Scheid's was chock full of daily drivers (and even tow rigs) turned drag trucks. In this category, the do-it-all nature of a diesel pickup wasn't compromised in order to go fast. While a 7.70-second elapsed time in the eighth-mile (12.0 in the quarter) isn't slow by any stretch of the imagination, competitors aren't gutting interiors, adding 500hp worth of nitrous or running slicks at this power level. To run 7.70s in a 7,000-pound truck, 650 to 700hp needs to be making it to the ground and 4x4 needs to be engaged. For optimum traction (and to run the same tread they run on the street), many competitors prefer an all-terrain tire in this class. For Kevin Frey, he chooses to run Nitto Terra Grappler G2s on his Cummins-powered Ram—and at the Extravaganza they took him all the way to the winner's circle.
Mud Grapplers Up Front, All-Terrains Out Back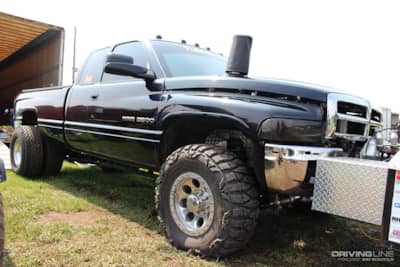 Even though all-terrains are the most commonly used D.O.T.-approved tire in truck pulling at the present time, many competitors still see the potential in the Mud Grappler's ultra-aggressive tread pattern. For this reason, a lot of pullers run a set of all-terrains in the rear with Mud Grapplers up front. No stranger to benefitting from what the Mud Grapplers are capable of, Matt Poduska has no desire to run a different tire up front due to his belief that they hook harder than all-terrains do, especially on the looser tracks he's used to competing on in his home state of Iowa. Poduska's Mud Grapplers also served him well in western Indiana. Up against the best Limited Pro Stock trucks in the country, he and his second-gen Cummins finished sixth out of 49 the first night and 10th out of 53 the second.
Clawing Toward the Front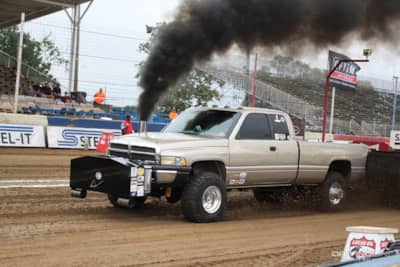 Another competitor relying on Mud Grapplers to get out front was Lane Aldrich of Excelsior Springs, Missouri. His 8,000-pound Pro Street second-gen (coined "Smokin' Goat Reloaded") dug itself to a fourth place finish on Friday despite being the third truck to hook to the sled (of 24 trucks). The following night, Aldrich took sixth.
All Purpose All-Terrain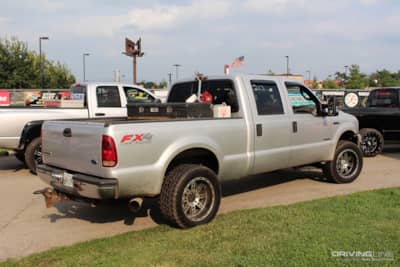 For a daily driven truck that's used to tow, venture off the beaten path and even drag race on occasion, it's hard to beat the Terra Grappler line. After spotting a set of G2s on Adam Doan's Super Duty, we noticed he was in the staging lanes for the ET Bracket class. As it turns out, he'd towed his friend, 7.70 Index racer Eugene Ogle, up from Tennessee and decided to have some fun with the 324,000-mile, tune-only 6.0L Power Stroke. After eliminations, Doan hooked the F-250 back up to the trailer and towed Ogle's '72 F-100 back home. It's hard to argue with an all-terrain tire that's affordable, fits everything from a 17- to 22-inch wheel and can be had with an E load rating.
Mud Grapplers in Pro Stock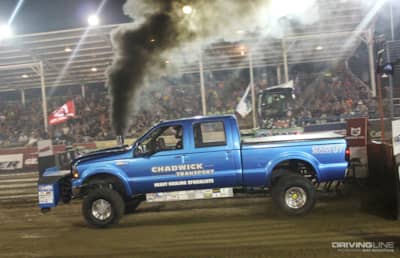 In Pro Stock classes that still require D.O.T. tires to compete, such as with the Illini State Pullers and the Badger State Tractor Pullers, you can find Mud Grapplers literally everywhere. More potent than the Limited Pro Stocks, these trucks make anywhere from 1,700 to 1,950hp. At Scheid's, and even though they knew they would be up against more than 20 cut-tire trucks, half a dozen ISP and BSTP Pro Stock competitors trekked south to Terre Haute to compete on Mud Grapplers. Shane Johnson was one such Pro Stock owner.
Public Enemy: The Duramax-Powered Ford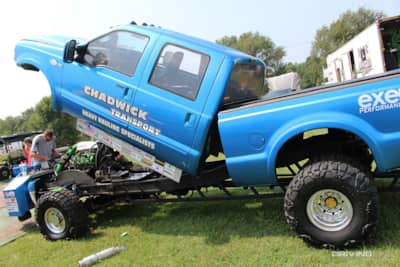 No, that green valve cover you see in the engine compartment of Shane Johnson's Super Duty isn't bolted to a Power Stroke mill. Perhaps the premise for naming his truck "Public Enemy," Johnson's late-model Ford benefits from Duramax power. Built in accordance with Pro Stock rules and by using some of the best parts in the industry, the GM V8 sports an LML-based block and crank, LBZ-derived heads and LLY-based injectors from Exergy Performance. The truck also makes use of a 3.6-inch smooth bore Hart's Diesel turbocharger, four-disc Molinari Racing clutch and a reverser transmission, drop box transfer case combination.
Nitto Ridge Grappler: The Perfect Daily Driver Tire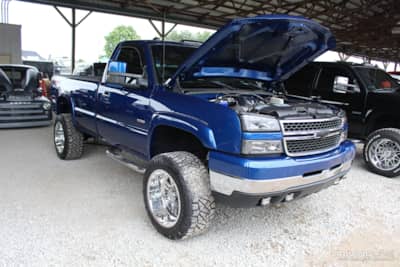 For daily driven diesel owners that use their trucks for both work and play, the Nitto Ridge Grappler is a huge hit. By combining the best characteristics of all-terrain and mud terrain technology into one, the hybrid terrain Ridge Grappler was born. The owner of this '03 Chevrolet Silverado 2500 HD claimed to be a big fan of the Ridge Grappler's quiet ride, even wear pattern and its off-road capability. Believe it or not, his immaculate, 15-year-old Bow Tie has 250,000 miles on the odometer. Recently, the quarter-million mile LB7 Duramax under the hood was treated to a Wehrli Custom Fabrication S300 kit, complete with an S366 SX-E turbo from BorgWarner.
Durty Deere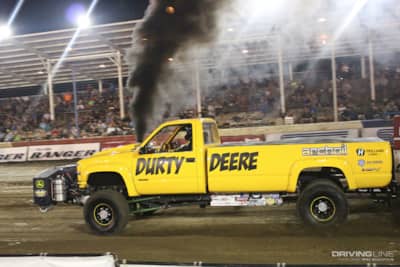 Another hard-running Duramax puller that came out to play at Scheid's was the fourth-gen Chevy campaigned by the Beetz brothers (Jesse, Josh and Jeremy) of northern Illinois. Their Mud Grappler-graced, standard cab, extended bed Bow Tie left the Extravaganza with mid-pack finishes and went on to take second place for the year in the local Illini State Pullers' Pro Stock truck class, right behind the Mud Grappler-equipped, Cummins-powered Chevy of Cole Faber.
NT420S: Still a Hot Commodity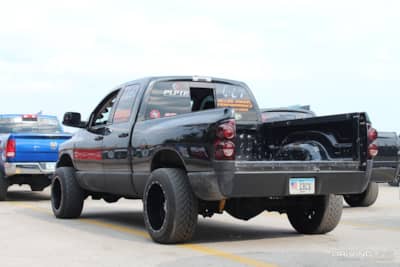 In a drag race or street-driven setting, Nitto's all-season NT420S remains one of the go-to tires in the diesel industry. While perusing through both the show 'n shine and the pit area at the drag strip, we spotted countless trucks wearing them. Key selling points of the 420S include: a tread design that ensures a broad surface area remains in constant contact with the road, even wear characteristics providing longevity without compromising ride quality and a price point that runs roughly half of what an equivalent all-terrain or mud terrain does. The 420S is especially popular on ET Bracket and 7.70 Index trucks (300 to 800hp applications), with some higher horsepower truck owners also relying on them for utmost traction.