No Holding Back in Chase for Championships at 2016 NMRA World Finals
The battle that began at the 22nd Annual Nitto NMRA Spring Break Shootout in March and has been brewing all year will reach a boiling point at the 18th Annual Nitto NMRA All Ford World Finals, September 29 to October 2, 2016 at Beech Bend Raceway in Bowling Green, Kentucky.
That's where champions will be crowned and records will likely be crushed in the fall air.
VP Racing Fuels Street Outlaw Class
Among the categories to keep an eye on is VP Racing Fuels Street Outlaw, where Manny Buginga holds the elapsed time and top speed records after motivating his turbocharged Mustang to a 4.431 and 170.32 mph. The top seven drivers in points have a shot at the highly coveted championship, including 2015 champion Phil Hines, Vinny Palazzolo, Ronnie Diaz, Manny Buginga, Charles Hull, Joel Greathouse and Dwayne Barbaree.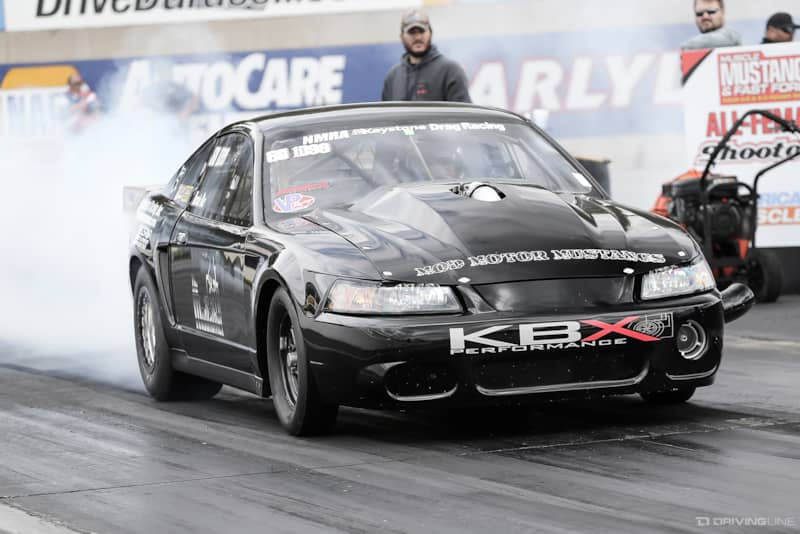 "VP Racing Fuels Street Outlaw has been great this year," said Rollie Miller, General Manager and National Event Director for ProMedia, which includes NMRA, NMCA and NMCA WEST. "We've had five races and five different winners, which has created the potential for one hell of a finale for the Nitto NMRA All Ford World Finals. The competition is tough as some of the best tuners in the 275 radial racing business are behind these drivers and race car programs."
Edelbrock Renegade Class
In Edelbrock Renegade, where the current elapsed time and top speed records of 7.406 and 187.86 mph belong to Aaron Bates and his ProCharger-packing Mustang, the top three drivers in points will be laying it all on the line in their chase for the championship, including Bates, Alton Clements and Adam Arndt.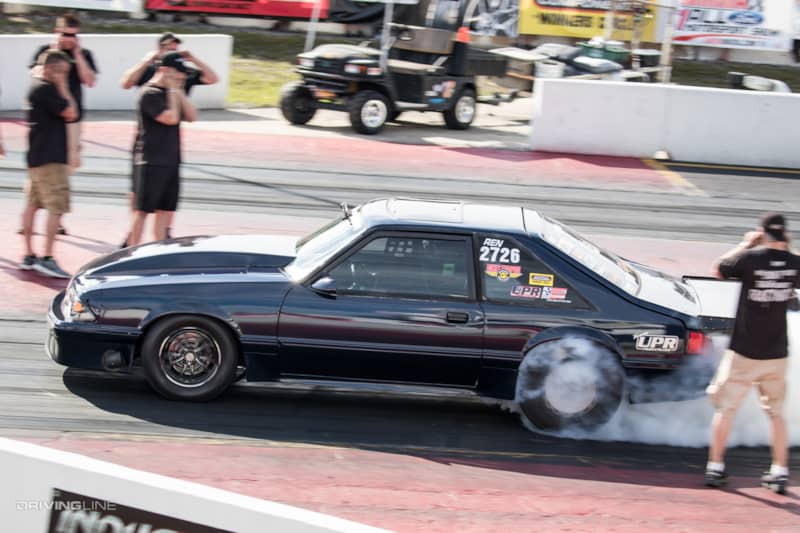 ProCharger Coyote Modified Class
Over in the positively popular ProCharger Coyote Modified, where Joe Guertin laid claim to the elapsed time record with a 7.888 and Johnny Lightning lit the boards with a 174.93 mph for the top speed record, Guertin and Jeff Polivka will be locking horns for the championship.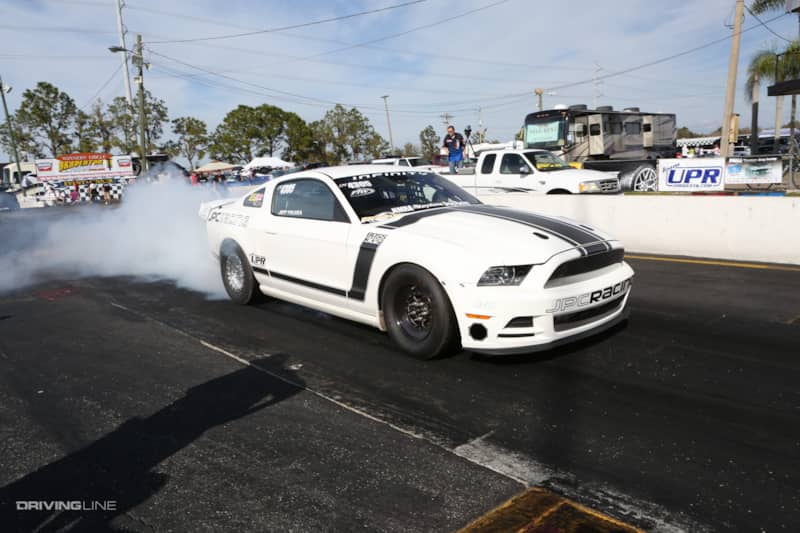 Detroit Locker Truck and Lightning Class
In Detroit Locker Truck and Lightning, 2015 champion Johnny Lightning, as well as former NMRA champions Randy Conway and Nina Gusler, will give it everything they have to win another championship at this final race of the season.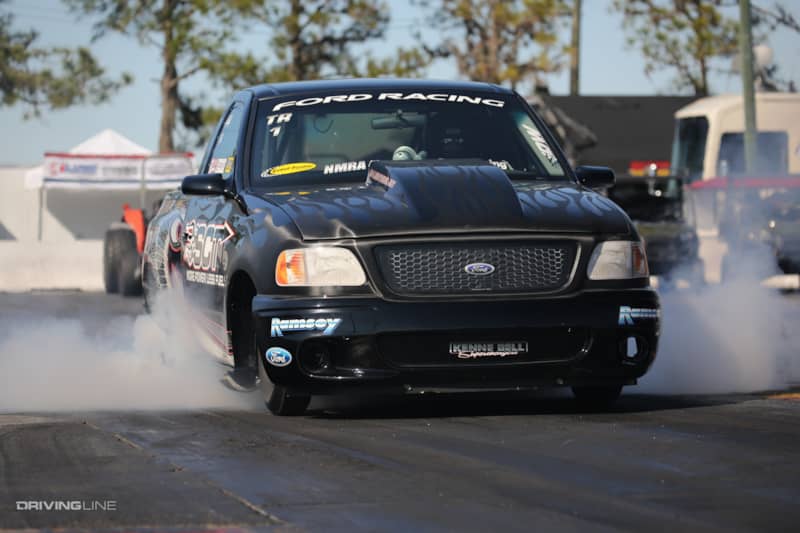 Exedy Racing Clutch Modular Muscle Class
While all of the dedicated drivers in Exedy Racing Clutch Modular Muscle know how to dial-in their vehicles with 4.6L, 5.4L, Coyote and V10 powerplants, the six vying for the season championship are 2015 champion Donnie Bowles, Charlie McCulloch, Roxanne Shepard, Jason Henson and Shane Williams.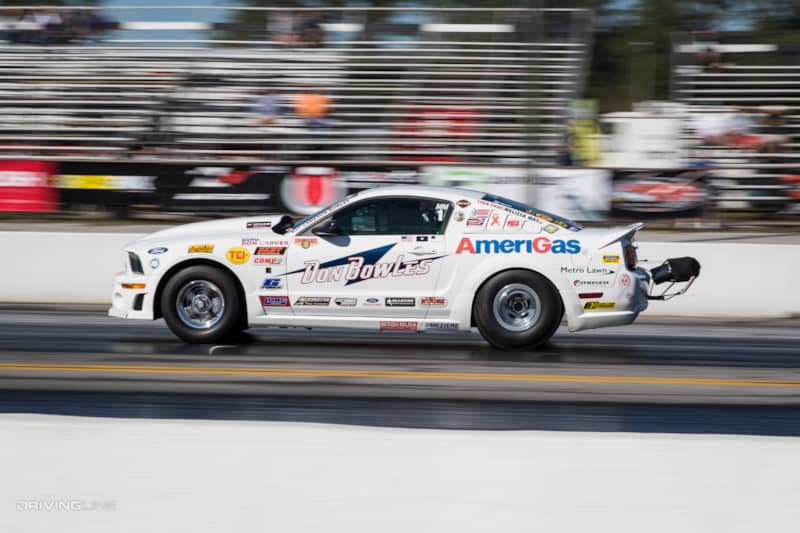 NMRA Coyote Stock Class
In NMRA Coyote Stock, where wheelies are king — and where Carlos Sobrino sailed to the elapsed time record with a 10.223 and Michael Washington wove his way to the top speed record with a 131.86 — five drivers will be duking it out to take their place on the throne. They are 2015 champion Drew Lyons, Jacob Lamb, Shane Stymiest, Carlos Sobrino and Tim Matherly.
"Lamb came out of the gate quickly and proved that consistency wins as he took the first two events," said Miller. "Lyons shook off his early season blues and has had a strong charge late in the season by winning two races."
Roush Performance Super Stang Class
A whopping nine drivers behind the wheel of their slightly modified S197 and S550 Mustangs in Roush Performance Super Stang will strive to secure the championship. They are 2015 champion Kent Nine, Marvin Knack, Marco Pounce, Jr., John Mummery, Darrell Bye, Pete Espeut, Larry Firestone, Dwayne Hickman and Shelby Wendel.
Flex-A-Lite Open Comp Class
The driving has been tight on both ends of the track all year in Flex-A-Lite Open Comp, and it's poised to be even tighter at this final race of the season, as Gordon Harlow, Tom Hoffman, Wade Trammell, Bill Jones, Jim Johnson, Jr., Woody Pack and Brent Blacker battle for supremacy.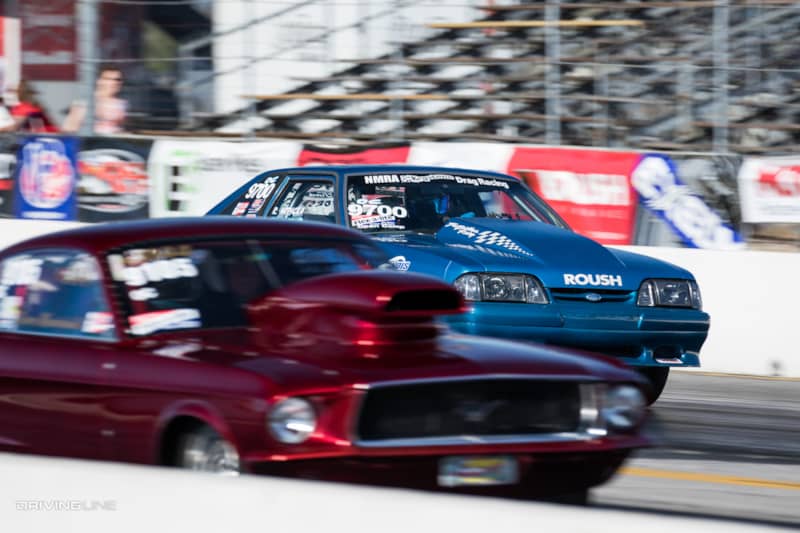 While the G-Force Racing Transmissions Pure Street, American Racing Headers Factory Stock and Race Pages Ford Muscle championships appear to be locked up, Teddy Weaver, James Meredith and Danny Towe are not likely to lay off as they fight tooth and nail to wind up in the Aerospace Components winner's circle.
Bonus Grudge Night Matches
In addition to all of the NMRA stars and standouts, Chris "BoostedGT Hamilton" of Discovery's "Street Outlaws" and Mike Murillo of "MAVTV's "House of Grudge" are scheduled to appear as part of the event's Grudge Night on October 1.
(Photos: NMRA)
Join us in attending the Nitto NMRA All Ford World Finals! For event information and stories leading up to it, visit www.NMRAdigital.com.