Bongo Brawnys to Mighty Boys: The 7 Funniest JDM Car Names
Anyone with even a passing familiarity with Japan knows the country has a tendency to come up with some rather unusual English names and slogans that don't always make a ton of sense. The auto industry has been no exception to this, and there's a long list of Japanese Domestic Market vehicles released over the years that have some downright funky, hilarious or just plain weird names. 
Here are seven of our favorites:
7. Mazda Bongo & Bongo Brawny
While the Mazda of today is primarily known for driving dynamics and classy designs, its history has been filled plenty of more utilitarian vehicles—particularly in the Japanese market. That's where we get to the Mazda Bongo—a van that has been offered since 1966. And if owning a Bongo wasn't cool enough for you could always upgrade to the heavier-duty and larger Bongo Brawny.
6. Mazda Scrum Buster
"Scrum Buster" might sound like something you'd buy to clean your toilets, but the name is actually used on an even smaller Mazda van, this one built by Suzuki and offered in Japan's popular kei class.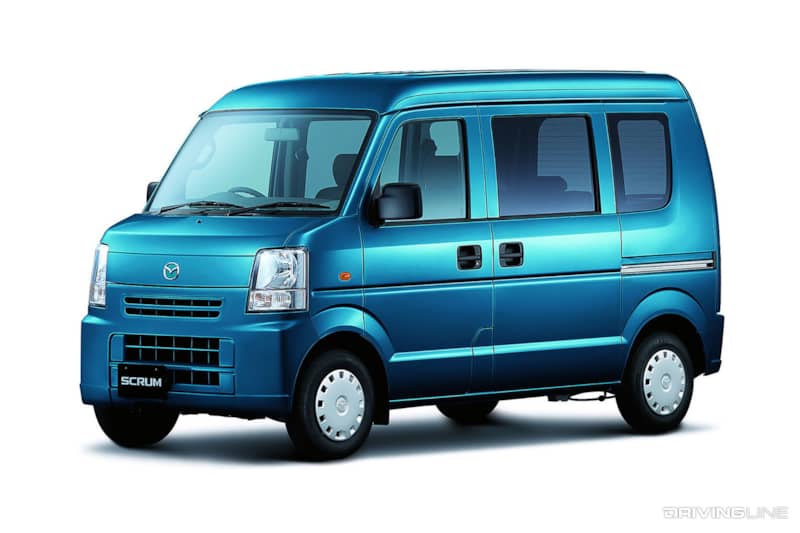 And while Scrum Buster may be pretty funny name for a vehicle, if there's one that feels appropriate for the name it would definitely be a miniature-sized van.  
5. Toyota Fun Cargo
Who says hauling stuff can't be fun? Toyota, that's who. The Fun Cargo was a tall, wagon-esque version of the first generation Toyota Vitz, which has become better known recently as the Toyota Yaris.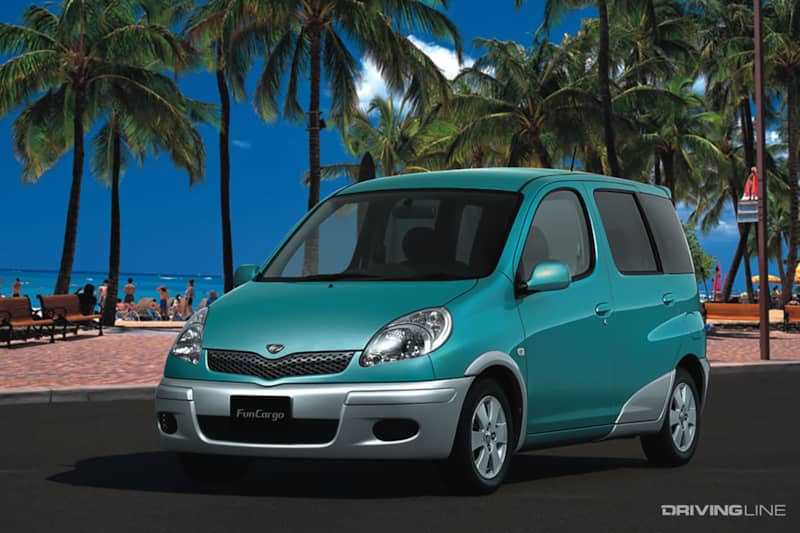 While the Fun Cargo was never offered in the US, it was sold in Europe as the Yaris Verso—not nearly as cool of a name obviously. After all, there's nothing funner than cargo. 
4. Daihatsu Naked
While rugged imported 4x4s can be considered a status symbol on Japanese roads, their costs, and more importantly, their size make them rather difficult to drive everyday.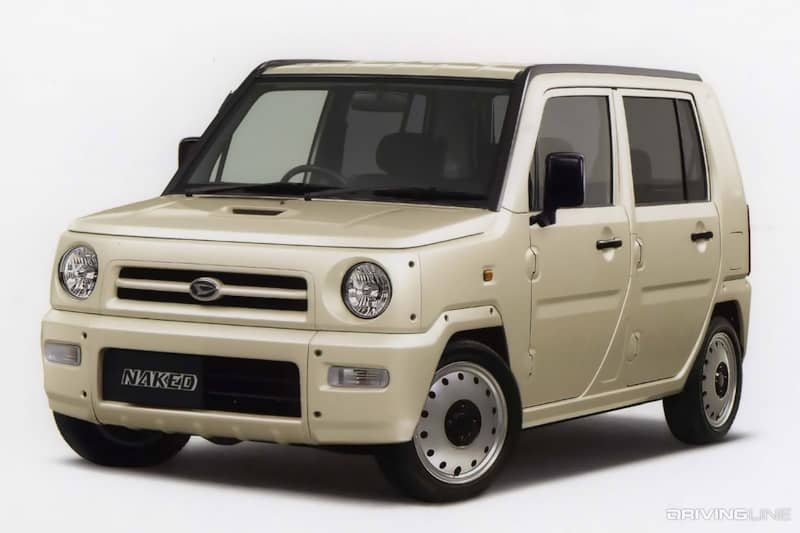 Thankfully there are cars like this Daihatsu which take a Hummer-esque attitude and shrink it down a pint-size , affordable kei-sized hatchback. It's solid idea, aside from the fact that Daihatsu named the car "Naked." You can make your own judgement about what comes to mind when you hear that word...
3. Honda That's
What kind of car is that? Oh, that's a That's. With this Honda kei car produced in the mid 2000s, there are all kinds of opportunities for Abbott & Costello confusion.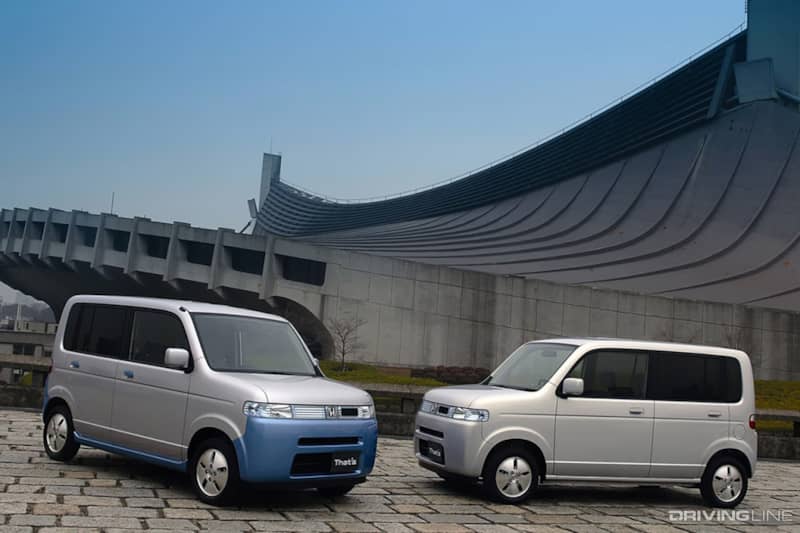 Any confusion over the name will likely disappear though when you peg the throttle and feel its 660 cc engine unleash its approximately 50hp on an open road.
2. Mitsubishi Mirage Dingo Teddy Bear Edition
If you were take the toughest sounding vehicle name you can think of and then come up with the polar opposite, it would be hard to come up with something better than the Mitsubishi Mirage Teddy Bear Edition.
The Dingo was a shortened version of the Mitsubishi Mirage that was offered in Japan during the late '90s and early 2000s, and if the name wasn't kawaii enough already, one could opt for the even cuter Teddy Bear Edition. Hmm...how about a Ford Raptor Teddy Bear Edition?
1. Suzuki Mighty Boy
Last but not least we get to a vehicle that might just be the coolest of this whole group—the Suzuki Mighty Boy. Based on the Suzuki Cervo kei car, the Mighty Boy was a front-engine, front-drive "utility coupe" that was offered during the mid 1980s.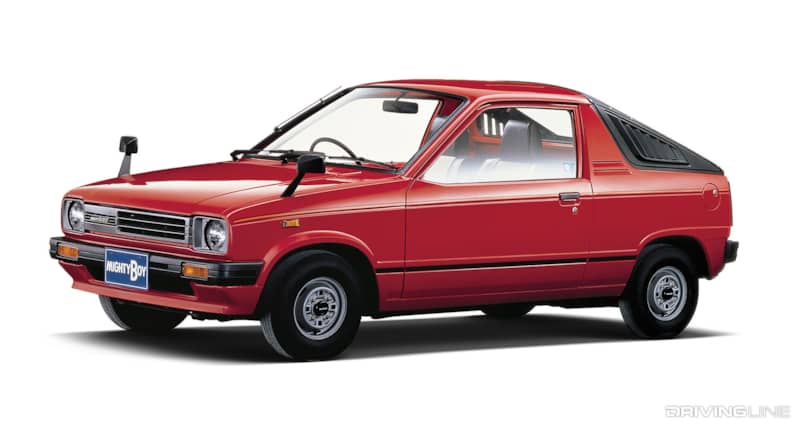 Not surprisingly, the funky shape of the Mighty Boy has earned it a cult following among Japan's classic car enthusiasts, and we'd like to think the name has something do with that appeal as well. 
For more JDM weirdness and other car culture happenings, be sure to check out The Auto Otaku, our latest Vlog series now live on the Driving Line YouTube channel.