Odi Bakchis Wins 2021 Formula Drift Long Beach Event, Fredric Aasbo Takes Championship Points Lead
Story By Joey Redmond
Photos By
Formula Drift returned to the Streets of Long Beach at a very different time of year due to the pandemic postponing the Long Beach Grand Prix. Normally, Streets of Long Beach opens the Formula Drift season in April and drivers fling brand new builds at the walled course inside the heart of downtown Long Beach, California. This year, the series is almost over as this event kicked off Round 7 of the Formula Drift series. Most cars have already suffered lots of damage up until now, so the walls of Long Beach weren't as intimidating as teams find them when starting off a season.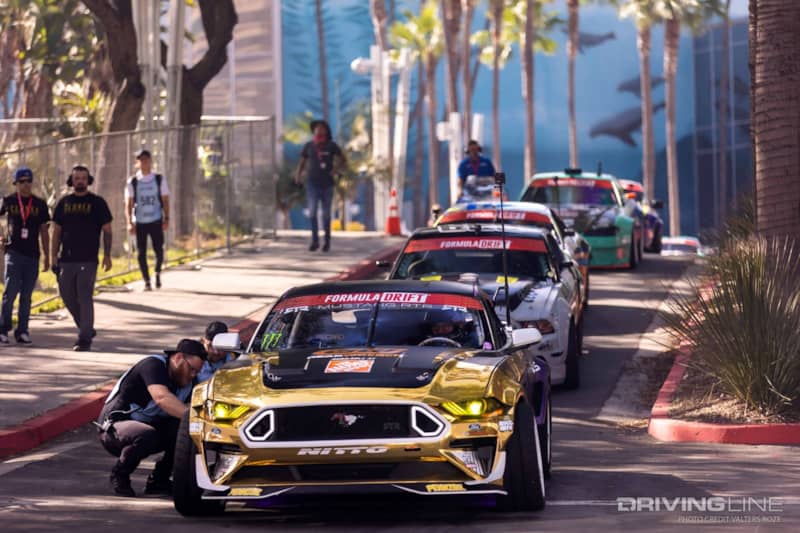 Qualifying
A crazy qualifying session had many fans worrying if Fredric Aasbo could fix his car in time to make a qualifying pass. He crashed in practice, but his Papadakis Racing team put the car together and he qualified second with a mangled and destroyed Toyota Supra! He was only beat by Justin Pawlak who put down a nearly perfect lap that locked him into the highest qualifying position.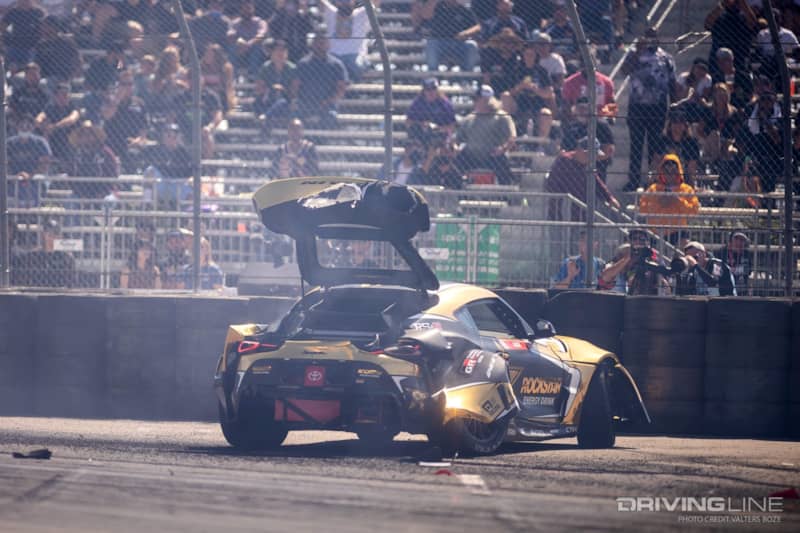 The Walls Surrounding Top 32
Adam LZ took on Odi Bakchis, in what turned out to be the most controversial battle of the weekend as far as judging calls go. A sloppy battle ended up with Odi Bakchis running into Adam LZ which most people thought would push Adam LZ to victory. However, on Adam LZ's chase run the judges deemed he went three wheels off course and issued him an incomplete which gave Odi Bakchis a slight edge and advanced him into the Top 16.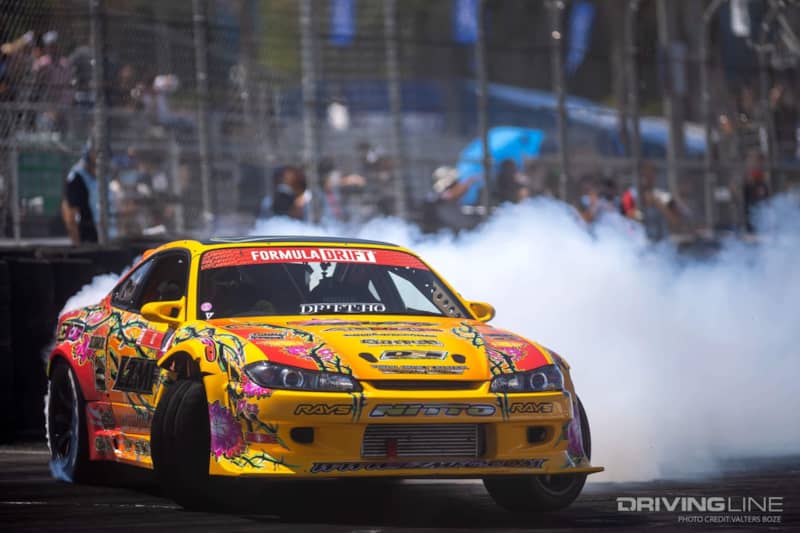 In another collision with the wall, Dean Kearney crashed hard after the touch-and-go (which he hit perfectly) while trying to gap Ryan Tuerck. This let Ryan Tuerck move into the Top 16 with his Nitto NT555 G2 tire equipped Toyota Corolla. Chelsea DeNofa then took out Yves Meyer with a spectacular performance in his Mustang RTR. Closing out the Top 32 was Vaughn Gittin Jr. taking out Rome Charpentier in a close tandem battle.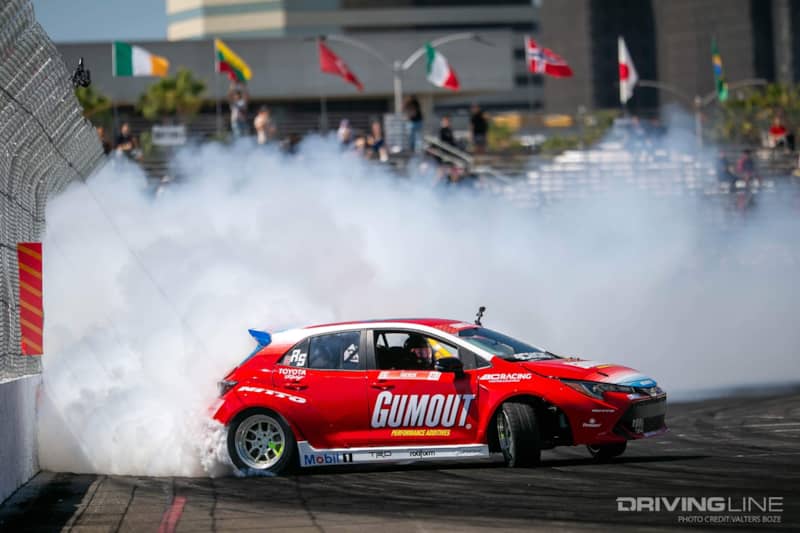 Matt Fields Falls in the 16
Odi Bakchis went way aggressive in the Top 16 and took out the former champion Dai Yoshihara in two close laps! Two judges went Odi Bakchis and one judge went OMT, so it was a close result as he advanced into the Great 8. Fredric Aasbo in his Toyota Supra on his Nitto NT555 G2 tires had a tough battle with Jeff Jones, but won it after two close laps of tandem. He also moved one step closer to becoming the Formula Drift Championship points leader.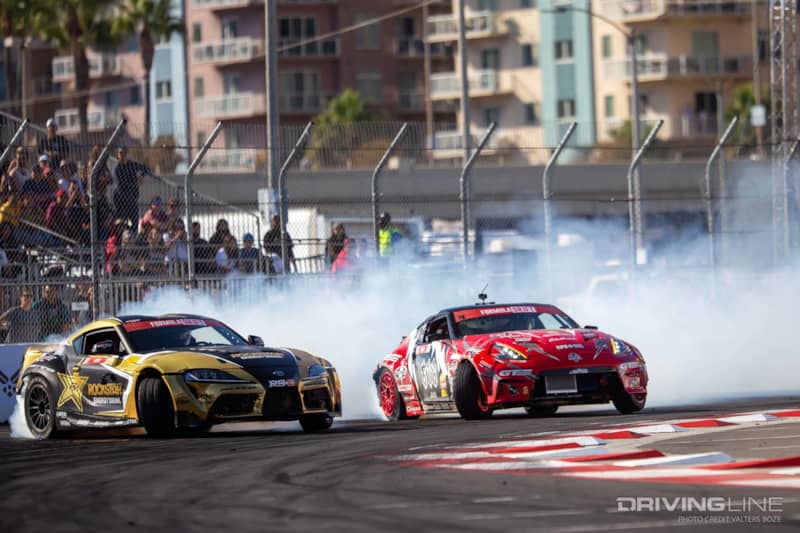 Ryan Tuerck spun his car around in the lead before crashing into outer zone two while driving against Wataru Masuyama, and wasn't able to recover. Ryan Tuerck ended his weekend early after looking great most of the weekend up until he spun. Speaking of spinning, Jonathan Hurst spun on his lead run trying to get away from Chelsea DeNofa which made him an automatic loser in the battle and letting Chelsea DeNofa move into the Great 8.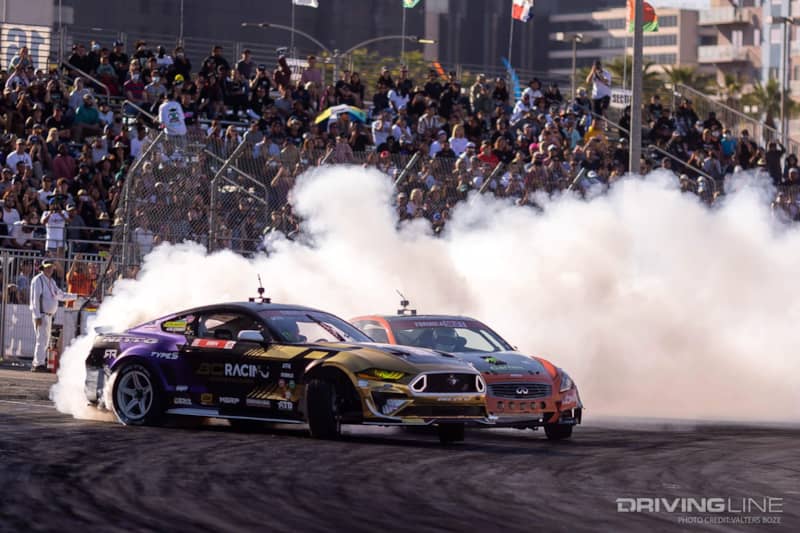 Vaughn Gittin Jr. and Matt Field duked it out and pushed each other to a super close OMT battle in the first run. It was one of those rare moments where all three judges picked a different decision, so it was that close! Since a majority of judges didn't agree, they were sent to go run the tandem battle again. Vaughn Gittin Jr. put on a great chase battle and then Matt Field broke his front left suspension on entry during his chase run. This gave Vaughn Gittin Jr. a victory where he was set to face his fellow RTR/Team Nitto mate, Chelsea DeNofa, in the Great 8.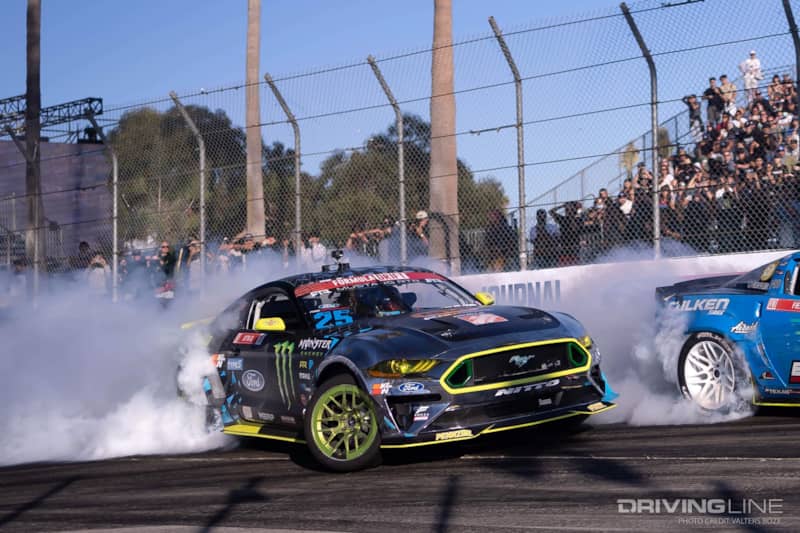 A Great 8 with The Battle of the Mustang RTR Boys
Odi Bakchis squeaked out a victory into the Final Four against Michael Essa who tapped the wall and was forced to make a big correction in his chase run. Fredric Aasbo had a good battle with Wataru Masuyama but the judges sent Fredric Aasbo into the Final Four due to the sloppy nature of Wataru Masuyama's lead run.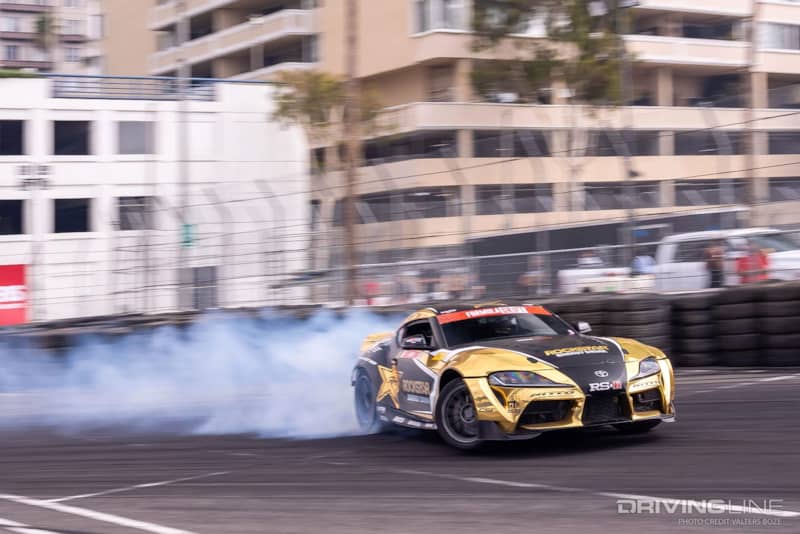 Then, with huge Formula Drift Championship implications, the two Mustang RTR teammates of Chelsea DeNofa and Vaughn Gittin Jr. were set to do battle.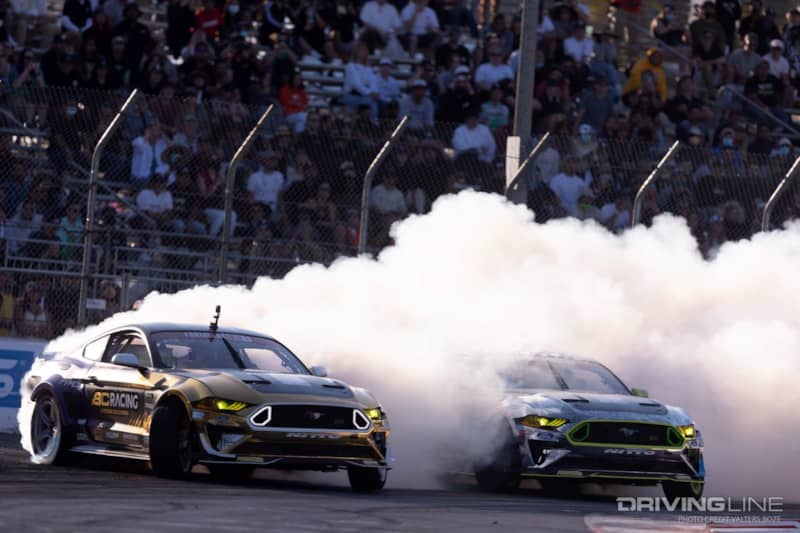 Chelsea DeNofa led the first lap and as they got into outer zone two, Vaughn Gittin Jr. smashed into him and drove right up the side of his teammate's car.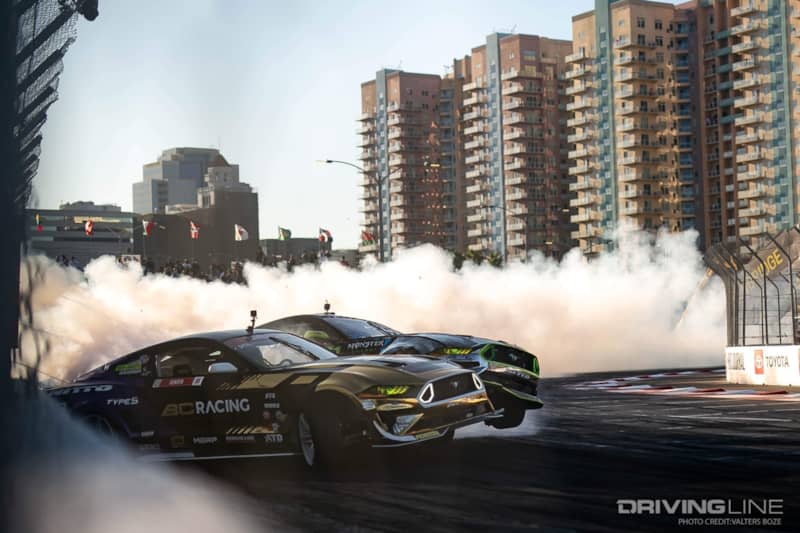 The judges reviewing the footage, found that Chelsea DeNofa was at fault for the accident due to pulling his e-brake quickly in a non-deceleration zone. The Mustang RTR crew repaired both cars to do a second battle and Chelsea DeNofa spun out giving Vaughn Gittin Jr. the final four bracket spot. This positioned Chelsea DeNofa into second place in the Formula Drift Championship points race going into the final round at Irwindale, but ended his day at Long Beach. 
An Amazing Last 4
Odi Bakchis and Chris Forsberg kicked off the final four with one of the best battles of the evening. The judges picked Odi Bakchis to advance into the finals in a really close battle. This forced Chris Forsberg to finish the night in fourth place due to his qualifying position being lower than both drivers on the other side of the bracket. Fredric Aasbo put down a flawless and near perfect 100 point run on his lead lap in his Final Four battle with Vaughn Gittin Jr. and Vaughn was unable to make up the difference in his lead/chase to advance into the finals. This puts Fredric Aasbo into the Formula Drift Championship Points lead before he had his final battle with Odi Bakchis.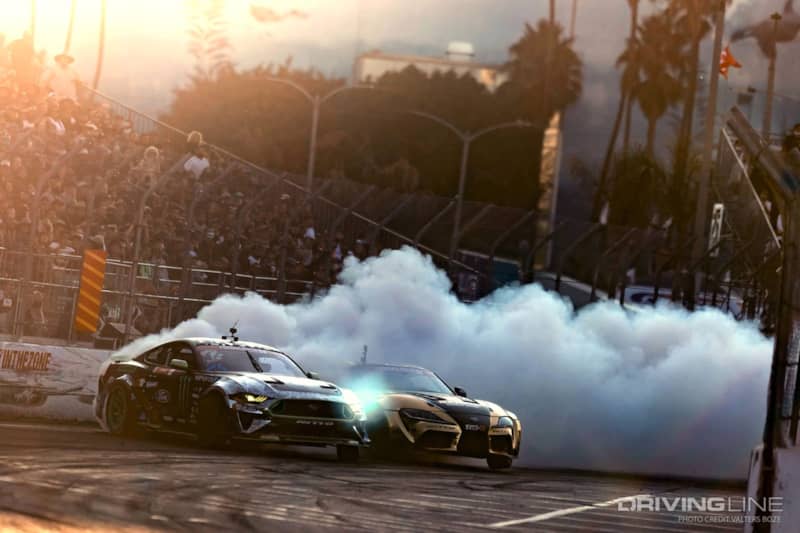 A Sun Setting Final
The sun quickly sunk on the horizon in Long Beach as the final battle kicked off between Odi Bakchis and Fredric Aasbo. Fredric Aasbo put down another flawless lead run but Odi Bakchis really delivered on the first lap with one of the best chase runs of the entire weekend. They flipped the cars order and Odi Bakchis led lap two as he managed to tap two walls while Fredric Aasbo gave chase.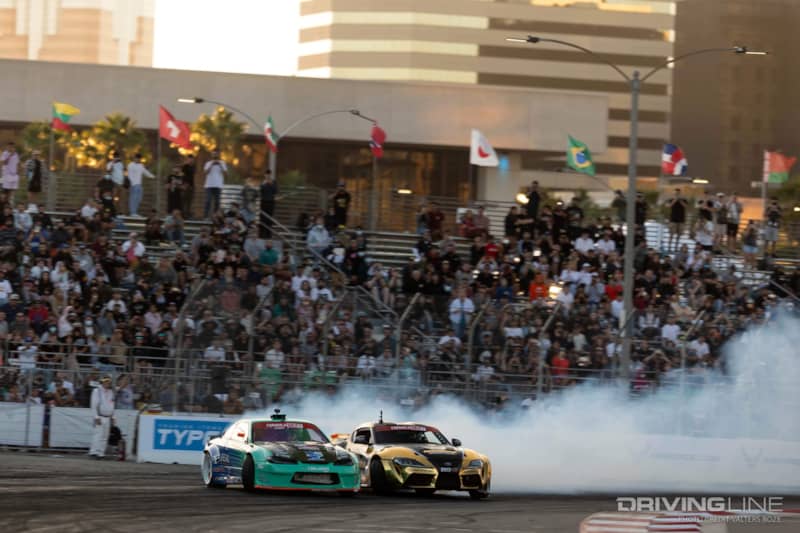 It was an awesome battle, but the judges opted to give Odi Bakchis his second victory of the 2021 Formula Drift season. This marked Odi Bakchis' eighth career Formula Drift victory. Odi Bakchis actually has won at this track before back in 2019 and put himself a realistic 43 points behind Fredric Aasbo heading into Final Fight at Irwindale Speedway next month.