Off-Road Basics: Buy, Build, Wheel
Going off-road is one of the most enjoyable and least expensive automotive hobbies around. With some 'wheeling know-how, a four-wheel drive and a little luck, it doesn't take much to have a great day at your local trail. For those of you new to the off-road hobby, you may wonder if your vehicle has what it takes to survive in the dirt. Here, we're comparing some of the most critical aspects of common 4x4s to help you get a better idea on how your rig will handle the road less traveled. We'll also steer you in the right direction for those of you still looking for the right off-road vehicle.
Size Matters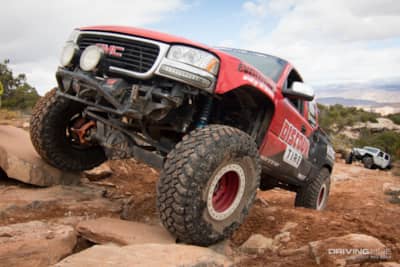 If you've ever wondered why it looks like larger 4x4s tend to have more dents, it's usually because they are more damage-prone on tighter trails. Most trail systems were carved using smaller 4x4s (think CJ-era Jeeps), meaning navigating a fullsize through them can be more challenging. In fact, some trails have gates at the trailhead that limit the width of the vehicles that can enter. While a wide vehicle can be harder to navigate, they can offer greater off-camber stability. Just be aware that a fullsize Ford F-250 is more likely to come off of the trail with serious body damage over a compact Jeep Wrangler.
Wheelbase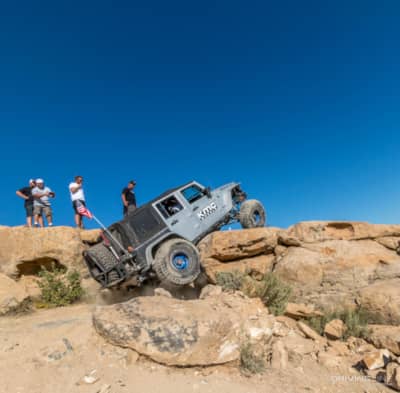 Anything sub 99 inches is considered a short wheelbase. This includes the Jeep Wrangler JK, TJ and YJ. Short wheelbase 4x4s are great for navigating tight trails, but they often come up short (pun intended) when it comes to hillclimbs. At 116 inches, the '07-'17 Jeep Wrangler Unlimited's wheelbase offers a more stable and surefooted approach to climbing. This is one of the reasons why the four-door Jeeps have overtaken the two-doors on many trails across America.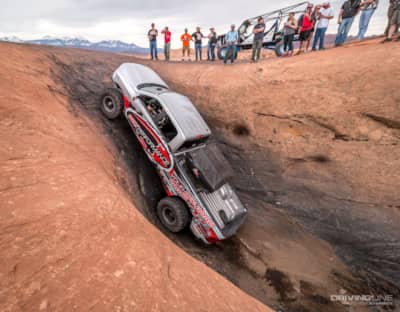 The main drawbacks of a long wheelbase comes twofold. One, you have to worry about your breakover angle more, which can equate to you hitting critical drivetrain parts more easily. To compensate for length, longer rigs often need larger tires (37s and above) and increased lift. The other issue is maneuverability. The longer the vehicle, the tougher it will be to thread through tight trails. This also opens it up for more body damage potential. We like to stick between 101 to 116 inches when possible, as it offers a nice balance of length without the absolute need of a giant lift and massive tires.
Independent Front Suspension (IFS)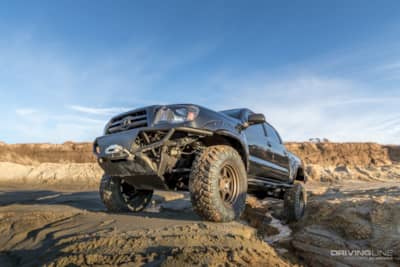 Most modern 4x4s are fit with an independent front suspension. This front suspension design allows the each of the front wheels to move independently from the other. Depending on how the vehicle is supported (air, torsion bar, and coil springs being the most common), it will play a part in how the front end works off-road. Typically, you'll see less articulation out of IFS, meaning you'll be more prone to lifting a wheel on the trail. A tire in the air is one that's not helping you move forward.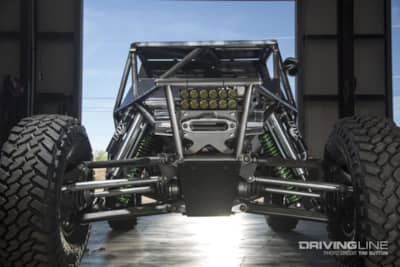 Many desert racers and go-fast enthusiasts prefer an IFS configuration, but these are far from what you'd find under a stock 4x4. Unfortunately, save a few specific vehicles, most IFS-equipped vehicles will be limited by component strength. In fact, tie-rod links, axleshafts, control arms  and ball joints are all common failure points on a given IFS vehicle. Depending on the application, there are aftermarket items to help beef up your IFS front end. Driving style and tire size both play a large role in preventing IFS failure on the trail.
Solid Axles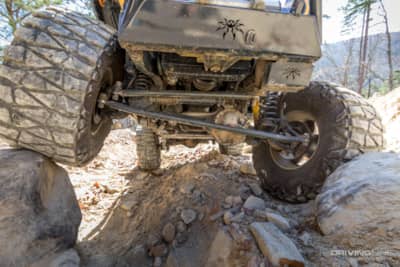 One of the reasons vehicles such as the Jeep Wrangler remain such a popular off-road platform is the fact that still has solid front and rear axles. What a solid axle offers you is a more durable and off-road proven drivetrain. They are easy to upgrade and very predictable off-road. By disconnecting the front sway bar on a given solid front axle, you will allow the axle to articulate and cycle more easily. This will help it adapt to the terrain and keep the tires on the ground. When it comes to going off-road, solid axles are still the mainstay.
Weight Matters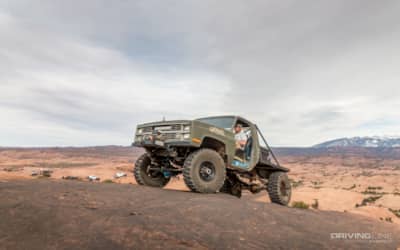 When you're going for a hike, you want to carry as little as possible to reduce the strain on your body. The same philosophy is true for a given 4x4. The more weight it's toting, the harder it will be for it to power through the trail. While you can't do much about the base weight, you can be more weight conscious when building your 4x4. Removing doors and swapping out heavy steel for lighter aluminum can make a noticeable difference in how your rig performs on the trail.
Differential Lockers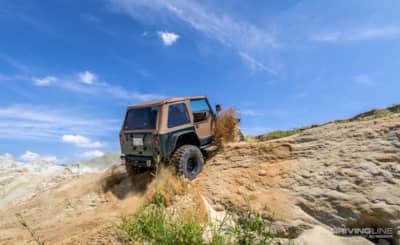 Most standard four-wheel drives are equipped with open differentials. The way an open diff works off-road is by sending power to the 'wheel with the least amount of resistance (traction). This is why you often see people stuck in "four-wheel drive" with only two tires turning. Aside from a good set of tires, one of the best investments you can make to your 4x4 is a set of differential lockers. By locking the differential, you make sure that both tires on a given axle turn at the same time. This means even if you have a tire in the air, the one on the ground will continue to fight for traction. If you can only afford one at a time, be sure you outfit the rear with one first. Being locked front and rear will open up new line choices off-road and make your 4x4 more predictable.
Tires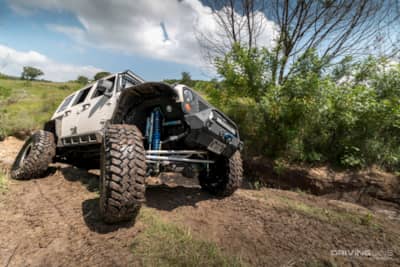 The type of terrain you have around you will likely determine the best tire for your vehicle. It is seldom that will you have a true off-road oriented tire on a stock vehicle. We suggest a mud-terrain for those starting out as it will often aid tremendously in the vehicle's performance. Tires such as the Nitto Trail Grappler are a great fit for those looking for a durable mud-terrain radial that can handle all conditions. If you think you want something slightly tamer, a Ridge Grappler is an excellent alternative.
Wheels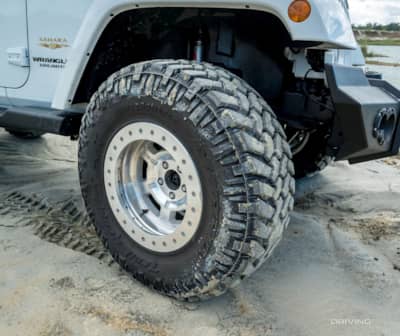 You may notice that many off-road rigs have beadlocks wheels. These are not a style trend, but rather a functional piece of equipment. A beadlock wheel works by clamping the bead of the tire to the wheel. This is mostly commonly done via an external ring that is bolted to the wheel. By locking the bead of the tire to the wheel, you can air down into the single digit range on the trail without worrying about the tire separating from the wheel. Lower air pressure on the trail allows the tire to conform to the terrain and equals a softer ride for you. If you can't spring for a beadlock wheel, we recommend staying above 10-15 psi, depending on the application.
Approach/Departure Angles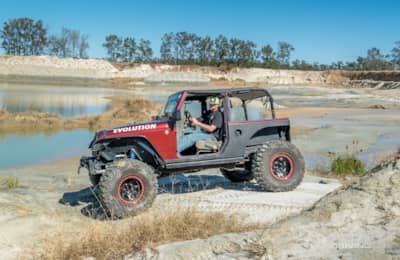 When it comes to driving in the dirt, you want as little bumper blocking your tires as possible. This is true for the front and rear of the vehicle. The farther your body extrudes past the wheels, the worse your approach angle will be. Same goes for the back. If you have a tremendous amount of body hanging past the rear tires, it can easily hit and hang you up off-road. Some vehicles can be modified easily to accommodate aftermarket bumpers that provide increased approach and departure angles. Others may require extensive fabrication.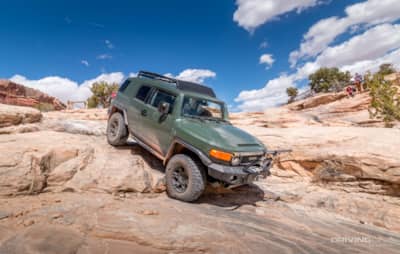 These are just a few of the things to consider before purchasing or opting to build a four-wheel drive to explore the great outdoors. We understand not every trail is extreme and there are plenty so-called "Jeep" trails that you could take a Subaru Outback down. However, if you are an active off-road enthusiast, you'll eventually find the more adventures paths for which our guide will be extremely helpful.