Off-Roading at Fortune Creek Trail | On the Trail
This month On the Trail took to Washington's Fortune Creek and Gallagher Lake OHV in the Okanogan-Wenatchee Forest (and incidentally brought DL's Mike Sabounchi out of his nice, warm California comfort zone at the same time). It's a convenient getaway for local off-roaders looking to escape the urban confines of nearby Seattle and explore the scenic Pacific Northwest for a little bit. All it takes is a two hour drive from the city and you're surrounded by picturesque mountains, forest, and lakes as you hit the trail.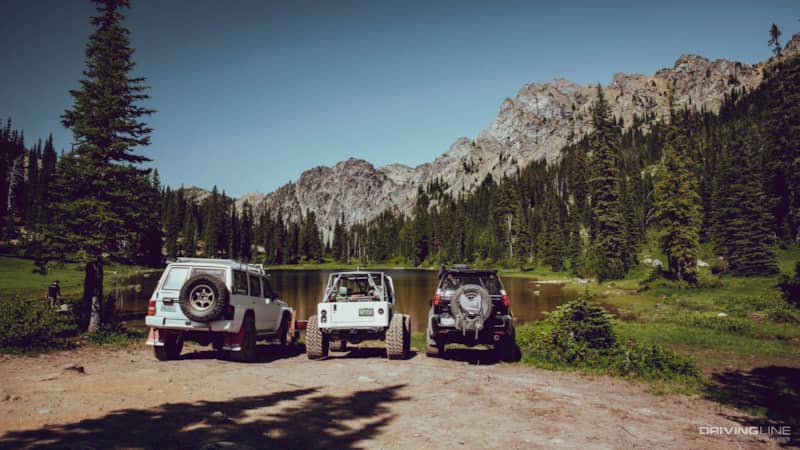 Today's Special Guest Stars
Kyle Saito (@pnw_patrol) and Luke Schuman of Hazzard Fab Worx (@thelukeofhazzard) joined Mike for the trip this time. Kyle's ride of choice for the trip was a 1991 Nissan Patrol on 37-inch Nitto Ridge Grapplers. He imported it from Australia. It also has four inches of lift, front locker, skid plates, rock sliders, and overlanding gear.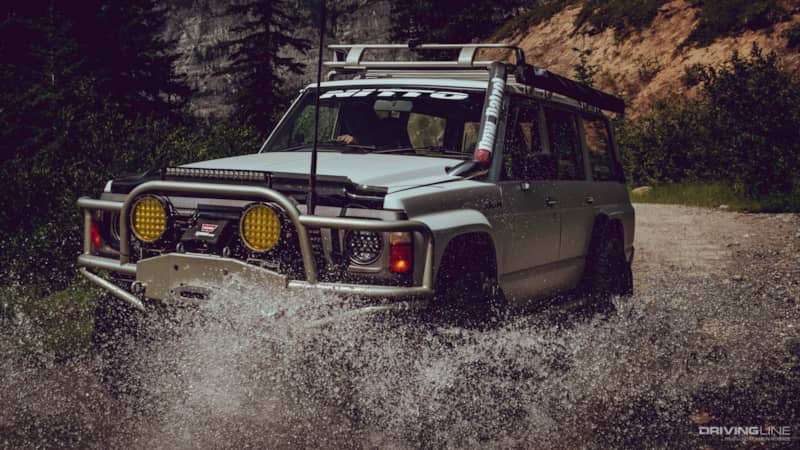 Luke brought even more of a surprise for the excursion. Or as they've been calling his vehicle around the shop, "a mullet of a Jeep." It's a `91 Jeep Wrangler tub and frame with a Jeep CJ nose, powered by a LS engine, that rides on TR Beadlock wheels in 40-inch Trail Grapplers. It also runs Jeep's manual transmission and fabricated 10-inch housings.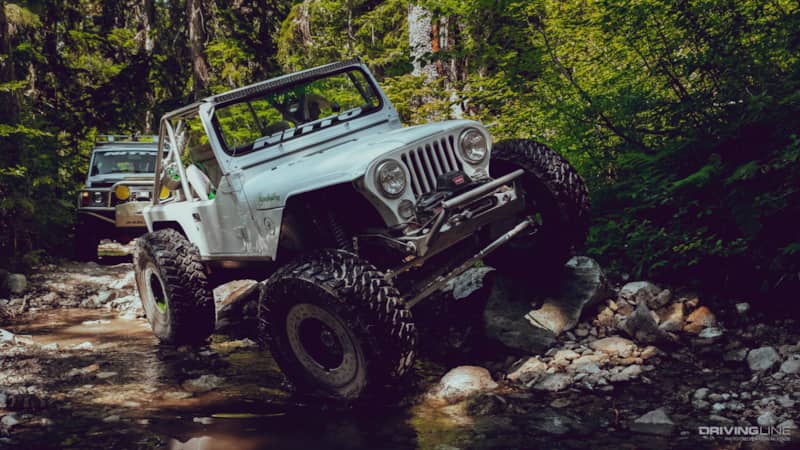 Mike's 2009 Lexus GX470, on the other hand, was actually born in this century. It's not as heavily customized as the two older `90's rides his buddies are running but it also isn't going to be eating off the senior's menu at Denny's any time soon, either. His Lexus carries an Eibach lift and runs on Nitto's new 35-inch Recon Grapplers. Together the three vehicles represent a good range of customization, from Mike's lightly hopped up GX470 to Luke's mullet in Jeep's clothing, with Kyle's ride in between.
Run What Ya Brung
Food, water, shelter, and basic tools are essential for any day of off-roading. The best part of the trip is you'll never know what you're gonna get. The worst part of the trip is you'll never know what you're gonna get. You may come across the greatest photo op you've ever seen. And you may get hung up on some unforeseen obstacle getting to it. Having the right stuff for the day's terrain is vital also. In a forested area like this, Luke advises having a chainsaw handy both for cutting away downed trees across a trail or for building a fire in case you're staying late. As Kyle points out, the Pacific Northwest's infamous rain makes for slick driving so lockers, winches, and recovery boards are really helpful in this environment. Researching the trail ahead of time to formulate your plan of attack is always a great plan in and of itself.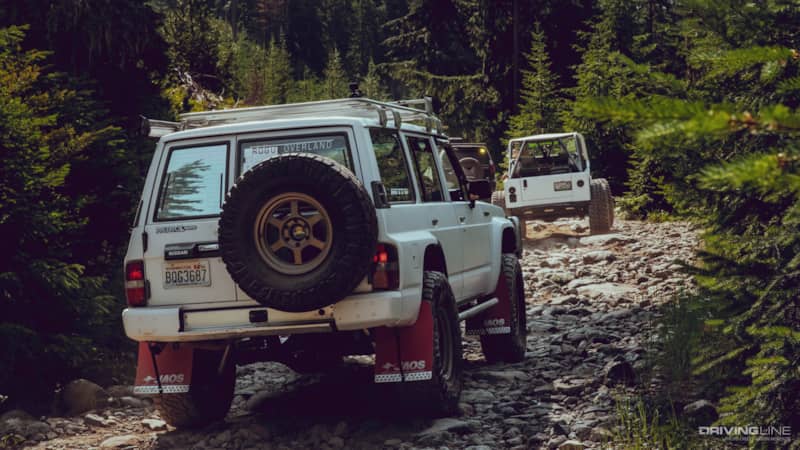 The More You Know
After loading up and getting ready to go, the team headed onto the trail in the Okanogan-Wenatchee National Forest. With almost 6000 square miles of trees and mountains, it's the largest national forest in the Pacific Northwest. It stretches from just south of Mount Rainier all the up to the Canadian border.
Mike had aired his rig down to around 19 psi and at that pressure his tires really soaked up the rocky trail. It's a very different animal from the more dirt- and sand-laden off-roading he's used to further south in California. There was much more exposed rock this trip. And that's a good thing; it allowed him to expand his knowledge into something new.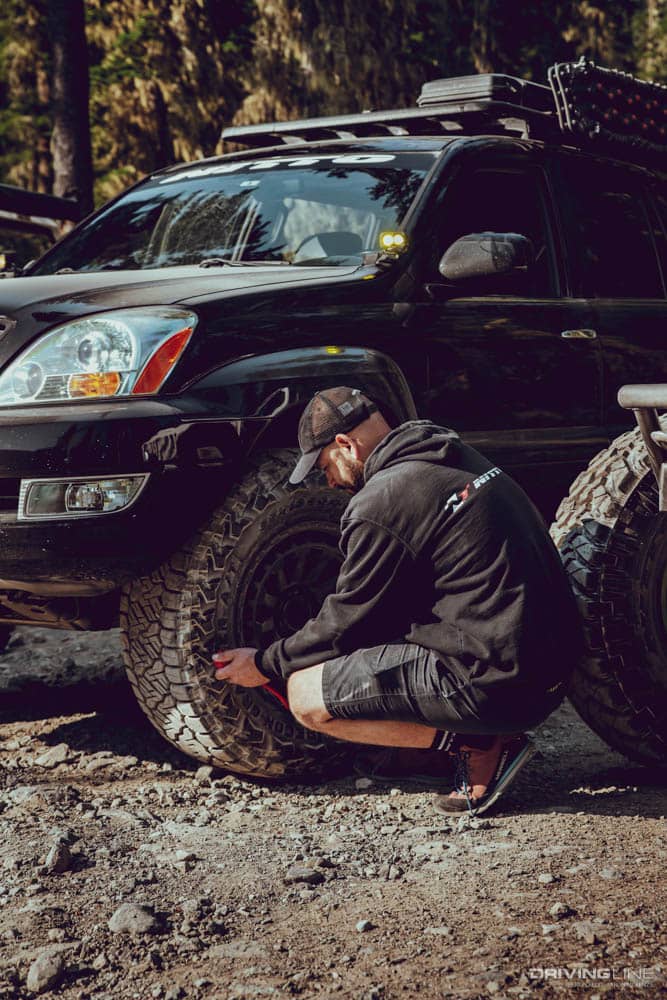 Meanwhile, Luke thoroughly enjoyed just getting into the woods and enjoying the primeval nature of forest off-roading. Life is good in the woods and so's the energy that comes with it.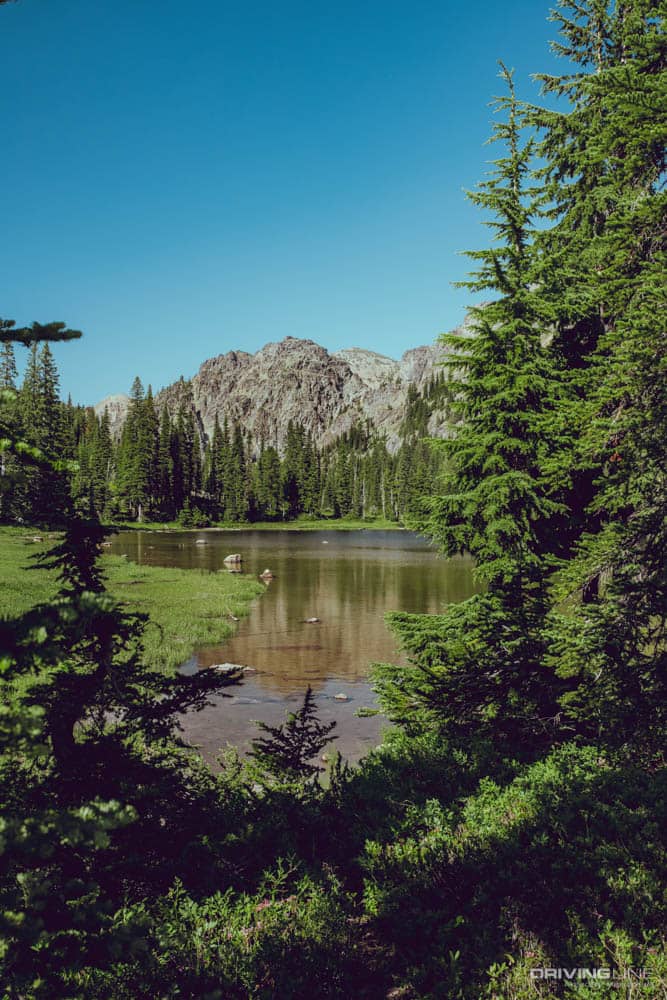 Van with a Plan
Shortly thereafter karma presented the group with the chance to pay some of that energy forward. They came across a group of van-lifers whose very on-road van suffered a very off-road flat tire. Our crew was the first group of people these folks had seen in the two days' they'd been stranded. Naturally, we stopped to help them out with our handy-dandy bottle jack.  Having a compressor and tire repair kit is always a good idea on or off the pavement; so is the know-how to use them. Luckily, we had all of those. 
In a nutshell, a loose rock poked its nasty little head between the treads of the tire. Nitto tires have steps in the tread to kick those rocks back out. This damaged tire's nameless manufacturer didn't include that luxury, though.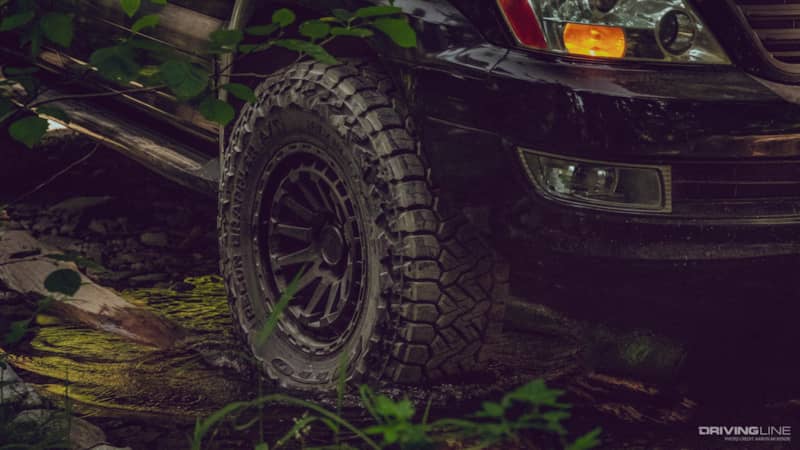 Taking a Leak
Before we got back under way, we ran into a problem of our own. Luke's Jeep was bleeding a nice oil puddle under it. His first order of business was cursing at it, like you do. The second was finding the source of the leak and figuring out how much oil he actually had left. It seemed that the factory sensor that controls the oil pressure gauge had failed and had oil bubbling out of the top of the sensor at its two-prong connector. Which brings us to another good thing to pack in your off-road vehicle's first aid supplies: JB Weld KwikWeld. Is it the perfect solution? No. Was it the perfect solution right then? Yes. As he says in the clip, Luke's fixed all kinds of problems with it in the field: radiators, the oil leak in this case, and more. After letting it setup on the sensor for a bit to take hold, we were back in business (albeit with a pinhole at the sensor still, but it was fixed enough for now).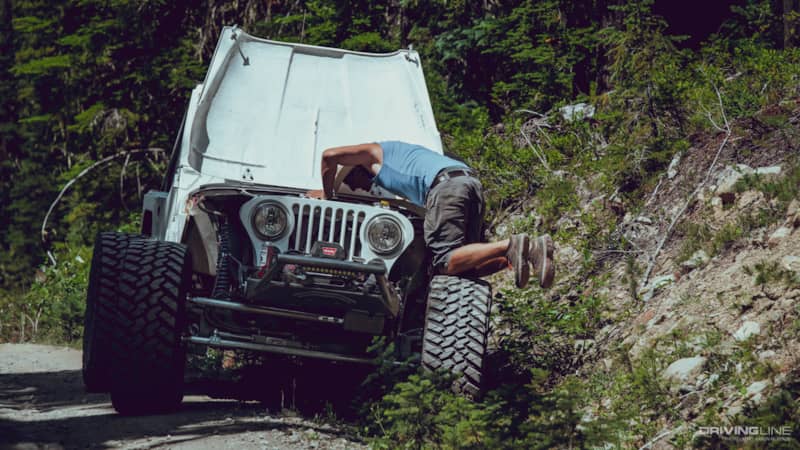 Rock On
The next part of the trip took the guys over a blend of creeks and rocks. At one point they even had to do a little scouting on foot at a tight spot. It was a good test for the new Recon Grapplers Mike had on his GX470. The all-terrainer soaked up everything he threw at it that day without so much as a wheel slip. He couldn't have been happier with them.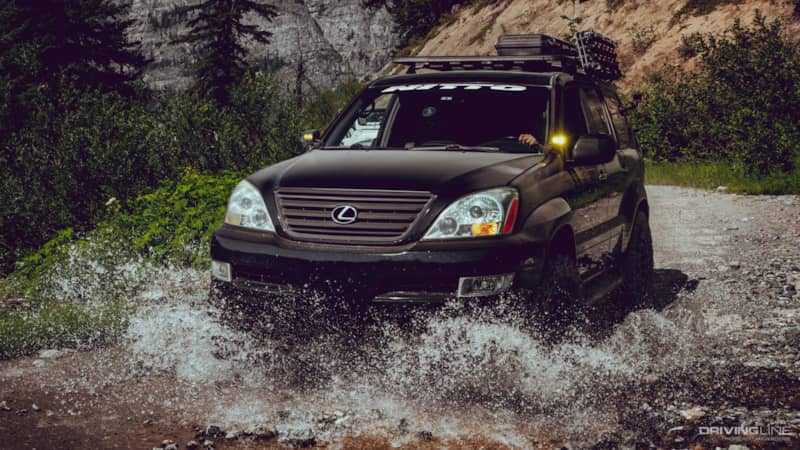 That let him focus more on enjoying the drive than fighting the trail. Which, of course, lets you enjoy seeing all of that scenic beauty. Not just the trees and rocks but also any wildlife that happens to be nearby. Out here, you may come across grizzly bears, lynx, wolves, or even wolverines. All of which are fun to watch. None of which make nice house pets.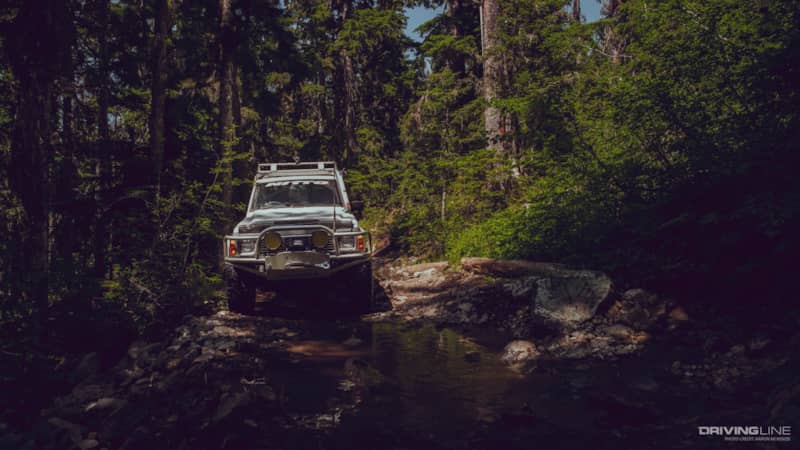 Near Gallagher Head lake, Luke checked in on that oil leak. Pressure had turned it from a drip to a little squirt at the fix. Not enough to stop the trip but once they make the turnaround for the trip back, he'll take lead so he can just motor on back to base.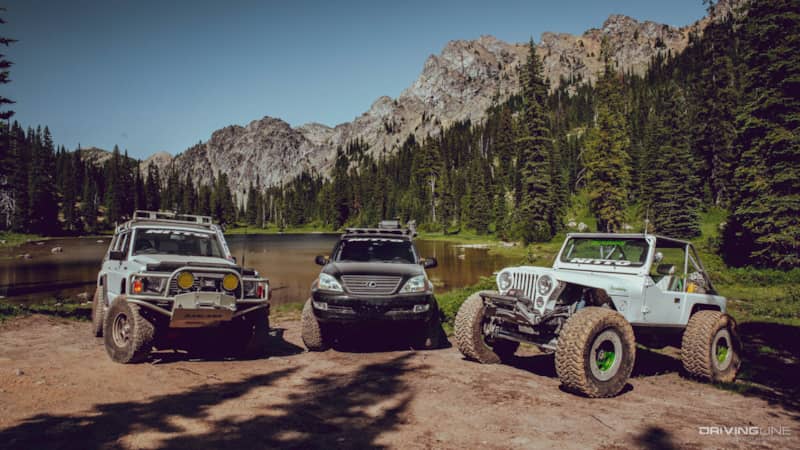 Final Thoughts
The lake was trail's end for the ride out and with that came reflection on the path out before heading back. As Mike points out, the trail got more and more difficult the further they explored it. Not that the obstacles were super technical but because they get increasingly difficult the further you get along the six mile stretch of trail to the lake. As you can tell, being prepared really, really helped this particular trip. It made all the difference.