On the Trail: Hog Canyon OHV in Kanab, Utah with Mel Wade of EVO Manufacturing
Should we have told the On the Trail crew that Montezuma's treasure may be buried in the mountains around Kanab, Utah before sending them to nearby Hog Canyon OHV? Meh, they can read that here in the recap of their trip. Jump to the video here.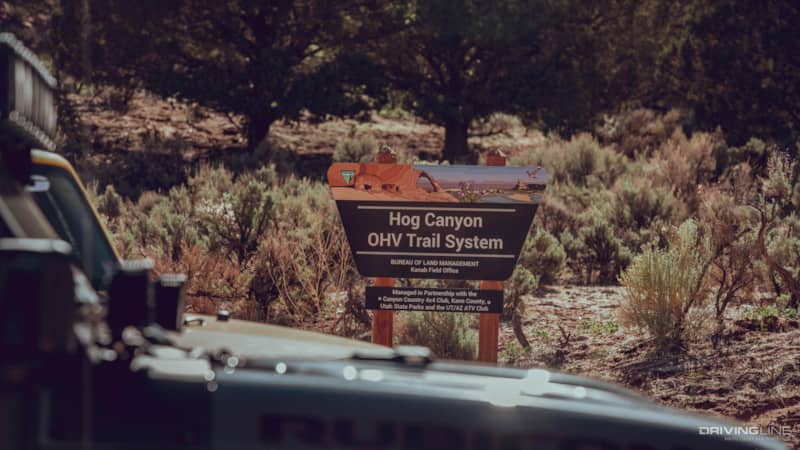 Starry-eyed delusions of untold Aztec riches aside, Kanab has also been the backdrop for its share of Westerns, ranging from 1939's Stagecoach to TV classics like Gunsmoke, The Lone Ranger, and Death Valley Days to 1976's Clint Eastwood classic, The Outlaw Josie Wales. Even footage for the 1968 sci-fi icon Planet of the Apes was shot here. Which means there should be some compelling scenery for this edition of OTT in Hog Canyon.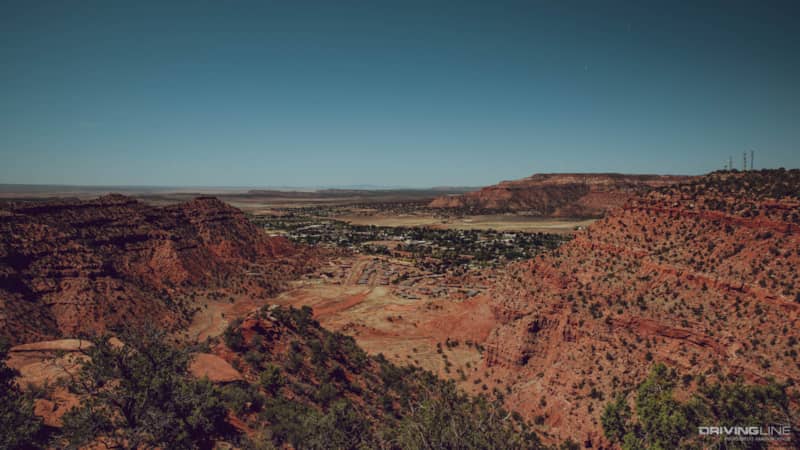 Hog Wild
Mel Wade of Evo Manufacturing brought his daughter, Harley Wade, who runs Evo's custom shop, Offroad Evolution, and Driving Line's own Randy Wilcox out to Hog Canyon to take on the blend of sand and rocks that is this scenic and challenging trail system. It's a technical off-roading playground with 30 miles of trails winding through spectacular terrain. Not only that, there's a little something for anyone, beginner to hardcore veteran. You'll find the gamut of desert driving from easy-peasy sand surfing to extreme rock crawling.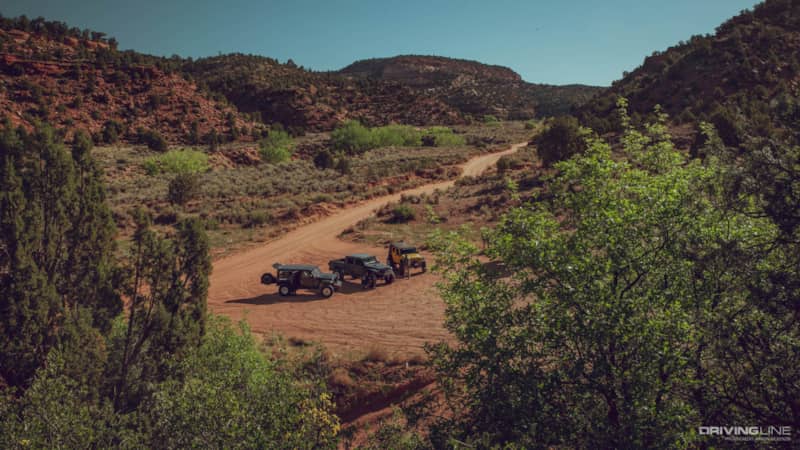 The trio brought three Jeeps for the job. All three are in full Rubicon trim with Evo Manufacturing coilover kits and Nitto Trail Grapplers (ranging in size from 37- to 42-inch). Randy is running a Wrangler JK, Harley is piloting a Wrangler JL, and Mel has a 2021 Gladiator JT Diesel with the 42-inch Grapplers on a 20-inch KMC beadlock.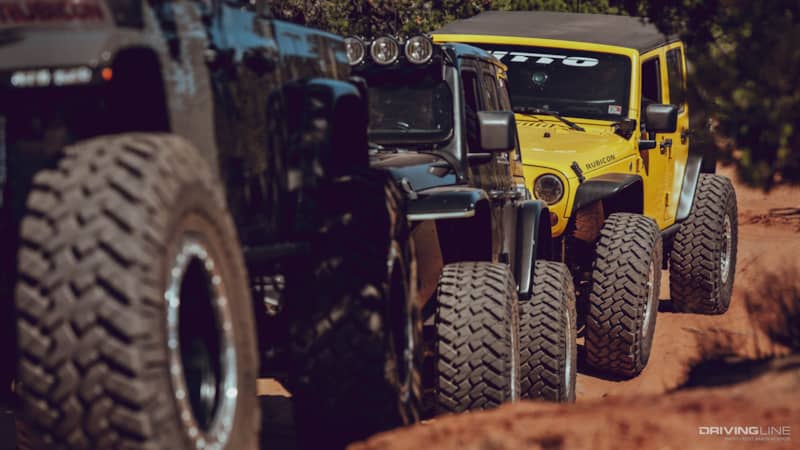 Seeing as how Hog Canyon lies between Sand Hollow and Moab just north of the Arizona border, it's no great shocker that it offers some terrific desert driving and scenery. Fresh off of Cinder Hills in the last edition of On the Trail, all three of our drivers agreed to tackle the rough stuff. With its blend of steep inclines, rock, and narrow passages, Hog Canyon was happy to oblige. If you come out here, just keep an eye out for hikers and bicyclists sharing the trails. Having said that, leave your street vehicle at home. Hog Canyon's rough terrain will make it cry, spank it, and take its milk money.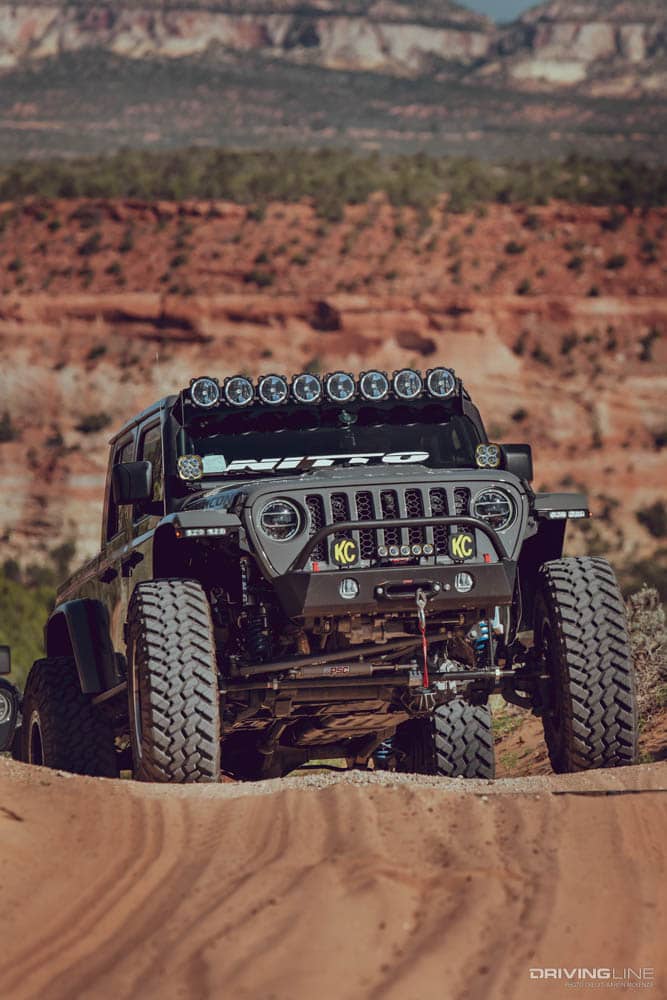 After airing down the tires, the excursion got underway. The group started off with some sand, which was a good way for Randy to get used to his Jeep and its new suspension.

Locked and Loaded
As they made their way to the first real rock ledge of the day, they stopped to scout a line on foot before taking it on. All three got through the initial challenge with no problems but for the next part, it was time to engage the lockers. Mel says that having both lockers on is important. He also noted a little breakover; getting high centered over it would be something to avoid. All of this underscores the importance of walking out a path before hitting it. Balanced wheel speed would be key here. You want enough to get up and through but too much and you may break an axle. Not only does foot recon help with your plan of attack, it also lets you take in all of the scenic beauty a view like this has to offer, just as Mel noted at this point.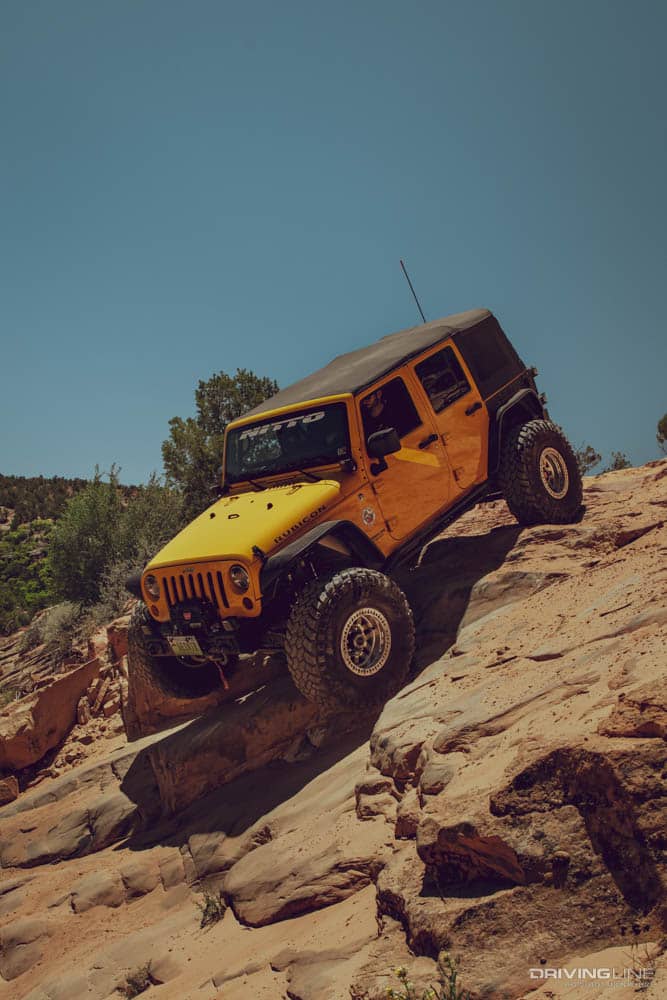 Plan in hand, our heroes took to the climb. At one point, Mel pointed out that if you're in a stock vehicle, when there's a chance of getting the belly pan caught on rock, taking a steeper climb and getting a wheel up on one of the side edges gives you the clearance you need to get over it. Between both lockers and the 40-inch Trail Grapplers, Randy, who had very little familiarity with this particular Jeep, had no problem getting up and over the rock. Taller tires made rolling over those rocks much easier.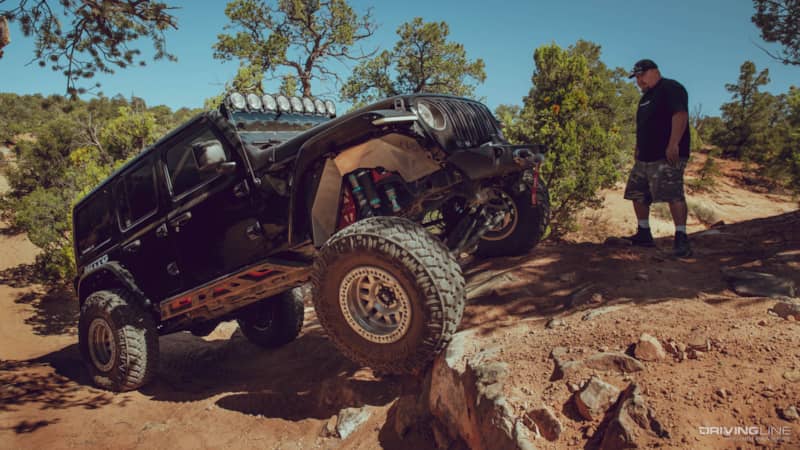 Hitting the Hard Stuff
At this point the group found itself surrounded by Utah's famous red rock country. They wound through tight, overgrown trail to an overlook offering full view of Kanab. Mel and Harley showed us about that balance of speed in going over an obstacle in sandy rock before moving on to the next phase: Red Diamond Trail. With so much variety in a trail system like this, paying attention to the trail markers is very important. They give you difficulty ratings for what's on that leg of the journey so you don't get any big surprises that you can't handle.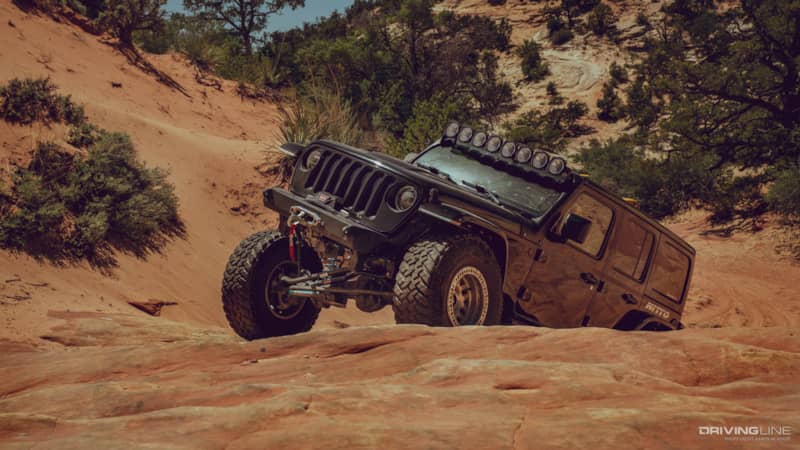 Or spur you on to glory if you're feeling it, which we were. Mel lead the group in attacking a difficulty seven path. Translation: a big ol' steep rocky incline. He walked it, talked it, and then the three explorers hit it. They took a steady pace going up and...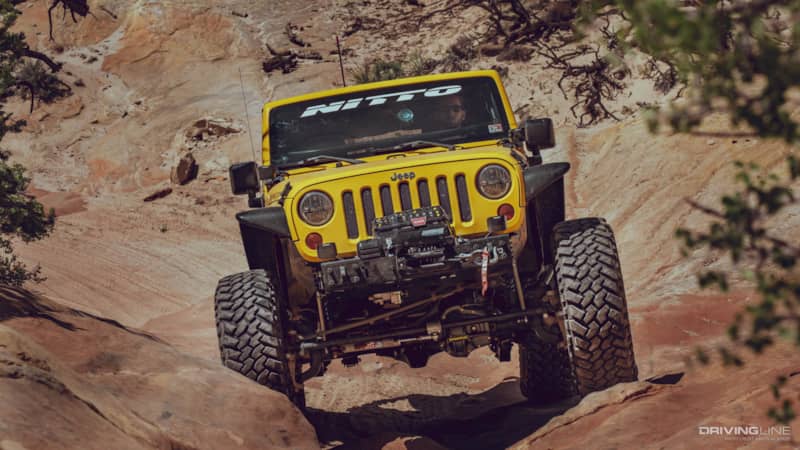 ...came to the real obstacle. The downside. Or, as Mel called it, "The point of no return." It was the sort of obstacle that's no joke. One misstep and a fun day's off-roading turns into a gigantic problem. Navigating to the bottom isn't for a beginner but the real boss monster would be climbing up and over to get out the other side. What made it so challenging was the sweet blend of steepness and slick rock surfacing. Mel went to the bottom and used his comm system to guide Harley and Randy down. In a situation like this, even the best tires struggle for grip so being pointed where you want the vehicle to go is essential in case you start sliding. Still, it was scary enough to where we were off-camber more than we'd like but our drivers made it down the initial part with no issues.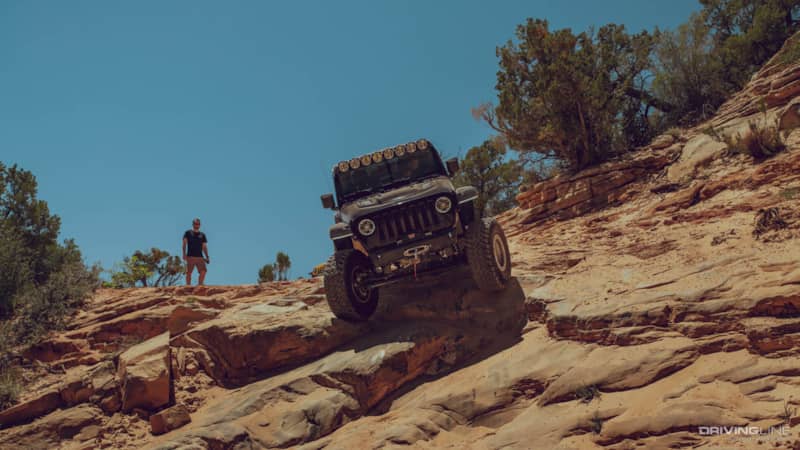 But they weren't at the bottom yet. One problem with the path ahead was that it was practically blind at this point. This is why it's even more important to walk out an obstacle before diving into it, especially for novice drivers or if you've never seen it before. Our drivers got out and hiked the trip ahead to figure out the best strategy. Four-wheeling, like any other form of motorsports, always has its risks. Understanding (and respecting) the potential consequences is the most responsible thing you can do. There was a gnarly drop-off up ahead; the sort of bad surprise you don't want do meet unawares. Luckily, all of our Jeeps were outfitted for taking on hard challenges, up to and including good recovery gear. What ensued was a mix of twists, turns, and almost vertical inclines and declines. What made this stretch of the trip so difficult wasn't any one thing; it was all of the things. And did we mention that the rocks were slippery too?
Gold Fever
Having gotten down and back up again, they came to a little challenge named, "The Devil's Throat." It's a steep, sandy climb that lived up to its name but with the right plan and the proper execution, the team overcame it. By this time the sun was getting low as they made the run to Buggy Playground through red sand illuminated with sunset gold.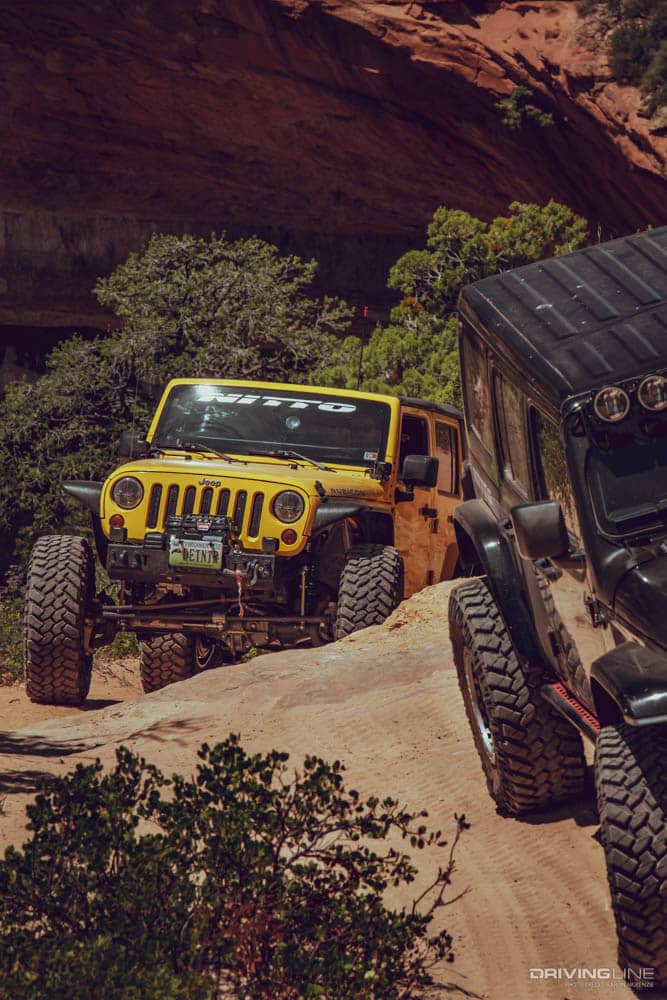 Which is not to be confused with that Aztec gold we mentioned earlier. See, back in 1914 a guy named Freddy Crystal showed up in Kanab claiming that while conducting research in Mexico, he found out that Montezuma's infamous treasure hoard was hidden in the surrounding mountains. Why Montezuma's troops would have chosen Utah for that when there are plenty of perfectly good hiding places between his empire and Kanab is anyone's guess, but that bit of logic didn't stop him. What is a fact is that Crystal and others rooted around the area until the government killed plans to drain a nearby lake. Treasure seekers believed the loot was hidden in an underground cave. The lake was also one of a few refuges for the Kanab amber snail which is the given reason why they nixed the project.
So no, our team didn't find it either. But maybe we can talk them into going back to look for it...