Pack Mule: How to Fit Overland Essentials in a Compact 4x4
A reader expressed surprised that we were able to overland for several days in a two-door Jeep Wrangler. He asked if we would share what gear we pack and how we manage to fit everything in the small cargo space. A 2DR Wrangler is certainly not the ideal overland vehicle, but that's what we own, and over the years we have figured out how to make it work without compromising comfort or safety.
It's important to be prepared for emergencies anytime you head into the backcountry, but when you are traveling solo without another vehicle, it can mean the difference between life and death.
1. Basic = Best.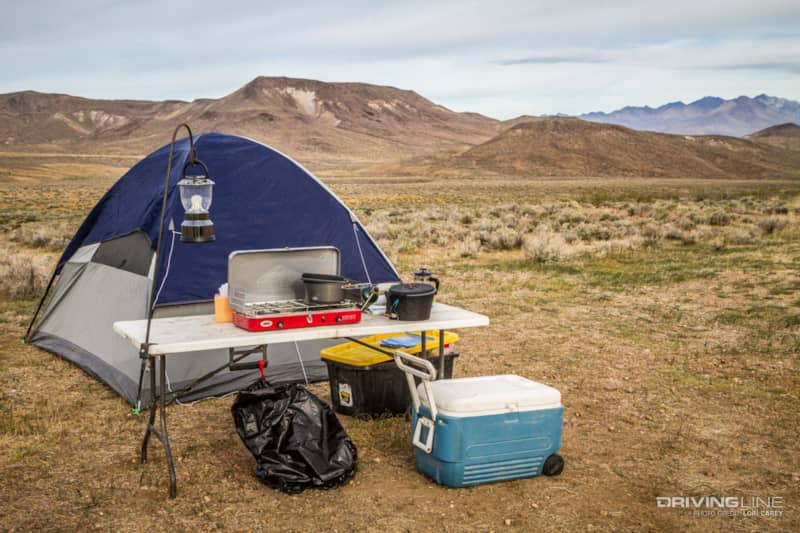 Most people think of overland camps as luxurious setups with all the comforts of home. We often find that elaborate camps are better suited to base camping. If you are truly overlanding, traveling every day and setting camp in a new location every night, you want to minimize the time and effort spent setting up and breaking down camp. Our camp is very basic, but it has everything we need for a comfortable night after a long day on the trail.
2. The More Water, the Better.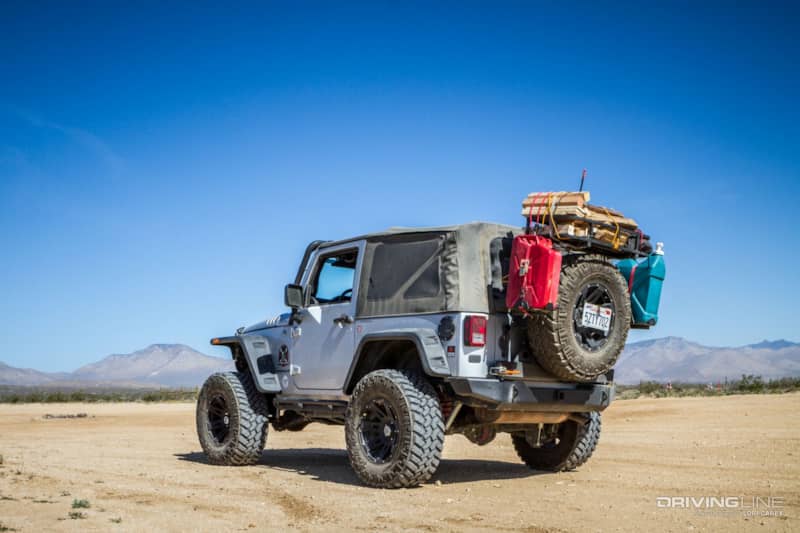 We primitive dry camp in remote desert locations, which means we need to carry firewood if we want a fire, and we need to carry water. We are absolute freaks when it comes to carrying enough water after we had a brush with dehydration while hiking several years ago. The bottom layer of our cooler is all bottled water. We have the full 20 liter Jerry can and a 2 liter hydration bladder rigged up to the driver seat, so we can take a drink without having to stop and dig out the cooler. That's enough water for hydration, several pots of coffee, cleanup in camp, replenishing the Jeep if it overheats or leaks, and extinguishing campfires. Plus, we have a comfortable margin if we get stuck for an extra day or two.
3. Get Gas.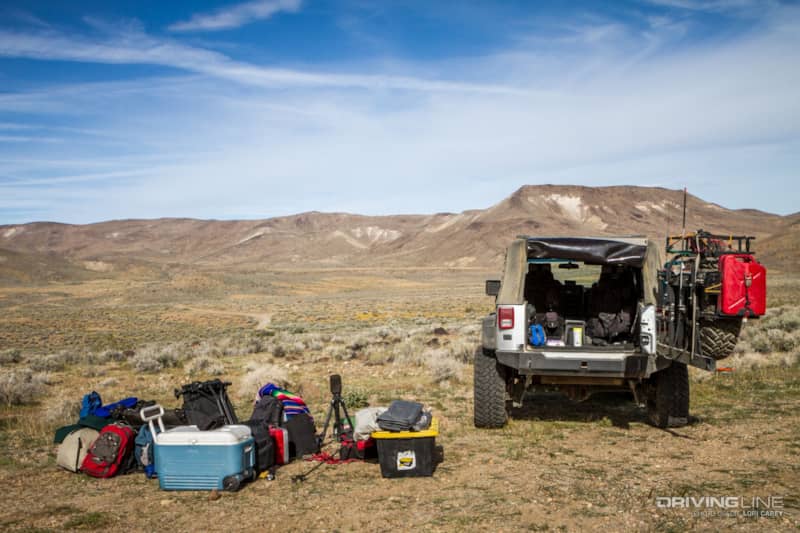 We also need to carry gas because gas stations are few and far between in the Mojave Desert. Our tire carrier has mounts for two traditional Jerry cans, as well as a trail rack over the spare for light gear. A Hi-Lift jack is also mounted on the tire carrier.
4. Pack Like a Pro.
Here's our typical packing list:
Large folding table. We used to use the little camp tables that fold up small, but they didn't fit our needs for cooking and working in camp. A large table is more useful, and it goes in the Jeep first on the bottom of the cargo area to provide a heat barrier for the cooler. Most Jeep owners know how hot the floor of the Jeep can get, and using the table as a barrier helps the cooler ice last much longer, especially when it's hot in the desert.
Four-person tent that's tall enough to stand up with enough room for us and gear without it feeling cramped.
Two cots, two sleeping bags and two camp pillows. The cots are a recent addition and were the subject of much debate after we had several popped air mattresses. They take up a lot of room in the Jeep (we're still surprised we managed to figure out how to fit them). They are a splurge, but they also give us more room in our tent because we can stash gear beneath them.
Two tarps and at least two blankets. One tarp is for under the tent, the other for emergency shade or rain shelter. Blankets because cold rises from the ground and on a cold winter night it's nice to have one underneath your sleeping bag (or a sleeping pad) even with a cot. On exceptionally windy nights we've used them as a barrier between the mesh panels and the rain fly on our three-season tent to block the wind and keep the inside of the tent warmer.
Two backpacks that contain personal clothing and hygiene items, as well as survival gear like flashlights, knives, compasses, bandanas, cordage, lighters, gloves (work and cold weather), binoculars and field guides.
27-gallon Toughbox camp box. It contains a cook set; utensils; a small box with things like hot and cold drink mixes and condiments; a tent repair kit; fire starters/tinder/ lighters; propane bottles; a battery-operated lantern (we switched from propane lanterns so we don't have to carry as many propane canisters); heavy-duty garbage bags; deck of playing cards; coffee pot/coffee/cups; plastic drinking cups; freeze-dried emergency foods (in case we get stranded); duct tape and cordage; Orikaso bowls (awesome because they fold flat); a few paper plates; a cutting board; a fold-flat toaster; pie irons and some long-handled skewers for cooking over the fire; pancake mix; oatmeal; wet wipes; multi-purpose hand towels; a roll of paper towels; spare batteries for everything; and usually at least one box of wine and a bottle of whiskey. There is a lot more in this box – too much to mention!
Two camp chairs
Two-burner propane camp stove
Catalytic propane tent heater if nights are forecasted to be in the 20's or below
Shepherd's hook to hold the lantern over the table
Toolbag
Portable air compressor
Adventure Medical Mountain Series Expedition First Aid Kit and a Trauma Pack Pro with QuickClot and tourniquet.
Two camera bags – one large weather/dust proof backpack for bodies and lenses; and a small bag with filters, batteries, cleaning supplies.
Camera tripod
5. Hope You're Good at Tetris.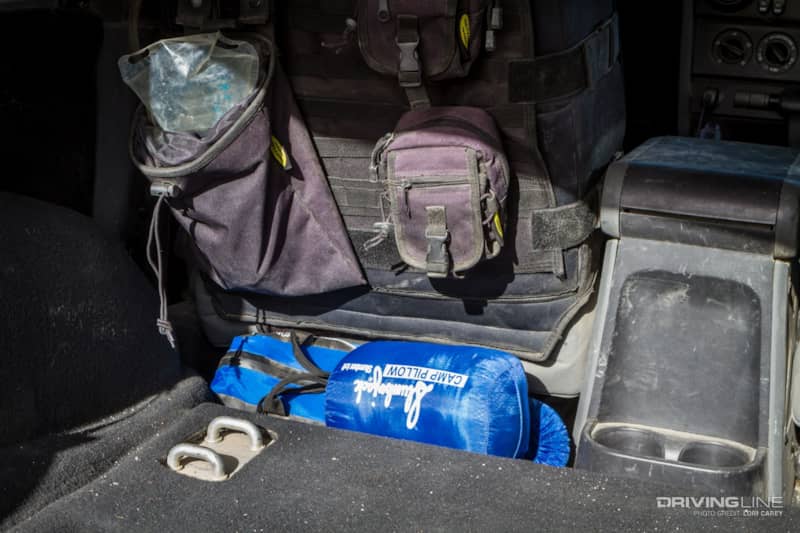 Smaller items like the first aid kit and pillows go into the small space directly behind the seats. The rest has to be packed in an exact order to fit, starting with the table. The cooler and the camp box go on top of the table, and the two cots, upright on their sides, get squeezed into the space along the wheel well. The rest gets stashed in any available remaining space until we're packed to the roof. You have to think of it like a puzzle and really pay attention to the shape of items. We have one rule: we need to be able to get at the cooler and my camera bag without unpacking the entire Jeep.
6. Cubbies Are Your Best Friend.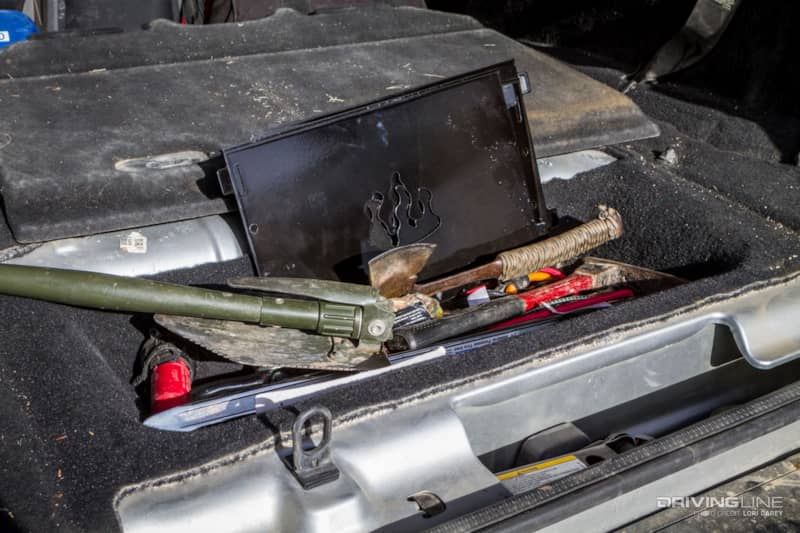 Stored in the small cubby in the cargo area we have an e-tool (folding shovel); a hatchet; a splitting maul; a tire iron; the stock jack; fluids; bungee cords and ratchet straps; a hose and pour spout for the fuel can; and a metal fire ring. Our rear bumper has another small cubby that holds tow straps and heavy duty zip ties so we can get at them without needing to unpack the Jeep.
7. Be Able to Jump-Start.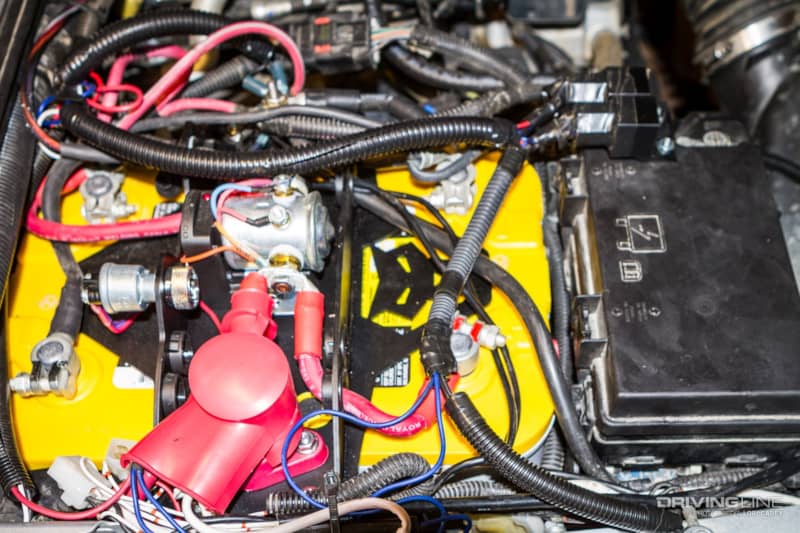 If we didn't have a Genesis Off Road Dual Battery Kit under the hood, I would want to carry something that would let me jump-start a dead battery.
8. Two Is One, and One Is None.
Small items that I need to have close at hand go in the molle pouches on my Smittybilt G.E.A.R. seat covers. We keep things like the winch controller, tire pressure gauges, Staun Tire Deflators and a small first aid kit in the pouches. In the passenger area (including center console and glove compartment), we have two GPS units (one is handheld for hiking), a dual-band ham radio (we haven't figure out where to mount my HF Ham Radio yet), a CB radio, multi-tools and more matches, lighters and knives.
9. Take a Seat.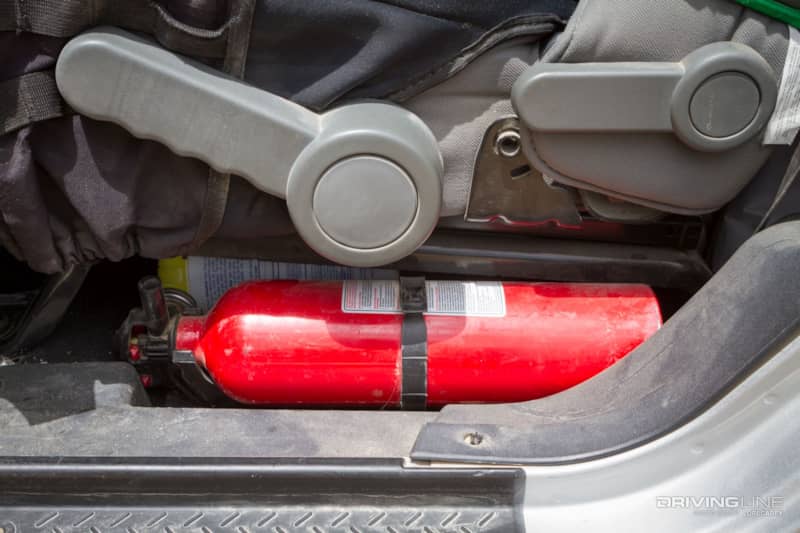 There is very little room under the front seats of a JK, but we manage to fit our trail guides and maps under one seat, and an inverter, wet wipes, duct tape and a pack of small trash bags under the other. A fire extinguisher is stored alongside the driver seat.
10. You Can Never Have Too Much Firewood.
The one thing that we can't carry as much as I would like is firewood. We can fit almost enough for two nights if we keep our fires small and don't burn them all night, but sometimes we need a fire in the morning (we've had to melt water for coffee several times). The four-hour fire logs work in a pinch, although they don't generate much heat for warmth. If we're out for more than two nights, we either need to make a run into the nearest town and hope they have some, or we have to do without a fire. Sometimes we get lucky and find firewood next to a fire ring left by previous campers.
11. Watch Where You Pack.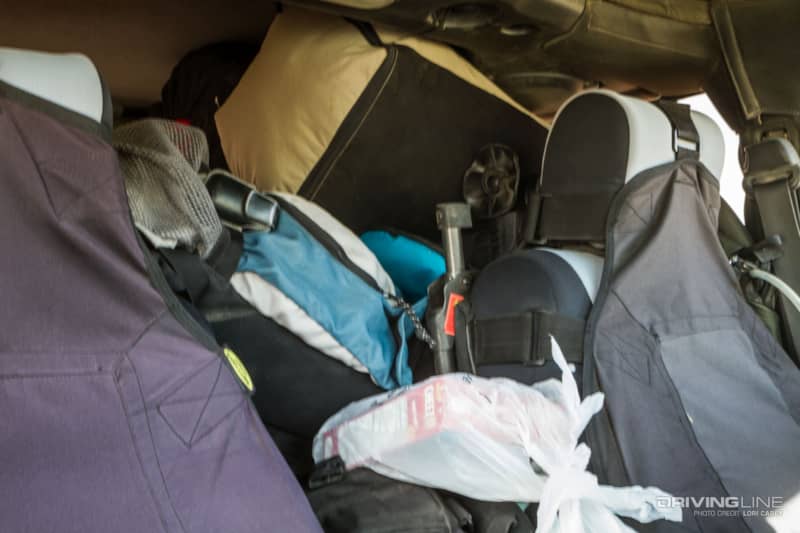 We're sure we forgot to mention something. This is what it looks like from the front seat. Every available inch of space is utilized. Don't hit the brakes too hard or something might slam into your head! Just kidding – that's why it's important to be careful where you place items and make sure they are secure; you don't want anything heavy or hard on top where it might hit you in the head. We won't lie; it's tight quarters, and there's usually a lot of swearing going on when we pack up, but it works.
(You may want to read up, though, on proper trail etiquette.)
12. Consider Drawers.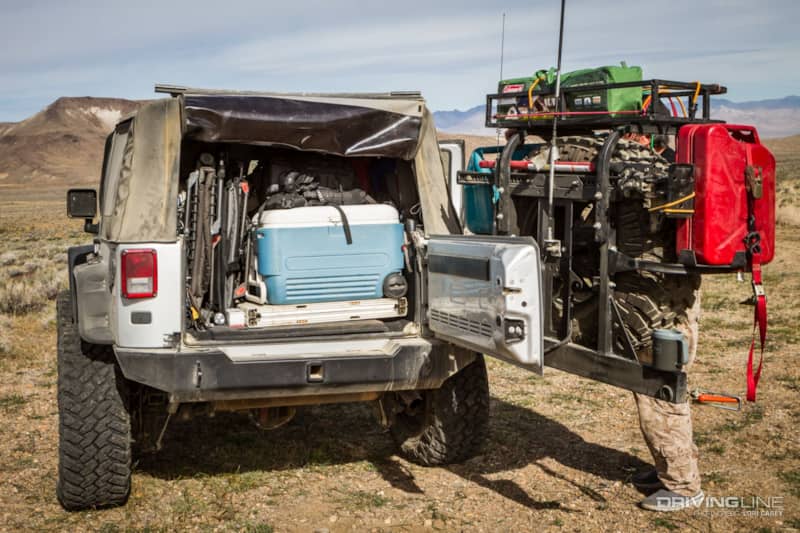 If you are a neat freak and need to have things more organized, there are some nice drawer systems made by Tuffy and SmittyBilt that you can get for the cargo area. We decided against a drawer system because it wouldn't allow us to maximize the way we utilize the space by tucking things into every little nook and cranny, and we wouldn't be able to carry as much gear.
13. A Roof Rack Could Be Nice.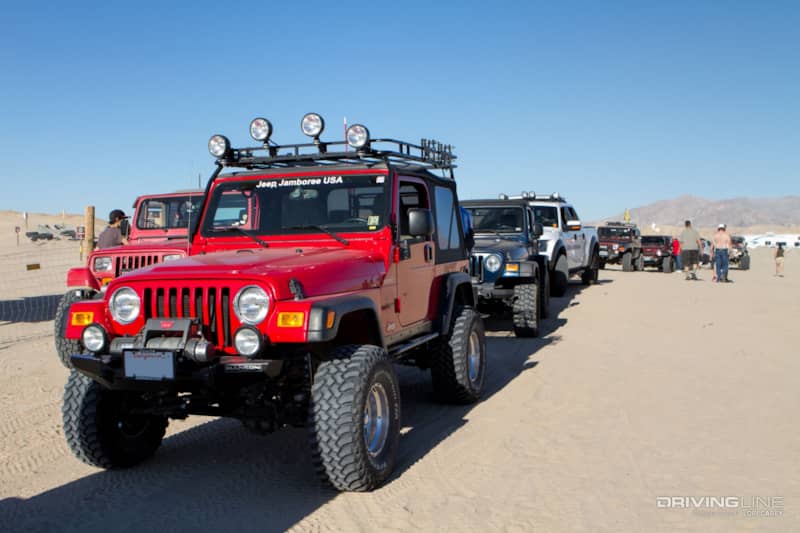 One option is a roof rack for your Jeep. It's a great choice if you plan to do milder trails on flat terrain.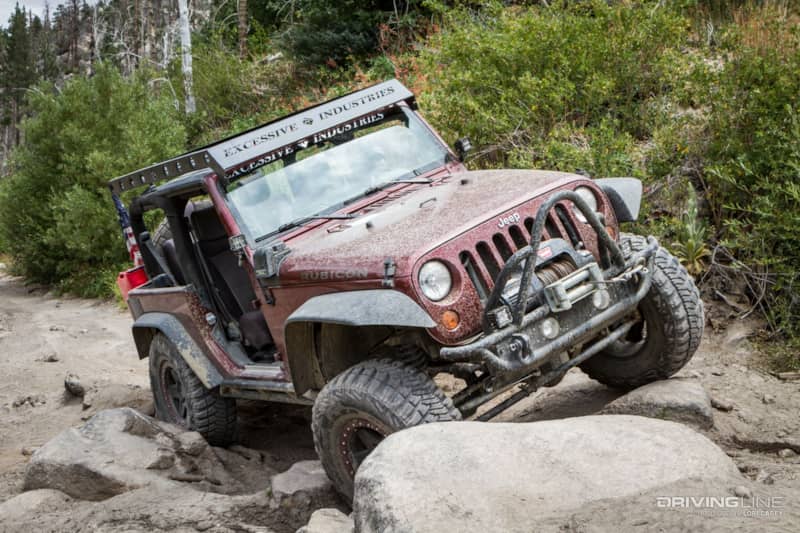 We vetoed a roof rack for my Jeep because we often do rougher off camber trails. A lifted 2DR Wrangler already has a high center of gravity and can get tippy in off camber situations. We didn't want to risk adding more weight to the top of the Jeep and raising the center of gravity even higher.
14. There's Also the Trailer Option.
Another option is an off-road trailer. You can carry a lot more gear with a trailer, and you could even put a rooftop tent on one. There are many trailer options available, from commercially built ones to do-it-yourself.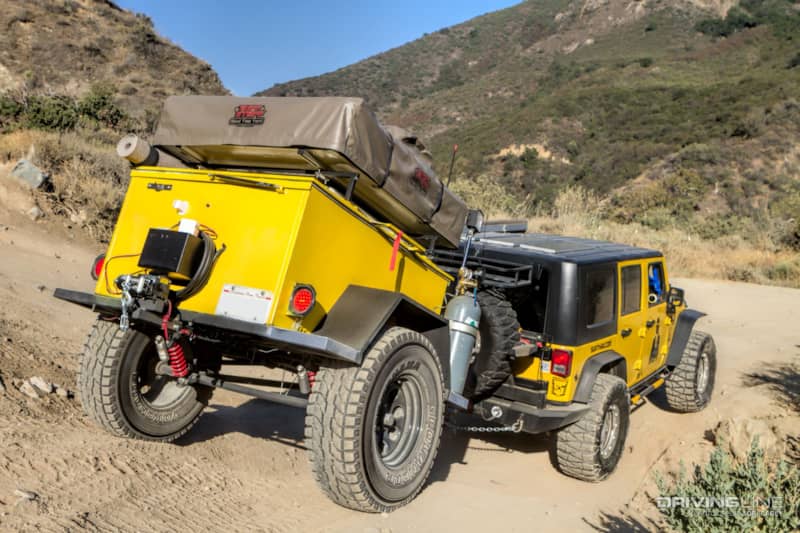 If you're considering a trailer for off-road use, it's important to make sure that the suspension and tires are capable of handling the type of trails you plan to travel.
(Read more about this killer setup.)
Now Get Out There!
Don't let a 2DR Wrangler discourage you from overlanding. With a little ingenuity and learning how to reduce your kit down to exactly what you need, you can do it comfortably and be well prepared for any problems you might encounter.