Pickup Mania: Jeep Goes Truck Wild With Its 2019 Moab Easter Jeep Safari Concepts
Spring is in full bloom for most of us now, and for Jeep enthusiasts that also means the coming of the annual Moab Easter Jeep Safari in Utah. In addition to being one of most important Jeep gatherings in the world, the Easter Jeep Safari usually brings with it a number of exciting concepts built by Jeep itself to show the creative possibilities of their vehicles. Not surprisingly, the focus for 2019 is on the all new Jeep Gladiator pickup.
For this year's event Jeep built six different pickup concepts, and we found four of them in particular to be especially cool thanks to their heavy amounts of custom work, off-road improvements and plenty of throwback style.
1. The Jeep Wayout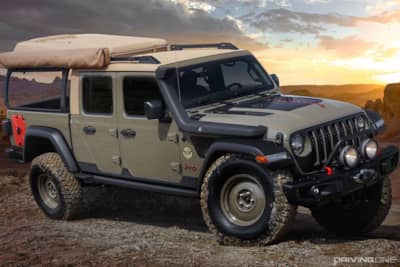 First up we have a Gladiator-based concept called the Wayout. Inspired by the overlanding movement, it's been fitted with a rooftop tent and custom auxiliary fuel tanks built into the bed. Ground clearance is boosted with a two-inch Jeep Performance Parts lift kit and the 17-inch steel wheels have been painted to match the body's Gator Green color as a nod to the original Willys pickups that led to the reborn Gladiator of today.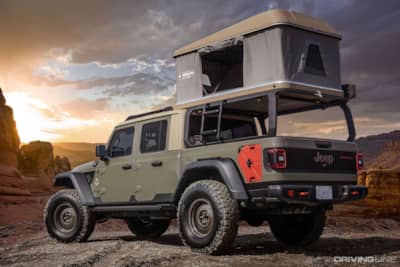 2. Jeep JT Scrambler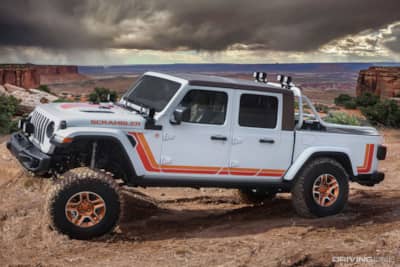 Also looking to the past for its inspiration is the JT Scrambler Concept. While it's not extensively modified, the Jeep design team did a great job of capturing the look of the early '80s CJ Scrambler with this project. It's loaded with goodies from the Jeep Performance Catalog, but it's really the stripes and graphics that set it off, along with the roll bar and freedom top done in a color called "Vintage Amber."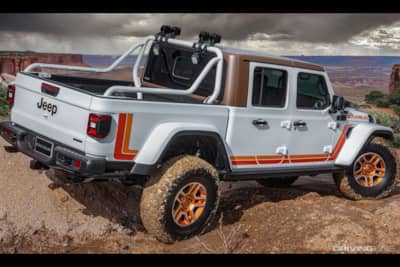 3. Jeep J6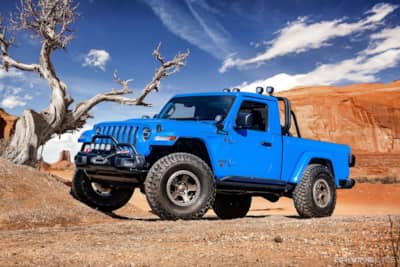 Next up is perhaps the most impressive Gladiator concept of the bunch. Based on a standard Gladiator Rubicon, the J6 sports a a two-door cab, a configuration which isn't currently available on the production Gladiator. It clocks in and 201 inches long and its 118.4-inch wheelbase is equal to that of the current four-door Wrangler. To set it off even further, the J6 concept has been equipped with retro-themed badging. Its Metallic Brilliant Blue paint was inspired by the '78 Jeep Honcho.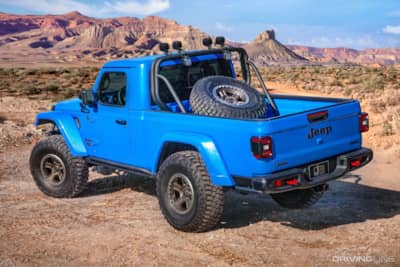 4. Jeep M-715 Five-Quarter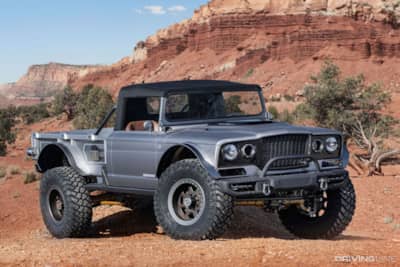 Last but not least we get the only of the bunch that's not based on the new Gladiator. Based on a 1968 M-715, this restomod concept sports a body laden with both carbon fiber and aluminum components and a fully reinforced frame with a relocated front axle and modernized suspension. Equal attention has been given to the interior, which features a blend of both vintage and modern inspiration, but perhaps best of all the Five-Quarter gets its power from a Mopar "Hellcrate" supercharged Hemi engine making over 700hp.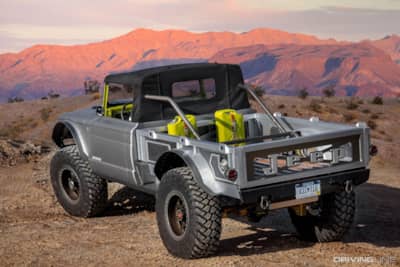 The Gladiator has been one of Jeep's most talked-about new vehicles in a long time, and this blend of modern and retro-inspired concepts takes the excitement to a new a level. We can't wait to see what comes next as more builders continue to get hold of the platform.
Off Road Evolution is making the ultimate Gladiator build, just in time for Easter Jeep Safari.