Power Stroking: Ford Diesel Truck Buyer's Guide
The 1999-to-current Ford Super Duty ¾- and 1-ton truck lineup are some of the bestselling fullsize trucks in America. One of the biggest draws of the heavy-duty trucks is the optional Power Stroke diesel engine. From the venerable 7.3L to the problematic 6.0L, with the compound turbo 6.4L in between, and the current high-tech 6.7L, millions of Ford trucks have worn the Power Stroke badge over the last 22 years.
During that time frame, the Super Duty platform was introduced and effectively dominated the towing segment for more than a decade. With a huge percentage of Ford truck owners towing on a regular basis, it's easy to see why these trucks are so popular with America's working class.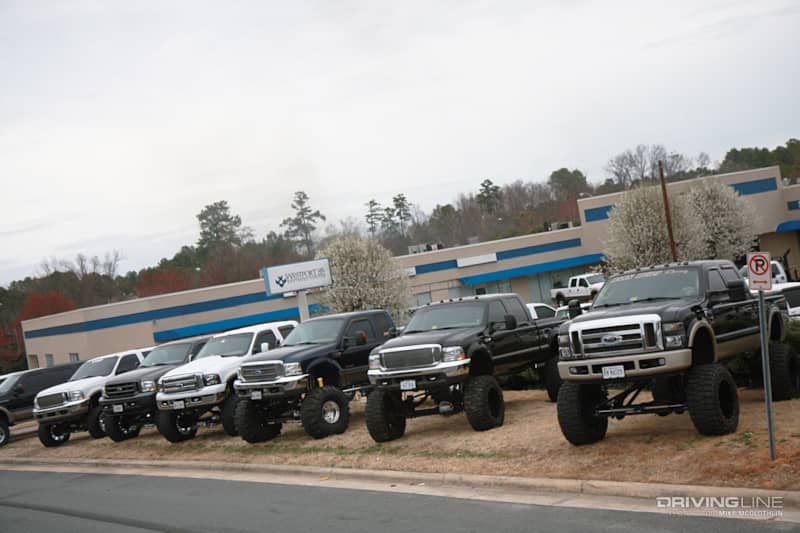 If you're in the market for a used Power Stroke, we'll help explain the pros and cons of each generation:
1994.5-1997 F-250 & F-350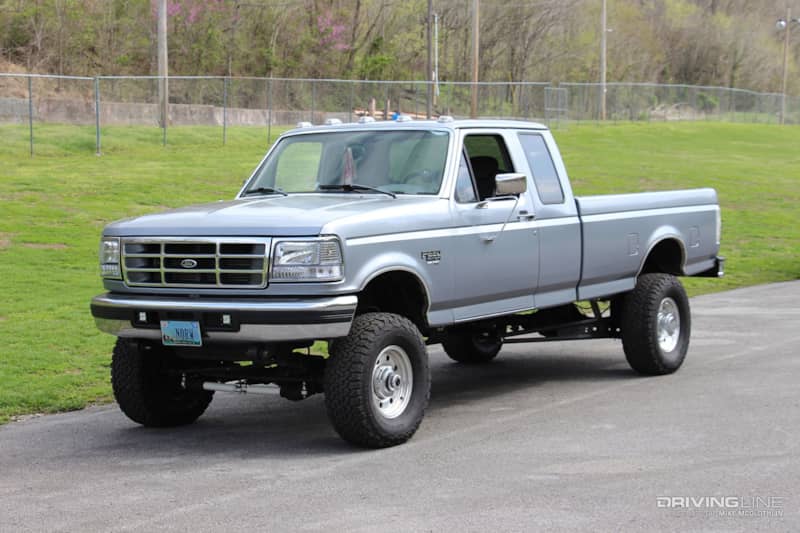 Debuting in mid '94, the early bird 7.3L Power Stroke powered Fords are based on the same basic line of trucks produced for nearly two decades ('80-'97). They're known for their reliability, simplicity, ruggedness, and thanks to large sales volumes, vast parts availability. The 7.3L's direct injection stup combined with its HEUI injection system, definitely makes it one of the more audible diesel engines to ever grace the pickup segment.
But, it's a day-in, day-out reliable workhorse that can last well beyond 400,000 miles if properly maintained. Rust issues due to a lack of factory undercoating protection, sporadic camshaft position sensor failure, and a wear-prone TTB Dana 50 (F-250 4x4 models only) are the only notable cosmetic and mechanical shortcomings associated with these trucks.
Engine: 7.3L Power Stroke V-8 with HEUI injection system
Transmission(s): E4OD 4-speed automatic, ZF-5 5-speed manual
Best Year(s): '97 due to a meatier block (thicker walls in the valley area), F-350 4x4 model to get the solid front axle (Dana 60)
Price Range: $3,500 to $18,000
Pros:
Very reliable
Simple, rugged truck design
Respectable fuel economy (20-mpg empty isn't out of line with 3.55 gears)
400,000 to 500,000-mile longevity with proper maintenance
Large displacement makes the 7.3L less dependent on turbo boost than other engines
Forged steel connecting rods on all engines
Cons:
No factory intercooler
Slouchy power without a programmer in the mix
Mechanical lift pump delivered lower fuel supply pressure
TTB Dana 50 proved problematic on 4x4 F-250 models (various wear points)
Added horsepower and heavy towing can quickly kill the E4OD automatic
Camshaft position sensor is the 7.3L's one Achilles heel
1999-2003 F-250 & F-350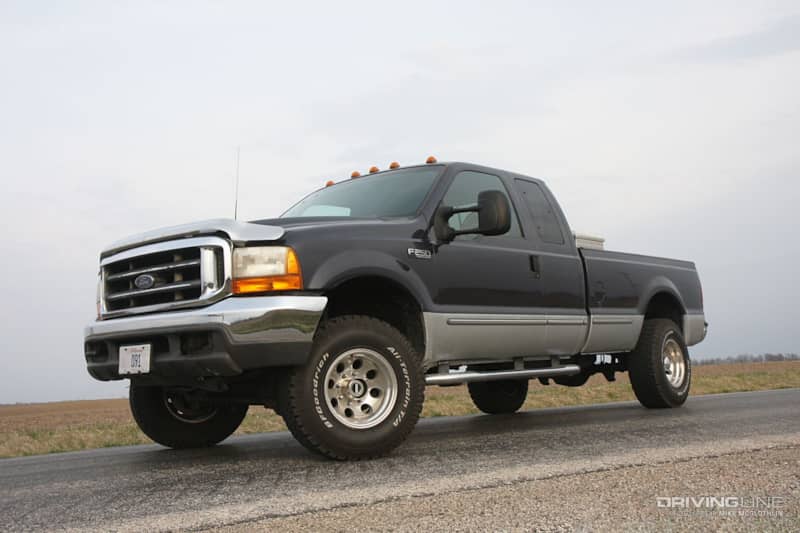 This platform, along with a revamped version of the 7.3L Power Stroke, effectively ignited the payload and horsepower numbers war that's still raging in Detroit. The Super Duty line of trucks were built separately from the 8,500-pound GVW and under lineup (namely the F-150), and were geared toward the commercial use market. The result was a truck that set the industry standard for the modern heavy-duty diesel pickup. With more than 1.7 million 7.3L Power Strokes produced, replacement part availability remains high and they can still be readily found in western and southern regions.
However, rust-free, straight-bodied versions carry a hefty premium, so it's important to keep that in mind when searching for a first generation Super Duty.
Engine: 7.3L Power Stroke V-8 with HEUI injection system
Transmission(s): 4R100 4-speed automatic, ZF-6 6-speed manual
Best Year(s): '99½ (late '99) to '00 F-250 or F-350 due to these engines having forged steel connecting rods, the later style turbocharger (with 3-inch piping), and higher volume high-pressure oil pump
Price Range: $7,000 to $22,000
Pros:
Very reliable
Factory intercooler
Great tow vehicles that are very stable with heavy loads behind them
Electric lift pump for improved fuel supply pressure and easier serviceability
Split shot injectors quieted down the 7.3L engine over '94.5-'97 models
Cons:
Slouchy power without a programmer in the mix
Added horsepower and heavy towing can quickly kill the 4R100 automatic
Powdered metal connecting rod engines ('01-'03) are not ideal for pursuing big horsepower
Camshaft position sensor is the 7.3L's one Achilles heel
As they continue to age, a new phenomenon of failed PCM's is plaguing them
2003-2007 F-250 & F-350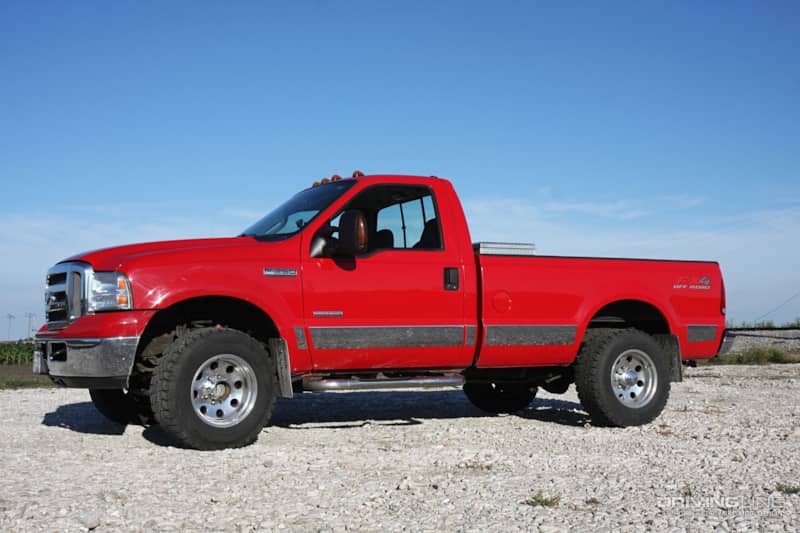 The U.S. marketplace has a unique way of setting the price of goods. Case in point, while most diesel GM and Dodge trucks from the '03-'07 era are desirable due to their lack of emissions-related components, a 6.0L powered Super Duty can typically be had for $10,000 less. However, by the time the engine's head gasket, EGR, oil cooler, turbo, and injection system issues are addressed, that 10-grand saved at the time of purchase is in fact needed.
With that said, thanks to a variable geometry turbo, higher pressure HEUI injection system, and a well-matched 5R110 automatic, the 6.0L Power Stroke is light-years ahead of the 7.3L it replaced in terms of drivability and out-of-the-box giddy up. You just have to know what you're getting yourself into (financially) with this generation Super Duty.
Engine: 6.0L Power Stroke V-8 with HEUI injection system
Transmission(s): 5R110 5-speed automatic, ZF-6 6-speed manual
Best Year(s): '06-'07 later models, as some of (not all) mechanical engine issues were ironed out
Price Range: $8,000 to $22,000
Pros:
6.0L offers great power given its smaller displacement (325hp and 560 to 570 lb-ft)
VGT turbo for instant throttle response
5R110 TorqShift automatics are very tough and reliable
'05+ models received coil spring front suspension and other chassis upgrades for improved towing and hauling capacity
Integrated trailer brake controller option
Cons:
Engines can be highly unreliable
Head gasket, EGR, and oil cooler failures are very common
Injection system issues run rampant (high pressure oil leaks, failed injectors, FICM failure, etc.)
Turbo "sticking" issues are typical
Resale value is very low due to the engine's known problems
Fairly expensive to fix
2008-2010 F-250 & F-350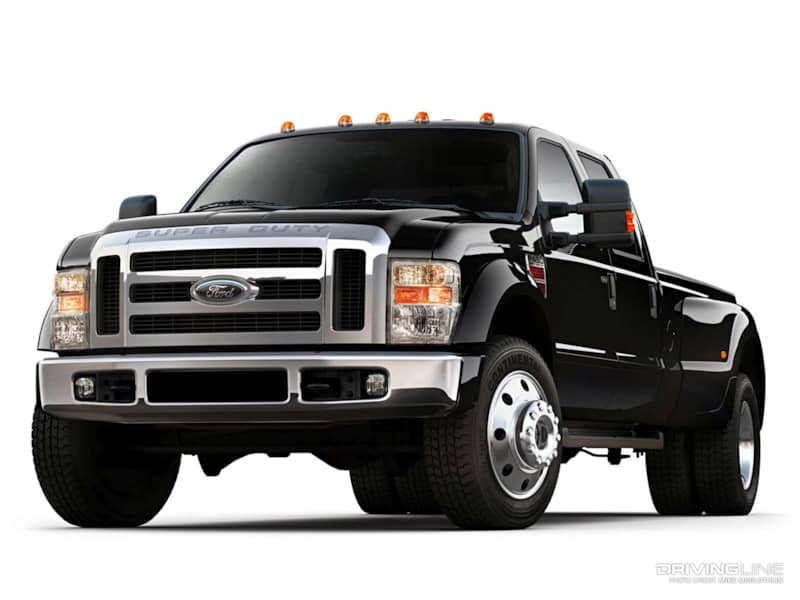 If you're looking for the best example of how to make big plug-and-play horsepower, look no further than the 6.4L Power Stroke. With a programmer and free-flowing exhaust the '08-'10 trucks can produce 550 to 600 horsepower at the wheels and still tow just about anything you need them to. These trucks continue the Super Duty platform's tradition of above average towing and hauling manners as well.
However, as they begin to age, shops have determined that most of them won't last hundreds of thousands of miles without requiring major repair(s). Failed injectors, high-pressure fuel pumps, and cracked pistons are all becoming more and more common before, near, or just past the 200,000-mile mark.
Engine: 6.4L Power Stroke V-8 with Siemens common-rail injection system
Transmission(s): 5R110 5-speed automatic, ZF-6 6-speed manual
Best Year(s): Any year but with lower miles and detailed service records (lack of maintenance can wreck the common-rail system)
Price Range: $12,000 to $32,000
Pros:
Very easy to add power
Factory compound turbocharger system is great for response and top end power
Common-rail injection means more horsepower, torque, and also a quieter engine
Improved version of the 5R110 TorqShift automatic is even stronger than '03-'07 models
Integrated trailer brake controller option

Cons:
Engines are extremely expensive to fix
Rarely does the 6.4L make it past 200,000 miles without needing a major repair
Poor fuel economy (12-15 mpg empty) with emissions equipment intact
Emissions control devices add a failure point
Injection system, cracked piston, and melted piston scenarios are all common with age
2011-2016 F-250 & F-350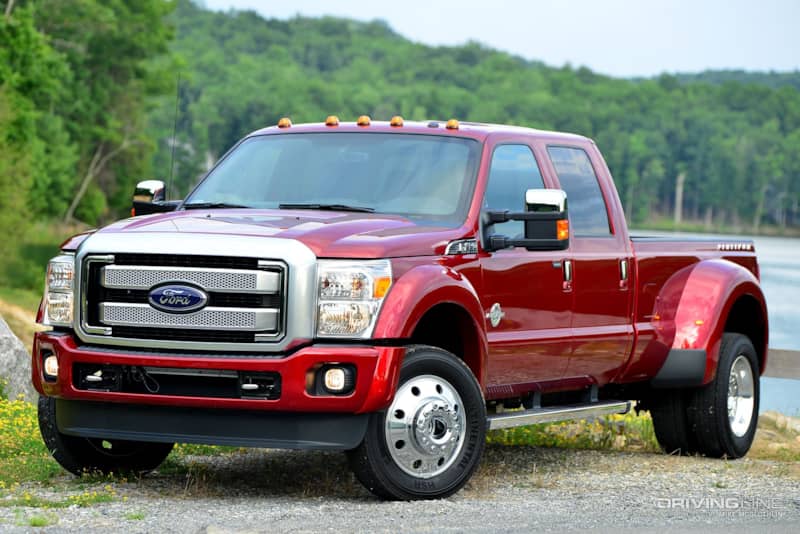 The '11-'16 trucks represent the most capable Super Duty's ever assembled. Their tremendous ability to lug gives them a low-end torque feel reminiscent of a Cummins, and the combination of a quick-spooling variable geometry turbocharger, standard exhaust brake, and integrated trailer brake controller makes for a very smooth and uneventful towing experience. The 6.7L Power Stroke is built in-house by Ford Motor Company and in conjunction with a Bosch common-rail injection system (and piezoelectric injectors) is the most powerful yet quietest Power Stroke ever produced.
Turbo failure is common on '11-'14 trucks, and EGR problems can surface around the time the factory powertrain warranty ends, but other than that the 6.7L has earned a reputation for stellar reliability so far.
Engine: 6.7L Power Stroke V-8 with Bosch common-rail injection system
Transmission(s): 6R140 6-speed automatic
Best Year(s): '15 or newer due to an updated turbocharger and 440hp, 860 lb-ft offered from the factory
Price Range: $25,000 to $70,000
Pros:
6.7L Power Stroke has proven reliable so far
VGT turbo for instant response
400hp and 800 lb-ft ('11-'14), 440 hp and 860 lb-ft ('15+) available right out of the box
Great tow rigs with gobs of low-end torque on tap throughout the rpm range
6R140 TorqShift automatics have proven tough and reliable to date
Integrated exhaust brake
Integrated trailer brake controller
Cons:
'11-'14 models are known for turbo failure (over-speeding of the turbo is common)
Emissions system adds multiple failure points, but urea (diesel exhaust fluid) injection brings fuel economy back closer to where it was before the '08-'10 trucks (14-18 mpg empty)
EGR failures are common between the 70,000 to 90,000-mile mark 
Save