Primed to Shine: 2016 Top Drift ProAm Round 4
First, a word …
What a ride. We've experienced more than a few seasons of drifting, professional and amateur alike. But the talent, upsets and evenly matched driving 2016 Top Drift competition has brought has been unlike anything else in recent memory. Before we name the three drivers who've earned their 2017 Formula Drift Pro 2 licenses, along with those who captured the podium at the final round of competition at Willow Springs' "Speedway Willow Springs" circuit, let's put one thing forth: Several drivers throughout 2016 have proven they have more than it takes to pose a serious threat to professional competition. Some of them are just getting started. As exciting as this season was, the next few seasons of ProAm and Pro 2 competition, we're betting, will be even more so.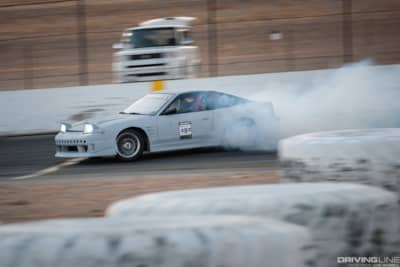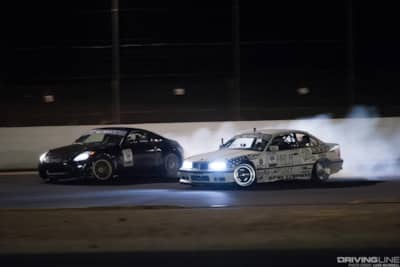 Now then…
Maybe it was a product of having survived and improved through three rounds of drifting this summer, or maybe it was that this was the final round of competition and there wasn't as much pressure to keep their cars together and looking good (well... as good as they can, some of them). Whatever the case, Top Drifters pulled no punches in Round 4. Surprisingly close, fast and powerful performances came from Jeff "Rad Jeff" Le and his Rad Industries-prepped S13 fastback, Rob Carlsen in his chopped S14, Micah Diaz in his E36 BMW, Calvin Cheung in the bumper-killing Megan Racing S14, an unintimidated Alfa Ramirez in the S12 he smashed here last year and many more.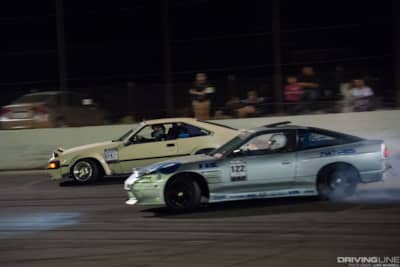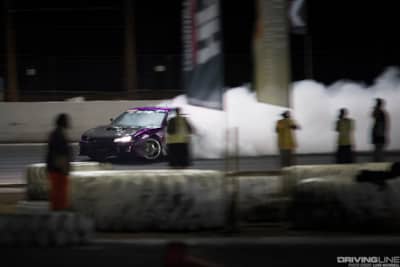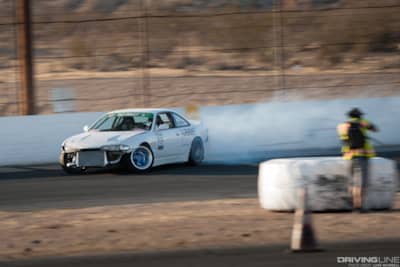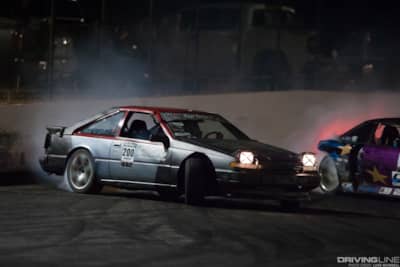 The Usual Suspects
Still, the top drifters that emerged in Round 4 didn't surprise anyone who'd kept up with the season thus far. Yes, there was a ton of skill this year, but it was led consistently by Adam Knapik, Jason Kim and Sean Adriano (except for that time Alex Grimm beat all of them to win Round 3). Once official competition got underway at Round 4, the safe money was on the usual suspects once again.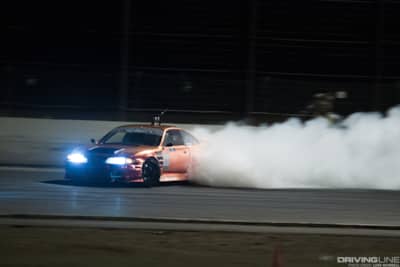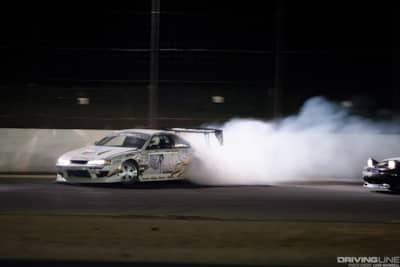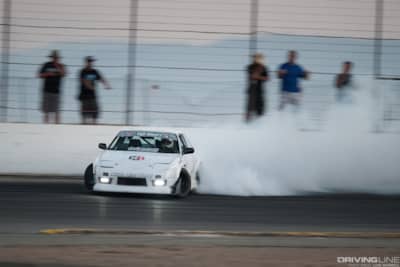 Dreams Do Come True
As of the end of the last event, Jason Kim led Adam Knapik in the Top Drift season standings by one point, having racked up 277 to Knapik's 276, and Sean Adriano was solidly in striking distance after improving his driving and standings each round and outdriving mentor Kim in rounds 2 and 3. But others were also within reach, and if the previous rounds' upsets taught us anything—along with Adam's final-round blunder last year that took him from First to Fourth place in season standings—it's that anything could still happen.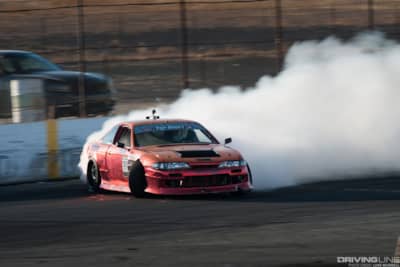 After clinching the top qualifying spot, it seemed that Knapik regained whatever confidence he may have lost at the Speedway last year. Jason Kim qualified Third, on the opposite side of the bracket, and everyone hoped for an epic Kim vs. Knapik final-round title fight. Professional-level drifting ensued from both, but when Adriano again took out Kim in the semi-finals and Knapik had battled through every challenger on his side, the final was set.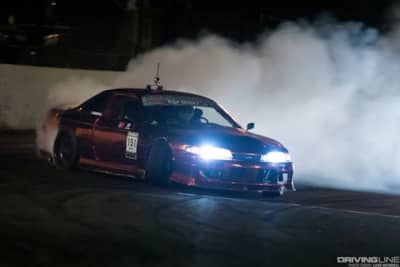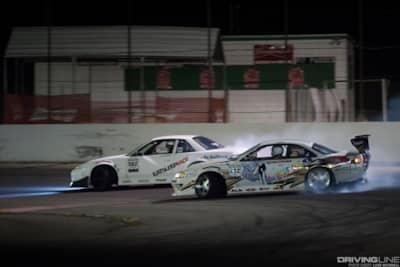 Two close runs later and it was official: Knapik defended his top qualifying spot with the event win, and in doing so locked in on the 2016 Top Drift championship in the process.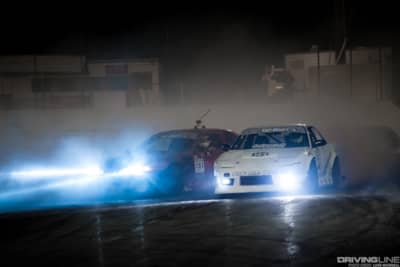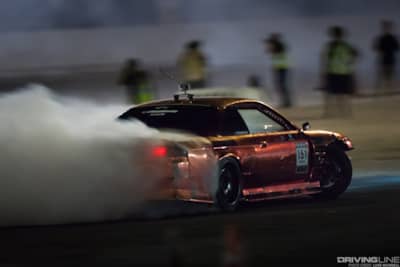 But wait, there's more…
Sean Adriano of course finished Second for the event, but every bit as impressive as the Finals was the Third-place battle and win by Kelvin Arreola. You'll remember him from having won Third at Round 1 in his sub-200-hp old-school Corolla; this time he did it again, but from behind the wheel of a new (still old-school) 1JZ-powered Supra.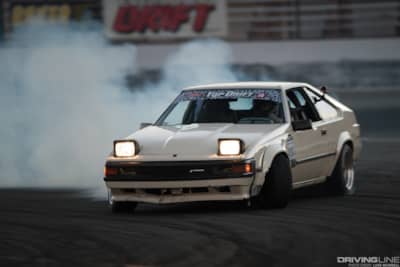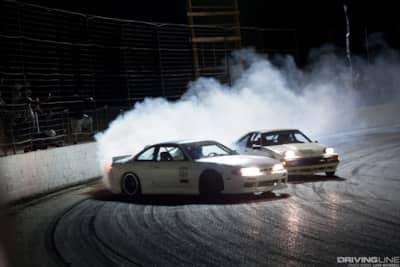 Kim's previous strong finishes (First and Second in Round 1 and 2, respectively) earned him Second place in season points while Sean Adriano landed in Third.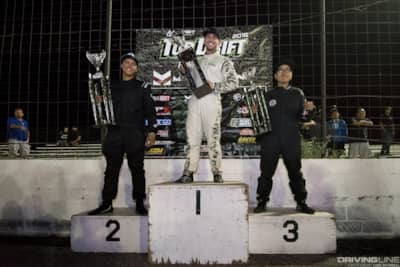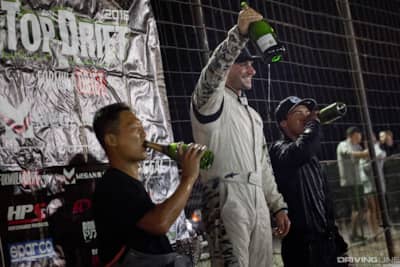 While there's no word on who among them will make a run at Pro 2 competition in the coming years, if the success of last year's winners Trent Beechum and Matt Madrigali are experiencing in this year's Pro 2 competition is of any worth here, we'd urge them to make every effort to follow suit.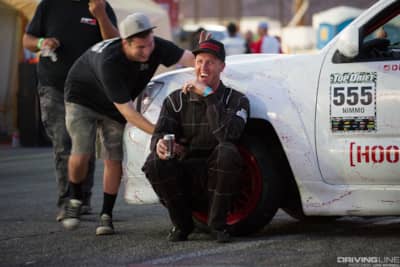 Just Drift's (Top Drift's parent organization) annual All-Star Bash is right around the corner, and a new season of SoCal ProAm competition will be upon us next April.
Check out the rest of our photo coverage from Top Drift's final 2016 round in the gallery below, and get more of your favorite sideways motorsport on our Drift page.