Project Paw-Paw: Part 6
Now that we have ample fuel (Parts 3 and 5) and high-pressure oil supply in the picture (Part 4), it's time to introduce the 200,000-mile 7.3L Power Stroke to more airflow and a denser intake charge. In the case of '94.5-'97 engines such as Paw-Paw, that means adding an intercooler (because it didn't come from the factory with one) and upsizing the turbo system for significantly improved air volume. In simple terms, our march toward 600rwhp can't resume without the modifications performed in this installment, as a factory-based turbo upgrade won't support the kind of power we're after.
Luckily, we got the intercooler situation handled by obtaining one intended for a '99-'03 7.3L Super Duty for next to nothing. For the ultimate bolt-on turbo solution, we reached out to Irate Diesel Performance for one of its T4 turbo mounting kits. Irate's system came complete with a turbo pedestal base, T4 collector with stainless steel up-pipes, a two-piece downpipe, high-flow intake plenums and 3-inch intercooler piping—which meant the most extensive work would entail the cutting and mockup associated with squeezing the intercooler into place behind the old Ford's grille. For all the details on how we made everything work, keep reading. For the lowdown on the aftermarket turbocharger we went with, make sure you tune in for Part 7.
T4 Turbo Kit: The Path to Power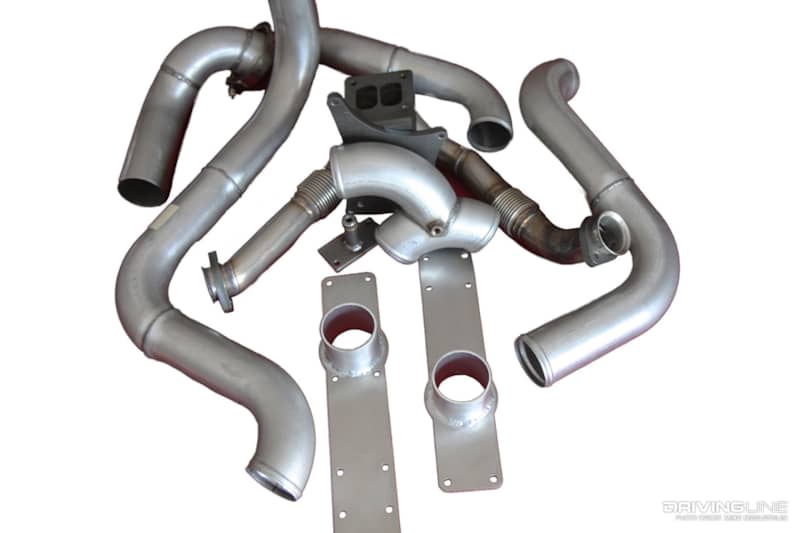 Nearly a decade ago, Irate Diesel Performance made it fun to own a 7.3L again thanks to the release of this system. Called its T4 Complete Mounting Kit, Irate's turbo system allows you to mount virtually any T4 flanged BorgWarner or Garrett turbocharger to the 7.3L Power Stroke (typically a BorgWarner S300, S400 or a GT42 or GTX42-based Garrett). In case you're wondering, T4 refers to the turbocharger's turbine inlet flange (which is the most common type of flange in the diesel performance industry). The all-inclusive, bolt-on system comes with everything you need to accommodate a larger, higher-flowing turbocharger, on both the intake and exhaust side of the equation.
T4 Complete Mounting Kit Price: $1,735
3-inch Intake Plenums Price: $235
3-inch Intake Plenums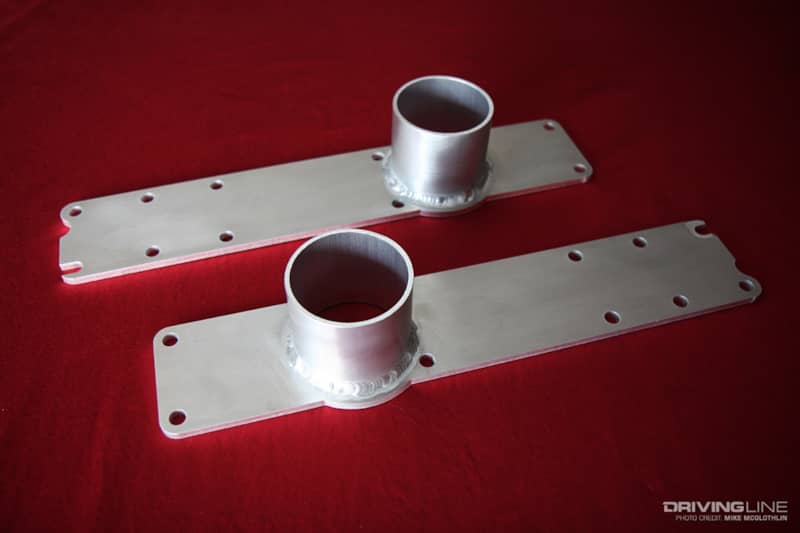 From the factory, the '94.5-'97 (and early '99) intake plenum openings measure a tiny 2-inches in diameter. This is a huge point of restriction in the OBS Fords, along with the 2-inch intake Y that connects to the plenum inlets. By contrast, the '99.5-'03 7.3L Power Stroke found in first-generation Super Duty's came with intake plenums with 3-inch inlets, which flowed 540 cfm (vs. the measly 240 cfm flow of the 2-inch units). Corresponding with Irate's 3-inch intake Y and intercooler piping, we opted for the company's aluminum 3-inch inlet plenums as well. The nature of their being flat allows them plenty of clearance when running an S400 frame BorgWarner turbo, which we plan to do.
Spearco Intercooler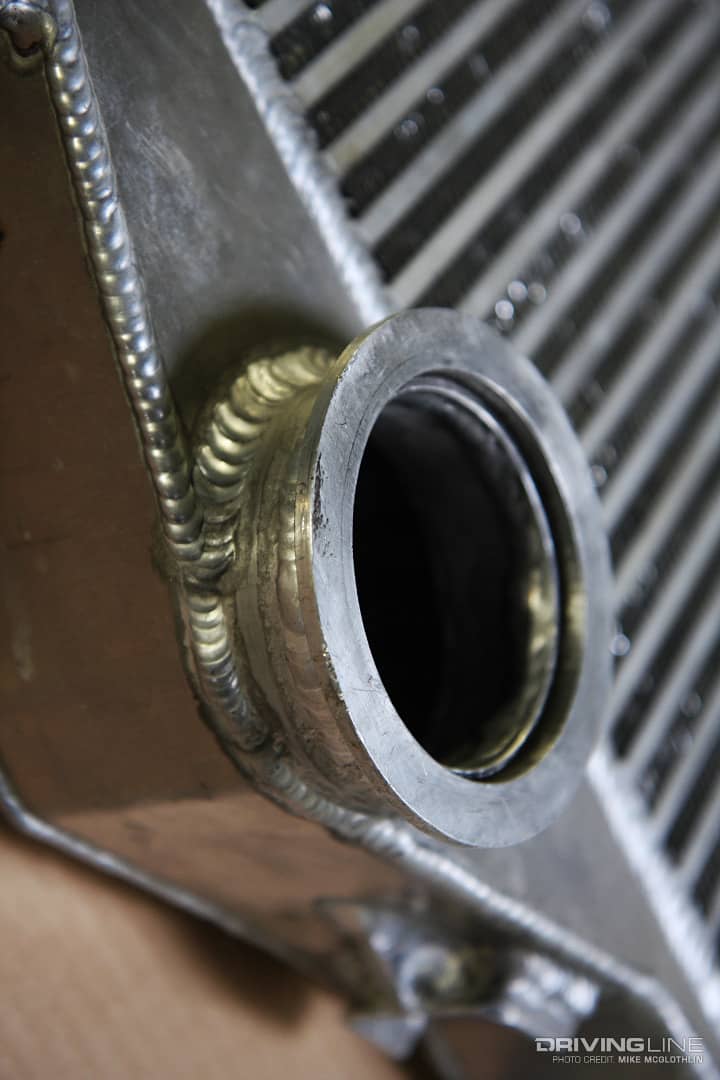 When a local truck puller decided to switch from an air-to-air intercooler to a water-to-air setup, his '99-'03 7.3L-intended Spearco unit from Turbonetics came up for grabs. Surprisingly, we were allowed to take it off his hands free of charge. After having the Spearco pressure and leak tested at the local radiator shop, it was time to get busy trying to finagle it into our OBS Ford—a truck that was not originally designed to house a turbo diesel engine, let alone an air-to-air intercooler.
Other Intercooler Options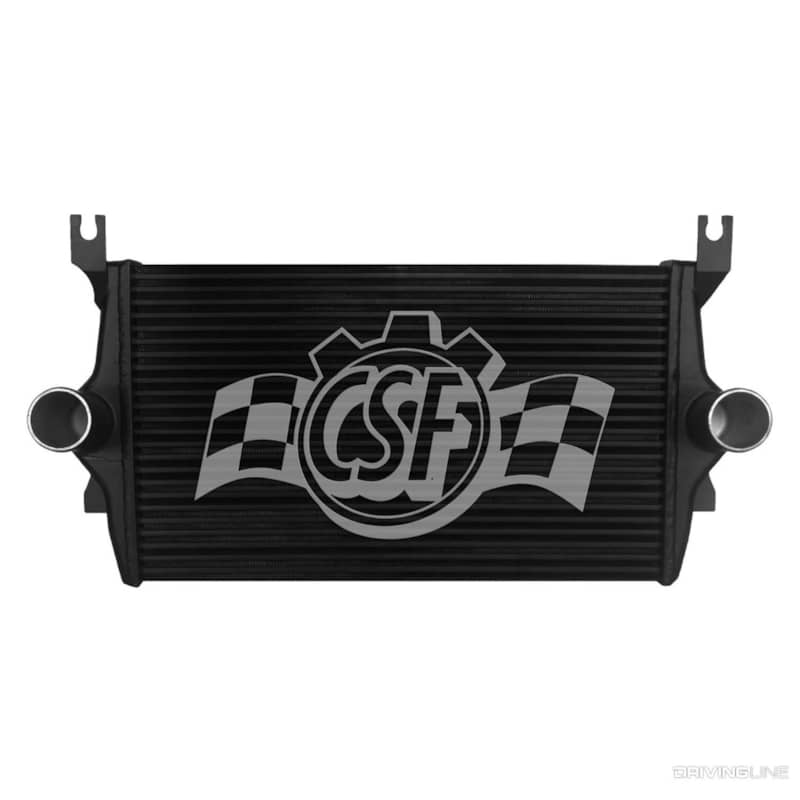 While deals like the one we got on our Spearco intercooler don't happen every day, it's important to know that factory aluminum 7.3L Super Duty intercoolers are great upgrades for OBS trucks, as well as the intercoolers that came on 6.0L Power Strokes (both of which can be found for relatively cheap in junk yards or online). An alternative option, and a means of obtaining a brand-new intercooler, would be to pick up a CSF intercooler. CSF's direct '99-'03 replacement unit features welded metal end tanks, is endorsed by Irate and retails for just $270.
Cutting the Core Support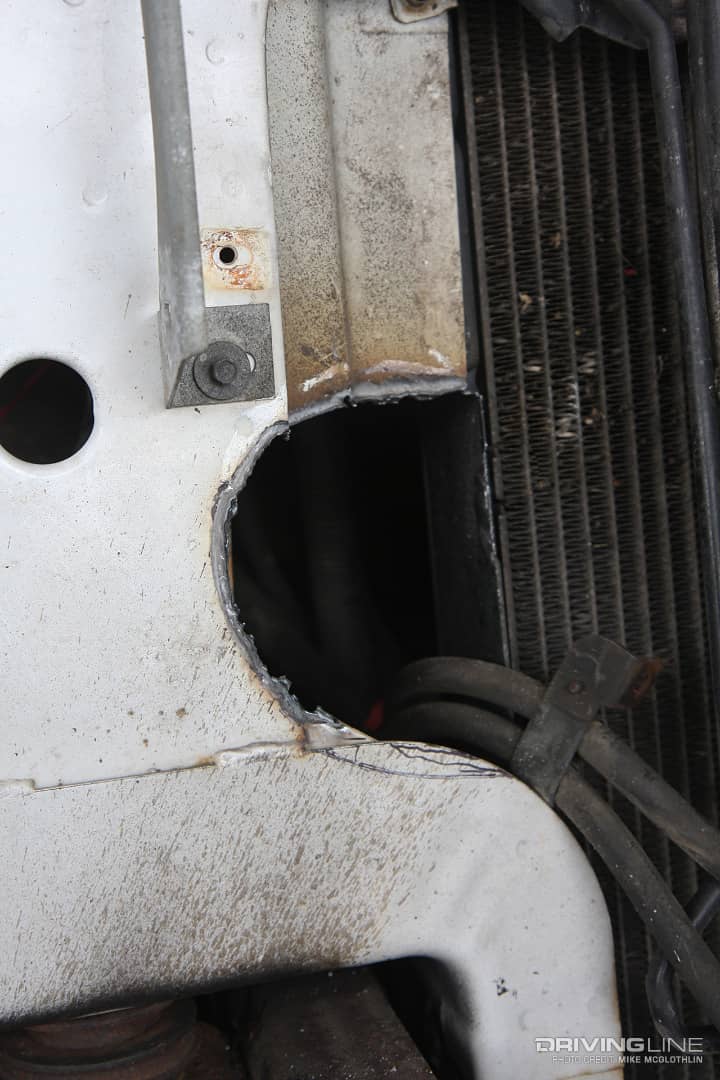 Once the truck's bumper, stone deflector, grille and head lights were removed, we determined exactly where the intercooler's inlet and outlet piping would pass by the radiator. With the outline of a 5-inch diameter circle drawn on either side of the radiator, we began cutting material off of the core support. A plasma cutter comes in extremely handy here (and a sawzall never hurt anyone either). After the holes were cut out and cleaned up with a grinder, we made sure to hit the bare metal spots with a coat of fresh paint. If you're wondering where the dinky factory transmission cooler went in all of this, it's gone. We've got a larger, TorqShift-intended unit to install when it comes time to go through Paw-Paw's E4OD.
Repurposed Mounting Brackets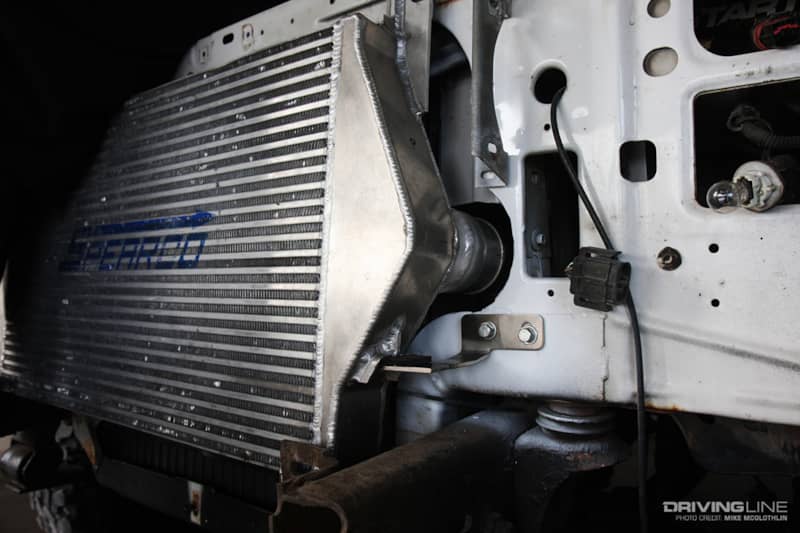 While there are still comprehensive intercooler installation kits available in the aftermarket for the '94.5-'97 7.3L's, you won't be privy to having any direct-fit mounting brackets at your disposal if you're doing a DIY job. However, this is where you can either go all-out or simply repurpose some metal you've got laying around. All of our support brackets are stainless steel—and were originally intended to mount anything but an intercooler. Depending on how fancy you want to get, you can also install nutserts in the core support for your mounting fasteners.
The New Turbo's Foundation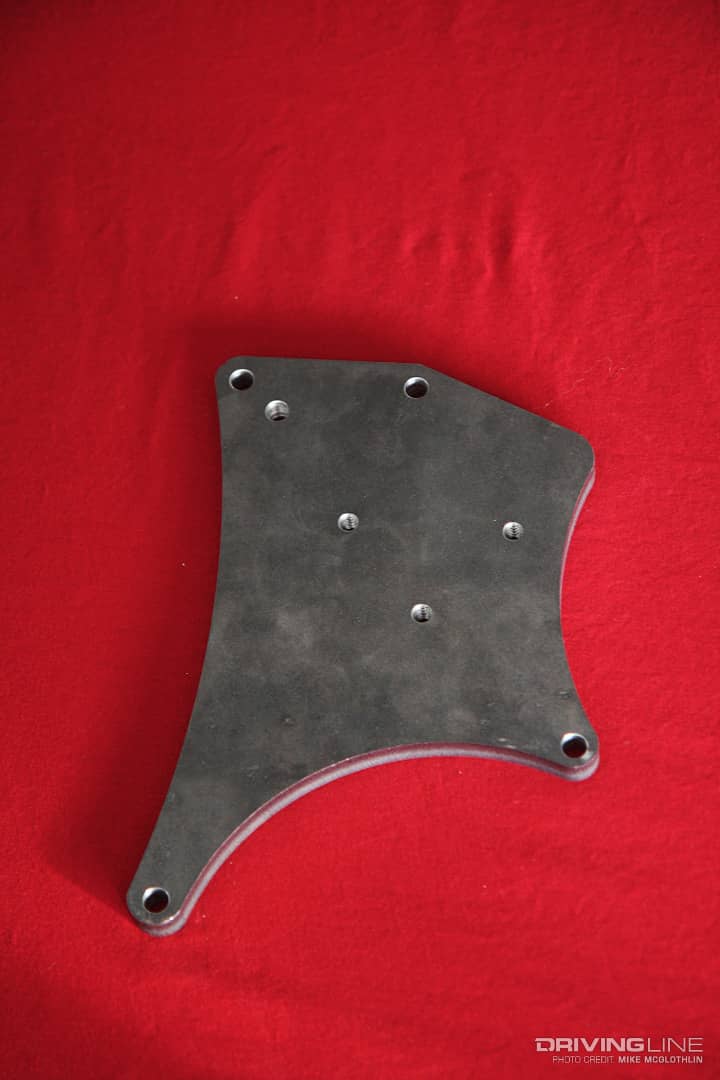 The turbo pedestal plate supplied in Irate's T4 turbo mounting system bolts in place of the factory turbo pedestal in the valley and actually uses the same mounting pads. Irate includes four 8x25mm mounting bolts to install it. This inch-thick steel pedestal plate is the foundation that the T4 collector and up-pipe assembly will eventually mount to.
T4 Collector & Up-pipe Assembly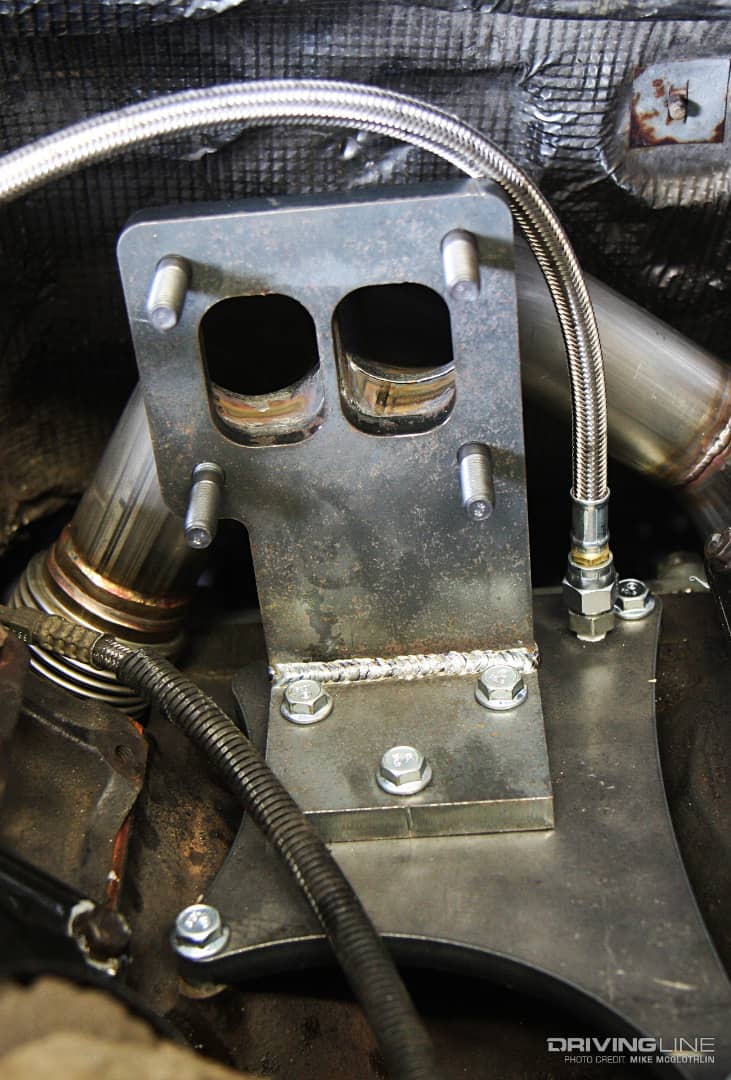 An extra set of hands is required to squeeze the T4 collector and up-pipe assembly into place between the engine and firewall and attach them to the exhaust manifolds. The collector and up-pipe assembly fastens to the pedestal plate via three supplied 8x25mm bolts, which we didn't fully tighten until the end of the install. Notice here that the supplied 1/8-inch NPT x 6 JIC fitting has been installed in the pedestal base along with the included braided stainless steel line. This is the oil feed for the turbocharger's center section. It is the original oil supply location for the factory turbocharger, only now an external line will be used.
New Turbo Oil Drain Fitting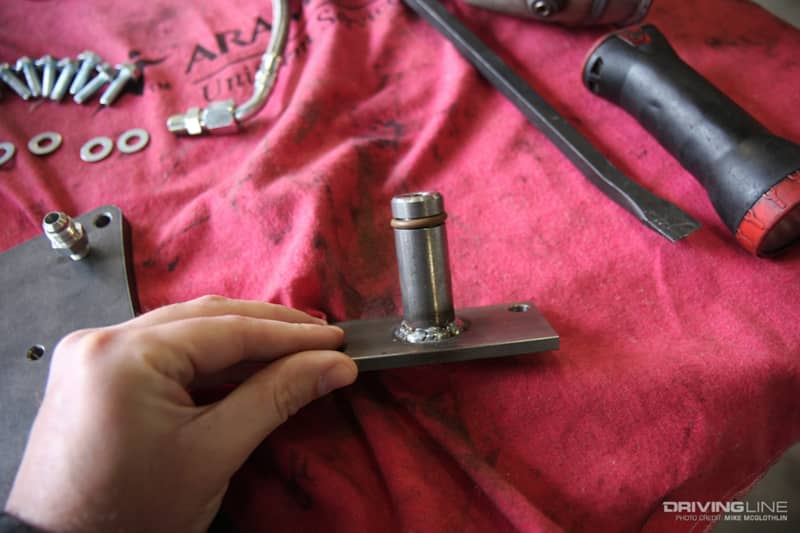 Remember the factory fuel pump mounting hole in the block that we left open in Part 5? Thanks to this unique fitting assembly from Irate, we made the vacant void in the valley the oil drain for our new turbo. Using the supplied fittings and stainless hard line, the new (external) turbo oil return line can be made to span from the turbo's center section to the block.
High-Flow Intake Y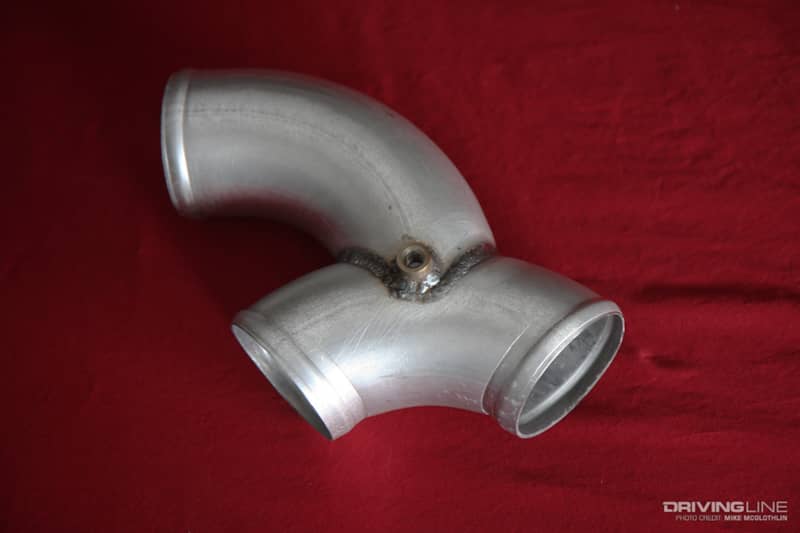 The 3-inch diameter intercooler piping included in Irate's T4 mounting kit culminates with this intake Y in the valley, which connects to the cold-side intercooler pipe and the intake plenums. Like the intercooler pipes, the intake Y features rolled beads to minimize the chance of blowing an intercooler boot under boost. Also notice the welded in 1/8-inch NPT bung, which accommodates the factory MAP sensor.
3-inch Downpipe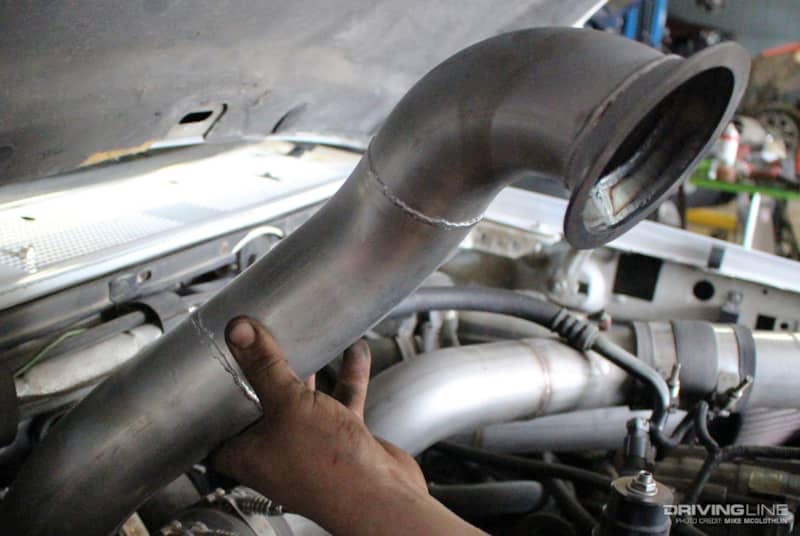 To open up exhaust flow leaving the turbo, Irate includes a two-piece 3-inch downpipe. While Irate fabricates the top section, the lower half is sourced from Diamond Eye Performance. It's important to note that different size turbo-mounting flanges are available on Irate's downpipe, and which one you get depends entirely on the turbocharger you've selected to run. Because we're going with an S400 and not an S300, our downpipe's inlet measures 4.62 inches (the standard turbine housing outlet diameter on BorgWarner's S400 series turbochargers). As for installing the downpipe, considerable massaging of the firewall has to be performed for proper clearance between the engine and cab. Our best advice here is to break out the Porta Power.
Coming Together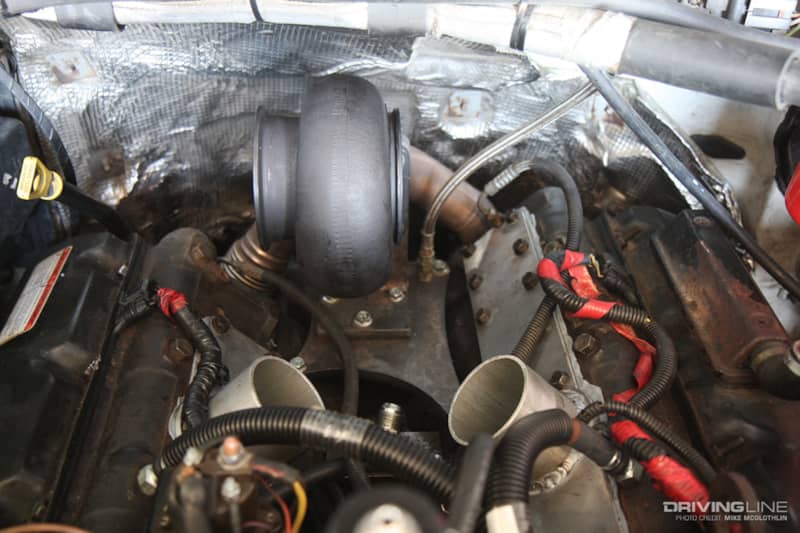 With the pedestal plate, T4 collector and up-pipe assembly and 3-inch intake plenums in place (along with our new turbo's exhaust housing mocked up on the collector), you start to see Irate's T4 turbo mounting system taking shape. Next time, we'll divulge all the specs on the S400 turbo we're going to run, button everything up under the hood and free up exhaust flow with a 5-inch system.
If you're wondering why such an extensive turbo upgrade is necessary on Project Paw-Paw, it's directly related to the massive hybrid fuel injectors we installed in Part 3.