Put a Cap On It: Truck Bed Shell Buyers' Guide
When it comes to truck upgrades, there are few items that increase versatility like a cap over the bed. From a practical standpoint, a cap makes hauling extra gear safer and easier. While some still associate classic bed caps with the work truck market, the reality is, the recreation side of the truck world has benefited greatly for innovation originally needed in the commercial sector. In fact, the diversity in the bed cap market is the greatest it has ever been.
With everyone from Tesla to Jeep getting into the truck game, the people who own trucks, and how they are being used, continues to change. From overlanding to grocery hauling, the utility a cap brings to a truck is tremendous. In this article, we're diving into the fastest growing and most popular truck cap segment—fiberglass covers. These have the biggest diversity in not only style but features as well. From color-matched, seamless glass surrounds, and heavy-duty locking mechanisms, these can be optioned as heavily as your budget will allow.
So, what are some things to consider? We've put together a list of must-haves and tips from real-world experience in the article below.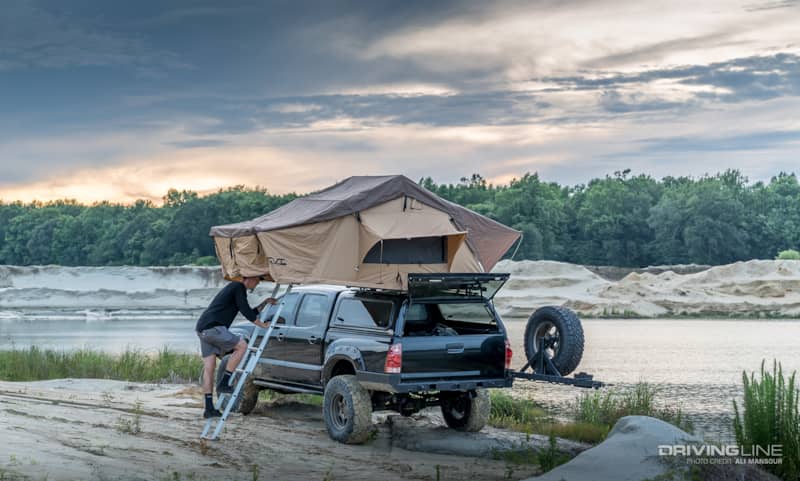 Mounting
The vast majority of modern caps mount by two-piece clamps that latch to your truck's bedrail. These are generally more than enough to secure the top even if you are going off-road. While this drill-free, bolt-on design may give you the illusion that the cap can be easily removed, that's generally not the case. Not only are the tops awkward to lift, but they are not light (most weighing in around 200 pounds). This is one of the reason's you'll likely have yours installed by an authorized dealer.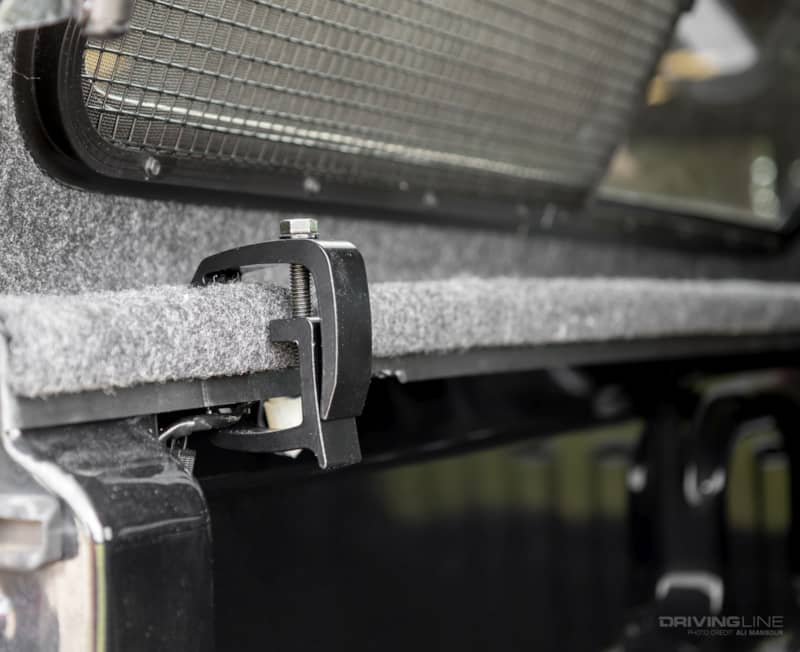 Support
To meet the demand for carrying items such as long lumber, ladders, and various bulky items on top of the cap, companies such as A.R.E. use aluminum subframes that tie into the rack mounts on top of the cap. These structures add very little weight to the cap overall but increase the load-carrying capacity (up to 550 pounds on full-size truck caps).  While this was originally designed for commercial applications, for those mounting items such as roof top tents, heavy awnings, and accessory mounts, it's an ideal option.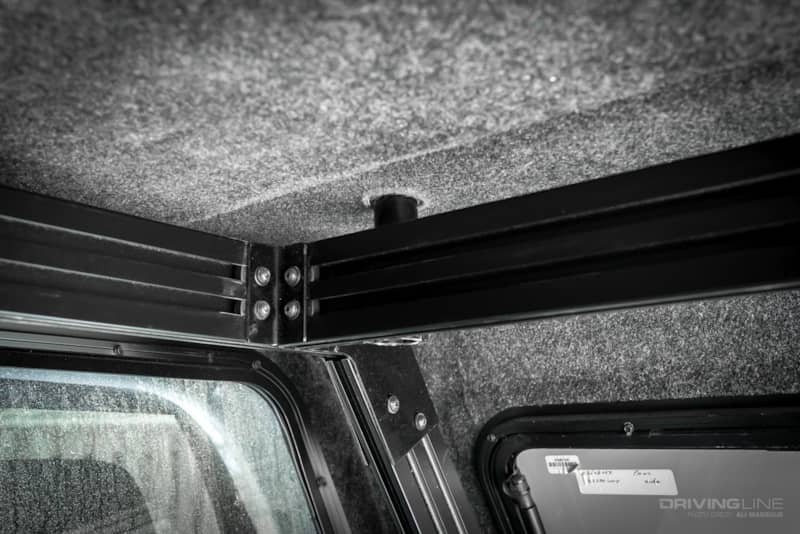 Roof Rails
If you don't want to opt for the more expensive subframe, you can always select the more common and cost-effective roof rail system when you order your camp. While the primary benefit of a cap is to keep gear out of the elements, when optioned with a rail system, you can expand your gear hauling options greatly. These Yakima JetStream series crossbars for example are rated at 165 pounds (static), making the perfect for mounting bikes, kayaks and even a roof top tent.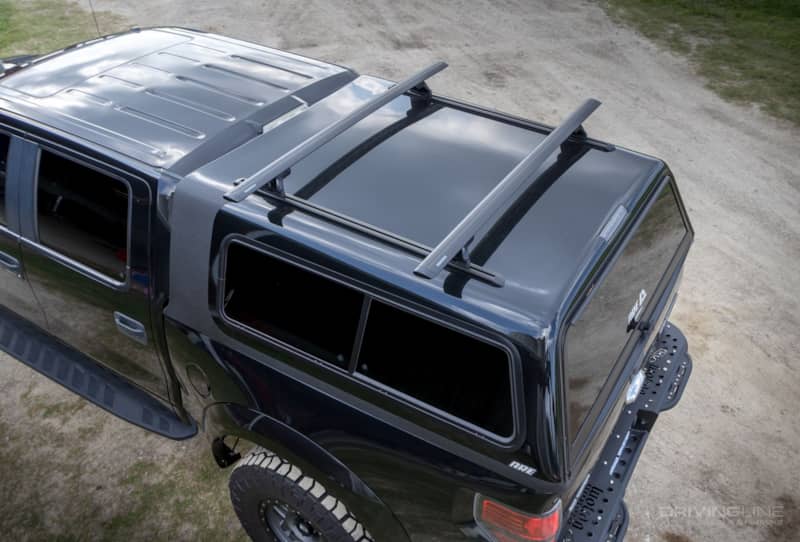 Storage Options
If you're one that typically opts for a toolbox in the bed of your truck, don't discount a cap. Many modern bed covers offer side-mounted toolboxes. These sealed and lockable setups can support up to 200 pounds. Boxes such as the one's offered on the A.R.E CX HD series cap are an excellent (and very organized) way to securely take your support gear along. While you can opt for storage boxes on each side, we prefer a single box as we found it's a nice balance of storage, without robbing too much interior room.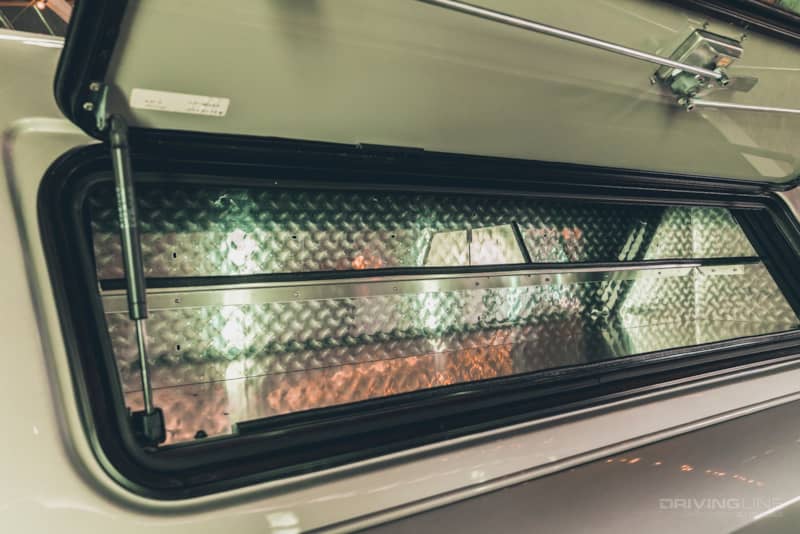 Going Off-Road
Fiberglass caps are by far the most common and popular in the recreational world. However, aluminum remains a mainstay in the commercial market as strength and price make them a more attractive option. Many of the more premium series caps are comprised of a unique polyester resin fiberglass laminate, though build structure can differ between manufacturers. We've logged thousands of on and off-road miles with a variety of tops without issue. Depending on how much your chassis moves on your truck will greatly impact on whether or not stress fractures develop on the cap.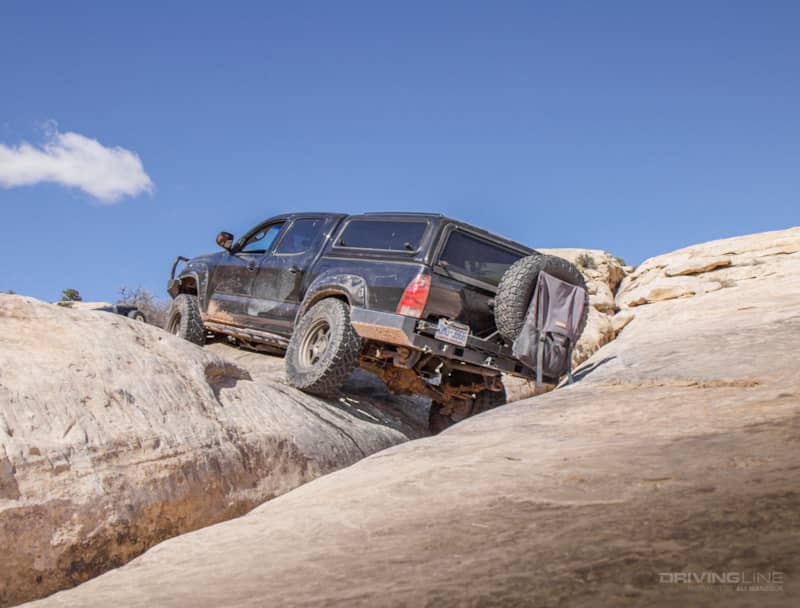 Interior Options
From clothes hangers and screen windows to carpeted headliners and LED lights, you can rack up some serious money in interior cap options. In our experience, three of the most beneficial options will be lighting, a carpeted headliner, and an auxiliary power connection. While many modern trucks offer bedrail lighting as well as a bed-mounted power outlet as a factory option, if your rig doesn't have these things, you can often opt for them as add-on items to your cap. Aside from being more visually pleasing, the benefit of the carpeted headliner is that it acts as an insulator and can decrease possible moisture build-up.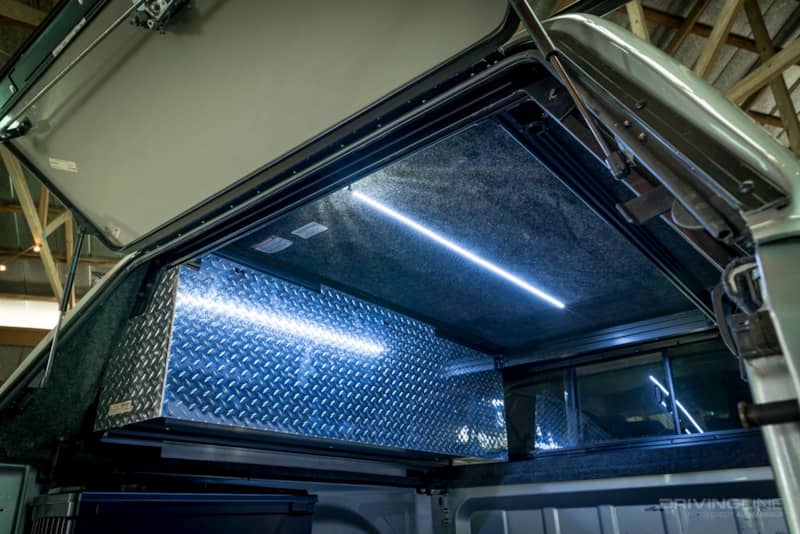 Easy Access
One of the longest running complaints about a bed cover is that it makes accessing gear at the front of the bed more difficult. This is one of the reasons we like caps that offer a side panels that open. You can typically get these in a privacy glass or composite window if you want even more gear protection.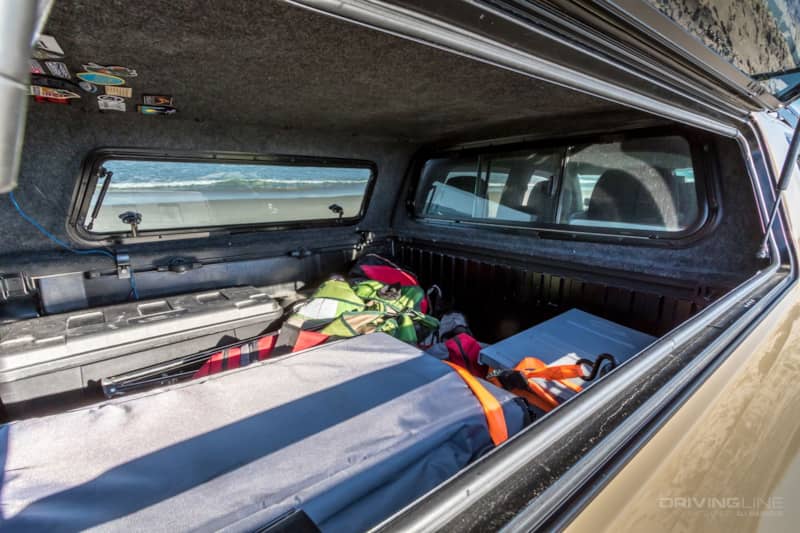 Load Ratings
We've touched on using your cap's roof a good bit as it's one of the major draws to the bed enclosure. Something worth examining more closely is how cap companies, as well as aftermarket crossbar manufacturers list their weight ratings. In general, most list dynamic versus static load ratings. Dynamic is the maximum amount of weight the company states should be attached while moving. Static figures are often much higher, but this number can be harder to pull from companies as they don't want it to get misinterpreted and equate to an overloaded rack or cap.
Considering that our Simpson Series III tent from ARB weighs 154 pounds, we are well within the dynamic load rating of our Yakima JetStream crossbars. Obviously, putting two adults with gear inside of the tent more than doubles the load, but that's a static figure. We haven't had any issues throughout the years with our setup, but it's worth talking directly with cap dealers and parts suppliers to ensure your configuration is suitable for your needs.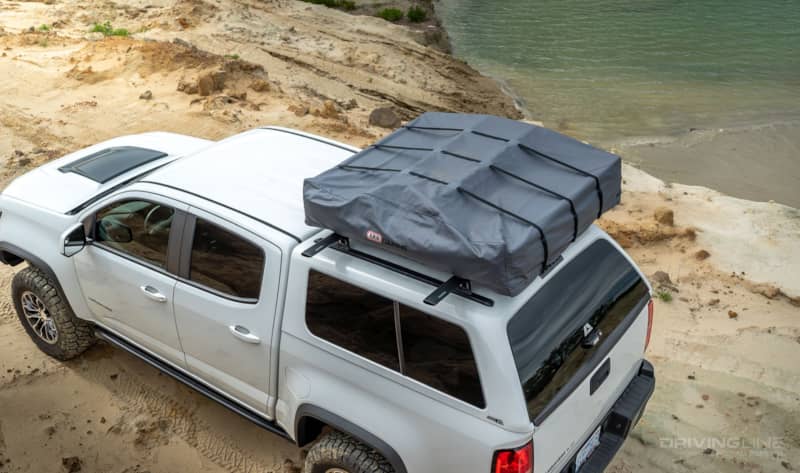 Soft Options
A cap alternative for someone looking for something a bit easier to remove is to go with a Bestop Supertop for Trucks. These fabric bed covers are extremely lightweight, easy to fold or completely remove, and do a fine job of keeping your gear out of the elements. While the zipper rear window isn't as quick to undo as a rear hatch on a fiberglass top, it's no more troublesome than a soft rear window on a Jeep Wrangler.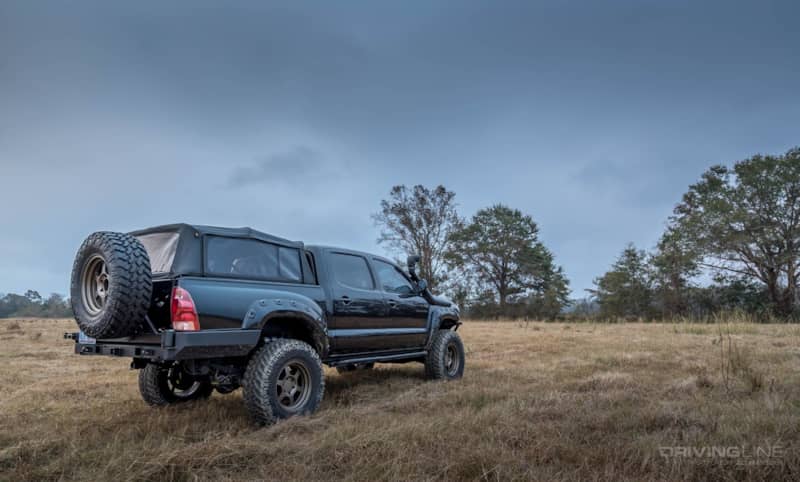 Want a detailed look at one of the most rugged truck caps on the market? Check out our full review.