Rampage: This FWD, Hemi V8-Powered Half Minivan, Half Pickup is One of the Strangest Trucks Ever
Last week when Hyundai debuted its new 2022 Santa Fe pickup (or "crossover with a bed" if you'd prefer), it got us thinking about other strange pickup trucks from modern history. And there may be none stranger than a concept truck that Dodge brought to the 2006 Chicago Auto Show.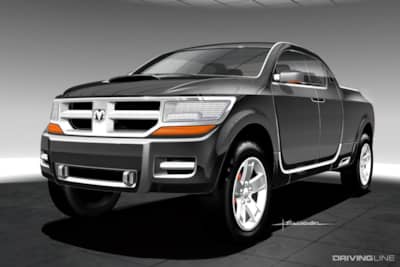 It was called the Rampage Concept, as you might remember that was the same name Dodge used for a short-lived front wheel drive subcompact pickup that it built in the early 1980s.
The only thing this Rampage pickup shared with the original, though, was its unibody construction and front-drive layout. Size-wise, it split the difference between the full-size Ram pickup and the midsize Dakota, but under the skin it was nothing like either.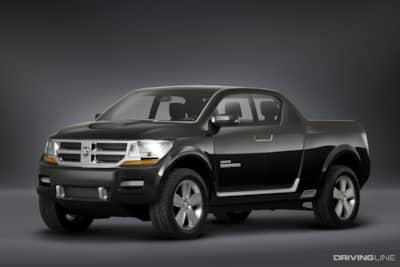 Rather than going for a tough and rugged image, the Rampage concept presented an alternative to the mainstream pickup that focused on maximizing interior space and flexibility.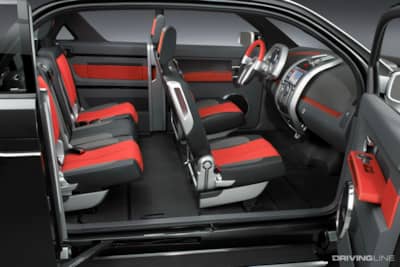 The same 5.7L Hemi V8 from the Ram 1500 could be found up front, powering the front wheels of a unibody platform that also featured an independent rear suspension.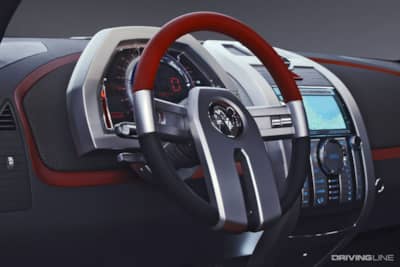 The unusual drivetrain layout gave the Rampage Concept a ton of room in the cabin, which for rear passengers where accessed via sliding side doors just like a Dodge Caravan.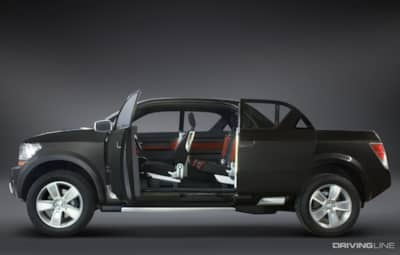 Not only did the rear sliding doors borrow a page from Chrysler's minivan playbook, the Rampage also had a front passenger seat and rear passenger seats that could be folded into the floor for maximum cargo space, another Caravan trait.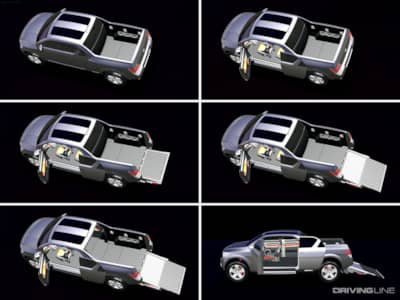 Then there was the bed, which measured five feet in length and had two different load floors, a passage through to the cab (ala the Chevy Avalanche and Subaru Baja) and a ramp that could be used for loading recreational vehicles.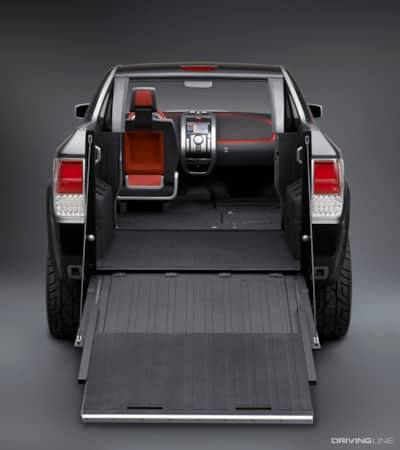 As strange as it may seem, the Rampage Concept gives us an interesting look back to a time that gave us unusual "active-oriented" vehicles like the Honda Element, Pontiac Aztek and the aforementioned Subaru Baja.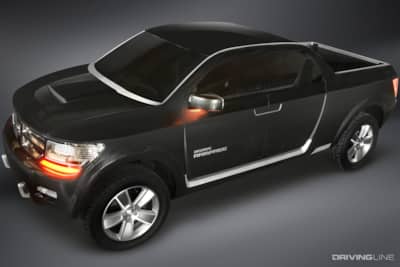 It's probably not surprising to hear that the Rampage Concept was never given the greenlight for production, and you can bet that "real" truck owners would have come up with a lot of ways to make fun of a FWD pickup truck with sliding doors.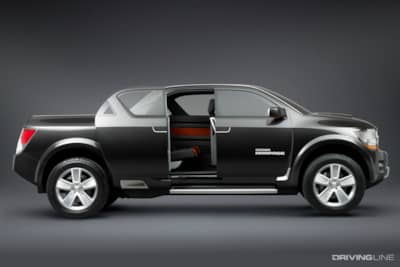 On the other hand if you imagine the Rampage not as a pickup truck but as a minivan with an open bed and big powerful Hemi V8 up front, than the idea sounds just crazy enough to be cool... 
More From

Driving Line
In case you missed the news about the controversial nee Hyundai Santa Fe pickup, you can find it all right here. 
And for a history lesson, here's our look back at the original Dodge Rampage pickup of the early 1980s.