Review: Daily Driving The 2021 Dodge Charger Hellcat Redeye Widebody 797 Horsepower Family Sedan In An SUV World
The 2021 Dodge Charger Hellcat Redeye Widebody makes a solemn promise to every single muscle car fan: you can have it all. Need a car that can turn in a sub-11 second quarter mile time? The Redeye has your back. Looking to brag about having more horsepower under the hood than whatever's parked in each of your neighbor's driveways, combined? The mightiest version of the Hellcat easily obliges.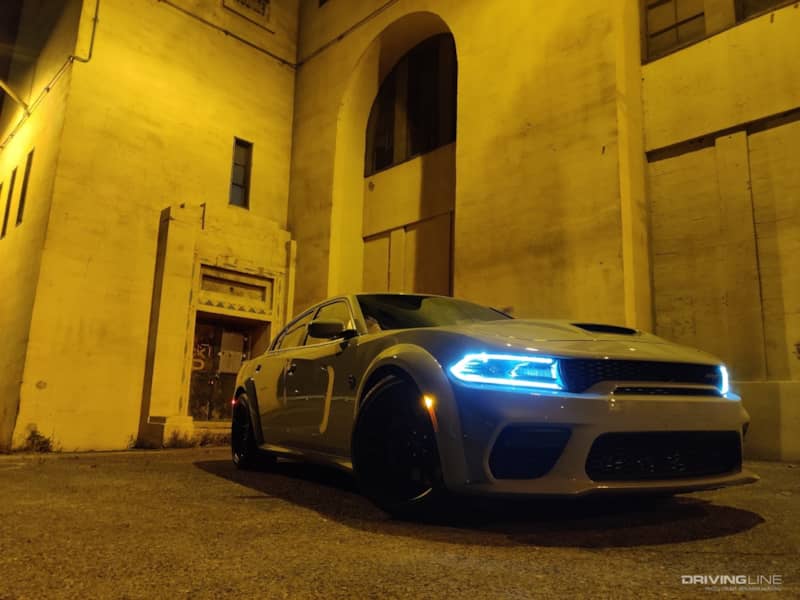 Want to strap a baby seat into the back, pop down to the supermarket to load the generous trunk with groceries, and then head off on a weekend road trip with the entire family in a car that looks like it's itching to murder every single rival that might slide into the lane beside it at the stoplight? The Charger Hellcat Redeye Widebody is right there with you for all of the above, making this full-size sedan one of the most practical performance cars to have ever left a Detroit factory.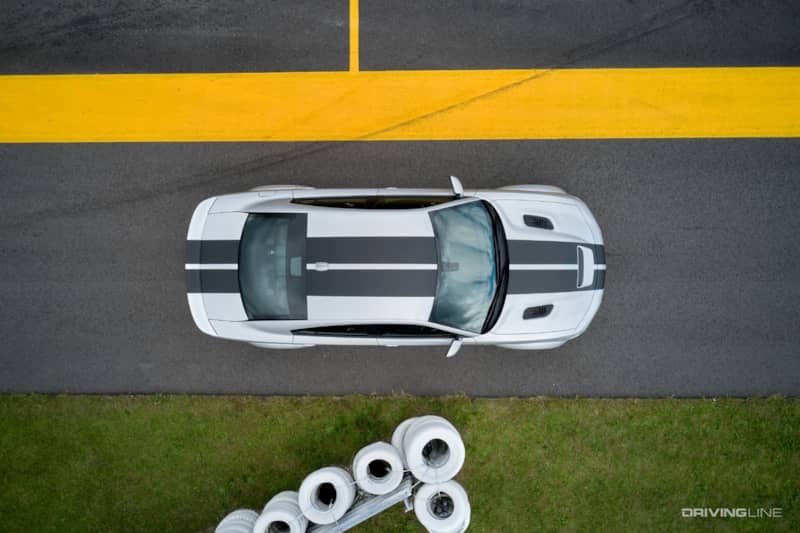 The Charger is also the final four-door American car to combine both a V8 engine and a rear-wheel drive layout, making it the last spiritual link between today's SUV-soaked landscape and the golden era of street performance. As a send-off for a dying slice of the automotive market, the Redeye Widebody is certainly a worthy Viking funeral of tire-smoke and frowning insurance adjusters—but how does it do as a 797 horsepower daily driver?
Nothing Exceeds Like Excess
At first blush it really doesn't seem like that difficult of a question. As explained in the intro, the Hellcat Redeye's roots dive deep into the Dodge Charger's platform. This means at its core it delivers exceptional interior room front and rear and a long wheelbase that easily absorbs rough roads while also stabilizing the car at highway speeds, all complimented by a trunk that gives smaller crossovers a run for their money when it comes time to swallow whatever gear might need to come along for the ride.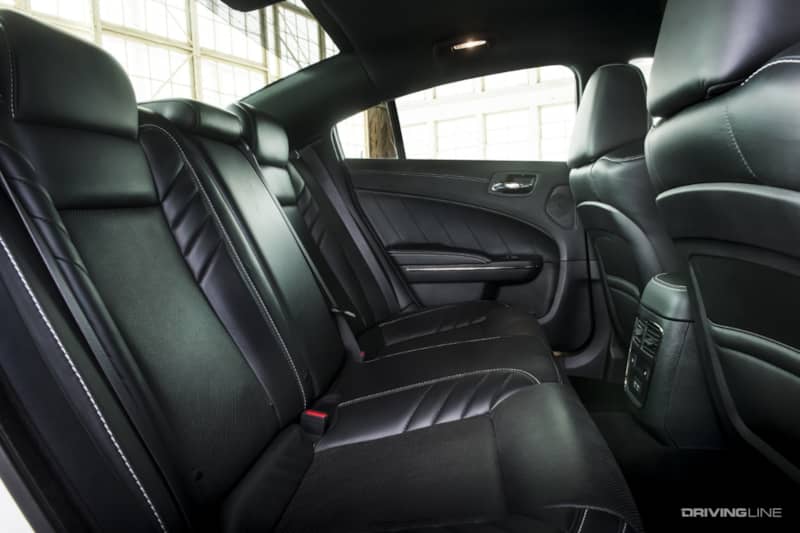 The base Charger's commuter-friendly bonafides translate over almost entirely to the Redeye package, which means in theory there's no reason why the Widebody can't slot into your garage rotation as a perfectly reasonable option for the morning drive to work. Just how rational the decision to daily the Hellcat truly is, however, depends entirely on your self control, because once you hit the ignition button and light up its 6.2-liter supercharged V8, you've primed each and every mile that lies ahead for a mix of action movie antics and wallet-emptying encounters with local law enforcement.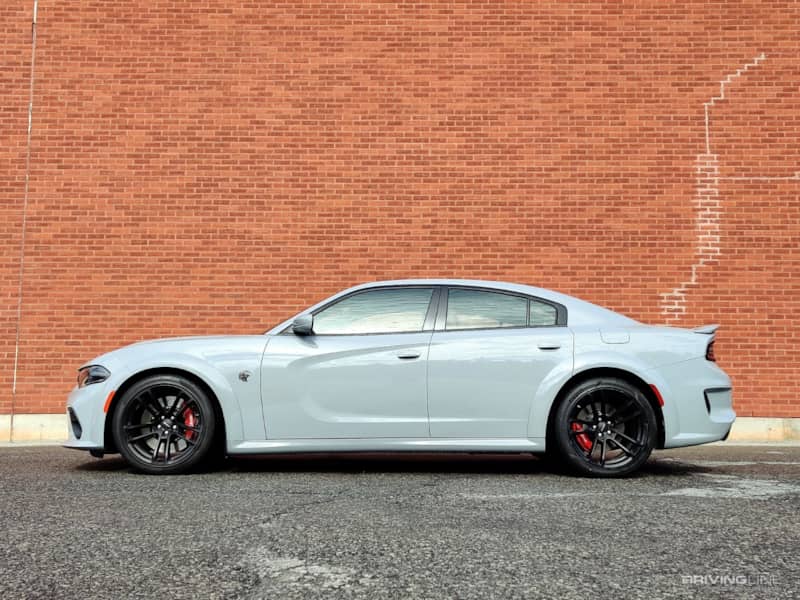 While that might seem a bit over the top, as soon as the rumble of the Hellcat Redeye's 797 hp and 707 lb-ft of torque fill the cabin of the Charger (80 extra ponies compared to the 'standard' Hellcat), you quickly come to realize just how much responsibility you've given to your right foot. The SRT's unfettered exhaust booms through the car's spacious cabin even at idle, a deep bass note that's accented by the Krusty-the-Klown-laughter warble of its embiggened 2.7-liter supercharger at part-throttle, which adds an unsettling 14.5 psi timbre to the proceedings—and all before you've even reached 35 mph.
Traction / Reaction
What happens next depends entirely on your level of self-confidence, the temperature of the tires and the asphalt beneath, and how straight a road you find yourself on. Slipping behind the wheel of the SRT Hellcat Redeye puts you on the first page of a 'choose your own adventure' story where speed is measured out in 50-mph increments and traction is all too willing to slip the surly bonds of Earth at nearly any throttle position.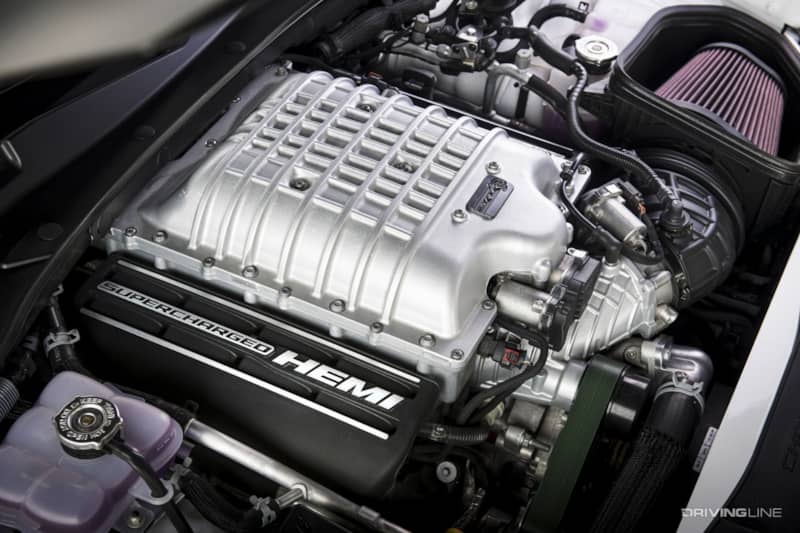 With so much firepower at my command, I discovered that relaxing my vigilance for even a moment put the Charger at odds with October's cool, crisp temperatures. It seemed as though every second stop sign saw me scuff up the tires if I even grazed the accelerator with an ounce too much pressure, startling passersby and briefly unsettling the car's stability control program.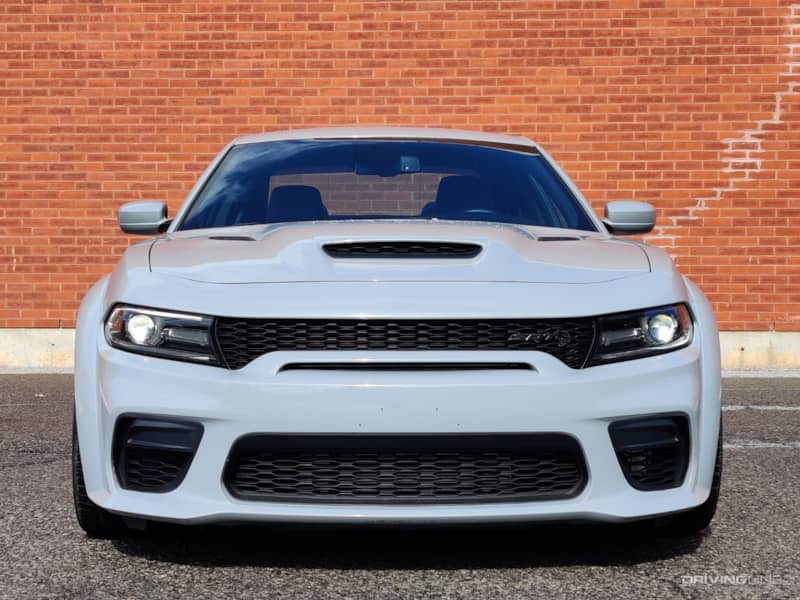 Similarly, pulling out to pass became a balancing act between summoning a smidgen of the Hellcat's limitless torque reserves and making sure there was enough space to snap the tail back into line should the world behind the driver's seat begin to tilt past the point of electronic intervention. That this could happen at nearly any speed gave me a heightened sense of situational awareness on cold pavement that I could only imagine as being similar to those cage-free scuba divers who cavort with Great White sharks in search of their thrills.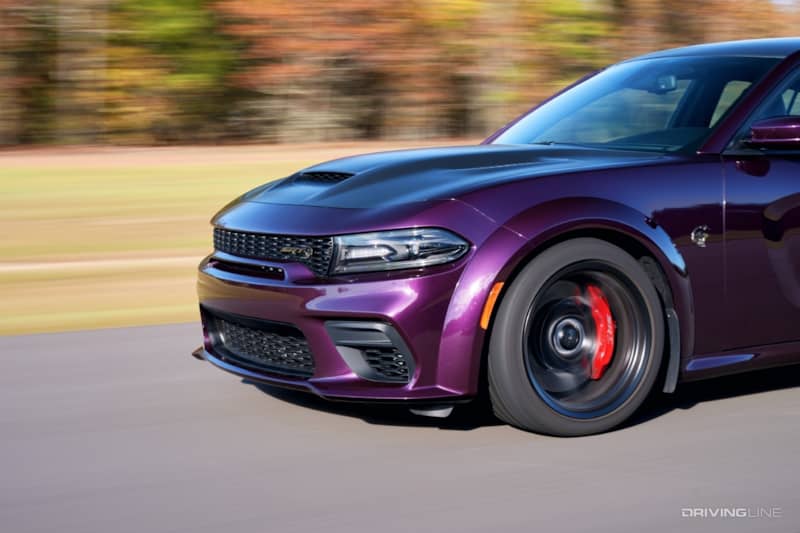 Of course, the major difference here (aside from not wearing a neoprene skin suit) was that most of the time I was just trying to merge into traffic, not seek out instant-on adrenaline. The Widebody version of the Charger is of course more than happy to lend a helping hand if the latter is indeed the target. With a top speed of 203 mph, much of the car's terrifying thrust arrives above the 100 mph mark, and it's almost certain that you'll run out of intestinal fortitude before the Redeye reaches redline in eighth gear.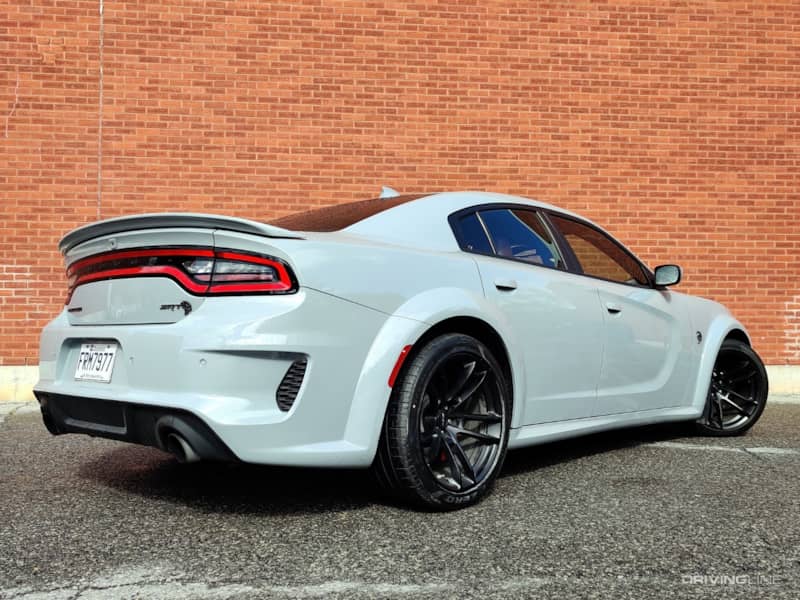 Twisty roads are also dispatched with as much grace and poise as a near-4,600 pound sedan can deliver thanks to the extra contact patch shoehorned under the Widebody's bulging fenders. The car is hard pressed to put power down on the street as compared to fully-prepped drag surface, but handling is reasonably confident thanks to the mechanical grip offered by its 11-inch wide wheels and the stiff, but not punishing ride available from its adaptive suspension setup. You'll have to pay attention, but having previously driven the 707 horsepower flavor of the Widebody on a road course I can vouch for its overall competence in rewarding drivers careful to step around its crushing torque, which hovers over the entire enterprise like a fist that's cocked and ready to pummel should you misjudge your corner exit.
Cost Of Living
Track performance is well and good, but back to the matter at hand: how does the Dodge Charger SRT Hellcat Redeye Widebody's overboosted bonafides measure up when matched against the daily demands of every day life?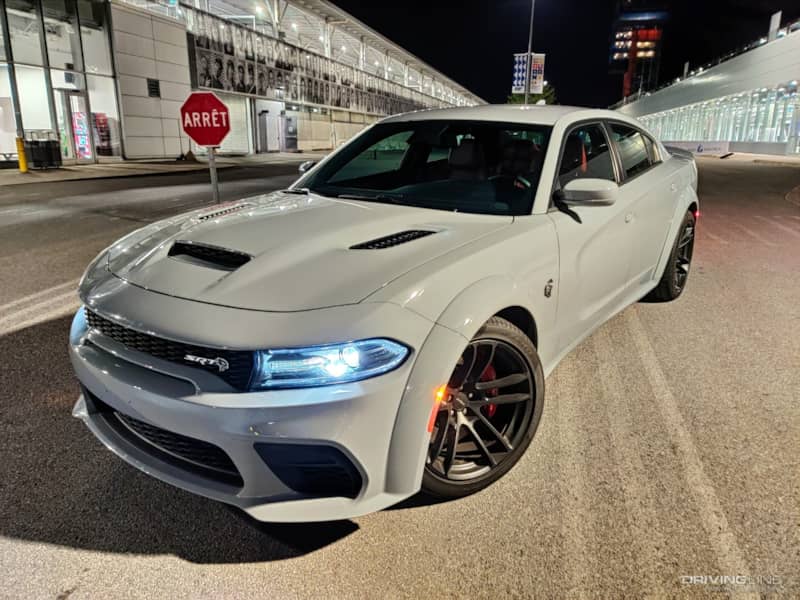 For those who can keep their wits about them and delicately dance the throttle down rain-slicked roads or on chilly fall mornings, the Charger should present no serious obstacles to one's commuter fantasies. Relatively mild throttle mapping with the car's drive mode set to 'Auto' will keep you ahead of grip game when the climate is warm and dry. At the same time, it's not the kind of car you can casually lend to a friend for a taco run at half-time, as the vast majority of people will have never experienced anything nearly as explosive in automotive form. It's an initiation you certainly don't want them to encounter while trying to make a simple right-hand turn into traffic.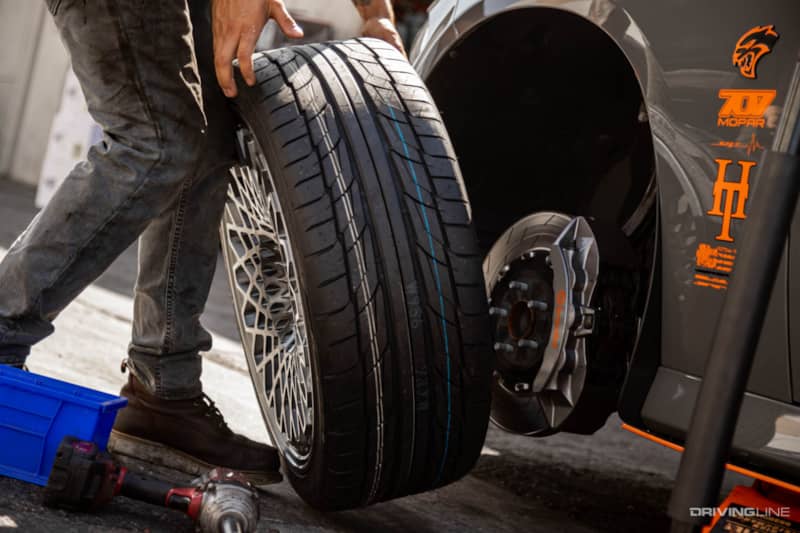 It also helps if you have a nearly-unlimited fuel-and-tire budget to feed the Redeye the rubber and gasoline it demands on a shockingly regular basis. As its $80,000 price tag might suggest, the Widebody is budget-friendly only when evaluated on its eye-popping power and lofty top speed, not its consumables or window sticker compared to less outrageous sedans.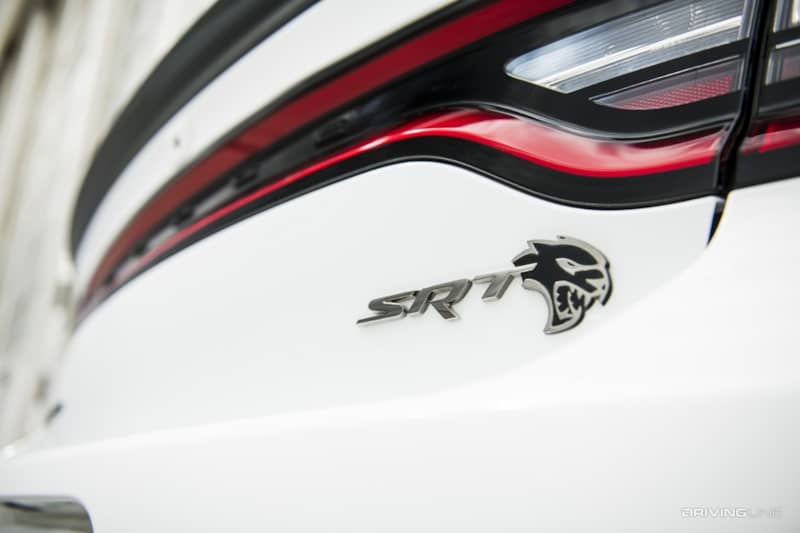 Still, if you want a rear-wheel drive family car with a throbbing V8, and aren't interested in a European or Japanese badge, or a hatchback on stilts SUV, the Charger is the only game in town—and the Redeye is that game played for the highest possible stakes.