2020 Dodge Charger Widebody Track Drive: Conquering Sonoma With 707 Horsepower
'More, More, More,' isn't just the refrain of an unforgettable disco classic—it's also clearly the guiding philosophy at FCA's SRT. It's fitting, in many ways, that a superhit from the 1970s applies to so many of Dodge's recent performance products, given that they often wear badges that harken back to that decade's muscle car glory days.
The latest load of excess horsepower from the last American automaker continually raising the stakes on street, strip and track, is the 2020 Dodge Charger SRT Hellcat Widebody. Joined by its somewhat-attenuated Scat Pack 392 Widebody sibling, this revised edition of the world's mightiest family sedan now features bulging fenders, a more focused suspension setup and body work that's aggressive enough to intimidate any other four-door in the daycare pick-up line.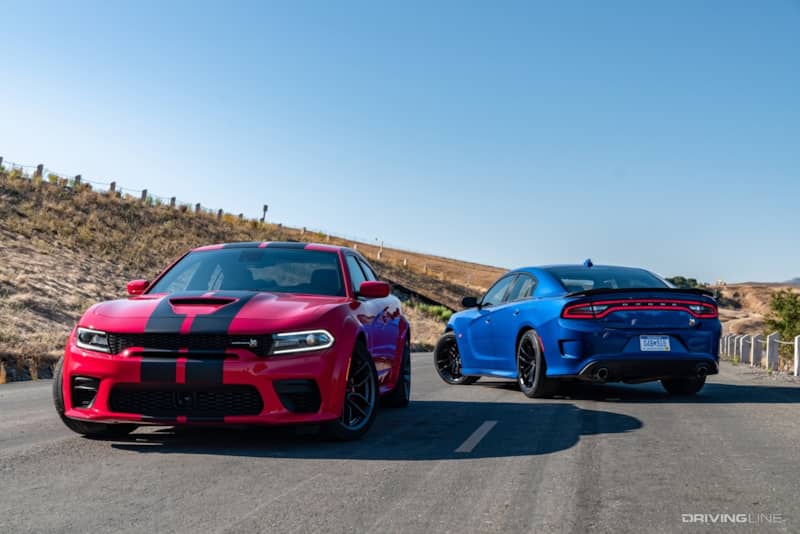 A natural complement to the two-door, widebody Challenger, the thicker Charger steps in as the most corner-friendly version of the car to date. A day behind the wheel within the curvy confines of northern California's Sonoma Raceway helped prove that yes, elephants can dance.
Familiar Power Plants
Under the hood, it's status quo for both cars. The Hellcat Widebody soldiers forward with the same fire-breathing, 6.2-liter supercharged V8 that features an absurd 707 horsepower and 650 lb-ft of torque that it's offered since the drivetrain was first introduced for the 2015 model year. The Scat Pack 392 is also a carry-over, strutting 485 horsepower and 475 lb-ft of torque, and an eight-speed automatic transmission remains standard across the board.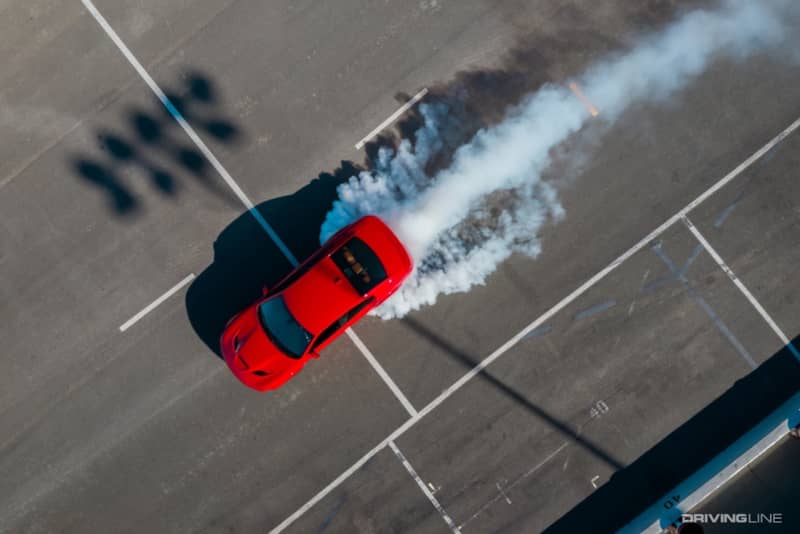 If you're looking for a little extra grunt, there's always the Daytona Edition, which bumps output by 10 horses on the Hellcat by way of a slightly raised redline (in addition to a few styling tweaks and the availability of B5 Blue paint). That being said, the Widebody exists not to punch up with even more inflated numbers, but rather better harness what's already in the offing.
Grasping For Grip
To that end, both Widebody Chargers deliver 3.5-inches extra when measured from side-to-side, all the better to conceal the enormous 20-inch rubber that adds considerable grip for both vehicles. Tucked behind those spinners are a set of 6-piston calipers sourced from Brembo that arrest 15.4-inch front rotors, necessary when hauling down the 4,500 lbs of sedan down from triple-digit speeds. Suspension-wise, Widebody cars also gain revised (and thicker) sway bars, as well as stiffer springs and retuned adaptive Bilstein shock absorbers to match. The latter offers three distinct modes (Street, Sport, and Track).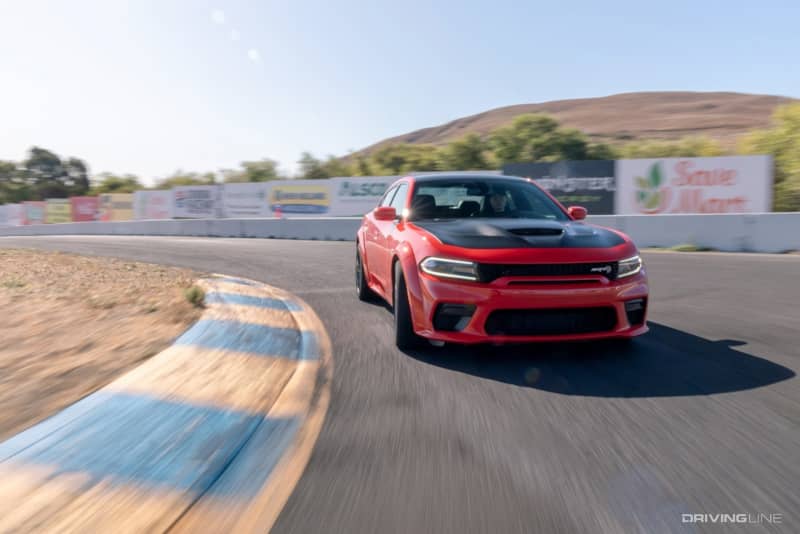 It's an impressive collection of equipment that makes a significant difference on paper. Sure, the extra aero drag inherent in the Widebody's additional frontal area drops the SRT Hellcat's top speed from 204 mpg to 196 mph, but that's more than made up for by a sub-11 second quarter mile, which incorporates a 3.6-second blast to 60-mph—both numbers an improvement on the standard-body car. The Scat Pack 392 Widebody provides a similar boost in performance over its more svelte sibling.
Better Than Expected Stick
It's clear that both Charger Widebody cars carve out an even more commanding chunk of the muscle sedan spectrum on the street, but how does all that extra stickiness translate on a race track?
Sonoma Raceway's twisting scoliosis spine of asphalt provided a serious challenge for the two oversized sprinters. It's a circuit that demands both respect and throttle control, especially considering the Hellcat's propensity to stop the Earth from spinning on its axis when the right foot is flattened to the floor.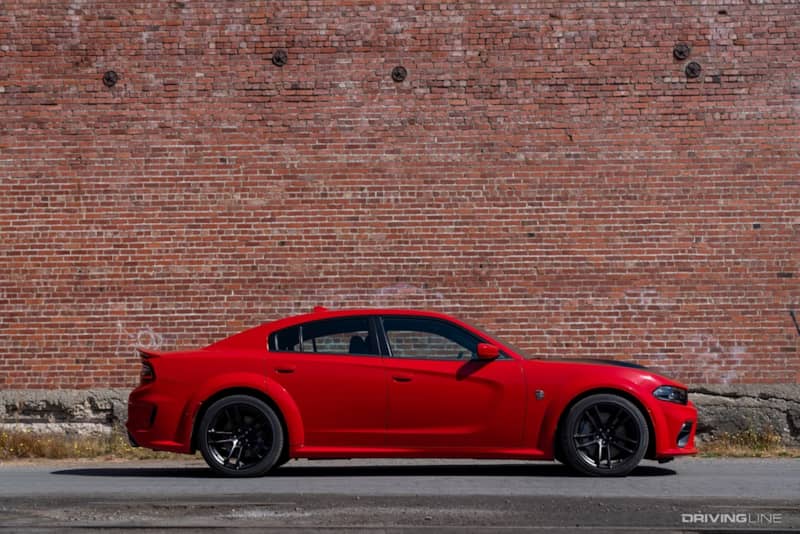 The good news is that each vehicle's skid pad rating has been boosted, with the lighter-up-front Scat Pack posting nearly 1 g (just ahead of the Hellcat's .96 g score). It's a testament to the wider stance of each car that neither feels like a handful even when punished up and down the rarely-flat ribbon of Sonoma. Even with minimal runoff in several areas making the Widebody feel even bigger than it actually is, there was never a moment where its prodigious output seemed on the verge of overpowering the Charger's chassis.
Of course, a fair bit of that S-curve security rests with the responsibility of the driver, who is forced to manage the Hellcat's 707 wild stallions lap after lap. If you let your attention falter there are certainly consequences, even with the improved grip of the Widebody package. This can add up to a more exhausting experience during longer track sessions for even experienced drivers as they baby-sit the supercharger while simultaneously sussing out where the car's limits truly lie.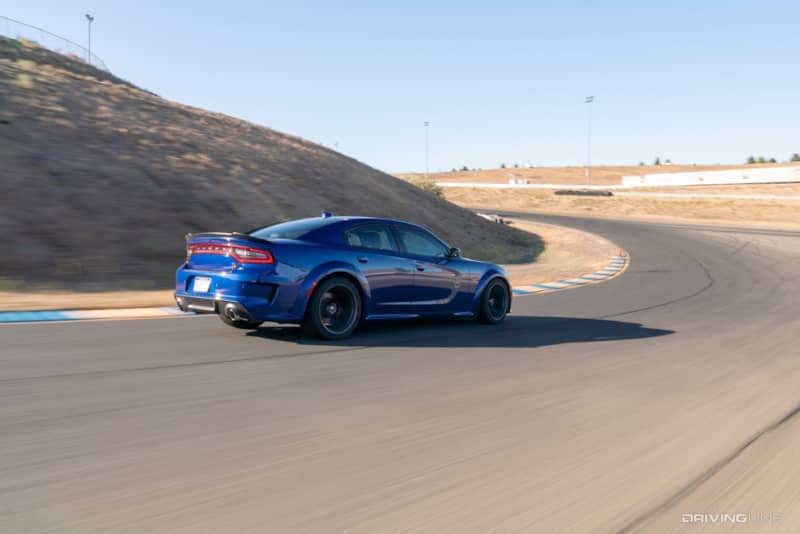 It's an altogether different experience in the Scat Pack 329 Widebody, which provides more rapid throttle response combined with attenuated torque delivery. The end result? A ride that favors flogging rather than needs nursing at a facility like Sonoma, taking a mental load off while also offering a better bonding experience as you focus on conquering the track instead of keeping yourself alive long enough to see pit lane one more time.
Nothing Else Like It
That being said, in the right hands the SRT Hellcat Widebody is still the faster car—and in fact the fastest car you can currently get with four doors outside of the rarefied air of exotics. Dodge is fond of saying that the high performance versions of the Charger currently have no real equals in the full size sedan segment, and it's hard to disagree with that statement given the dearth of 700-plus horsepower options available in Toyota, Ford, or Chevrolet showrooms.
It's also one of the most expensive non-luxury family cars money can buy. You'll be handing over $45,995 for the Scat Pack 392 Widebody, which is a $6,000 premium over the regular Scat Pack, while the SRT Hellcat Widebody goes for $69,645. The latter takes over as the only Hellcat version of the Charger currently available, with the narrow body model retired for 2020. Fancy that Daytona edition mentioned earlier? It's another $5k, bringing the maximum cost of the Dodge just over $74,000.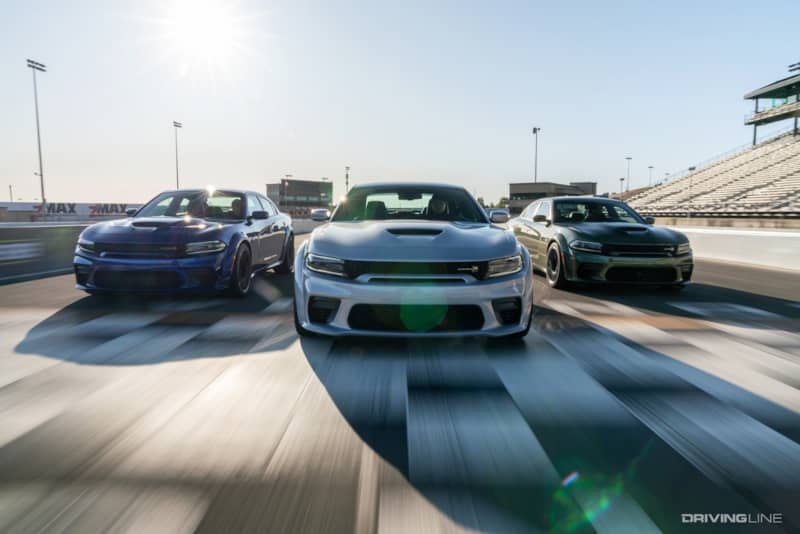 At what price bragging rights? There are no other cars like the Charger Hellcat on the market, unless you're willing to go with two fewer doors and park its Challenger sibling in your driveway. Still, if you love the unabashed attitude of the Widebody look, and don't mind giving up a couple of hundred horsepower, the Scat Pack 392's sub-$50k price gives you a lot of fun for substantially less money—and you don't have to be the reigning local hot shoe to get the most out of it should you take a detour to the track on your way home from a grocery run.
When are we going to see the Hellephant in a production car? Check out our swap ideas to tide you over until that happens.