Review: The 2021 Land Rover Defender 90 SUV Returns To Its Rugged Off-Road Roots
Americans aren't used to seeing the Land Rover badge on anything but a luxury product. In its home market, however, the British SUV builder still has a strong link to its agrarian past, which saw it start out building the kind of tough trucks farmers needed when no roads existed between the barn and the pasture.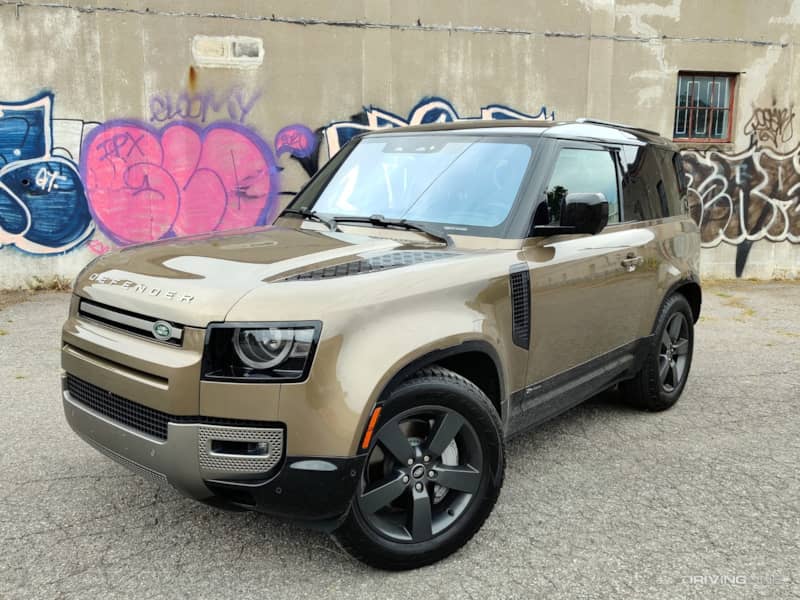 Photo: Benjamin Hunting
This partially explains why the company waited so long to officially return to America its most traditional truck (after a very brief mid-'90s foray). Although completely redesigned for 2021, the Land Rover Defender 90 is intended to capture, and elevate, the spirit of the two-door rural runabouts that helped build the brand's legend among the UK's working class.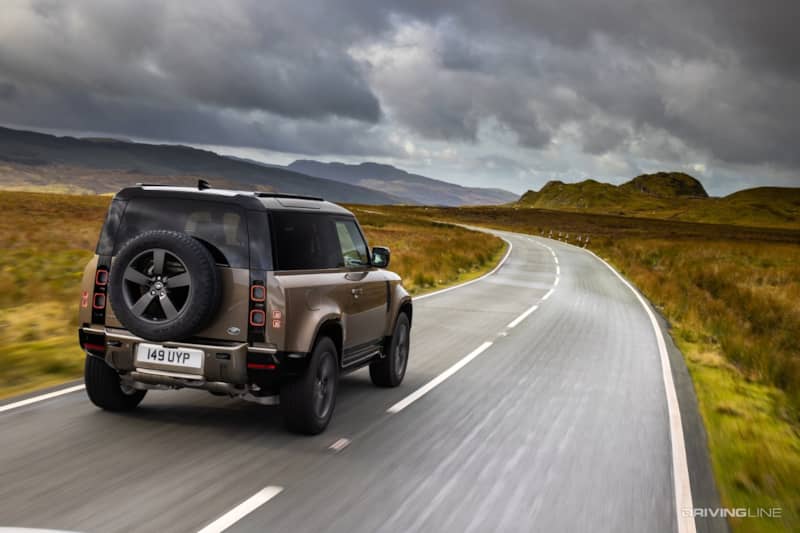 As a roots-oriented off-road rig, the 2021 Land Rover Defender 90 is courting an entirely new set of potential customers state-side, hovering at the periphery of the go-anywhere sport-utility segment where the Jeep Wrangler Rubicon currently reigns supreme. With the emergence of the also-new Ford Bronco as a comfortable and stylish 4x4 with solid daily driver chops, is there room for the Defender 90 to justify its higher-than-average starting price in what is suddenly a somewhat crowded scene?
Tick-Tock-Tech 
Whereas past versions of the Land Rover Defender were decidedly hardcore in their mechanical details—think first-generation Mercedes-Benz G-Wagen, only a little more spartan—the 2021 edition heads in a much more palatable direction.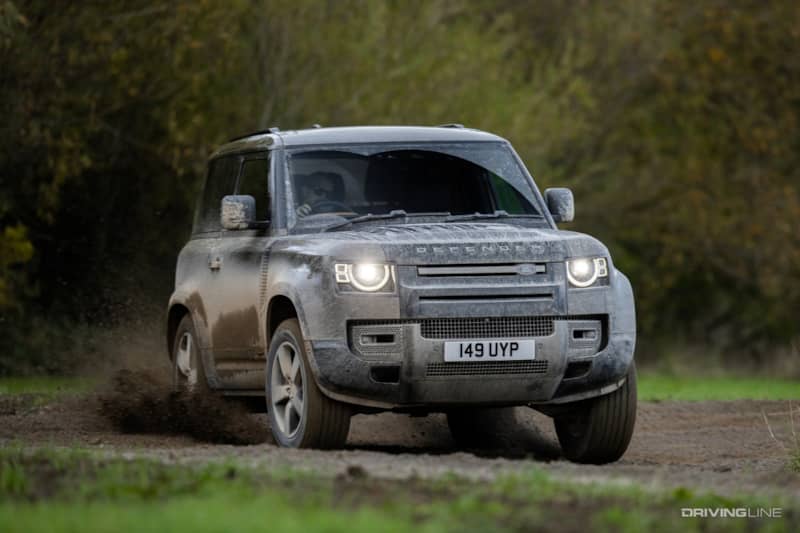 Gone is the old D90's manual transmission, solid rear axle, and manually-locking center differential, and in their place are an 8-speed automatic and the Terrain Response system that automatically manages the traction afforded by its low-range four-wheel drive system, center diff, and electronically-locking rear. Also along for the ride is an available air suspension (providing 11.5 inches of total ground clearance) and a host of electronic aides that include off-road cruise control (All-Terrain Progress Control in Land Rover speak), a full array of forward-facing cameras that keep an eye on what's about to go under the bumper or the rockers, and even a depth sensor to assist when wading across a river or stream.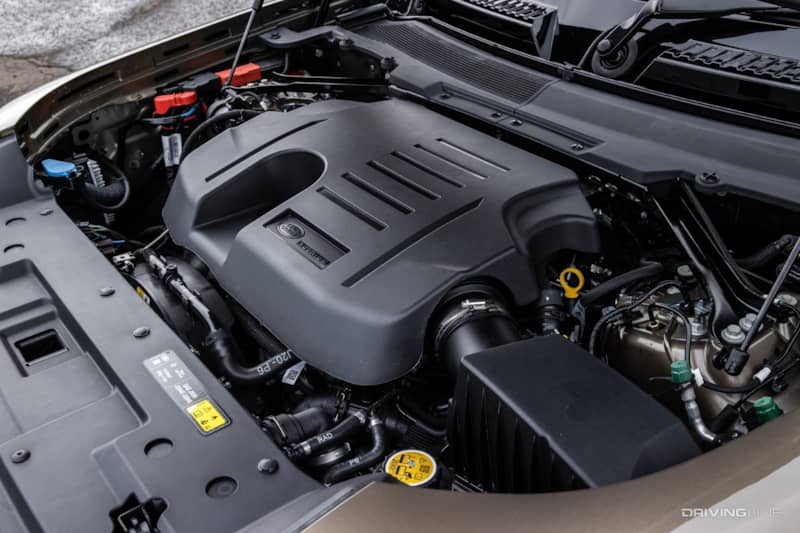 The Defender says goodbye to both its wheezy V8 (in original US-spec) and its European turbodiesel replacement. Instead, American D90 buyers can choose between a turbocharged four-cylinder, a turbo straight six, or a supercharged V8. My tester was delivered with the 395 hp, 3.0L I6, which also provided 406 lb-ft of torque. Part of that twist is generated by an instant-on 48-volt mild hybrid system as well as an electric supercharger that's spun by braking energy fed into the vehicle's battery.
Surprisingly Decent Daily
With its 101.9 inch wheelbase the Defender 90's length might not exactly match its name but it certainly drives smaller than its four-door Defender 110 sibling. And yet, despite featuring an axle gap that's more commonly associated with company hatchbacks than modern SUVs, the D90 lacks any of the skittishness that can sometimes plague the solid-axle, two-door version of the Wrangler.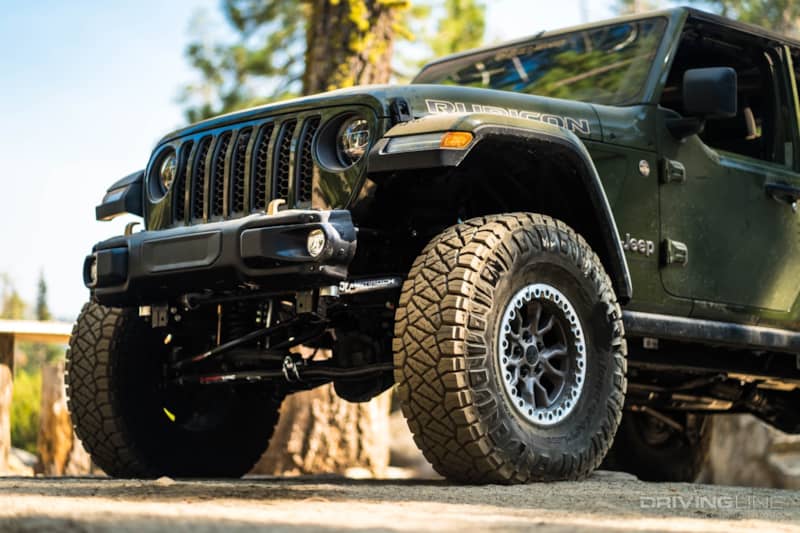 It's a remarkably composed ride on pavement that doesn't compromise when it comes time to tackle off-road obstacles: With an approach angle of 38 degrees, a departure angle of 40 degrees, and a breakover of 31 degrees, the Land Rover bests the Wrangler Rubicon everywhere but on approach (even adding an extra inch and a half of ground clearance and another 5.4 inches of water wading capability).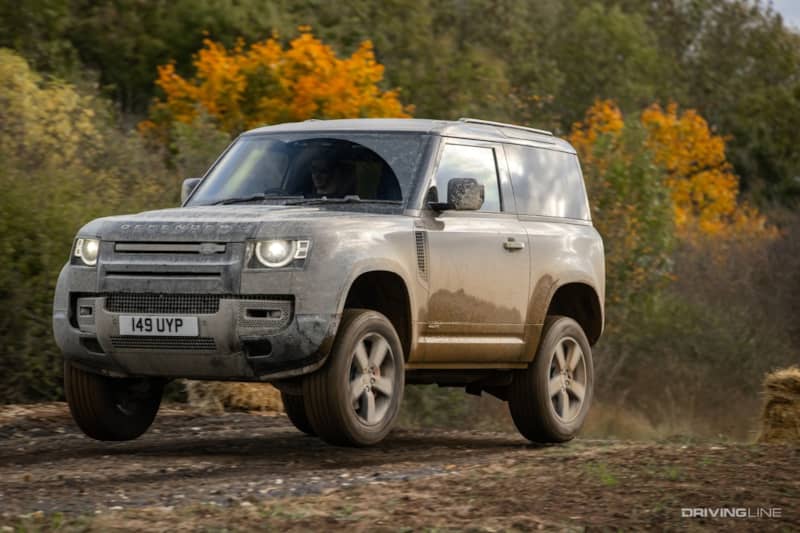 Of course, with its independent suspension, the Wrangler pulls ahead with it comes to articulation, and it also features a more aggressive transfer case crawl ratio.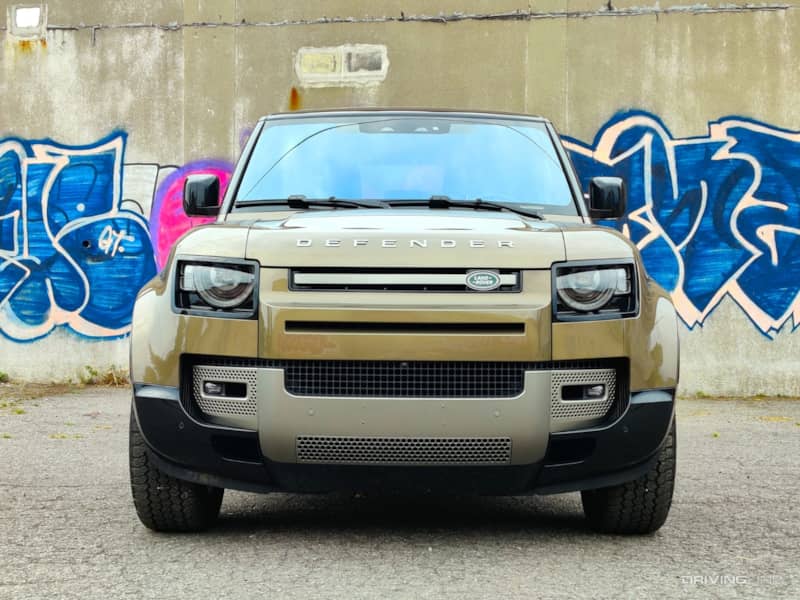 Photo: Benjamin Hunting
In terms of power, the Land Rover Defender 90's six-cylinder engine lays waste to both the Wrangler and the Bronco's V6 options (with a V8 in reserve to tackle the four-door only Rubicon 392, if necessary). Throttle response doesn't match its handling in terms of smoothness, as torque jumps from right foot to road so quickly that I had to relearn how to soften my pedal inputs so as not to surge the truck forward after every stop. Once I got the hang of it, I was impressed by the Land Rover's quickness, with a 0-60 mph time of less than six seconds, which is more than satisfying given the vehicle's size.
Two-Door Difference
There are but a trio of two-door SUVs currently available, and each walks its own unique path when it comes to styling, with the 2021 Land Rover Defender 90 the only one of the three not to offer a soft-top option. Like the Bronco, the Defender manages to blend a nod to the history of the badge with modern Land Rover design cues that fit in well with other models in the showroom. If anything, the D90 is a little too conservative, and almost appears older than its all-new bones would suggest.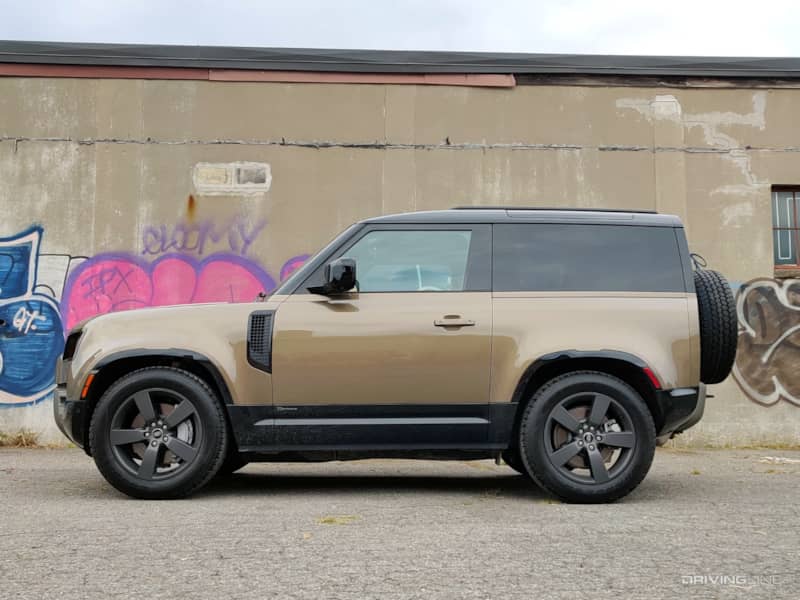 Photo: Benjamin Hunting
My tester lacked the attachable side-storage that blocks out the rear window on the driver's side, and I honestly didn't miss it. Why anyone would want to sacrifice visibility for an accessory that simply makes your gear a flashing target for would-be thieves is beyond me.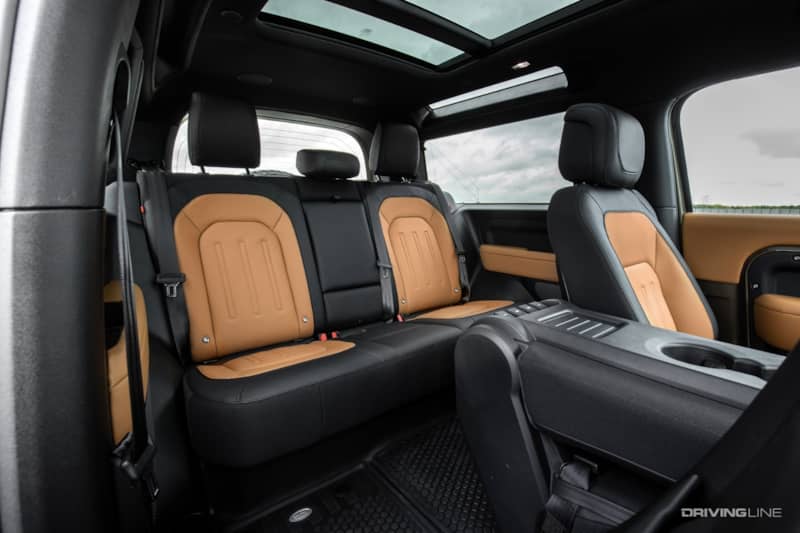 This meant that rear seat riders had access to copious amounts of sunlight (pouring in from the top-mounted safari-style windows as well) to match their startling amount of leg room. The D90 offers five more inches of wheelbase as compared to the Wrangler, and the interior difference is immediately noticeable.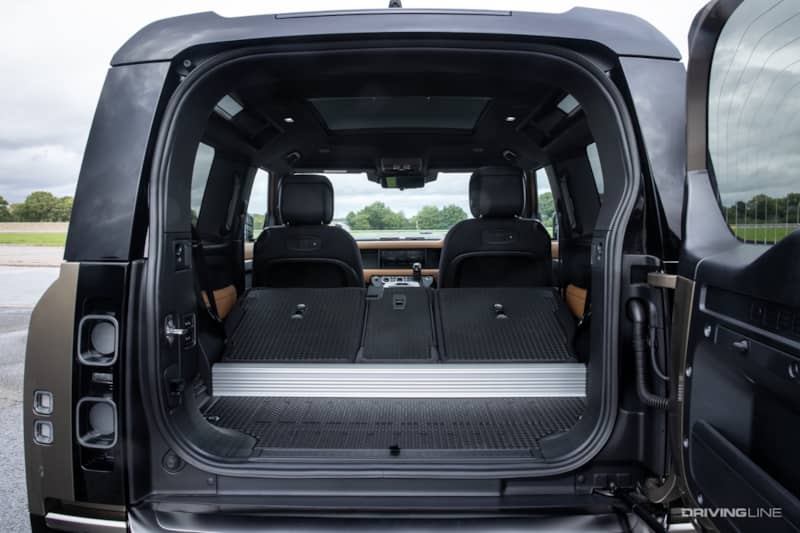 If only Land Rover's engineers had given as much thought to the practicality of hauling anything other than people. Not only does the Defender 90's back seat not fold flat (it flips down to form an awkwardly-angled ramp for your gear), but there's also a hard metal bar across the base of the load floor that starts where the seats are mounted, creating a two-tiered cargo bay. With the seats in place, cargo space is limited and almost entirely vertical, which is disappointing given that square SUV proportions usually translate into very useful interiors.
A Worthy Contender
The sub-300 hp, four-cylinder base version of the 2021 Land Rover Defender 90 starts at $47,700, which at first glance makes it competitive with high trim levels of the Wrangler or Bronco that have been dipped deep in either model's extensive options sheet. Jump up to the X-Dynamic trim that I drove (where the straight six engine becomes available), and you're looking at nearly $60k before you start customizing your rig.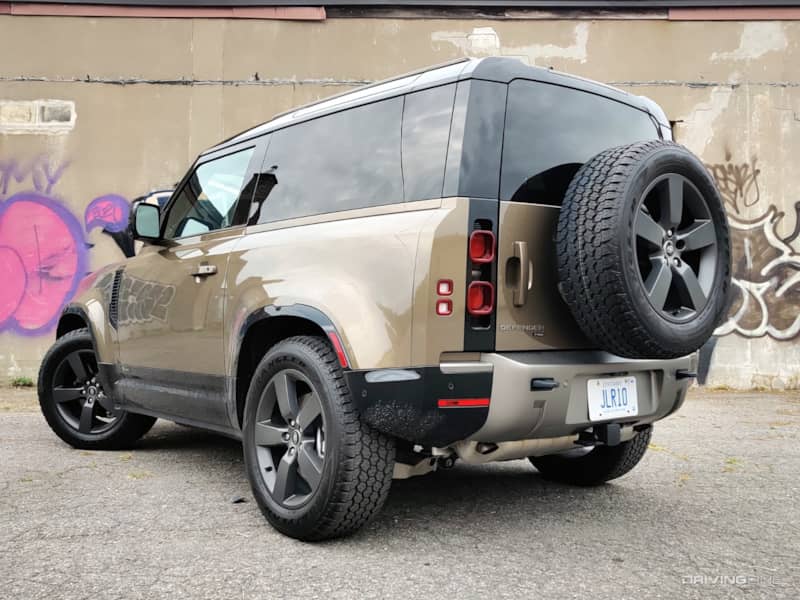 Photo: Benjamin Hunting
There's a clear price gap between the Defender 90 and the only other two-door off-roaders you can currently buy. Does the SUV make good on its extended ask? It really depends on your point of view. Minus the luxurious cabin that most have come to expect from a Land Rover (we're talking manually-adjustable seats and an acceptable, but not exactly high-end set of materials), you have to hold on to the D90's exceptional on-road comfort (especially as compared to Ford and Jeep), hefty power, and singular styling as your reasons for forking over more cash.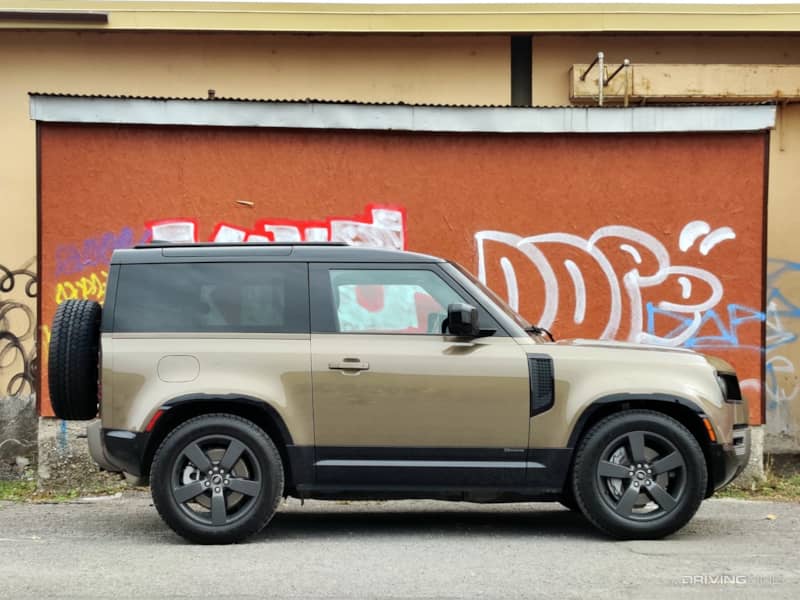 Ultimately, this is a compelling truck with a few quirks that most buyers will be willing to overlook for the promise of everything else that the Defender 90 delivers—along with the perceived prestige that comes with the Land Rover badge and visions of the ghosts of Defenders past banging down a grassy two-track on their way to mend a broken stretch of fence.