Review: The 2022 Toyota Tundra Full-Size Pickup Goes Twin-Turbo
To say we've been waiting a long time for a new Toyota Tundra is a bit of an understatement. The previous version of the truck dated all the way back to 2007, and aside from some cosmetic and suspension updates for the 2014 model year (followed by whittling engine options down to a single V8), the Tundra was on the outside looking in as rivals from Ford, Chevrolet, GMC, Ram, and even Nissan during that time innovated their way through several generations of full-size pickup design.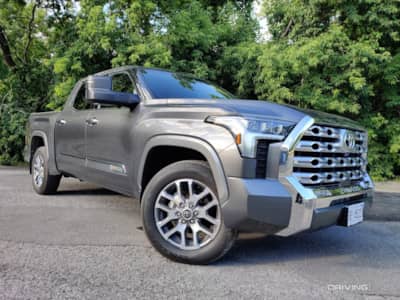 The 2022 Toyota Tundra bears the weight of so many years of that sloth. Expectations for the first truly modern truck from the brand in more than a decade are sky-high, especially considering how cutthroat the America competition has become.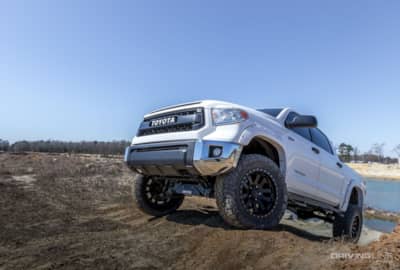 The good news is the all-new Tundra steps up with a pair of compelling drivetrains and a much-improved chassis. Whether that's enough to make a difference in a world where pickups have made quantum leaps in terms of luxury, capability, and versatility is harder to pin down.
Big Turbo Engine
The best part of the 2022 Toyota Tundra is found under the hood. Making the bold choice to be the first full-size pickup sold in North America without an eight-cylinder option, Toyota has banished its 5.7L iForce V8 and replaced it with a 3.5L, twin-turbocharged V6. The unit is available in two specific tunes: base models see 348 hp and 405 lb-ft of torque, while all other models enjoy 389 hp and 479 lb-ft. That's more twist than the V8 had on tap, and outside of the entry-level it represents a horsepower upgrade, too.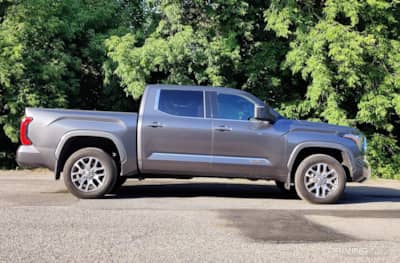 I drove a 1794 Edition trim level equipped with the mightier of the two turbo choices, and not only did it feel quickly and smooth in nearly every situation, but it was also remarkably efficient. With Toyota's new 10-speed automatic transmission working seamlessly behind the scenes (shifting much less noticeably than the 10-speed found in the Ford F-150), I achieved an excellent 26-mpg over long stretches of a highway road trip. That's especially impressive given that the truck's official highway rating for four-wheel drive models stands at 23-mpg (and 18-mpg in the city).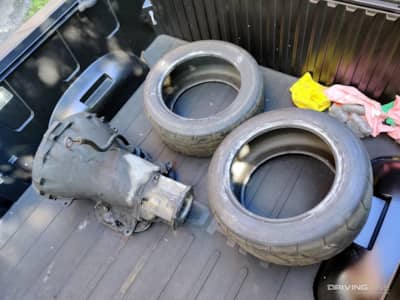 Those horses aren't just for show, either. During my week with the Tundra I towed a friend's classic Volkswagen (after it had been sitting dormant for more than five years), and hauled 500 lbs of tires and driveline components—all at the same time. The truck never even registered the weight in either instance, and I only knew the VW was rolling after my buddy called out for me to stop once we'd cleared the garage threshold.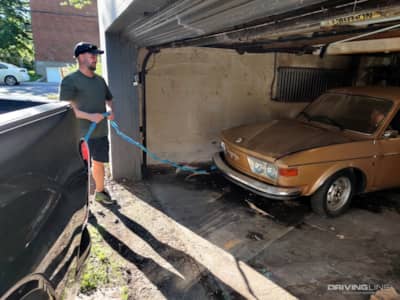 Toyota has also added a hybrid version of its twin-turbo V6 to the order sheet, and it's good for 437 hp and a monstrous 583 lb-ft of torque. That power comes married to slightly better fuel economy (a 2-mpg boost around town, and a single extra mpg on the highway).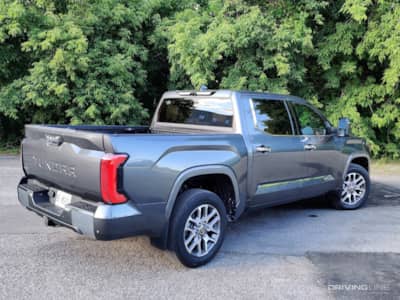 Still, asking a single V6 to satisfy the needs of every pickup buyer—regardless of how many turbochargers it might have, or if it's been given an electric assist—is an unusual strategy in a world where other manufacturers make diesel engines, V8s, and full electric drivetrain choices available at the half-ton level. There is still a considerable cadre of owners out there who won't consider a truck without eight-cylinders under the hood. Combine that with not going completely gas-free like the Ford Lightning or the upcoming Silverado EV, and not matching the 30-mpg real world results of Chevy, Ford, and Ram turbodiesel choices, and it's clear that the Tundra is restricting itself to a specific slice of the market.
Useful Specs, Modest Features
From a practical perspective, Toyota is in the ballpark with the Tundra's 12,000 pounds of towing capacity (falling just short of the class-leading Ford F-150 in the 14,000 pound range), as well as the availability of bed lengths ranging from 5.5 and 6.5 feet (for the largest four-door Crew Max) to 8.1 feet (the smaller Double Cab). In-bed cargo capacity stands at 1,940 pounds.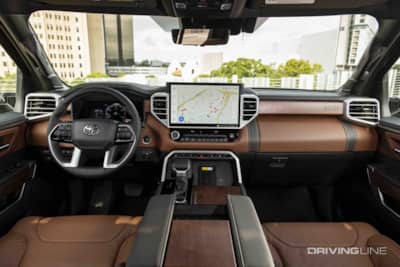 What you won't find are any tricks, gadgets, or gizmos similar to what other pickup manufacturers have been flaunting in recent years. The Tundra's tailgate doesn't open sideways, include a step, or transform into a bench, and its bumper doesn't integrate any boot-holds, either. There's no lockable storage in the bed, nor does the truck have the integrated capability to weigh cargo or trailer tongue weight. I'm not saying these features are make-or-break for potential customers (and in some cases, particularly the tailgate department, I'm not convinced of their utility at all), but Toyota's decision to stay above the fray is somewhat worrying given its history with turning the Tundra's back on industry trends.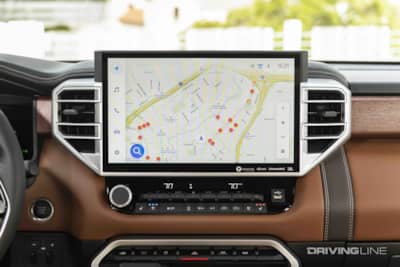 That same lack of techno-wizardry is experienced behind the Tundra's wheel, too. Don't look for advanced semi-autonomous driving systems in the pickup, which doesn't bother to match Ford or GM in that department. Instead, the Toyota comes with a conservative adaptive cruise control setup and a lane-centering system that I eventually had to turn off as I found it too intrusive while driving.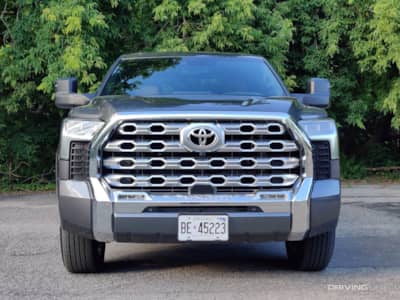 One area that the Toyota Tundra does surge ahead of its peers is in ride comfort. The 2022 Tundra and the current Ram 1500 are the only full-size trucks that offer standard coil springs at the rear, rather than a leaf setup, and the benefits in terms of noise and vibration (not to mention control over bouncy surfaces) are substantial.
Better, But Not Best
The 2022 Toyota Tundra presents a major upgrade in power and efficiency over the model it replaces. It rides better, too, and it lags just a bit behind the brawniest pickups out there when it comes to towing and hauling capability.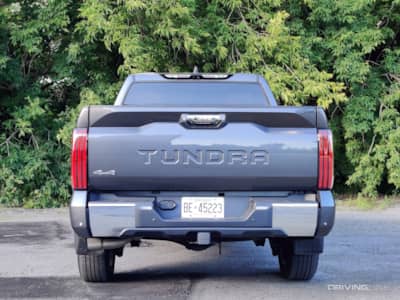 My biggest issue with the Tundra is that it doesn't truly set itself apart from the rest of the pack. Given that it's a clean-sheet redesign, the opportunity was here for Toyota to make a strong statement either in terms of design (the truck is attractive, but not a stand-out), luxury (the cabin, while spacious, can't touch high-end Ram or Ford models), technology, or even special models (TRD Pro is still in the mix, but it's no Raptor or TRX killer). It's hard to understand why being the best in at least one of these areas wasn't a priority for the brand.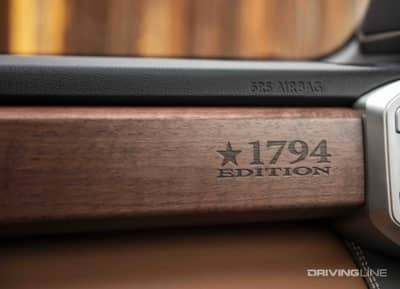 With a starting price of just under $38,000, and a ceiling of nearly $76,000 (for the hybrid edition of the Capstone trim), Toyota seems to game to take on the full breadth of the current pickup market. This makes it even more puzzling as to why it's limited the new Tundra to 'good, but not great' status. Toyota needs an all-around impressive effort to pull customers out of Detroit's clutches, and as solid as it is, it's hard to see this latest truck as being all the way across that particular finish line.